Shopping vintage online is much like scouring thrift stores IRL: You've gotta do a lot of strategic browsing before you finally find the good stuff. In searching the seemingly endless reserves of Instagram, Depop, Etsy, eBay, and virtual boutiques with vintage offerings, though, you might find yourself overwhelmed with options. Maybe that's better than the physical tiring of your arms when you've been picking in person for hours, but if you get lost in the maze of choices online, you're less likely to actually buy new pieces. There's always that nagging feeling that the next shop you check out might have something even better than the one you're looking at now.
That's why we're thankful for reliably great sellers like Chicago-based Lexi Kingery: Her exceptionally curated Instagram store, @ShopBlueDream, is an offshoot of her own style, where frilly, feminine pieces and sharp silhouettes both make appearances, and disparate patterns are intentionally juxtaposed to perfectly striking effect. And, unlike a lot of the vintage online as of late, her prices remain reasonable — even for pieces that feel singular and special.
The fact that Kingery takes time to eliminate posts for items that have already been sold proves she has her shoppers in mind — how many times have you thought you'd found the perfect piece, only to find out it's no longer available? We had a feeling Shop Blue Dream might be personal for Kingery, and it is. Read our interview, below, to find out why.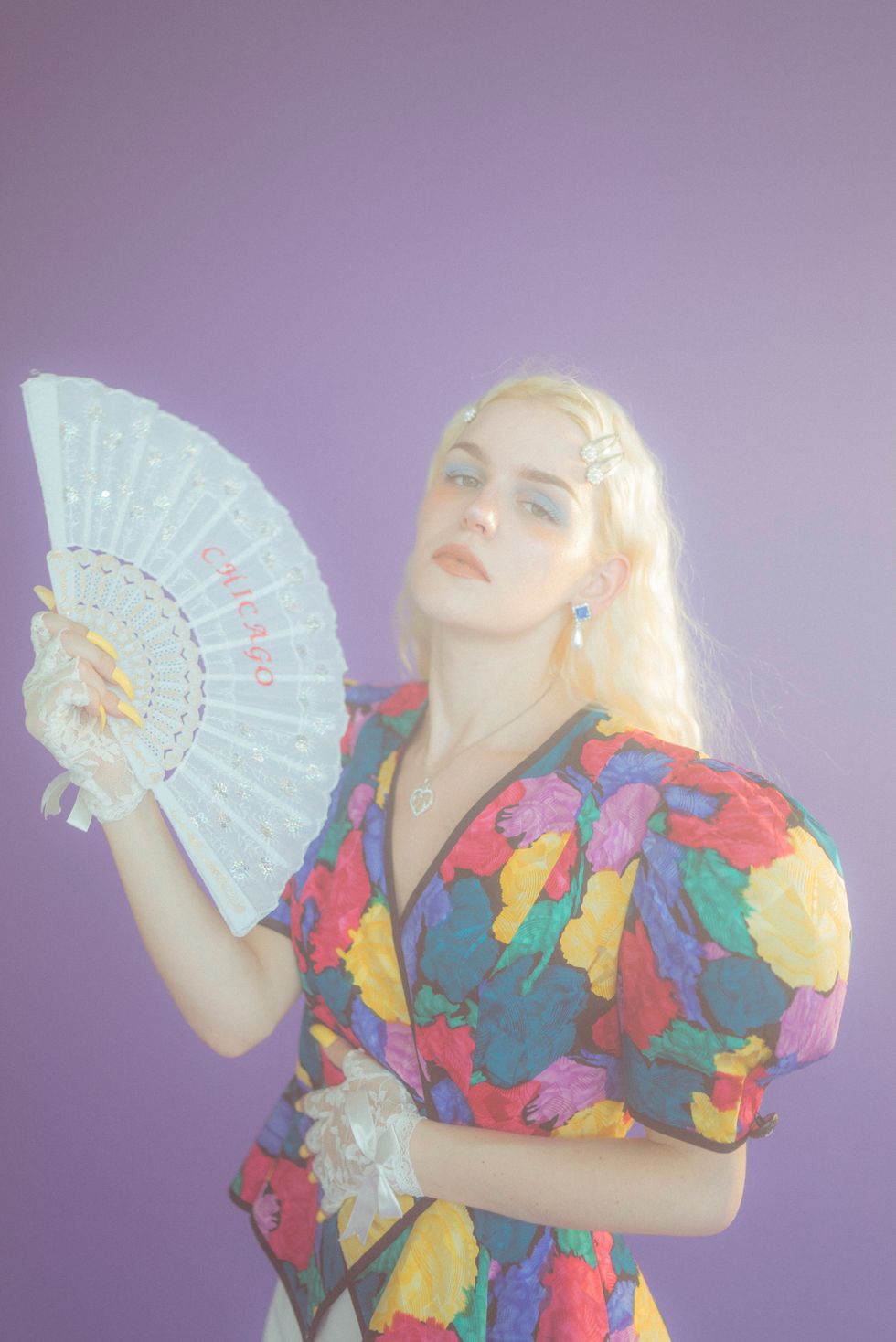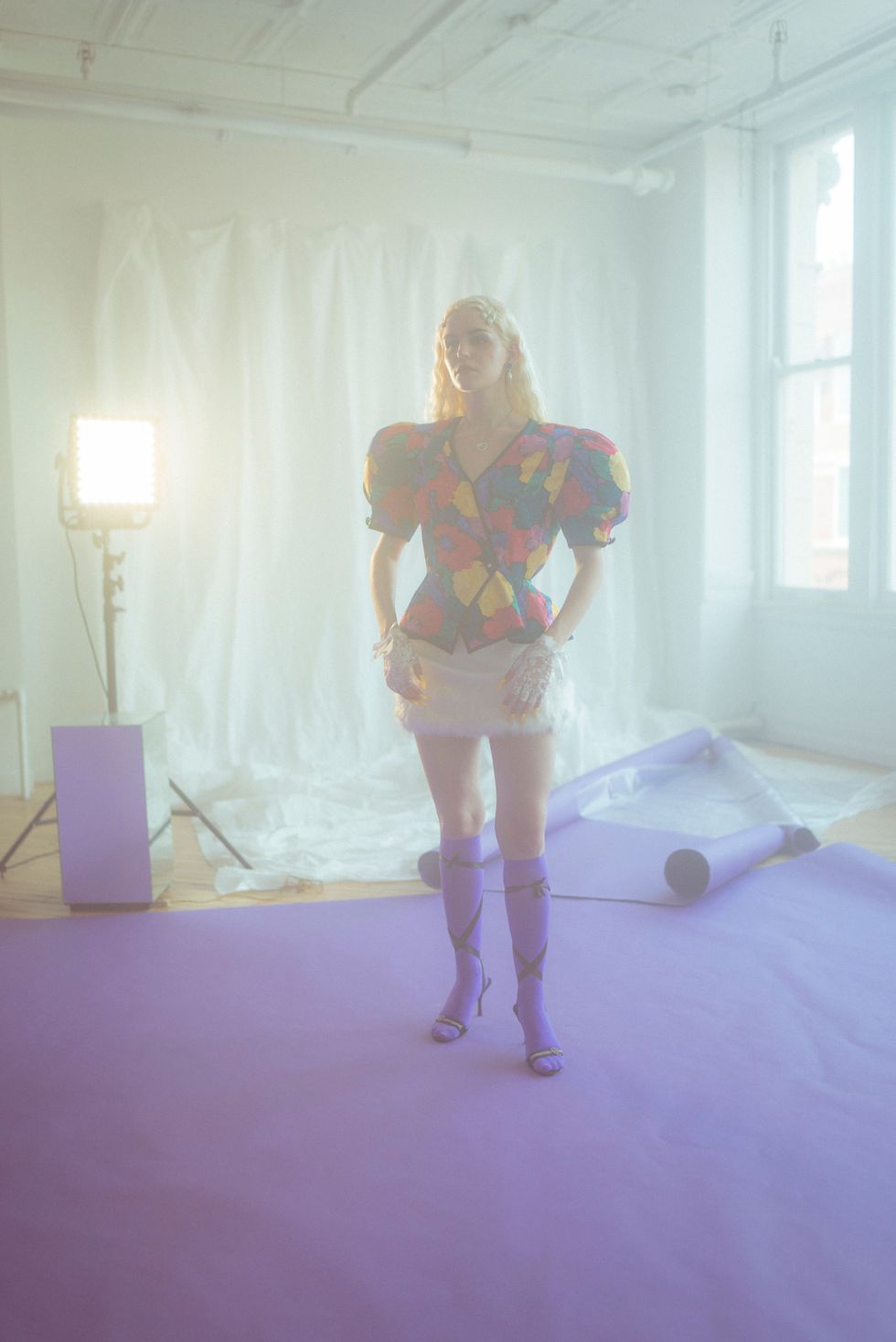 When did you first open your shop, and why did you call it Shop Blue Dream?

I opened my shop online on January 22nd, 2016. I had been working restaurant service industry jobs since I was 15 and was fed up with a job that in no way fueled my creativity (aside from income to buy clothes). It was early January and it was slow season at the place I worked at [and] I put my two weeks in with no real plan in place aside from knowing that I wanted to sell clothes. My friends played a big role in pushing me to go off on my own; their encouragement of my taste level really fueled the fire. They also played a part in the name: One of my best friends jokingly said, "Name it after a weed strain that sounds pretty," and Shop Blue Dream was created.
Is running Shop Blue Dream your primary gig?
Shop Blue Dream is in fact my primary gig! I do everything from picking out the clothes off the rack/online to sending the packages off once they've been purchased, and literally everything in-between. When you message my shop with any questions you might have, or to purchase an item, it's me talking to you. I wear many hats, of course. I was born into a family of hustlers, so one job is truly never enough. I model, style, etc., etc. — anything that can pay a bill or put more money into my savings.
But the key is that I really strive to continue to be my own boss. It has been one of the top-five hardest — and most rewarding — experiences I've had thus far in life. When I first began the store, I had assumptions about the amount of downtime I was going to have because there was no one in charge of me besides me, and as someone who really doesn't like authority (even authority coming from myself), I had to kick my own ass into the many, many responsibilities a boss has. I came to the quick realization that if I don't work hard, I don't make money. There are benefits from being in charge of yourself like being able to switch your schedule around to accommodate meetings or social obligations, taking a day off, and working from home if you're sick, but in general, being your own boss is NOT EASY. I'm proud of myself — as someone who in the previous years of my life would never be able to do anything like this — that I can have my shop as my main gig.
How long have you been interested in vintage?
I have been interested in vintage probably about as far back as I can remember. I come from a very small town; things take a while to catch up to modern day, so there's an abundance of vintage items in secondhand stores around my town, so much that you'd be actually pretty surprised how many amazing pieces you can find. I was also a part of the first large wave of Tumblr kids in 2006 and there was a heavy vintage posting community online there. I almost never had the money to buy anything in the stores IRL but my likes on Tumblr were filled with vintage clothing posts. Moving to Chicago in 2012 and seeing how normalized vintage collecting and wearing vintage clothing was was a really great breakthrough for me into collecting.
How do you choose what goes up for sale? Is it a question of quality or certain styles, a combination of the two, or something else altogether?
Certain styles are a major factor in my choosing of pieces, and quality is something I like to take value in (I do so many repairs behind the scenes to make sure garments are ready to be loved). In the recent months I've begun doing more thematic drops, a guideline for buyers of what to expect for the weekly drop (ex: prairie dress drop, farmer's daughter drop, pre-fall drop), and it honestly helps me lower down what I'm looking for when I go and pick in person, and when I shop for the store on eBay.
There's a lot of vintage and contemporary clothing out there so it can be hard to stay on track, but of course a good vintage piece will never go un-purchased by me even if it doesn't fit the bill for this week's moment. I usually plan drops weeks in advance so I have time to really curate them to the best of my ability. If I see an item that might not go with this week's theme, it can act as a catalyst for a future drop's theme. Setting the feel for every week's drop is really what I'm about right now.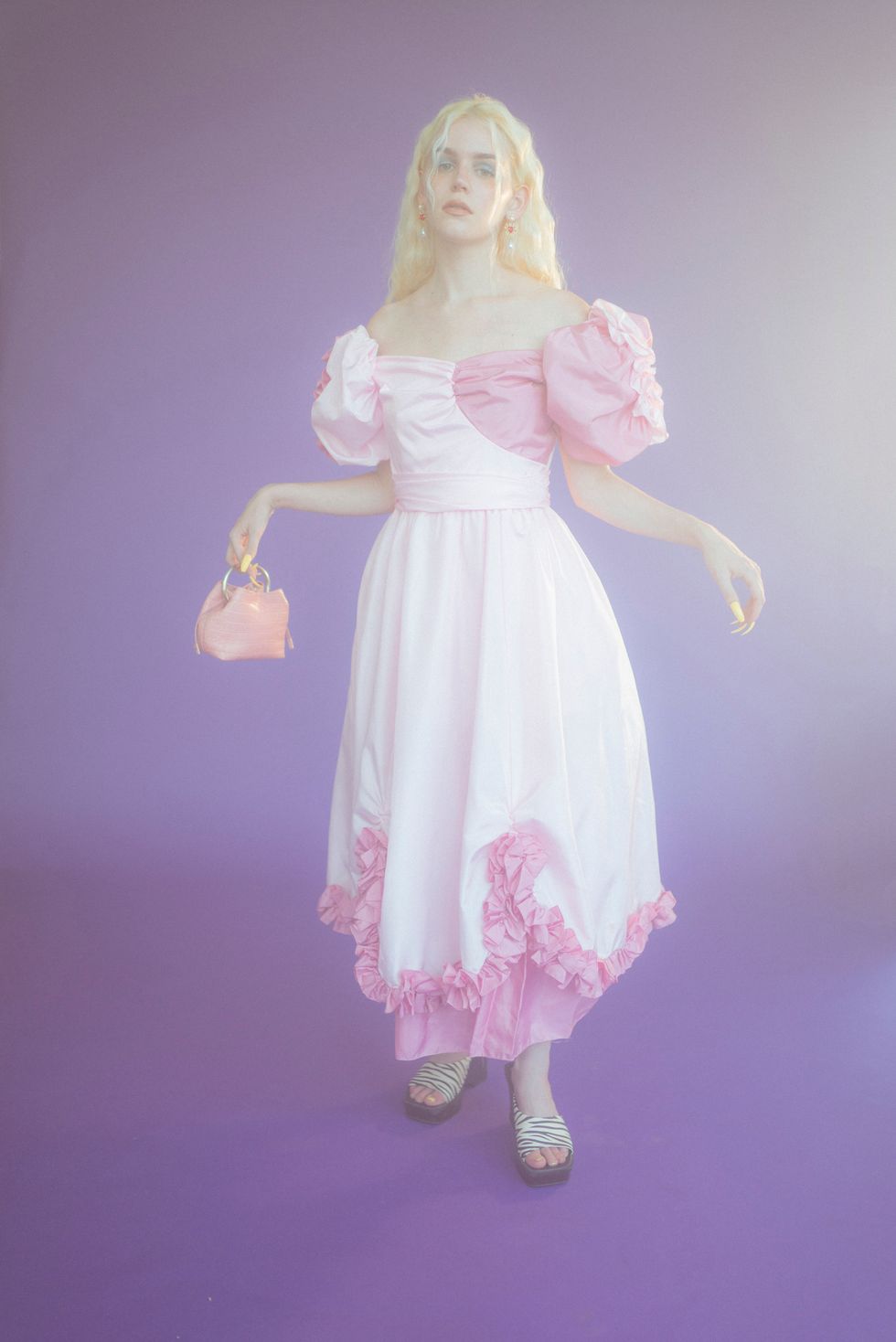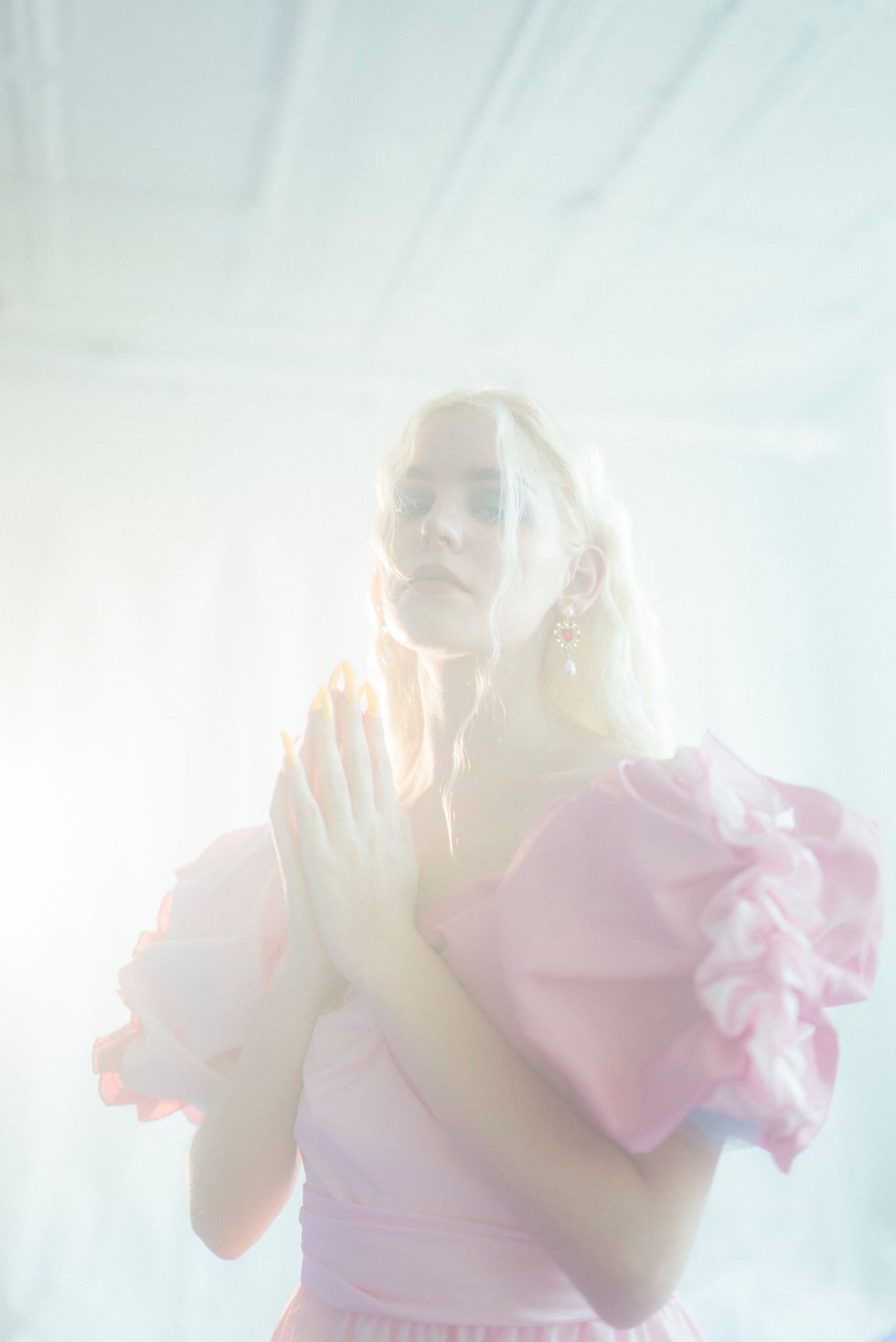 How would you describe your personal style?
I think I'm most recognizable by my big princess dresses and '80s-style huge shoulder pieces right now. I really love a dainty silhouette and a powerful one as well, usually with a hint of designer logo mania. I really love experimenting with pattern-clashing pantyhose with a tapered toe heel. My own personal style definitely has a reflection of the store in it. Part of the store's appeal, I feel, is that you're being styled by me when you're buying the pieces, because they're all hand-selected by me with what I think is tasteful in mind.
What does your own vintage collection look like?
My vintage collection is pretty crazy. I definitely have moments of selfishness when I find an item that I can just feel I'll probably never find again and will keep it for myself. The only reason my collection isn't huge is my lack of space: I live in a very small room in Chicago that's brimming with clothes, shoes, and handbags, along with my Shop Blue Dream stock. My collection generally consists of my favorite prairie dresses I've found (I've also sold a lot of beautiful pieces to my shop along the way, but I know they're going to good homes), vintage designer (Gaultier, Céline, Dior, Valentino, and Prada to name a few), and a lot of silk/satin printed scarves. My favorite piece is probably my creme Céline suit dress; it has huge shoulder pads and looks so powerful when you wear it.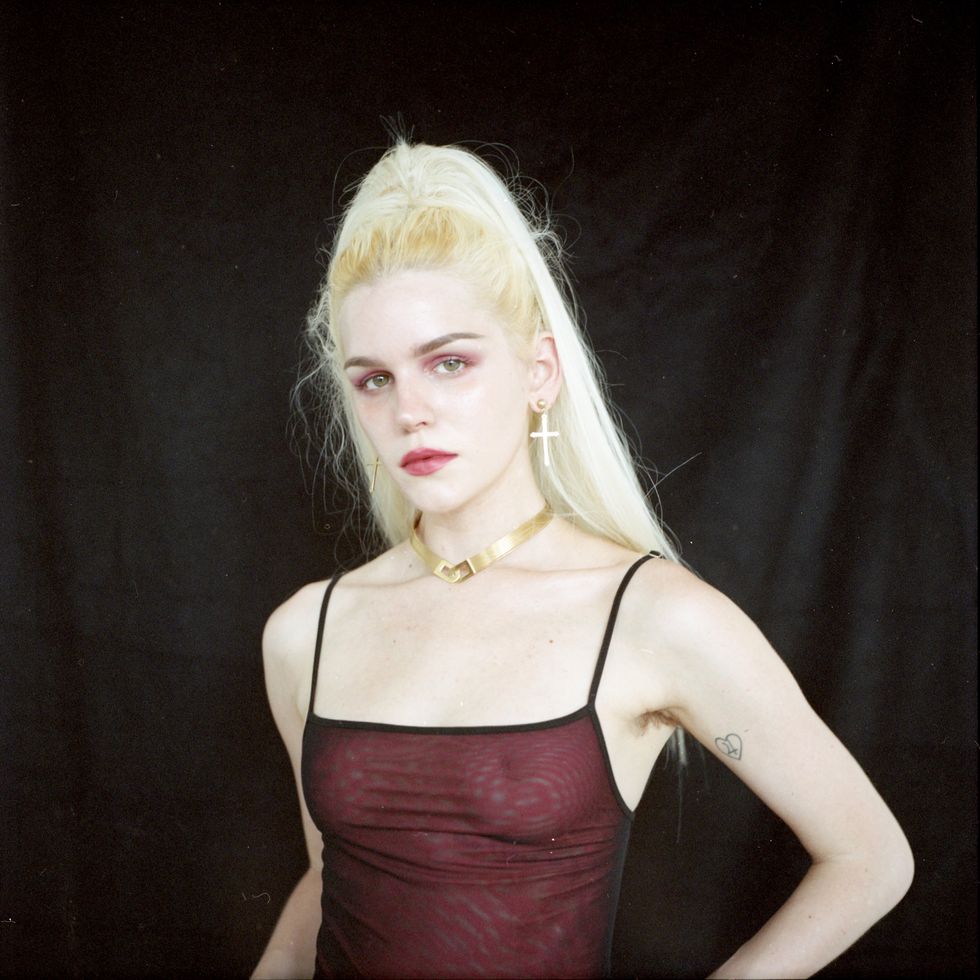 I saw you're moving from Chicago to L.A. soon. Can you tell us more about the reasons behind that move?
Yes! I'm relocating on October 1st, and I honestly couldn't be more excited. I've lived in Chicago for 6 years now, and I'm not from here originally, so I really felt, after I visited LA in April, that it was time for a change. Los Angeles is not only a really beautiful place visually, it's also a huge hub for vintage. Vintage brands that were based in California are some of my favorites pieces I've ever found, just something about them that really had incredible attention to detail and brought about a feeling that you can only find with Cali vintage. A lot of my customers are super excited for the move because they know that there are probably insane pieces along the way (and I'm really betting on that too). I have many leads for sourcing and going to a new store for the first time for me is like a kid in a candy shop, so I'm probably going to lose my mind.
As of right now I don't have any major projects in the works, but am hoping to start doing more pop-ups regularly in LA once I get settled. I do weekly drops on Fridays, and there's a little something for everyone each time at reasonable prices.
Sign Up For The Morning PAPER
Nightlife
Story by Zach Shucklin / Photography by The Cobra Snake (Sponsored by Cuervo Tradicional Cristalino)