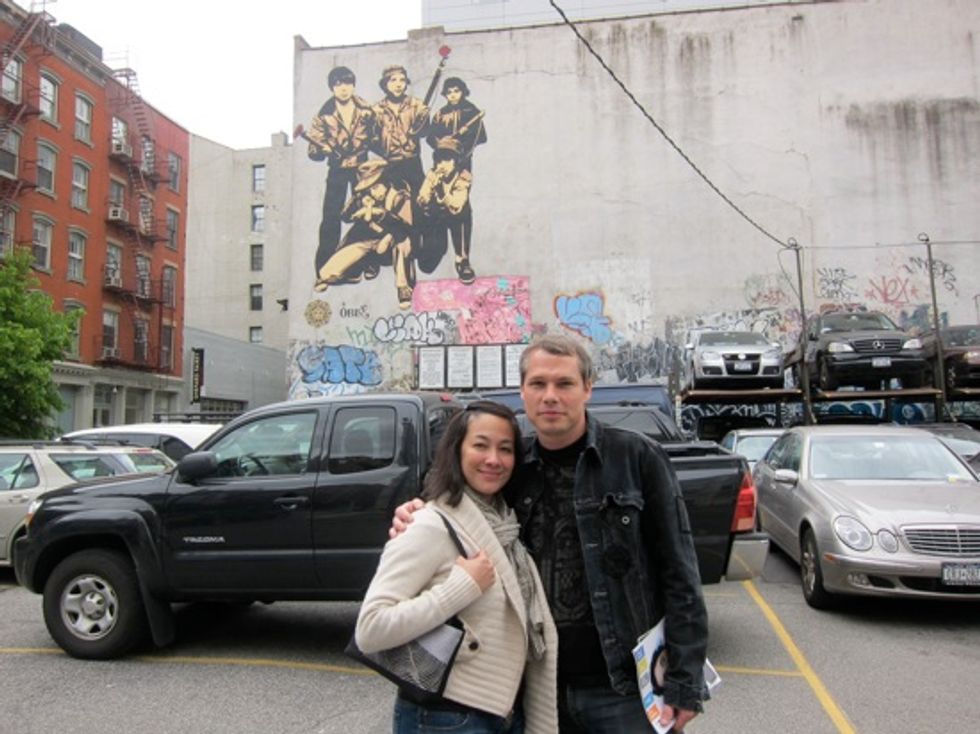 I'm feeling ambivalent about
Shepard Fairey
's monumental show opening at
Deitch Projects
on Saturday. It's not Fairey that has me feeling this way. Having peeped some of the work going up in the gallery,  I am super excited to see the evolution of this still emerging talent. Having ridden to prominence with his iconic
Obama
poster, Fairey has kept his head down and applied his legendary intensity and work habits to produce an overwhelming amount of work in the year-and-a-half he has been preparing for this show. Though still working through his legal hassles with the
Associated Press
over what constitutes fair use of the Obama photo he used for his iconic "Hope" poster, he makes time to spin as his alter ego
DJ Diabetic
and create street-art, like his recent murals on the Bowery and on Wooster Street by Deitch (where he's pictured  with his wife Amanda).
What has me feeling ambivalent is the fact that this will be the last show at the gallery before Jeffrey Deitch moves to LA where he will be leading
MoCA
out of oblivion into relevance. His willingness to spend money to let art happen -- whether through the Art Parade or his ambitious installations and performances -- will be hard to replace.