Do you hear that? That's silence. It happens every Thursday through Sunday between the months of June and September. The yearly ritual of wealthy New Yorkers summering out in the Hamptons is in full force, leaving a void in the Thursday night art opening scene. Turns out, all the art has moved with the 1% out to Long Island.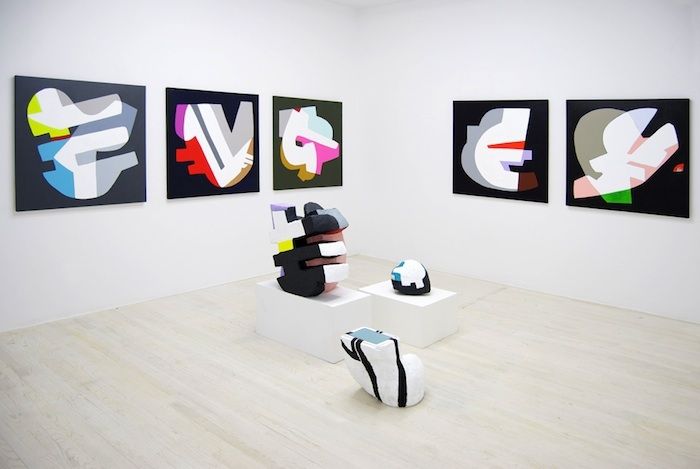 Hayal Pozanti at Halsey Mckay
All located on the main drag of downtown East Hampton, Harper's Books, Halsey Mckay, and Eric Firestone galleries have each brought bright and dynamic shows to the ritzy vacation town. At Halsey Mckay, the colorful graphic patterns of Elise Ferguson radiate through the front window, pulling in the passerby on a night of show openings and parties. Ferguson's works are based on mathematical equations, painted intricately onto rough plaster, juxtaposing each precise pattern with a level of disorder. Upstairs the vibrant colors and shapes continue with Hayal Pozanti's
Scrambler
, a collection of sculptures and paintings that translate data about our social media use into a tactile, analog form, using the artist's own personal alphabet. One sculpture showed the physicalization of the statistic that "40% of all text posted to Instagram contains at least one emoji in the photo caption." We all took an art selfie and discussed, which emoji best represented the Hamptons (martini glass/ sailboat).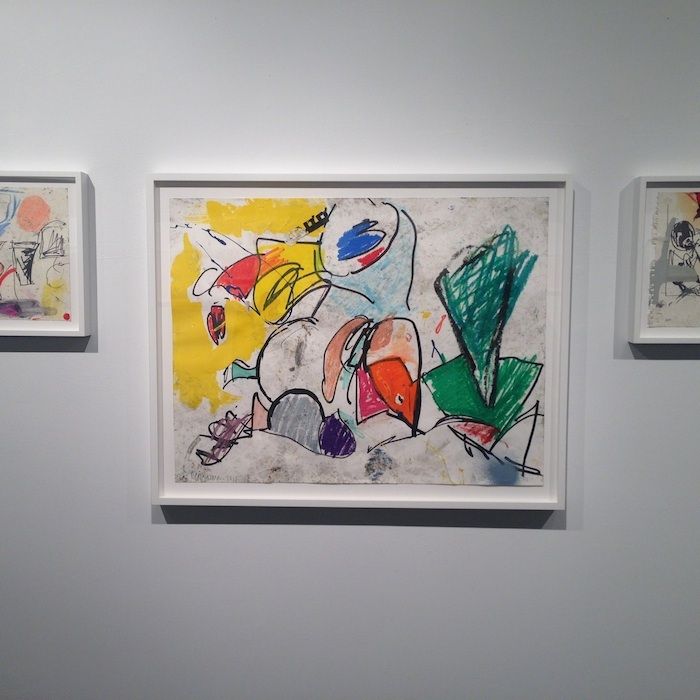 Eddie Martinez at Harper's Books
Next door at Harper's Books, a shop and gallery specializing in rare art books, there was an opening and VIP dinner to celebrate a group show of works on paper described as "a game of tag between artists." Eddie Martinez, Katherine Bernhardt, Joe Bradley and more showed rough sketches and paintings you might expect to be doodled on a napkin at a diner, or given to you intimately by a friend.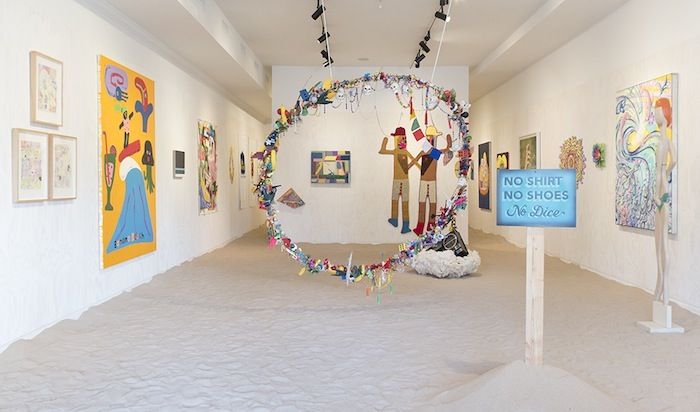 She Sells Sea Shells
at Eric Firestone gallery
Down the street, there was no question where the inspiration for Eric Firestone Gallery's group show,
She Sells Sea Shells
, came from: the sand on the floor says it all. With a star-studded line-up of artists like Eric Yahnker, Sam Friedman, Kenny Scharf, Jen Stark, Agathe and Max Snow, Andrew Kuo and many more, the beachy show featured a range of materials and mediums, each work bringing a light-heartedness and sense of humor to the space. Many of the artists were in attendance as well as art world gentility like Nate Lowman, Kathy Grayson and Kathy Grayson's dog. If the air wasn't so easy to inhale and the rosé not so consistently flowing, we would of thought we were back at a downtown gallery. But then again, most New York City galleries don't have their after party on a beach with bonfires, free crab rolls and access to unlimited napping spots in the sand. As great as that was, we realized that after an overloaded weekend of art, sun and back pain, a vacant city might actually be the best vacation.