As reported by Brooklyn Magazine's Caitlin White, last night Dirty Projectors Member Amber Coffman took to Twitter to publicly call out music industry publicist Heathcliff Berru of Life or Death PR and Management for sexual harassment.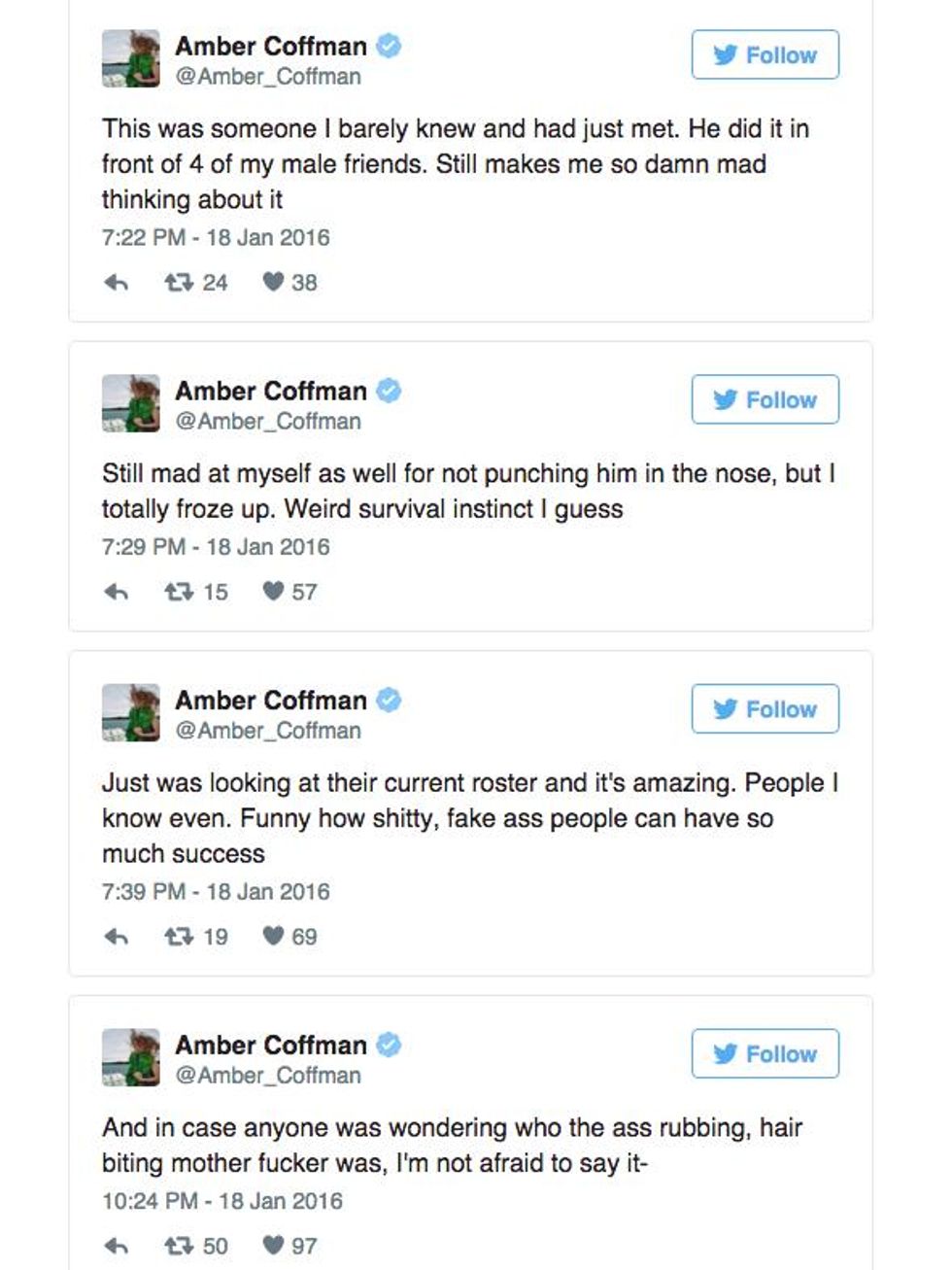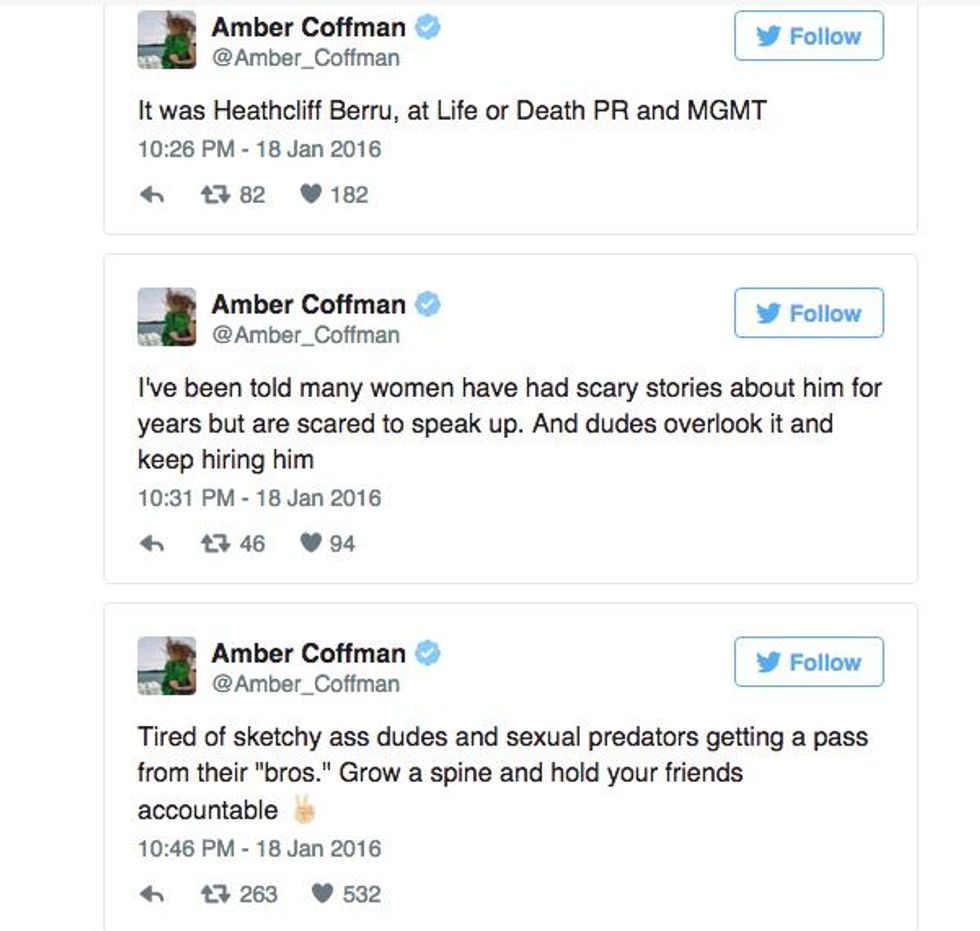 Since Amber has come forward, several other women have spoken out about Berru's behavior, including Best Coast's Bethany Cosentino.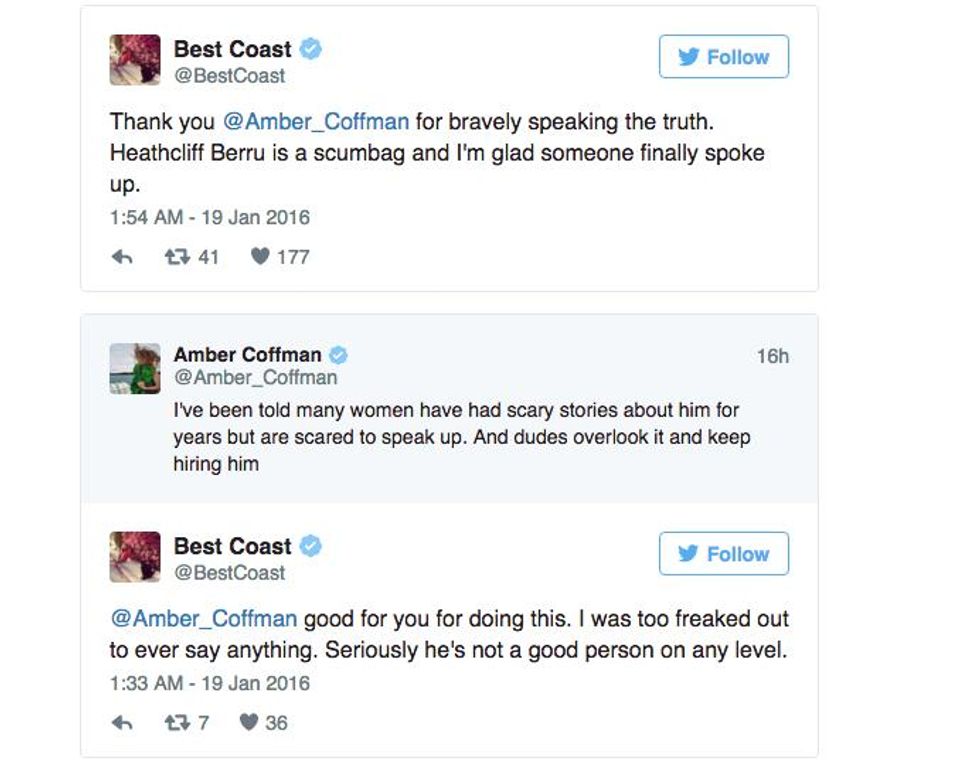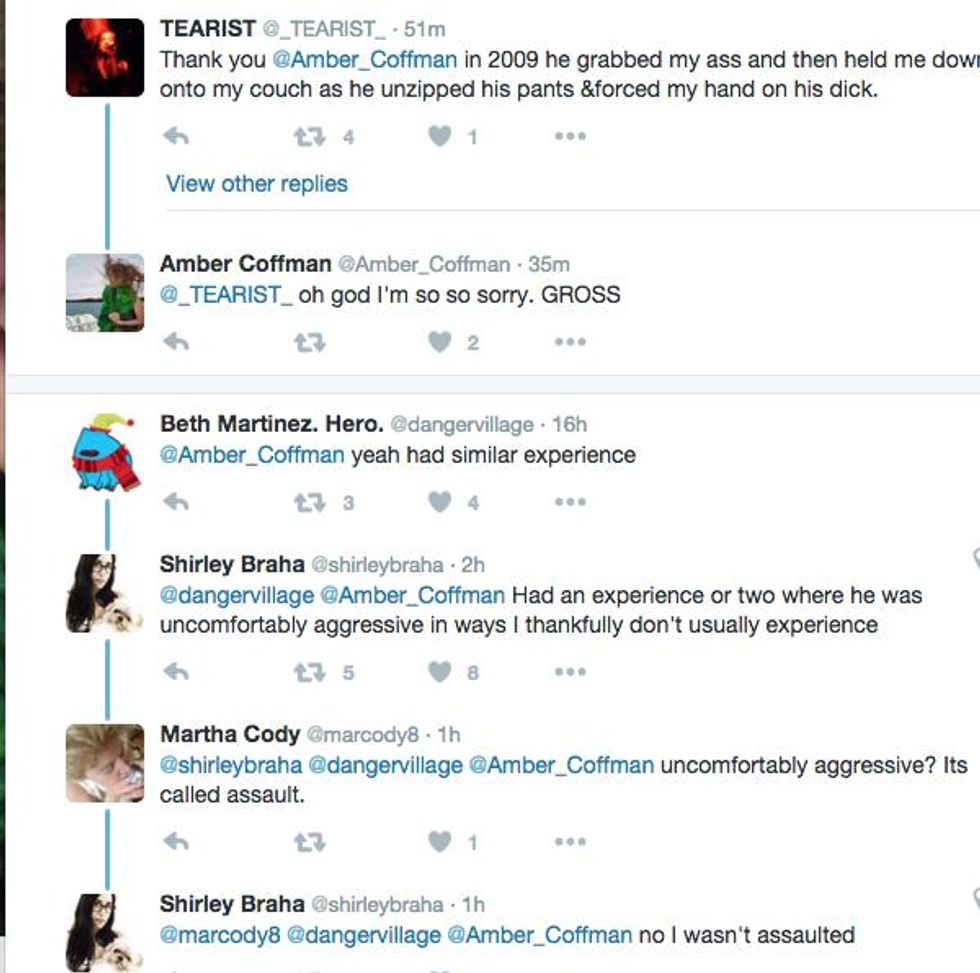 As news of the story spread, Hoffman returned to Twitter to thank those who have spoken out in support, and also thanked her label, Domino Records, for cutting ties with Berru.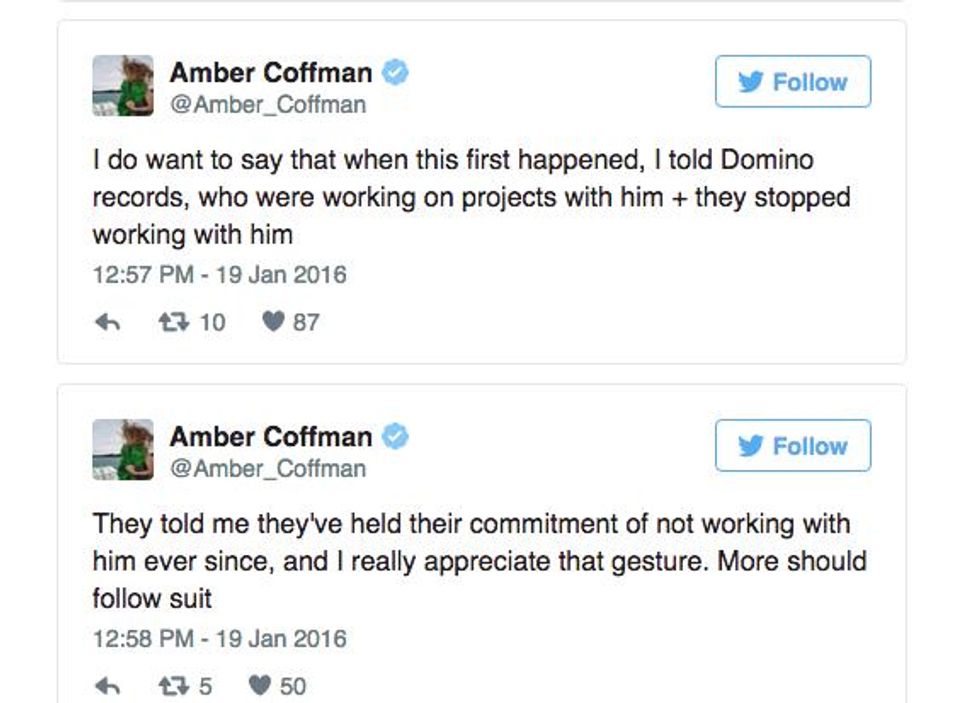 Publicist Judy Silverman of Motormouth Media, who represents Dirty Projectors amongst many others, has been discussing the situation on her Twitter and retweeting other women's stories about Berru's behavior. Life or Death PR and Management's clients include Killer Mike, Speedy Ortiz, D'Angelo, Cloud Nothings and Tyler, the Creator, among others. PAPER has reached out to Life or Death and Berru for comment.
Update 1/19/16: PAPER has received the following statement from Life or Death's Nick Dierl "as president of the company on behalf of myself and the rest of the staff here."

"Life or Death has a zero tolerance policy for the type of conduct alleged in today's on-line postings. We take these allegations very seriously.

The men and women who make up this company do not, and will not, condone or tolerate any conduct described in the on-line postings. Life Or Death is 3 men and 3 women who are committed to promoting art and serving the clients that we're so privileged to represent. We are taking measures to ensure that the alleged behavior did not, and will not, make its way into company operations or impact our commitment to promoting art and assisting our clients.
We are grateful to Heathcliff Berru for all the work he's done to date and his creative vision at the company. We appreciate and support his decision to step down as CEO of Life Or Death."

Update 1/19/16: Berru has released the following statement to LA Weekly.

"There have been several reports about my alleged inappropriate behavior which deserve a response. I am deeply sorry for those who I have offended by my actions and how I have made certain women feel. If I crossed the line of decency or respectfulness in situations when I was drunk and under the influence, there is no excuse of course. To be clear, while my conduct may have been inappropriate, I have never drugged anyone or engaged in that type of behavior. Nevertheless, I do not want to be the type of person who would let drugs or alcohol take command of his life and compromise how he treats people. Yet I have been this person and it's time to put a stop to all of this. Create a world with one less inappropriate man.
"I have been fighting a losing battle against drugs and alcohol for many years and will be checking into a rehabilitation facility in the hope that I can improve my chances of winning that fight. A year ago, I was confronted by a peer and began to try to clean up and make things right with therapy and with an eye towards quitting the addiction. The shame and sadness feels as strong now as it did then and I am making an immediate change.
"I have already lost my wife, abandoned my family, and destroyed those I love as a result of my shameful, embarrassing, unacceptable behavior. I deeply apologize to them as well. By no means do they deserve to feel the pain of my actions. Please give them the space they deserve. They were the light at the end of a dark tunnel. I was married during some of these years and hid my problems from everyone well. Especially her and her family. Totally inexcusable.
"In no way do these allegations reflect on Life or Death PR, its staff, or anyone associated with the company. These are my issues, not theirs. I could not be more proud of the company and what it stands for. That being said I have stepped down as the CEO and [am] relinquishing all responsibility to the current president, Nick Dierl. The company shouldn't have to deal with this distraction and I want Nick and the rest of the team to continue to do their good work while I take care of myself."
Update 1/20/16: Several bands have cut ties with Life or Death since yesterday, including D'Angelo, Speedy Ortiz, Wavves, Kelela, Beach Fossils and DIIV. Life or Death client Killer Mike said the PR company was "no more" this morning on Twitter.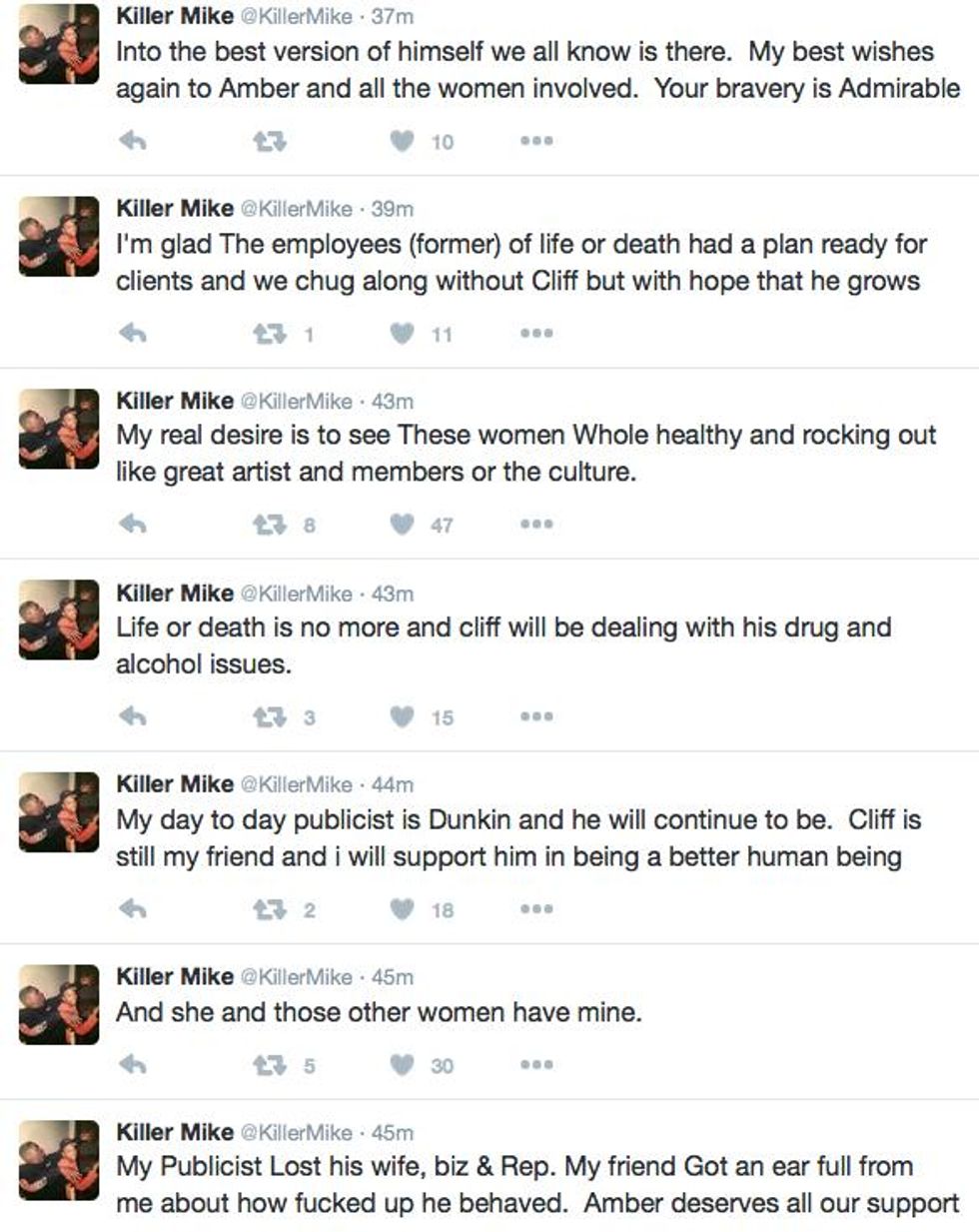 Update 1/21/16: PAPER has received the following statement from Nick Dierl, formerly of Life or Death PR.
"In light of recent events, the remainder of the Life or Death staff is leaving the company today. We are saddened by the circumstances under which we are departing but are grateful for the opportunity we had together. There will be a new venture imminently that bears no ties to Heathcliff Berru or the Life or Death name.
"More soon from Bradley, Linda, Duncan, Emily and Nick."