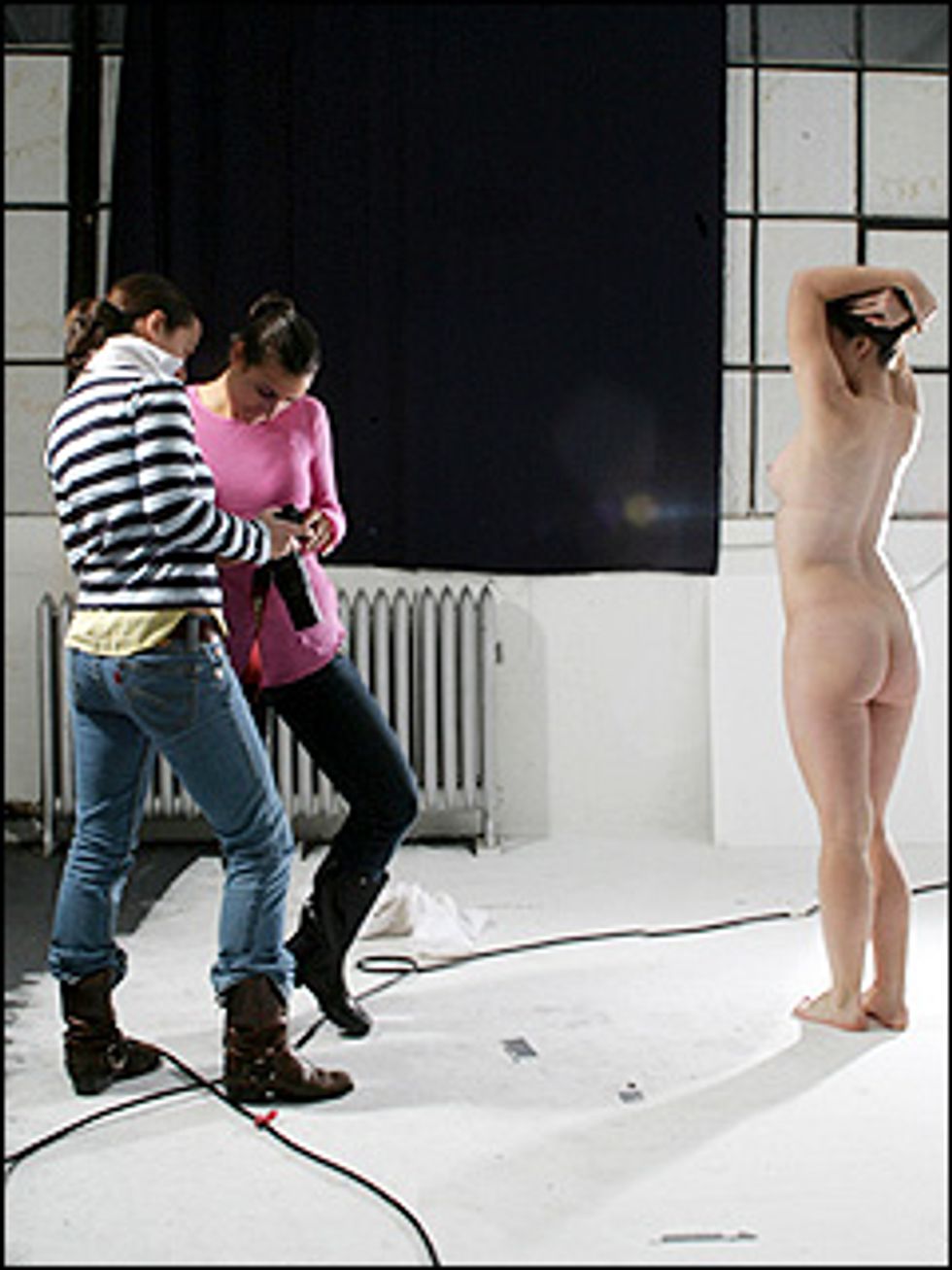 If there was ever an appropriate time to give New York City's flaccid, post-Giuliani sex scene a much-needed lift, now is it. Good thing team photographers Kate & Camilla are grabbing Gotham's sex life by the balls. Claiming that they will photograph anything, the pair gets their fair share of New York City's most seedy and respected residents constantly calling their bluff -- not to mention their downtown Brooklyn studio.
As the only females on Nerve.com's notorious photo blogs -- regularly updated forums where photographers unveil and recount tales of sex and testy libidos -- the duo offers a unique perspective, chronicling their own experiences and lovers (Kate has a girlfriend; Camilla has a boyfriend), and capturing their clients' bodily confessions through unique images. Of course, not all their work is erotic; as beauty and fashion photographers rooted in portraiture who echo avant-garde fashion photographers Helmut Newton and Inez Vanlamsweerde, they collaborate with clothing designers like Uluru and rockers, Heloise & the Savoir Faire. Their more erotically-inclined clients -- who either stumble upon their website or hear about them through word of mouth and subsequently get in touch with Kate & Camilla to photograph them doing naughty things -- range from a Civil Rights lawyer and Wall Street investment banker, to a Madame and her house of harlots, and a financial consultant by day who "volunteers" as a hustler by night.
Yet even in a studio where men masturbating to completion is the norm, nothing could have prepared the female photographers for Fabrizio, a client whom they affectionately refer to as "the shitter" -- who I was lucky enough to meet when I stopped by their studio on a recent afternoon. Fabrizio (last name withheld) solicited Kate & Camilla to memorex his penchant for pooing in hosiery.
To prepare for his arrival, the floor of the studio was covered in a layer of newspaper, best suited for a not-yet-house-trained puppy. Fabrizio, clad in reinforced-toe pantyhose, was so concerned about making his fantasy come true that Camilla gave him a cup of coffee to make sure he'd deliver. This was Fabrizio's first time making his fetish (of which his lover is completely unaware) a reality. After Kate and Camilla give him the carte blanche to do whatever he wants, he puts on a plastic tiger-face mask to hide his identity. He cuts a hole in the back of his stockings and then brings out a surprise prop from his bag -- a cucumber. It takes no stretch of the imagination to figure out where he places it, which immediately prompts Kate and Camilla to take turns clicking away. Fabrizio seems at ease in their presence. That's one of the perks of working with Kate and Camilla -- they're both in synch, and if one of them doesn't seem like she's connecting with her client, the other one always does. As Fabrizio squats down on the newspaper, Serge Gainsbourg's willowy song Je t'aime blares through the studio's speakers. There's no client too outrageous for the two photographers who have an unyielding, almost anthropological, fascination with sex and sexuality.
It's a far cry from their humble beginnings when they met in a beginner's photography class at Smith College in 1998. Kate and Camilla were forced to share a camera and decided to collaborate on their portrait assignments rather than hand in individual work. Upon graduation they were accepted as one entity into the School of the Art Institute of Chicago, and after two years returned to New York to begin Kate & Camilla Inc. Focusing on fashion, but comfortable with erotic imagery, boudoir portraits seemed like a viable option for them to explore. They thought they would have swarms of woman jumping at the chance to be photographed in the comfort of an all-female environment. "But as it turns out," says Camilla, "most women want to be photographed by a male photographer because they want to be seduced or made to feel attractive by a man." Although they've had some female clients, they're never want of gay and straight men. "There's a growing tendency among men to be seen as sexual objects by women," says Kate. That's certainly why Fabrizio came to them. "It's a turn-on for me to be objectified by two female photographers like Kate and Camilla who are uninhibited and open to my ideas. And although their bright lighting exposes everything, they can make the ugliest person suddenly look gorgeous," says "the shitter."
A slightly overexposed aesthetic defines and distinguishes Kate & Camilla's images from the more common boudoir and erotic art, of the dark and moodier-lighting variety. Their technique is preferred among the Nerve-reading female population, who are more inclined than ever to seek out erotic pictures of men, exemplified by the success of the Playgirl-for-hipsters magazine, Sweet Action.
As more people come out of the woodwork to explore erotic photography, the best thing capturing the ins and outs of New York City's sex life doesn't come through the voice of a sassy advice columnist or HBO's syndicated sex kittens, but through an unsuspecting female duo who expose what really goes on behind our closed doors.