For New York-based filmmaker Sebastian Sommer's latest project, a semi-autobiographical short film and accompanying zine called External Forces, he borrowed from some of his life's most traumatic experiences. The born-and-bred New Yorker has previously has written and directed films with Hari Nef (Family Tree) and Cakes Da Killa (Live Forever), but for his new work, he recruited stars including Richie Shazam, Eleanor Lambert, Spencer Breslin, and Reza Nade to help illuminate a rich narrative of a dysfunctional filmmaker navigating complex relationships, depression and mental illness, and the highs and lows of technology.
The zine, which features photos from the movie, script pages, and related artwork, is out now at Chinatown Soup Gallery on the Lower East Side, a space designed to bring the art world to those who don't have immediate access. It's a partnership that makes a lot of sense given the film's source material: unpacking the trauma and isolation that can often be part and parcel of the queer experience. In the below conversation, Sommer and co-star Shazam, who in the film, is a femme person in a queer relationship, speak candidly with one another about the new project, the influence New York has had on both natives, and the fight to unlock one's true self.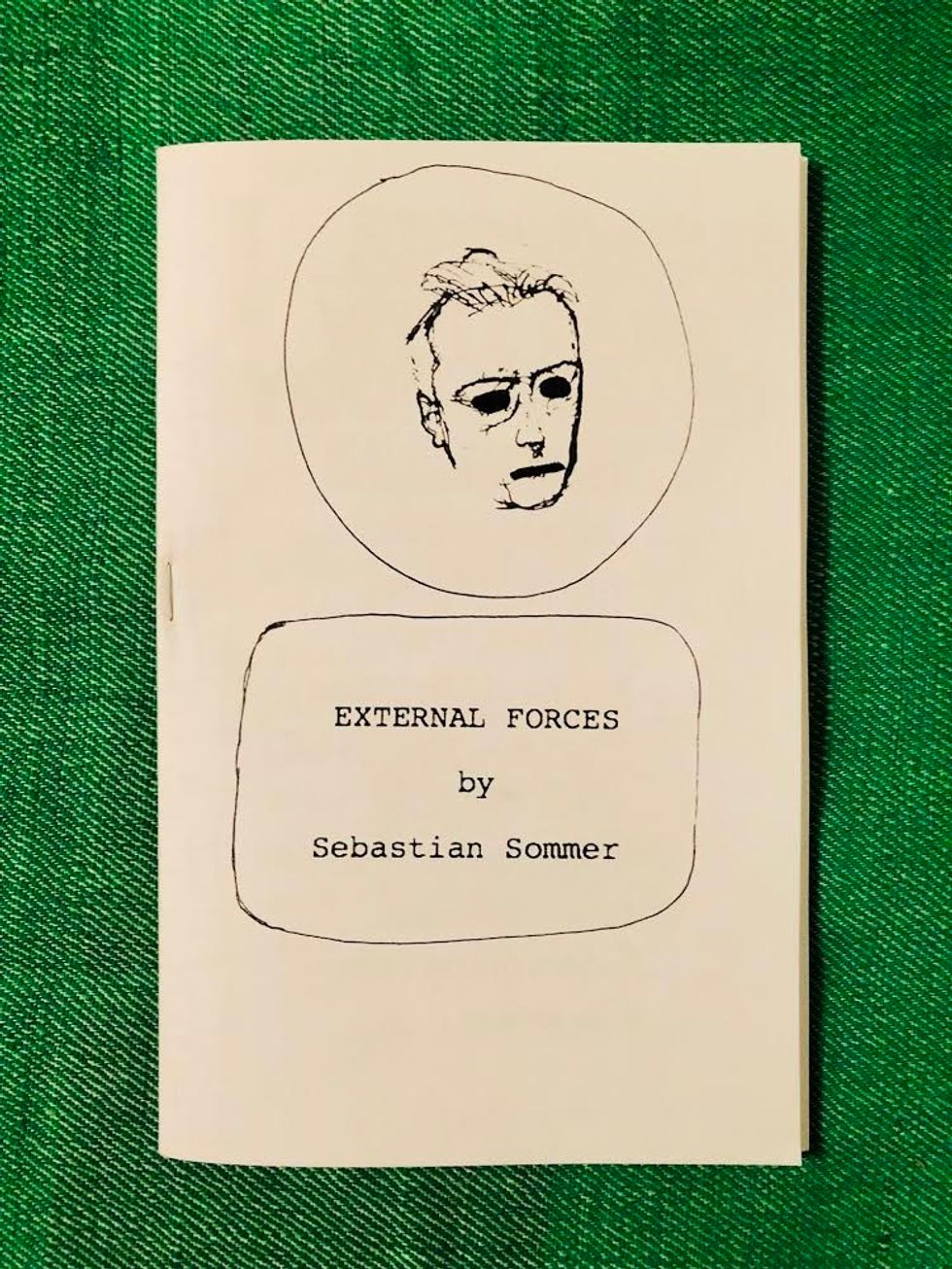 Richie Shazam: What was the mood you were feeling when you were creating External Forces?
Sebastian Sommer: Melancholy. I had been working on projects for many years, almost like a machine, and I gave myself no time to process some of the trauma I faced while growing up. I used to get bullied a lot in middle school. I was constantly being called homophobic slurs. It got really bad one day and I was pushed down a flight of stairs. I fractured my skull. I had to stay overnight in the emergency room to make sure blood didn't leak into my brain. I had vertigo for months. I had to transfer schools. It was a really difficult and intense moment in my life. For the longest time I pretended like it had never happened. I had put off dealing with those memories. It was too painful to acknowledge. Then out of nowhere it suddenly hit me, it all caught up with me... like a giant wave. I went through somewhat of an existential crisis last year. I didn't know if I was ever going to make another film again.
"I needed to use filmmaking as therapy [...] I had to share my truth and my experiences." —Sebastian Sommer
Shazam: That must have been challenging.
Sommer: It was. The one thing that had remained constant my whole life was beginning to slip away. I felt like I had exhausted myself creatively. I needed time to meditate and hibernate. I needed to make something very personal. I needed to use filmmaking as therapy. I needed to collaborate with talent that I truly believed in. I had to share my truth and my experiences. Thus External Forces was born. I knew that I wanted to make one final short film before I retired from this medium of expression. I wanted to make a film that spoke about depression and mental illness. First I wrote the script, then I created the zine, and now here we are, the project has been filmed and we are in the editing process, almost finished.
Shazam: How does it feel casting yourself in your work for the first time?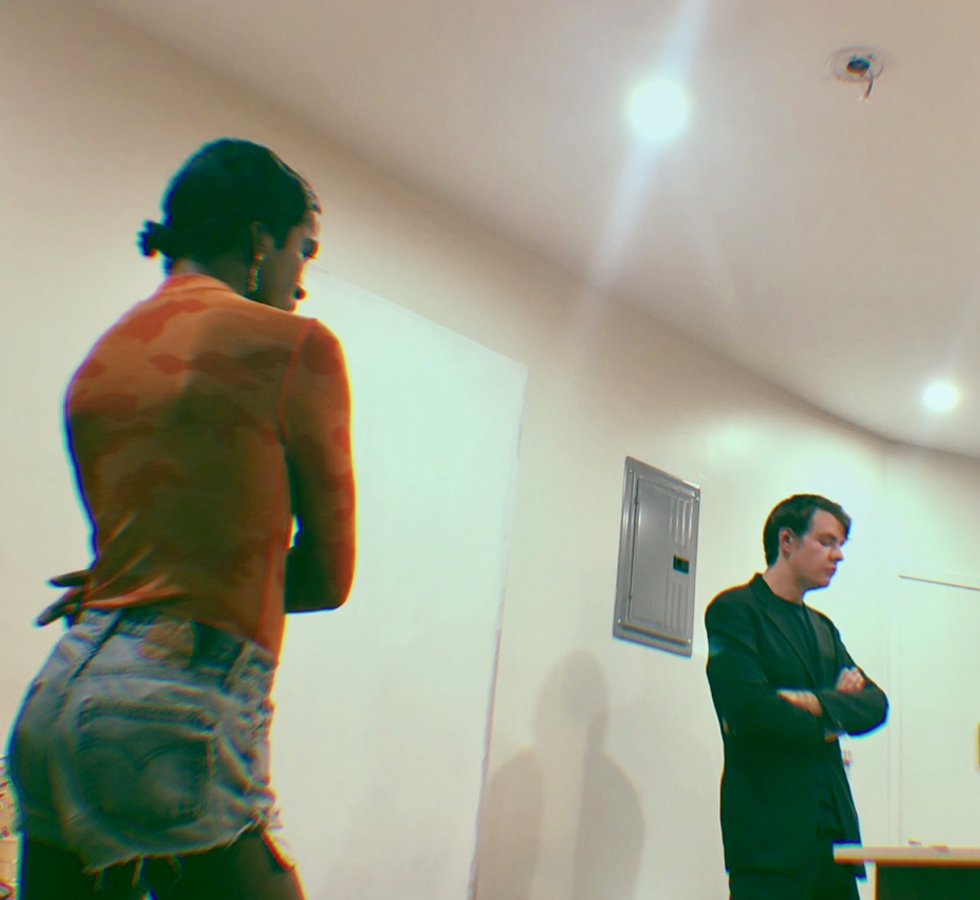 Richie Shazam and Sebastian Sommer (Film Still)
Sommer: It feels exciting. I have always looked up to creatives who put themselves at the forefront of their work. With External Forces I knew that I wanted to push myself and do something different. I showed my friend Stella Schnabel an early draft of the script and she was very supportive, very encouraging, and it gave me the strength to go full speed and never look back. This project is very autobiographical. It is very New York. I knew that I could make something that was unique to my experience growing up here.
Shazam: How do you think the neighborhood you grew up in impacted you?
Sommer: I grew up in a neighborhood on the Upper East Side called Yorkville. The majority of External Forces was filmed here and I really wanted this neighborhood to act like a silent character. I don't know many films that take place in Yorkville other than 25th Hour by Spike Lee. Which I feel is an incredibly underrated film. How about you? You grew up in Queens?
"I have a lot of trauma from growing up in [Jamaica, Queens]. But it was through this trauma that I was able to really confront myself." — Richie Shazam
Shazam: Yes, Jamaica, Queens. I have a lot of trauma from growing up in that neighborhood. But it was through this trauma that I was able to really confront myself. I had a very strong feeling to escape.
Sommer: I feel similarly. Constantly having to fight to be my true self. Dealing with physical and emotional abuse growing up. I also had a very strong feeling to escape. And I had been aware of you for a while. While I was writing the script, you were always in my mind. I had wanted to collaborate with you for quite some time. I wanted to make a film that explored a queer relationship in a way that I hadn't been seen before. Something that was very honest and raw, something that was painfully personal.
Shazam: Our lives share many parallels and we have a mutual, almost unspoken understanding, because of growing up here.
Sommer: Which is exactly how the concept of the zine came about. I wanted to go all the way. I wanted this project to be multidimensional. To feel like you were stepping into the mind of the lead character, seeing what goes on in their brain. I am very grateful that I was able to find a home for this zine at Chinatown Soup, an art gallery in the Lower East Side. They sold the first edition. They believed in me when I had a hard time believing in myself. It takes a lot of time to make a movie, to get all the pieces together, I had to stay in the zone, I had to keep creating.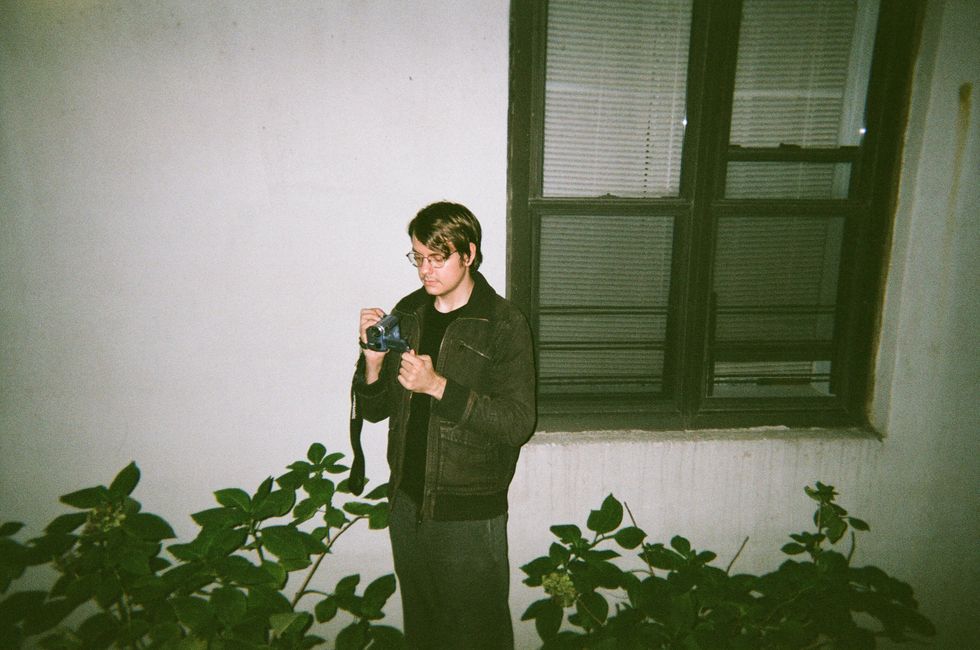 Sebastian Sommer
Shazam: I'm not comfortable in monotony. I need to be adrenaline filled, and to find like minded kin, a chosen family.
Sommer: Exactly. And this project wouldn't be the same without you, without any of the other cast members. It always starts as the vision of one person and then becomes a collaborative effort. It becomes everyone's spirit. You never know going into a project, whether you actually vibe or not. Especially when it comes to being in a project of mine, where the process can be very emotionally intense.
Shazam: I really appreciate that.
Sommer: This film was like nothing I had created before. Making a movie that is about a filmmaker who is struggling to make a movie. Examining the complicated relationships in his life and the way they impact his state of mind. I wanted to make sure that I spent as much time as necessary, to reach that emotional truth.
Shazam: Would you say that it takes a certain level of trust when you create?
Sommer: Exactly. Being able to trust who you collaborate with is essential. I am excited for people to see this project. It is the most vulnerable short film I have ever created.
Photos courtesy of Sebastian Sommer