21-year-old Sebastian Sommer is an up-and-coming independent filmmaker who's more obsessed with the internet than traditional film. Like a true digital native -- one who is always tabbing between Twitter, Facebook, and Tumblr -- his shorts focus on whatever interests him in the moment. His short film, She Told Me She Was Dead, featuring actress and nightlife star Hari Nef, is an exploration of celebrity and viral fame and his webseries, Alt-Lit follows a crew of apathetic Brooklyn poets. The running thread through all of his work is how the internet intersects with and changes our IRL lives. Sommer's newest short, Eight Circut Model, originally premiered by Purple Magazine, is a futuristic fashion shoot gone horribly wrong. For this project he teamed up with actress Jennifer Prediger, who most recently wrote, directed, and starred in the festival darling, Trouble Dolls. You can watch Eight Circuit Model and then read our Q&A with Sebastian Sommer and Jennifer Prediger, below.


How did you come up with the concept for Eight Circuit Model? It seemed like, half horror film and half critique of millennial culture.

Sebastian Sommer: I originally had this idea around the moment of a photo shoot and how that experience can be funny or awkward. I'm also really obsessed with the internet -- and the dark side of the internet -- so that's something I really wanted to show in the film. So it ended up being a combination of all of these things that I was obsessed with at the time -- like Hood by Air.

Yeah, HBA is sort of hard to avoid these days. Why did you choose to include the brand in your film?

SS: Other than just really liking it, I felt like the clothing itself makes a statement. Hood By Air sort of fits into this new, emerging culture. I remember when HBA was just a website and you had to just email them to get it -- they didn't have a shop or anything. So it's been interesting to see them really grow and explode. I've always been a fan, even if A$AP Rocky doesn't think they're cool anymore.

Jennifer Prediger: Yeah, you liked them before they were cool and after they stopped being cool. 

So how did you two start working together?  

JP: Well, Sebastian is really good at reaching out to people whose work he's seen and admired. He saw the Joe Swanberg film, Uncle Kent (2011), that I acted in.

SS: Yeah, the first time I saw it was in an airport on the way back from California during the summer. I watched Uncle Kent on my iPod Touch -- not even an iPhone -- and I used the airport WiFi to stream the film since I had been meaning to check it out. I remember Jennifer's performance was definitely my favorite. It's always great when an actor can do something that stays in your mind.

JP: From there Sebastian sent me the nicest Facebook message and he also sent me one of his short films that he had at the TriBeCa Film Festival titled, Mama Said Sardine Baby. It's the strangest movie title of all-time, but I love it. That was the beginning of my interest in Sebastian's work. I felt like he had captured the essence of something very important.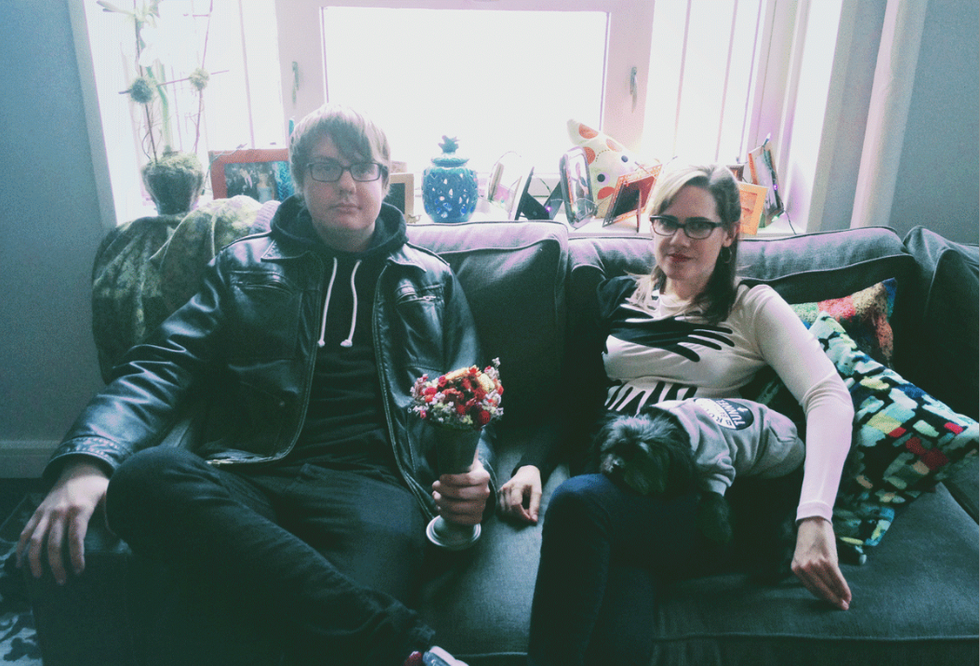 Sebastian Sommer (left) and Jennifer Prediger (right). Photo by Jennifer Medina
How did you build the rest of the cast? Do you have a network of actors that you usually work with?

SS:
When I was writing it I definitely knew that I wanted Jennifer in the film and
Steve Girard,
who plays the photographer in
Eight Circuit Model
. He had this film,
Wawd Ahp
, that won Best Midnight Short at SXSW. It was really, really fucking crazy -- crazier than my film. In the short he played a rapper who cuts his own head off and then has sex with his own head. I knew I wanted him to play the photographer and then the rest of the actors and actresses filled in around that.   
Looking at Alt Lit -- the webseries that you did for Nerve -- in comparison with Eight Circuit Model, it seems like your work really focuses on youth culture. But Alt Lit was more like satire...

Eight Circuit Model
is definitely the direction I'm going toward. With
Alt Lit
,
Nerve
definitely had more control than I wish they did.
Eight Circuit Model
is more true to my style.
What did you do differently with Eight Circuit Model?  JP:
Well, with
Eight Circuit Model
the concept is basically a person getting an actual virus from a computer -- a computer virus that becomes a biological virus that can kill you. The fact that Sebastian is even thinking about humans having sex with robots, or people getting diseases from computers is really different.
SS:
Yeah, I like computers a lot. I want to bring internet culture to movies. I'm in the process right now of trying to figure out how to do that and how to get there. I just want to bring the culture of the internet to films. I think a lot of movies are out of touch with what's going on online. Obviously, films like
The Social Network
have been made and David Fincher uses computer screens in an interesting way, but I don't think meme culture has really been brought to film. Like the really weird stuff. Nobody is referencing all these things that millions of people on the internet would understand.
It's an interesting undertaking to bring the internet to film because the internet, or at least the act of going online, is pretty boring visually. SS:
Haha yeah, it can be. But people don't think enough about how
incredible
the internet is and through film-making I want to change that.

What projects are you working on next?SS:
I have almost finished editing my next short film
Family Tree
, which stars Hari Nef and India Menuez. It's about a dinner party that quickly becomes sinister and it's inspired by things I've seen on 4chan, Agatha Christie, and Ken Russell, with music by
Hot Sugar
. After that I plan on making only one more short film before I start making feature films.