Writing team Charles Rogers and Sarah-Violet Bliss, who wrote and directed the scathingly funny Brooklyn millennial satire Fort Tilden, are continuing to bring the twisted laughs with their new dark comedy series, Search Party,Search Party, which premieres Monday, November 21 on TBS. The ten-episode first season will air two episodes a night, for five nights--perfect for the modern art of binging.
Like Fort Tilden, the plot revolves around self-involved, nightmare-brunching twenty-somethings in New York, focusing on the aimless Dory (Alia Shawkat), a personal assistant who becomes obsessed with the disappearance of a former college acquaintance, Chantal (Fort Tilden's Claire McNulty), who is feared by everyone to be dead.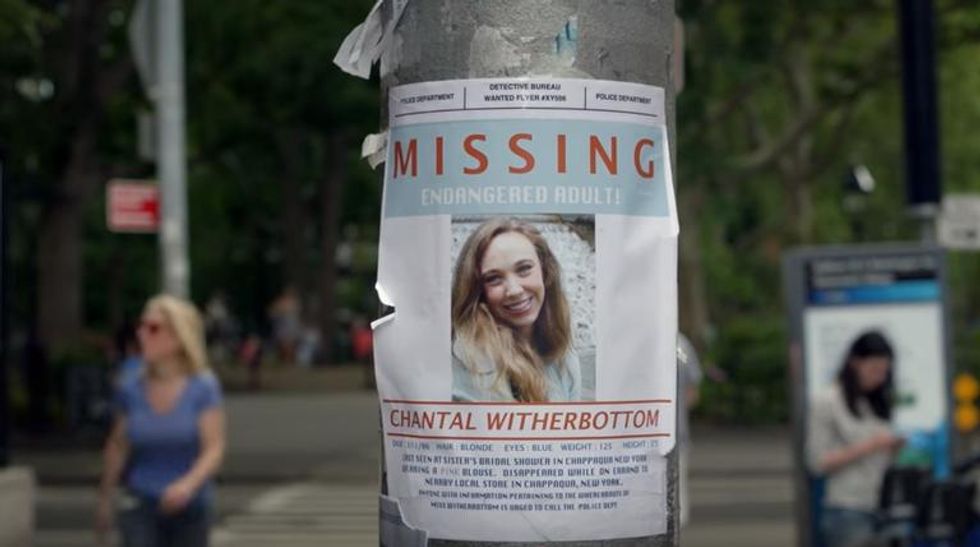 After becoming convinced that she spotted Chantal, alive and on the run, Dory enlists two morbidly narcissistic college pals Elliott (John Early) and Portia (Meredith Hagner), as well as her dopey boyfriend Drew (John Reynolds) to help solve the mystery, which proves more strange and disturbing at each turn.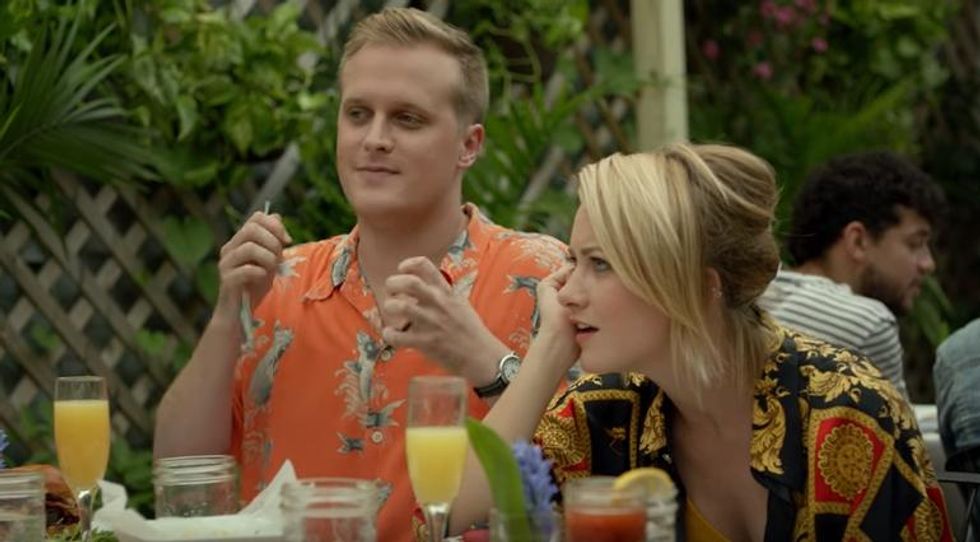 Early and Hagner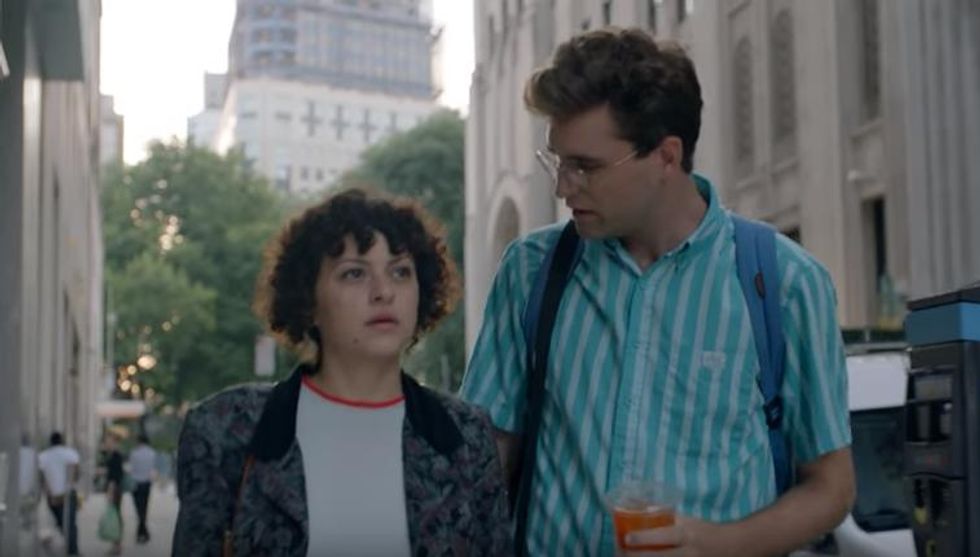 Shawkat and Reynolds
Rogers and Bliss, who teamed up with Wet Hot American Summer creator Michael Showalter, once again fearlessly lampoon our generation's collective self-obsession and disconnection, while still craving meaning and self-actualization.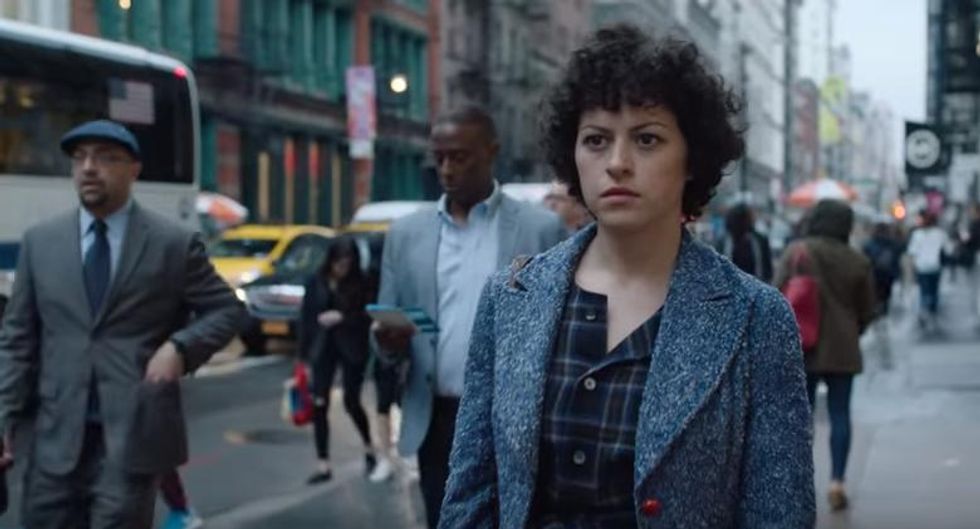 We caught up with them to discuss the show, the gray area of ethics, and why hashtags aren't the answer.
You must be so excited about all of this!

Charles Rogers: Yes, for sure. I mean, it comes at a time of national despair, but otherwise yes.
It's cathartic to laugh! How was the idea for this show first conceived?
Sarah-Violet Bliss: After we did Fort Tilden, we knew we wanted to do something in TV, and we had been trying to figure out what kind of show we wanted to make. We knew it had to piggyback off the world of Fort Tilden, and when we linked up with Michael Showalter, he wanted to work with us on it, too. He introduced us to Jax Media, our producers, While we discussed it, they thought, 'Why not make it a murder mystery?' and that got all of us excited.
There's definitely a creepy Nancy Drew/Murder She Wrote throwback factor, amidst the dark humor. Did you always want to keep that thriller quality to it?
CR: I think there were a lot of tones we wanted to hit throughout the series. We wanted it to be an homage to the genre. Like, farcical, but also a psychological thriller, so every episode delivers something a little different that fits under the larger umbrella of a mystery. Ultimately, I think we think of it as a satire first and foremost--a cultural satire--and then we slap a mystery genre onto it.
You guys perfectly capture the bizarre social media trends that rule us, especially when Chantal is missing and the "#IAmChantal" tag pops up. It's crazy how we've boiled tragedy or complex events into simple hashtags.
SB: Yeah, and I always think 'who trends the hashtag?' and it happens so quickly I'm just like, 'Wow'. Like #NotMyPresident, the one we're using now.
CR: There are also like "primaries" whenever something happens, to decide which hashtag is the one everyone uses. There are always two hashtags that come out of it, and only one prevails.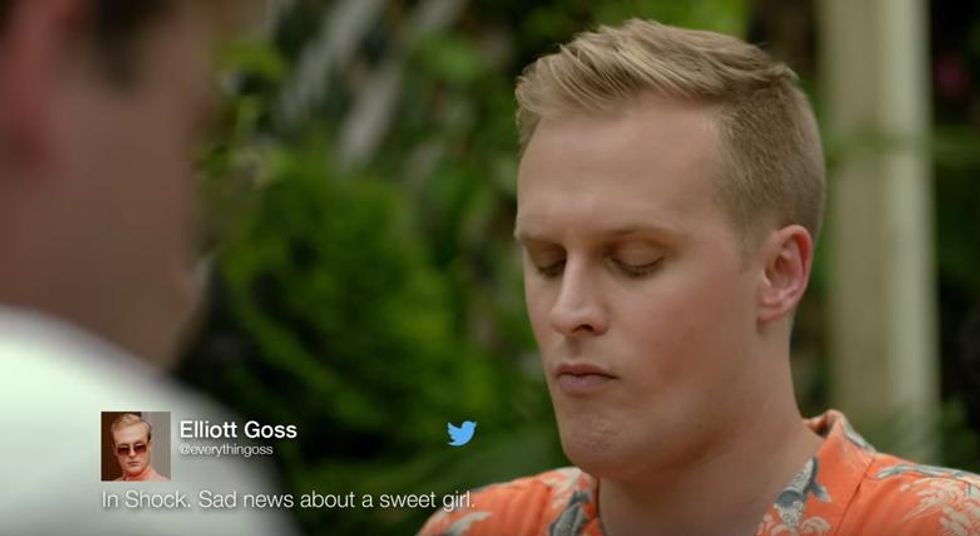 Fort Tilden was such a brutal commentary on our generation. Would you say Search Party exists in the same universe?
CR: I feel like we never talked about it formally with one another, how Search Party would feel compared to Fort Tilden but I think we've grown up since Fort Tilden and so I think the themes and the issues in Search Party are a little bit more grown up. It's more about finding meaning in life and summoning an existential quest, if that's how you need to find it.
I think Fort Tilden and Search Party are similar in that they both explore the grey area of ethics, and what it means to be a good person and being seen as a good person, so I feel like we brought that into Search Party. Search Party is a little bit darker and a bit more sophisticated because of the subject matter.
What was it like working with Parker Posey, Christine Taylor, Rosie Perez? Such incredible, and underused actresses nowadays.
SB: It was totally awesome. They're all people that we all really admire and whenever we found out that an actor that we asked said yes we were like, 'What!' And they would just come and do their jobs better than the writing, so they're dreams.
CR: It's crazy to work with people that you grew up loving. Like, people who are just becoming known today if we meet them or work with them, I'm just like, 'Oh cool, I like this person, I respect them and I like what they do,' but if it's someone you grew up watching they're always like a god. Like, I'm not allowed to know you. It's surreal when it's someone you felt like was a part of your life before you started doing film.
To see them personify the words you wrote must be surreal.
CR: It's also like, 'Oh right, this is Parker Posey playing this character.' I hadn't truly thought about it, because I know the character and I know Parker Posey, but I couldn't see Parker Posey playing the character until I saw the opportunity to see Parker Posey playing the character.
Did you have her in mind when writing the character?
CR: Well, we wanted Parker Posey to play anything she wanted to play--just to get her in the show, no matter what.
How did Alia Shawkat get involved?
SB: We had a meeting with her. We offered her the part, and she read the script and agreed to meet with us. We all sat around for a magical brunch situation [laughs], and talked about the script. She was really cool and excited about the part, and from there we all fell in love.
CR: Yeah, she came in the writers room, and discussed what she thought about Dory, and how Dory moved through the story. She's had a lot of input, and she's so smart and truly the grooviest person I've ever met.
Dory is obviously the protagonist, but there are moments where—even when surrounded by her outwardly obnoxious friends—she is just as bad as them.
SB: Yeah, I think that is a response we're excited by: She's likeable, but then she does these things that are in her own self-interest and pretending as if they aren't in her own self-interest and in full denial about that. But it walks that grey area in what makes you a good person or a likeable person.
You've written on the staff for Wet Hot American Summer, and Mozart In the Jungle. How has that prepared you for having your own show?
CR: It's helped a lot. Those experiences were such different work experiences. Like, the feelings of creating those shows were so different from one another. Mozart was such a reserved and gentlemanly experience, and Wet Hot was such a chaotic, creative comedic experience. I think it really taught us how we wanted to set up our room and what you experience as a writer. It's helped us communicate with the writers better.
The entire first season of Search Party will air on TBS Thanksgiving week (11/21-11/25), with two new episodes on each night at 11:00 and 11:30pm ET/PT. Online on TBS.com, the entire season will also be available to watch starting 11/21. Watch the first episode below.

You May Also Like
Care
Story by Khalid El Khatib / Photography by Serichai Traipoom