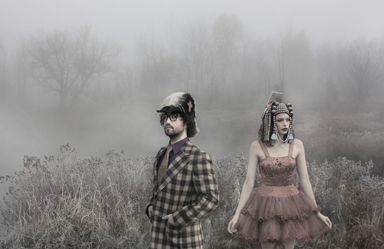 Besides being a troublingly handsome couple,
Sean Lennon
and girlfriend
Charlotte Kemp Muhl
are psych-pop act
The Ghost of a Saber Toothed Tiger.
Together, the pair play jammy, kaleidoscopic music, performing live with
Cibo Matto
's
Yuka Honda
, and
mi-gu
's
Yuko Araki
on drums, and list their influences on
MySpace
as "Volcanoes. Seaweed. Trilobites. Dripping faucets. Quantum Computers. The end of the world. Tomato Catsup." Sounds about right. With no records out and Kemp Muhl, surprisingly, having just recently learned to play the bass, GOASTT is still in its infancy. Go check them out at a cozy
Union Pool
show Friday, February 19th, before they inevitably start haunting bigger venues.
Union Pool, 484 Union Ave., Williamsburg, Brooklyn, (718) 609-0484. 9 p.m. $10.