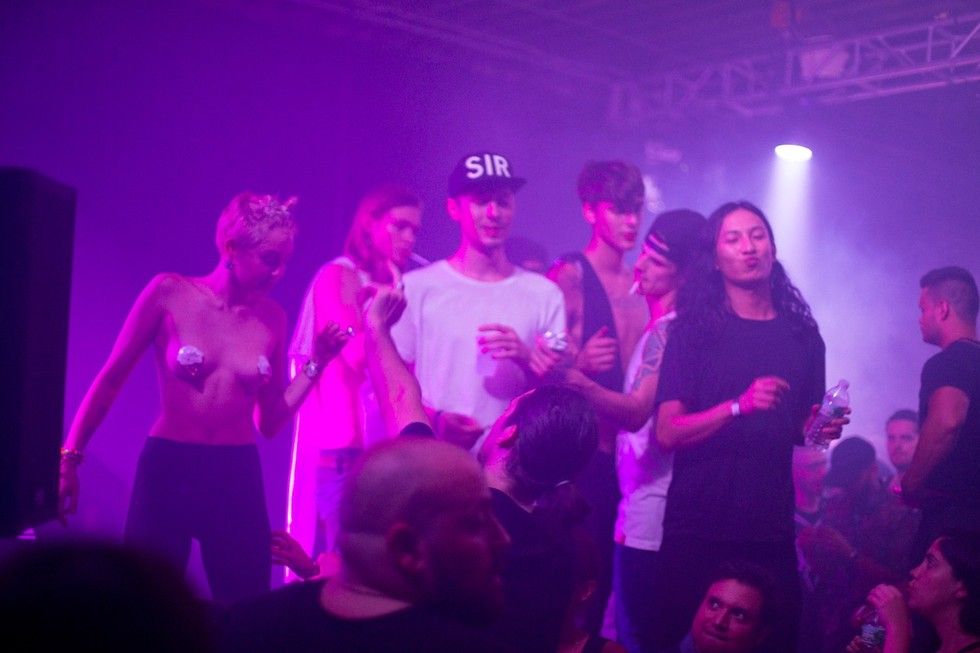 Miley Cyrus in her ice cream cone pasties dances with Alex Wang and friends.
Update: We have pictures! Scope 'em above and below.
He may have moved his show back to Manhattan this year but Alexander Wang is still reppin' Brooklyn.
After days of mostly aimless speculation and gossip about Alexander Wang's party and the general -- if unfortunate -- consensus that he wasn't throwing down this year, the designer surprised us all by hosting a super secret after-party in an East Williamsburg warehouse/studio space called Chemistry Creative. In the words of Stefon, this party had everything: a topless Miley Cyrus, a performance by Tyga and a guestlist that included Kendall Jenner,
Paper Beautiful Person Gigi Hadid
, model Hanne Gaby, Brad Goreski and other assorted club cuties.
The party was the brainchild of nightlife powerhouses -- and Friends of Paper -- Ladyfag and Seva Granik who, you might remember, also
co-hosted Wang's big 'Harajuku Mall'-themed party
one year ago. The party had originally been billed as one of the couple's 'Lowbrow Despicable' warehouse ragers and no one -- not even the DJs on the bill -- were totally aware of the Alexander Wang affiliation until two massive party buses arrived on the scene around 12:30am, delivering the designer and his posse. They were all wearing (or carrying) plastic animal masks.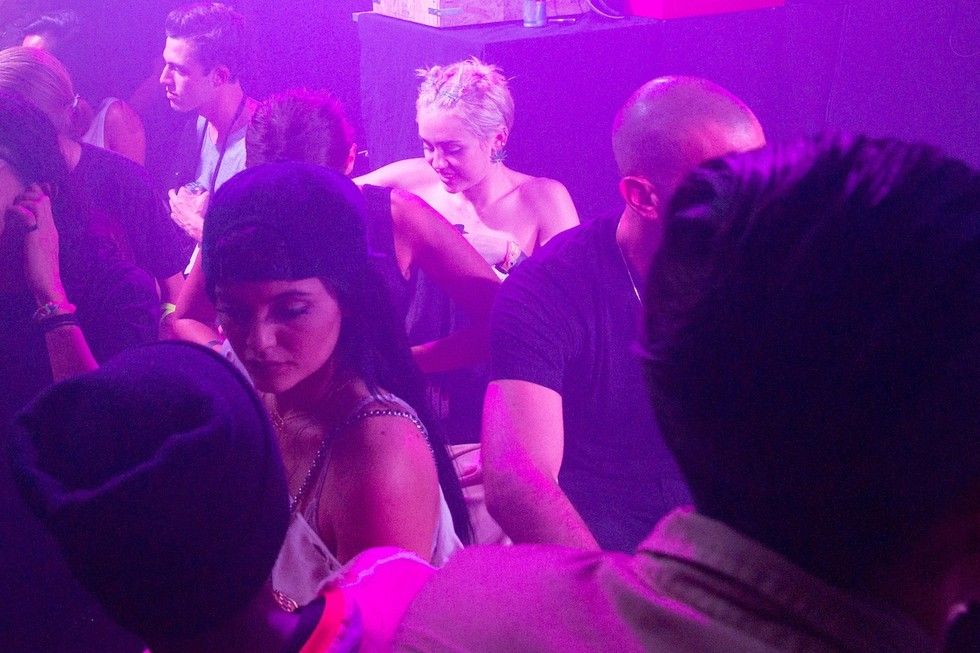 Kendall Jenner (front) and Miley Cyrus (back)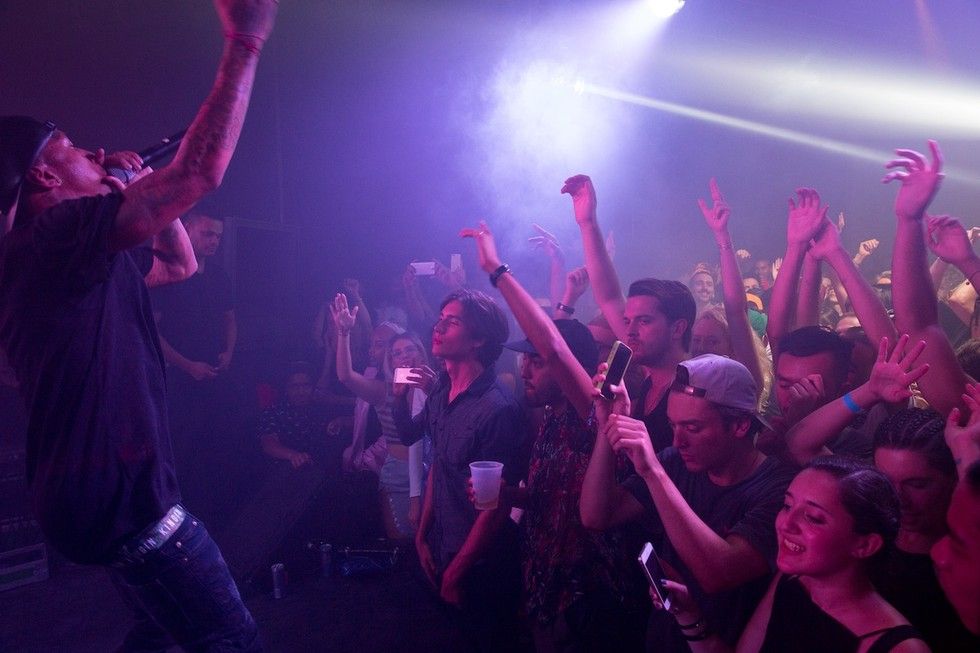 Tyga's performance
Once inside the warehouse, DJs Mess Kid, Uniiqu3 and Michael Magnan kept the party vibes going, only to be interrupted by Ladyfag giving props to Wang and, later, a wild performance by Tyga who got even the most blasé cool kids chanting along to "Rack City."
But, not surprisingly, Miley took the night.
For starters, she was topless (and wearing pasties). And chain-smoking weed. And twerking. Damn, the girl is ALWAYS on brand. Props, Miley -- keep doing you.
At one point, DJ Uniiqu3 put on Migos' "Hannah Montana" and "Hannah Montana" herself writhed and smoked and smoked and writhed onstage while a sweaty sea of twentysomething fashion punks stood transfixed. The girl was basically doing nothing and yet most of the warehouse stood rapt as if we were watching a concert.
As bleary-eyed kids (and this editor) began to exit the warehouse around 4am, the party raged on and, we might add, set a very high bar for the rest of fashion week.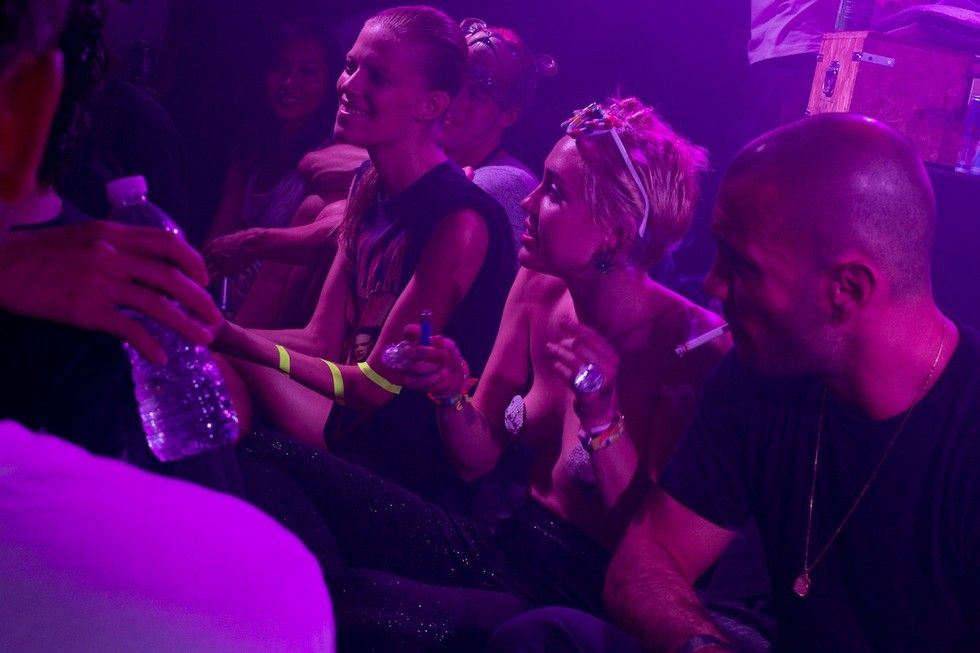 Miley.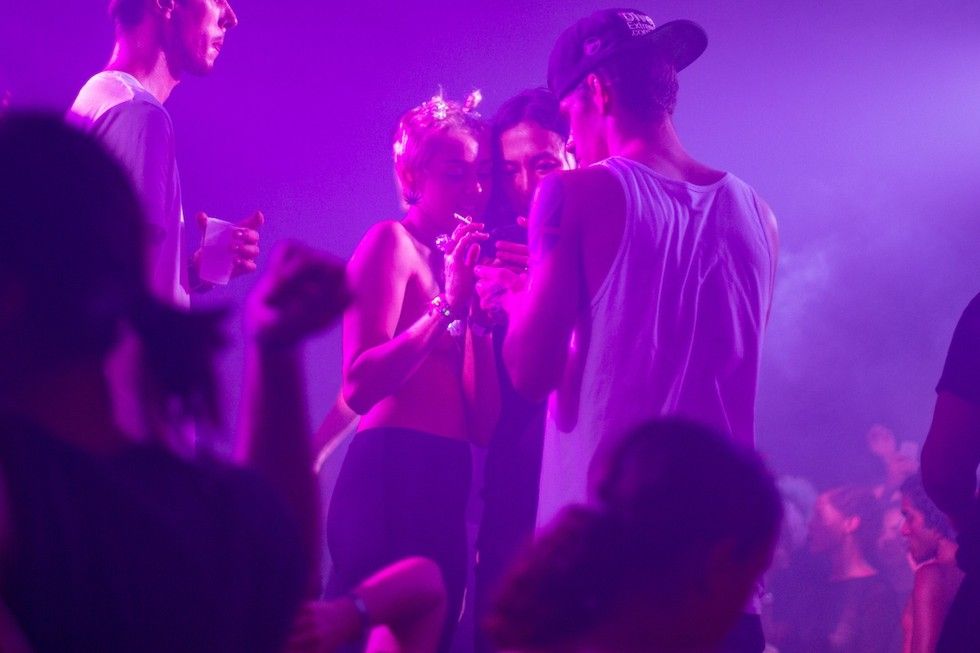 Miley and Alex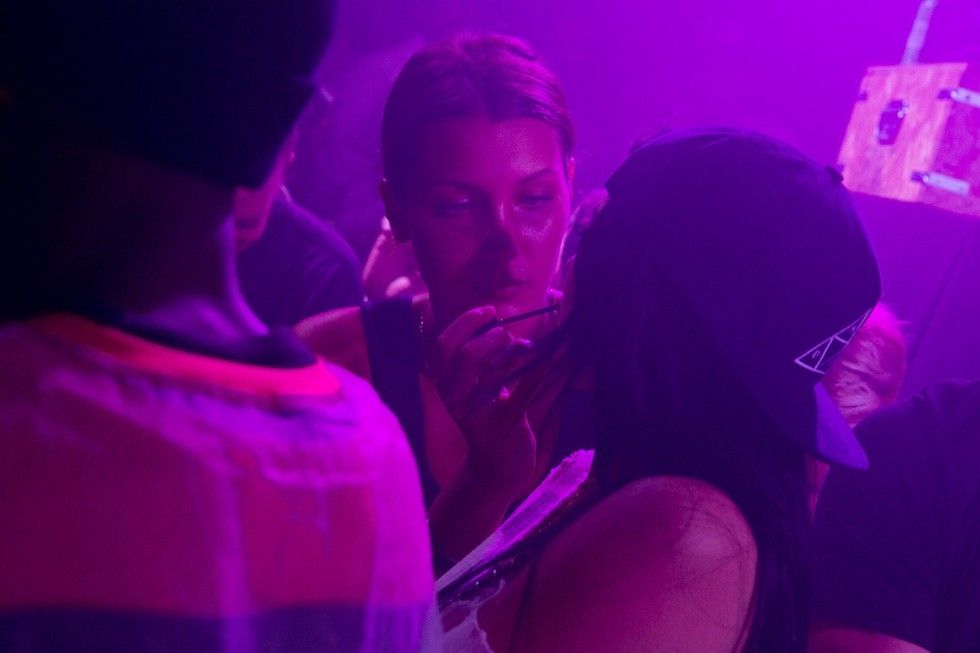 Bella Hadid touches up Kylie Jenner's lipgloss.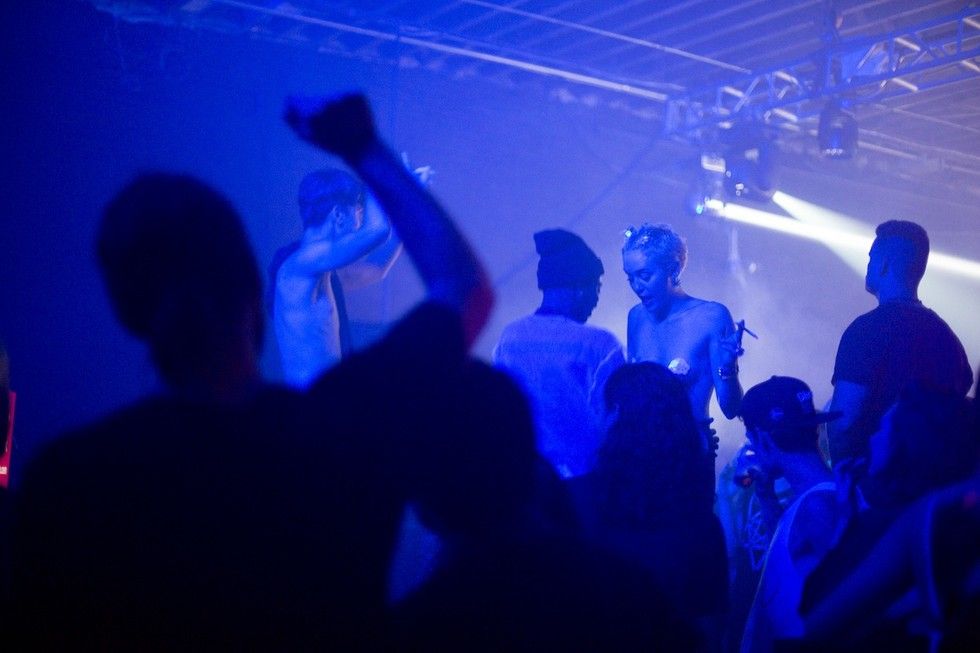 Miley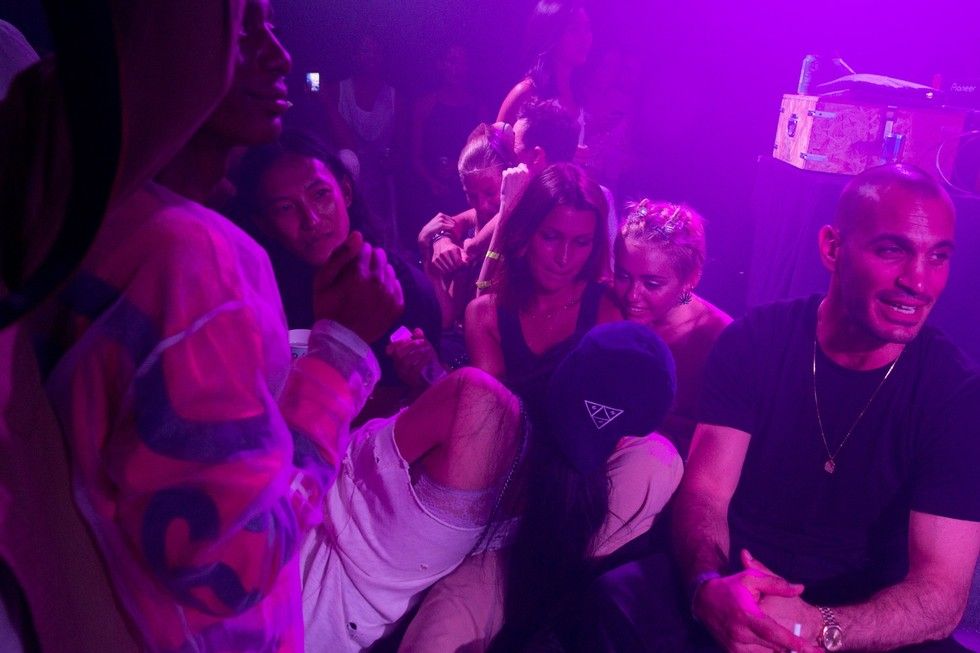 Alex Wang, Bella Hadid, Kylie Jenner and Miley Cyrus chill backstage.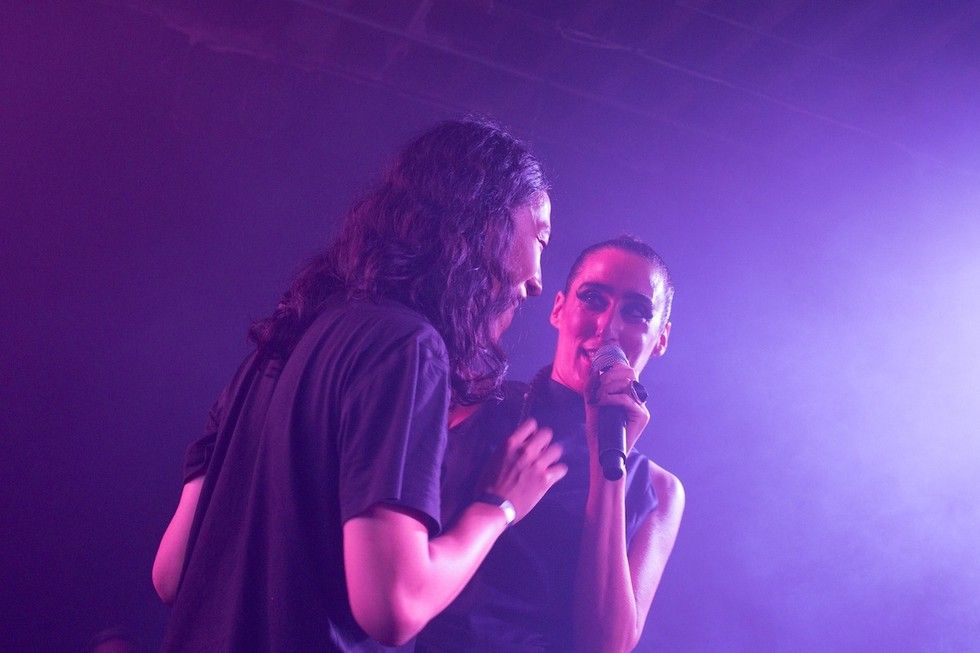 Ladyfag congratulates Alex