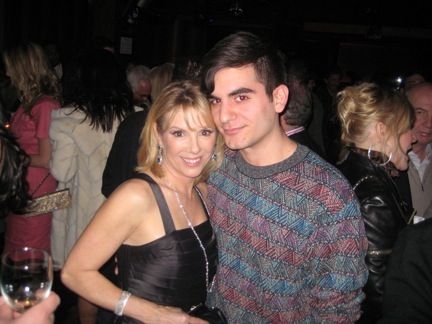 Last night, I found myself at a
Real Housewives of New York
screening party at
Tenjune
, hosted by arguably the most entertaining Housewife of all,
Ramona Singer
.
Bethenny Frankel
(with a visible baby bump!),
Alex McCord
, and new cast-members
Jennifer Gilbert
and
Sonja Morgan
(who was clad in a leapard print dress...) weren't tardy for the party, but
Jill Zarin
,
Countess LuAnn
and
Kelly Bensimon
were MIA. Unsurprisingly, the glowing Ramona (who, at 50+ looks beyond amazing in a bikini in episode one!) was the life of the party, posing for pictures with Ramona devotees (I swear I saw
Joan Rivers
' twin) and me (see above)! Sure, I may have been the youngest attendee, but I felt as glamorous as one of Mario's diamond-encrusted crucifixes. The diamonds, the designer bags and Upper East Side aura must have been rubbing off on me -- or maybe it was the unlimited wine. On my way home after the soiree, I rummaged through the gift bag, reading a plastic surgery brochure, testing the powers of lip venom and anxiously awaiting a shower so I could use my new caviar shampoo. Thanks Ramona!
I had a moment to chat with the scene-stealer herself, who, not surprisingly, wasn't afraid to spill the goods.
Here are a few highlights from our chat.
On her favorite reality television show
:
Ramona's not a
Jersey Shore
fan --  it's "too low brow" for her. But she "gets a kick out of" the Kardashians.
On the two new housewives
:

She hasn't had much interaction with Jennifer yet, but says she admires Sonja Morgan because, "She has a strong self worth. She's not intimidated by other women, she knows how to have fun and she's a great mom."

"It's tumultuous beyond belief."
On Kelly Bensimon
:
According to Ramona, last season's infamous "oh no she didn't!" scene where Kelly says to Bethenny 'You're down here, I'm up here' is "child's play" compared to the Kelly of this season. Maybe the
Playboy
cover has gone to her head...
On her other castmates
:
Jill "implodes" and Alex, who "we all thought was quiet like a church mouse freaks out into something you cannot believe is possible."
Now those are the kinds of juicy tidbits we love! In short, we can't waiiit!