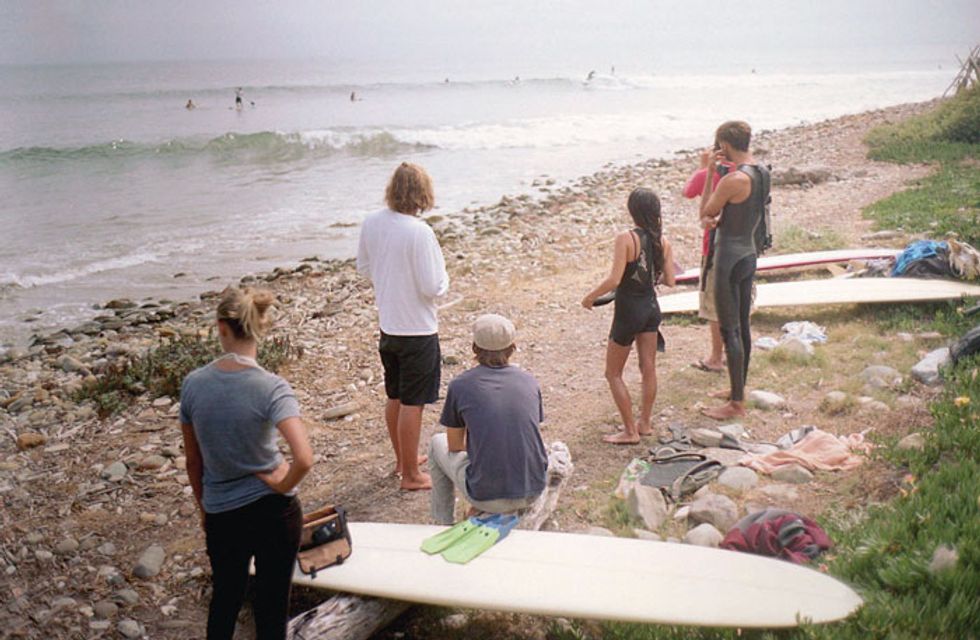 The regulars at Rincon point.
A couple of winters ago I began noticing a group of surfers at Santa Barbara's Rincon Point. I don't know whether I first saw them surfing or hanging out together on the beach, but I was immediately struck by their sense of style -- both in and out of the water. They surfed beautifully -- no wasted effort, just laid-back California cool. They rode fucked-up single-fins that looked like they'd been in someone's garage rafters since around the time
Abraxas
dropped. You could just about hear Carlos Santana singing:
"Oye como va
/
Mi ritmo/em> / Bueno pa' gozar
."
But they were cool as shit on the beach, too. Crazy clothes. Improvised surf shacks outfitted with Mexican blankets. A band of brothers and sisters. I loved watching a shaggy Kyle Albers finish a Modelo, grab a board -- never a leash -- and paddle out to the top of the point. Not a minute later he'd be flying across the cove in a soul arch, having gotten what would have been the wave of the winter for any of the 70 other surfers scrapping in the lineup.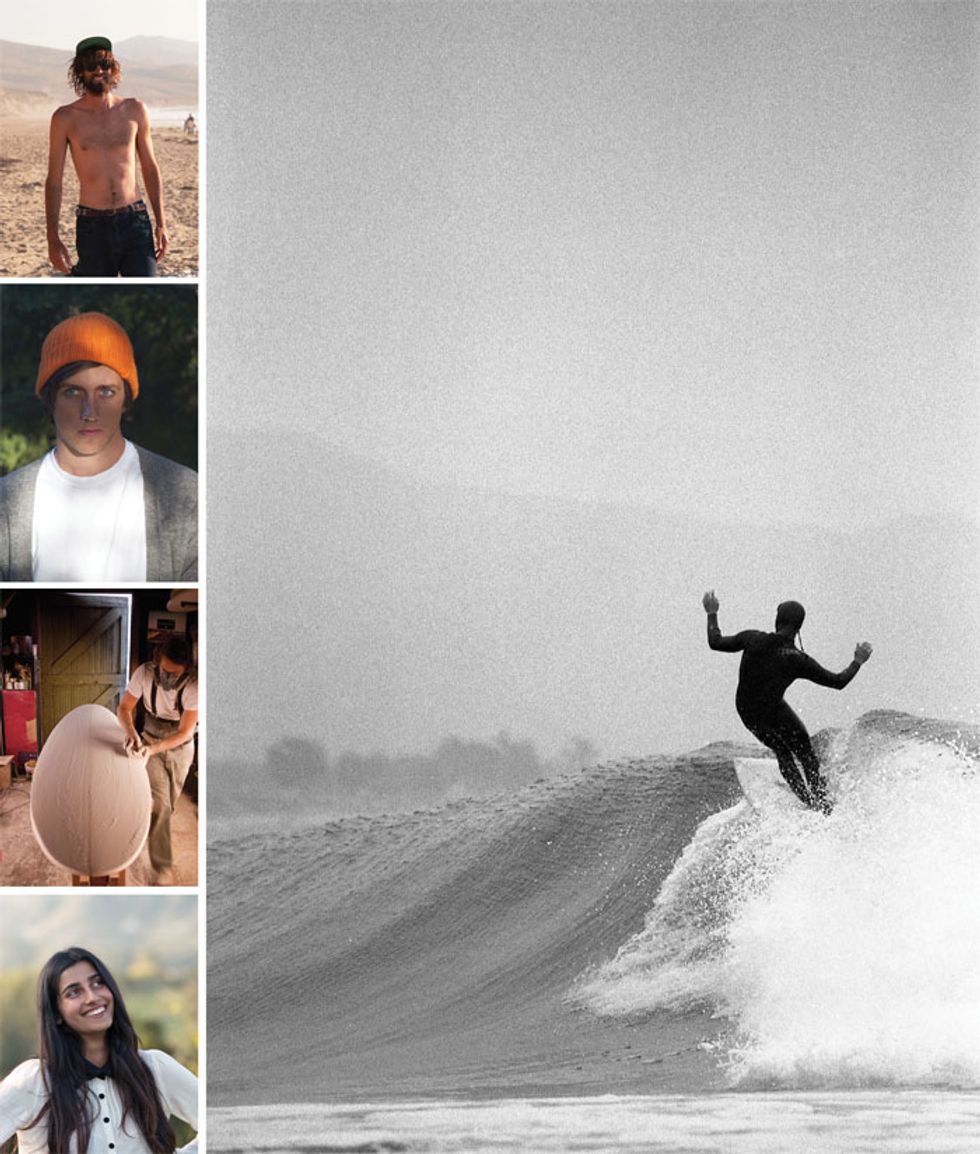 From the top: Ryan"Silky Love" Lovelace, Kyle "Diddles" "Pizza Time" Albers, Gilda Hariri, Trevor Gordon.
In time, I learned more about the crew. In addition to Albers, there was the talented young surfboard shaper Ryan Lovelace, whose unconventional boards many of these guys surfed when they weren't riding their fathers' 1970s beaters; there was Demi Boelsterli, surfing as well as the hardest-ripping men; there was the photographer Morgan Maassen; and there were others who surfed with impeccable style, like Gilda Hariri, Trevor Gordon and Travers Adler, whose brother, Will, took the photos that appear on these pages. Surfing in Santa Barbara is more about "a quality over quantity-style mentality," says 26-year-old Lovelace, the de facto captain of the freewheeling crew. "We're steeped in waves for a few months out of the year, and desperate for them the other months, while the rest of California is having a field day. But you better bet that when it turns on here, all eyes in California point towards Rincon."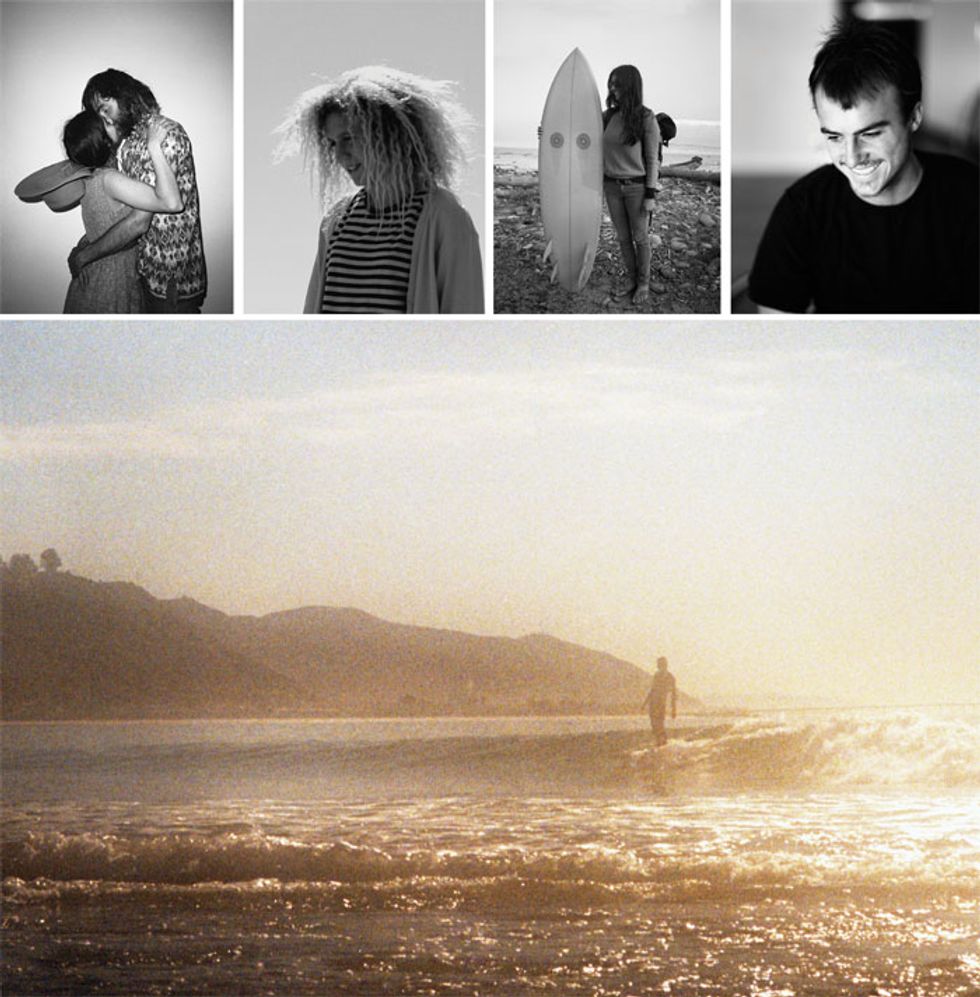 L-R: Gilda and Ryan, Demi Boelsterli, Travers Adler