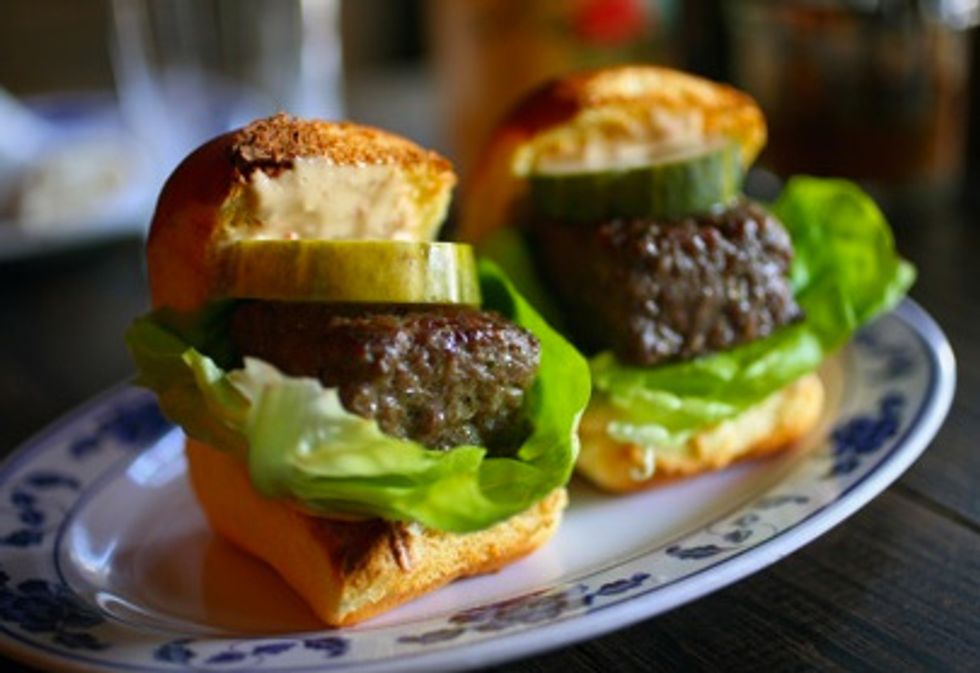 Burgers are in high demand on the Upper West Side, as Dalton parents and
stoned
Columbia students alike brave the pleasantly unpredictable weather to hit the neighborhood's grills. But with bathing suit season fast approaching, we've been paying more attention to the aesthetic and moral consequences of ordering huge burgers than usual. I'd never suggest we shut these artery-clogging wonders out of our lives permanently (Shack Stacks forever!), but for the time being I have an alternative burger option for you that won't want make you want to take a nap after you eat it: Malaysian hotspot
Fatty Crab
's delectable Fatty Sliders.
Contrary to what the name might suggest, these burgers take a more minimalist approach in both size and components.The mini beef and house-cured pork sliders are served over a piece of bibb lettuce on toasted potato buns smeared with a layer of Fatty Crab's signature sambal aioli and topped with a crisp, refreshing pickle. The patties themselves are perfectly cooked: a slight charring on the outside yet still succulent and flavorful. The blend of beef and pork oddly enough lends itself to a leaner taste than a pure beef patty, and the aioli has certainly landed a position on my Top Ten Condiments list (which does, in fact, exist, and will perhaps be revealed in a later blog). 
At a mere nine dollars for a plate of two, an order of Fatty Sliders is my idea of the perfect light meal. For the night owls among us, an order split between two makes an epic bar snack, especially when paired with one of Fatty Crab's international beers.
2170 Broadway, between 77th and 76th
212.496.2722
(Photo by Doug Schneider)