In our 'Girl Crush' series, women with mutual admiration for one another get together for conversations that offer illuminating looks into what it's like to be a woman right now.
It's already been thirty years since Salt-N-Pepa made their explosive debut with Hot, Cool & Vicious, championing female empowerment and sexuality with brash lyrics over dancefloor-friendly beats. Now, after countless hits, a Grammy, and a reality show, Cheryl "Salt" James and Sandra "Pepa" Denton are busier than ever. 2016 sees the rappers heading on tour with DJ Spinderella, hosting a new Cooking Channel show called Cookin' with Salt-N-Pepa, and working on a cookbook and a sitcom. Amidst all this, they still have time to discover new artists, and have become big fans of Rachel Platten, the singer-songwriter who broke out last year with anthemic hits like "Fight Song" and "Stand By You," off her debut album, Wildfire. We connected the twosome with Platten to give the three artists the chance to talk about honesty in music and why the "block" button on Twitter can be a godsend.
When did you first discover each other's music?
Rachel Platten: I was 9 or 10 and my friend and I became absolutely obsessed with Salt-N-Pepa and we made up dance moves to "Shoop" for a lip-syncing contest. I think I told you guys that at the VH1 Music awards. I know every single word to almost all of your songs and just thought you were the coolest and still do.
Pepa: It was on the radio that I heard your song. I was like, " That's the girl!" "Fight Song!" And you have another song that I really like – "Stand By You."
Platten: Oh yeah, that's my new single. You have to come join me onstage. You have to come on my tour.
Salt: That would be awesome. For me the "Fight Song" goes really, really deep. I don't remember the first time I heard it, but I know that it struck me. I'm going through something personal in my life and those lyrics really speak to my heart. It's so inspirational and I can tell that it is from your soul. When we saw you at VH1's You Oughta Know concert, that was the first time we saw you live and you performed the song just as passionate as it is [written] and, girl, let me tell you, I felt like I was in church. I was like, "Yes, lord! Yes!" Because Salt-N-Pepa, we're all about that – we're all about inspiring women. As females, we know what we go through in relationships, in friendships, in the music industry. It's like "Push It." "Push It" is not just a dance song – it's about having to keep pushing past so many obstacles and that's what "Fight Song" represents to me. It's a great one that will go down in history forever.
Platten: You should see my face right now. I basically have the stupidest smile on and I almost have tears in my eyes. You're absolutely right -- as women in this industry, it is so fucking hard and you have so much adversity and so many things stacked against you and I appreciate so much that you can feel that in my performance. Every time I sing it, I remember the words and I remember what I'm talking about and I remember just how much I needed it.
As artists, do you ever feel like you have a responsibility to empower young women?
Pepa: I think for people like us who have this platform, it is our duty to keep sending that message and also to let fans know we are human and we're not these untouchable people – [it's important to say] "I'm here with you and I'm gonna share some of my pain and I know you're in pain, too, but we're gonna push through this."
Platten: I feel the exact same way. I feel a responsibility to not empower women so much as to be honest. That's the only thing I think my responsibility is – to share who I am and to not cover it up if I'm hurting and to not put on a face like "Oh, I'm perfect and this is easy" because I don't think it ever becomes easy and I don't think the demons in our heads ever go away. Just because we write these empowering songs, that doesn't mean stuff goes away -- you just get better at learning how to quiet those demons in your head. And you get better at learning to cope. I think that feminism is wonderful, but I also think that our music encourages men, too – or at least I hope it does -- and it's not only a woman thing versus a man thing, it's a human thing. We all go through stuff.
Salt: Absolutely. I just watched the movie, Suffragette, and I've always been fascinated with the women's suffrage movement and this movie went really deep with what women were suffering from. It was not just about getting the vote, it was about being able to vote and being able to have a voice for your rights. So we're building on the shoulders of not only women in music, but women who have gone to the mattresses for our rights. It's about encouraging and inspiring one another and God bless the men -- you're right, we want to inspire them, too -- but men have different issues than we have. And I like what you said about being honest, because that's what nobody wants to do, especially in this industry. We want to put on a face and we want to act like everything's perfect but we're all going through shit. And if we say it's okay, then other people feel like, "Yeah, it is okay that I'm hurting or that I'm having a hard time right now in my life." But I'm with the feminist movement -- it's inspirational.
Pepa: People think we don't go through anything! Like we're just like, "Alright! We've got money! We're successful!" And it's just like, "No! I was just crying."
Salt: Yeah, there are days where me and Pep have cried right before we hit the stage.
Platten: Me too! That's feminist to admit how often tears come and that it's okay and it's strong to cry sometimes and to let it out. You don't have to be tough all the time.
Salt: Be vulnerable, because that's power as well.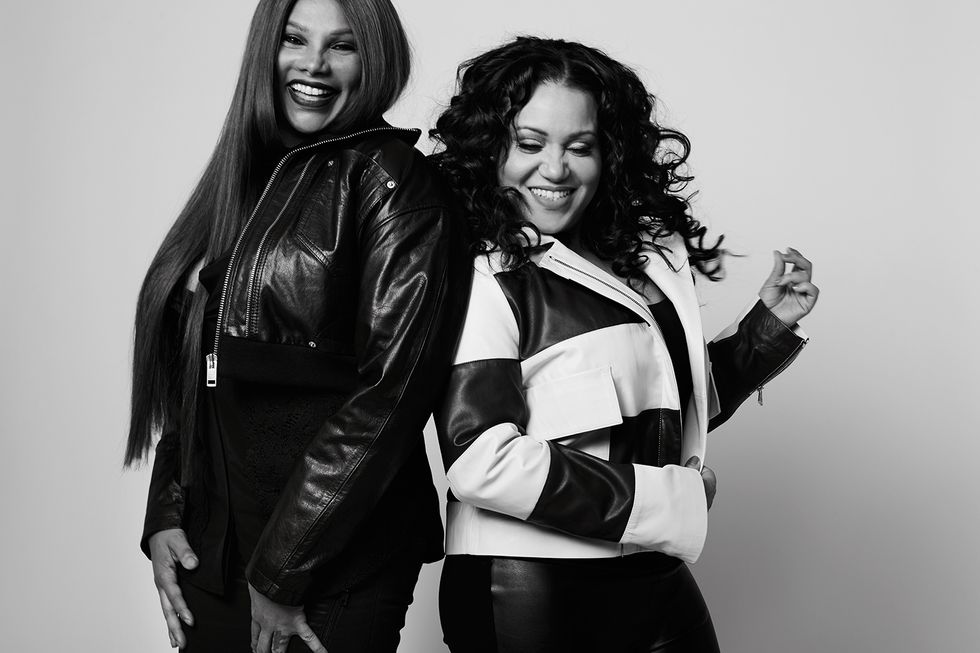 Photo by Kate Owen

How did you all become comfortable being so vulnerable and honest in your music and in your performance? Did this come naturally for all of you or was it a process to allow yourself to open up this way?
Salt: Music is almost like journaling –- it's an artistic way to allow yourself to be vulnerable because your best songs either come from when you're having a breakthrough in life or you're getting over something like a relationship. Music allows artists to be vulnerable. But in my personal life, vulnerability was a process. It took a long time for me to begin to open up and say -- even to Pep -- "I'm hurting." Crying in front of her and saying, "I need you. I need some help. Tell me what to do."
Pepa: I hide stuff good, but I will talk. I will run my mouth real quick. It's like, "This is what I'm feeling right now!" I'm very open. I guess I've always been kind of like that. Cheryl is more reserved, but she's opened up a lot.
Platten: My mom's a therapist and always encouraged my younger sister and I to talk about our feelings. My family is very big on sharing how you're feeling and that's how you get over something, so I've always been open and I think that Salt is so right in saying that music is vulnerability. For me, writing is my way of healing -- if I'm going through something that's hard, I sometimes can't move through it until I've written something about it. The best lyrics are when you're being honest and when you're being vulnerable and if you're not, then you are in danger -- you're not gonna reach people. Right before I wrote "Fight Song," my publisher called me and said, "Rachel, you keep trying to write a hit. All I'm getting are these songs where you're trying to swing for the fences. But you're not telling your story. You're not being honest about all the rejection you've faced in the music industry and how painful that was. Can you please write about that?" And I didn't want to go there because despite how open I am, I didn't want people to know that. I was embarrassed. I finally did it -- [I wrote] "Fight Song" and let it come out. I talked about it and I kind of learned that people are going to be okay with that side of me and I feel safer now talking about that in public.
Is there anything you'd like to ask each other?
Platten: Do you ever get negative reviews and how do you deal with them not breaking your heart? How do you not feel sensitive about people talking about you like that? This is all so new for me and I want to please everybody and I want everyone to like me and I'm such a dork like that. But stuff hurts. How do you do it?
Pepa: It hurts. My daughter has a reality show now and I've been telling her that you've got to take the good with the bad. There's gonna be people who are will uplift you and love you and say, "you're the best" and then there's gonna be haters who say, "Oh my god, you're wack. You don't sing good." But for me, it's been 30 years in this business and I don't let it define me. I just know that you're talking about me, which means you've spent that much time listening to me or talking about me and it shows that you have jealousy or you're miserable.
Salt: I agree. And I really hurt for the younger generation of celebrities because if they're on the beach and if they have some cellulite, it's gonna be on the front page of some trashy supermarket magazine and that can't help but get to you. I would read things [like that] and Pep would be like, "You read that stuff? Why would you even read that stuff?" It's hard not to, but eventually you're not even curious about what anyone's saying because when you're giving your all to your craft and you're doing the best that you can to be the best artist and person that you can, you get to a point where what does it matter? What does it add to my life and what does it take away from my life? Absolutely nothing. Nothing.
Pepa: Salt and I had the experience of coming from a time where there wasn't any social media. Now your personal life and your entertainment life all co-exists together. But it doesn't define you. You can just say, "You're blocked!"
Platten: "Block, block, you're blocked."
Salt: It also tells you that there's a lot of miserable people in this world who have nothing better to do than to spew hate and misery on others. I really feel sorry for them because I'm like, "What is going on in your life that you take the time to sit down and insult someone?" That's a really bad, sad person. I remember Madonna was an inspiration to me -- I don't remember what the situation was, but it was something she did and everybody was talking about it and Madonna's response was, "So what?" Like literally those were the two words that she said. And when she said that, the whole story just went away. Because what do you say to "so what?" There's nothing left to say.
Platten: Yes, I fucking love it!
Salt: As a young artist, what so far is the biggest thing that you're struggling with? In music, in life…
Platten: I think that the biggest struggle I'm having is making sure that there's enough of me, balancing myself. Because all of a sudden after decade after decade of working my ass off and no one caring and no one needing anything from me, I feel torn and pulled in so many different directions and I can't give enough or be enough or have enough -- even for fans on the street. I'm still so confused about how to handle that part. It's new to me to have people waiting outside somewhere and I want to talk to every single person and give them a hug but the people who are with me are like, "Rachel, you can't do that -- you're going to be late." And then I feel like I'm breaking their heart and I look at their little faces as I'm driving away and they were sitting in the cold and I feel terrible about it. I'm having this struggle about how to ease up on myself and know that I'm doing the best I can. I'm so hard on myself.
Salt: Yeah, we all can be. And that's the thing, letting yourself off the hook because you are just one person. Wait 'til you have kids, honey, and a career!
Platten: Dude, how do you do it? The other thing I'm struggling with is my time and how to say "no." I'm so drained a lot of the time now. But I want to give everything I have and I think that's a really tough thing to navigate.
Pepa: After a while, you have to [say 'no'] and people have to understand what you're doing in your work. It's still tough -- right, Cheryl?
Salt: Yes, girl. Being an artist is a sacrifice. It's a great life -- I wouldn't want to do anything else -- and it's glamorous and it's fun but it's a sacrifice.
Platten: It's a good way to put it -- it is a sacrifice but I get to do what I love. How lucky are we?
All photos of Salt-N-Pepa by Kate Owen, styling by Kevin Breen, hair by Troy Turner and makeup by Elena George
Photo of Rachel Platten by Harper Smith, styling by Jasmine Caccamo, hair by Jacqueline Bush and makeup by Heather Currie
Pepa wears pants and jacket by Diesel and a shirt by DKNY; Salt wears a jacket by Sonia by Sonia Rykiel and a shirt by DKNY. All clothing available at Bloomingdale's.
Rachel wears a jacket by AllSaints, a top by Aqua, jeans by One Teaspoon and jewelry by Boera

More from our 'Girl Crush' series: