Four years after she was first discovered by DJ Blaqstarr, at long last Baltimore-based rapper and M.I.A. protégée Rye Rye will be releasing her debut album, Go!Pop!Bang! tomorrow via Interscope.  Though many artists would not have the patience to deal with a debut as hyped (and delayed) as hers, Rye Rye hasn't let it get to her.  And, if songs like the Vengaboys-sampled "Boom Boom," are any indication, the album was well worth the wait.  The MC's sweet, child-like voice belies her confident, sassy flow and the "grimy" Baltimore club-style beats make for an album you can't listen to while sitting still.  And, though the record promises to remain true to the youthful, high-energy vibe that first caught M.I.A. and Blaqstarr's attention, it's also evolved over the course of the past four years -- four years that have also seen Rye Rye go from a Baltimore teen to a young woman and mother.  Read the rapper's thoughts on her album's evolution, the new crop of female MCs and why she'll never indulge in a rap feud.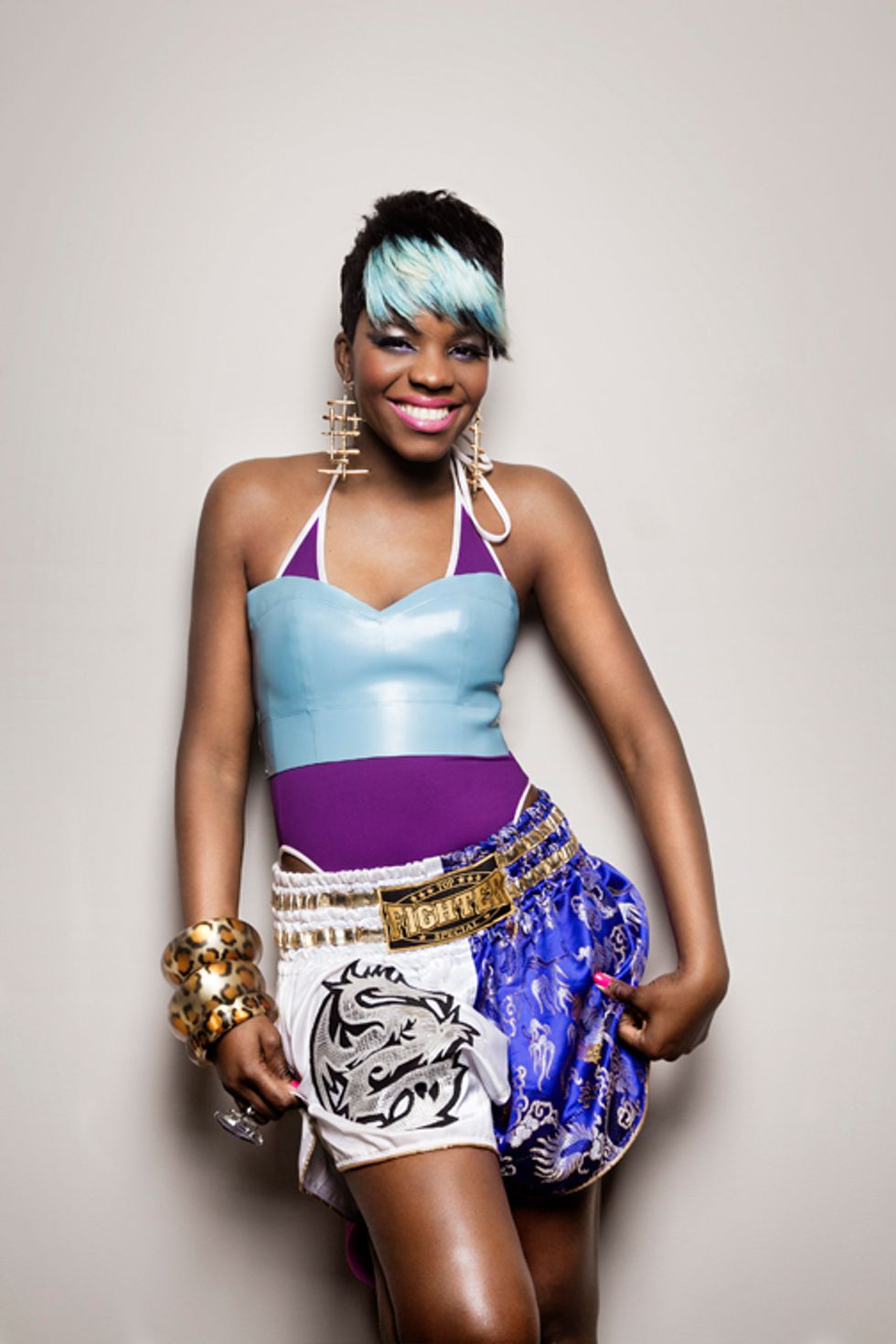 What can you share with us about the new album?

My album is a mixture of different sounds -- I can't even classify it into a genre.  Most of the songs are upbeat and the album's just fun, crazy lyrics, me talking about everyday life experiences as a girl, being a teenager, dancing in the club.  I also wanted to save the Baltimore influence and keep the up-tempo beats, but I felt like I couldn't do a whole album that was strictly Baltimore.  

Speaking of Baltimore, for those out of the loop, how would you describe the sound there?

To me, it's a lot of bass.  Baltimore music has a hard-hitting bass that really no other genre has.  There's a lot of repetitive sounds.  It's real grimy, real gutter.  It's faster than normal music.  DJs and producers always made Baltimore club music but they never had somebody to actually spit over it.  So when I finally did that, it was kind of like "Yo!"   I didn't want to do a hip-hop track or an R&B track -- I chose to rap on top of a Baltimore club track and I thought it would be different and unique and it was.

 

Music video for "Boom Boom"

Since you first started working on the album a few years back, have the songs and the sound stayed consistent or have they changed since the process first began?
Back [when I started], I was a little younger and working with M.I.A. a lot -- she was on the project really heavy.  I did a lot of weird-sounding songs and it was cool.  Once I had the delays, we wanted to re-record to catch up with the times because the stuff we did was already a year old and the new generation was changing and evolving. I do feel like my music has broadened and I go even harder now. 
Talking about catching up with the times, what exactly were you trying to catch with and whose music were you looking to for inspiration?
A good reference is Soulja Boy.  I feel like he was doing something unique and different and at one point in time, his music was really big and it was what kids wanted to hear.  But I never really look at other artists -- I look up to producers.
Which producers in particular?
Blaqstarr, of course.  Diplo.  DJs at home in Baltimore like DJ Say Wut, Rod Lee.  A-Trak.  I look at what DJs are producing and are into at the moment and we talk a lot and they pitch me ideas all the time.  
You brought up the album's delays -- what were some of the factors pushing the release back?
I got pregnant and that pushed the album back and, after that, I wanted to record more because all this other stuff I did was so old and we wanted to get refreshed.  It was about finding the right tracks for the album.  And I had other people that were on the project and it comes down to all of us agreeing on what songs are good and what songs are bad.  It's not just me saying, "OK, this is what's on the album."  
What were you feeling during the whole process?  Were you ever frustrated or antsy that the album was taking longer than you had originally expected?
I did get frustrated at one point because I was getting pressure from fans and people in general that were like, "Why hasn't your album come out yet?" but at the same time I was like, "You know what?  You can't really rush it. You can't deliver it until it's perfected."  That's how I looked at it.  That calmed me down a lot. So I was like, "I'm going to continue to record until I'm 100% happy with it."
But you did feel a lot of pressure?
The most frustrating thing was not having answers when I was talking to blogs and magazines and they asked me, "When's the album coming out?"  To not be able to answer that bummed me out.  Because I'm like, "I really don't know what to say.  I don't know what to tell you all."  And I always say, "Soon.  It's coming."  And people are always like, "Oh, you say that all the time."  So I kind of got to the point where I wouldn't say it anymore.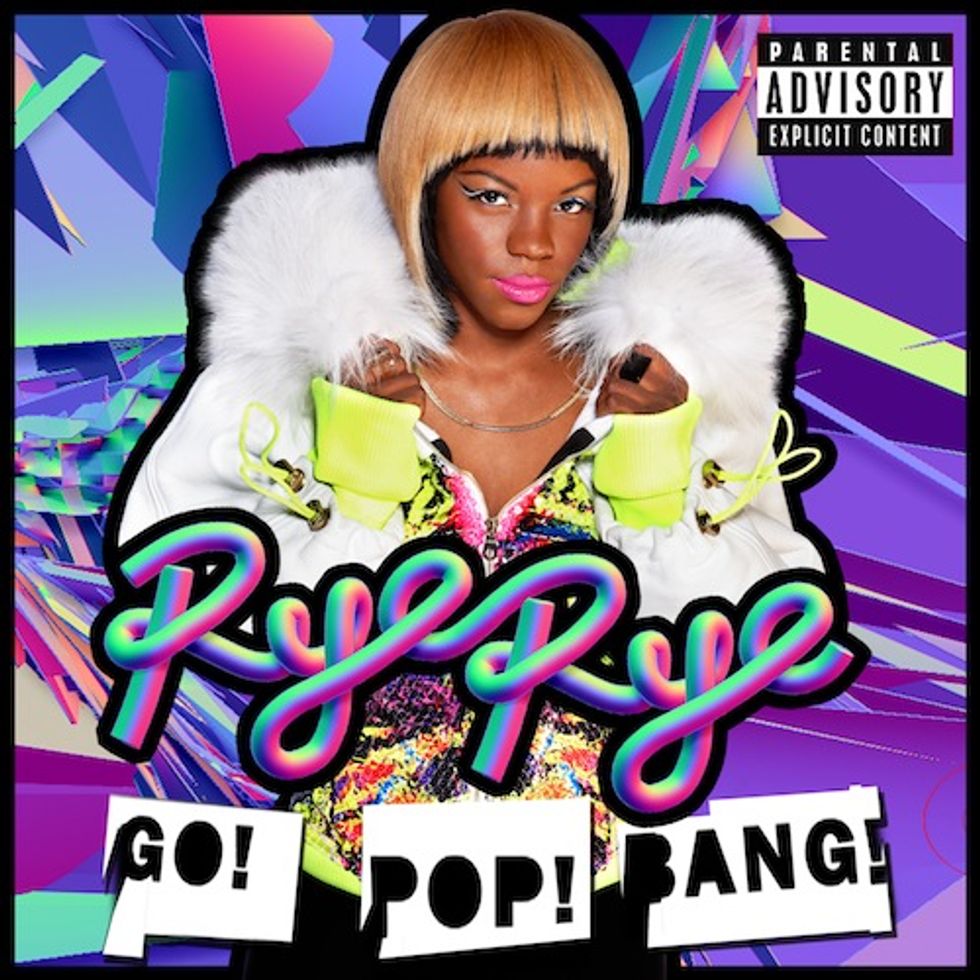 But it's still coming out May 15?
Yeah, for sure.
This time it is!
Yeah. [
Laughs
]  
How has becoming a mom influenced you as an artist, especially one who's made a name for herself as a voice of youth culture?
I don't feel like my music should change just because I'm a mother.  I stay in the same lane and do the same thing but I do want to limit my curse words.  I feel like I'm still living out my teenage life -- I speak about the things I experienced during my teenage years, going on the road and seeing everything.  I'm still speaking about that since my album got delayed.  If my album came out when it was supposed to come out, I would've been onto something different.   
So you haven't found too much disconnect between being carefree and talking about going to the clubs in your songs on the one hand and then having the responsibilities of a mom on the other?
One thing I can say is, I am a responsible, mature person.  I was forced to grow up.  I started touring with M.I.A. when I was 15 and I was around so many older people and so many amazing people.  Sometimes you can be in the industry and end up with the wrong kinds of people and get peer pressure, but M.I.A. and her camp were so amazing and so supportive.  It matured me a lot.  Now as a parent, I've been responsible.  The job is easy even when I'm out on the road and stuff -- I'm still acting like a mother.
Has M.I.A. given you any mom advice?
No.  We talked about that type of stuff years ago when I was first pregnant [but now] we don't really talk about mom duties and stuff.  I think she trusts me.  She's confident that I will be a good mother.
I'm curious to hear your thoughts on your fellow female MCs since there's a whole new crop out there.  Do you talk to any of them?  Do you see yourself as a part of a group or completely separate from them?
I will support every other female artist in the game.  I think it's cool that there are more female rappers and there's an opportunity for more exposure.  I feel like we should all get along because if the guys can do it, the girls can do it.  You know, girls always look at other girls as competition but I've never really understood it.  Like when I met
Santigold
, and she and M.I.A. were friends, I thought that was inspiring for real.  So now I support other females.  I know
Dominique Young Unique
.  I talk to her a lot.  At first we came off wrong because I thought she was trying to do some dissing stuff but I approached her and we ended up being cool.  That's always how it is.  I'm a real female and so people just judge me from the outside looking in.  A lot of other artists tell me, "Oh, I thought you were stuck up because of all of your accomplishments and stuff but when I really get to know you, you're real."  So it's like, Dominique, we're cool, we speak, we talk, we Tweet. 
Iggy Azalea
-- I didn't know her at first.  I just saw someone tweet that they said, "I love Iggy but I stand for Rye Rye."  And she said, "Oh, I love Rye too."  And then we passed words back-and-forth because she was in one of my sessions with me even before she was a rapper so I had [already] met her.  So me and her talk and we're actually supposed to be working on a track together.  I don't really know
Azealia [Banks]
but she did tweet that I had the best live show out of all of the females.  I just think it's cool that there is a lot of support going on.  I don't indulge in beefs for promotion.  I feel like if you're doing you, then you have nothing to worry about.  That's how I look at it -- we're all different in our own ways and we're all doing us and that's all that matters.