Actor/writer/cabaret entertainer Ryan Raftery has struck gold with his funny and incisive celebrity impersonations. Capturing media icons at a critical juncture in their careers (and personal lives), he spoofs their insecurities and drive, while mixing in reimagined pop songs, choreography, and great supporting players. Two years ago, in Ryan Raftery is the Most Powerful Woman in Fashion, he zeroed in on the brassy Vogue editor at a moment when she had to decide whether to abandon her usual aesthetics and put Kimye on the cover. Currently, with Ryan Raftery's Watch What Happens—Live on Stage!, he's the eager Andy Cohen, spinning a TV empire in order to win the heart of the TV personality he pantingly admires, Anderson Cooper. The blithely entertaining show has some more dates coming up at Joe's Pub--September 12 [sold out] and 14 and October 7, with a few performances at Catalina Bar & Grill in L.A. in between. (Tickets here.) I spoke to Ryan for his take on celebrity takedowns.
You've said that when you did shows about your own life, no one cared, but when you impersonated these icons, there was big interest. True?
I have said that many times in a semi-joking way, but there is definitely a huge amount of truth to it. I was very fortunate to have been able to incrementally build a fan base during those first five autobiographical shows. Friends would bring friends and they'd tell their friends, but the audiences were largely made up of the same people. Writing those early shows was a lot like therapy in reverse...I was getting people to pay ME to listen to my problems. I was writing about my father's death ("Ryan Raftery & Friends: A Solo Act"), growing up gay in Brooklyn ("Ryan Raftery's It Gets Worse!")--all the while cutting my teeth on stage and learning how to construct a theatrical piece. After the fifth show, I had no life experience left to mine. I was working as an assistant in the PR department of leather goods megabrand Coach when I had just finished "Ryan Raftery is Black & Better than Ever" (about my childhood obsession with African American singers) when a friend at work asked me what was next. When I said I had no clue, he said: "You're working in fashion. Write what you know. Write a show about Anna Wintour."
I loved your Anna Wintour, though you interestingly made her sound more like Bette Davis than waifish Audrey Hepburn. Was that your choice?
Thank you and yes, my Anna was based in large part on Bette Davis. I had just read Frank Langella's book "Dropped Names" and he wrote that she was once asked what it takes to make it in show business and her response was: "The courage to be hated." That resonated with me greatly as I tried to figure out how to play Anna. I think that she cares very much what certain people think of her--her siblings in particular (she reveals this in a candid moment in "The September Issue")--but she is simultaneously resolute in her public image as a woman who does NOT suffer fools gladly and is anything but friendly.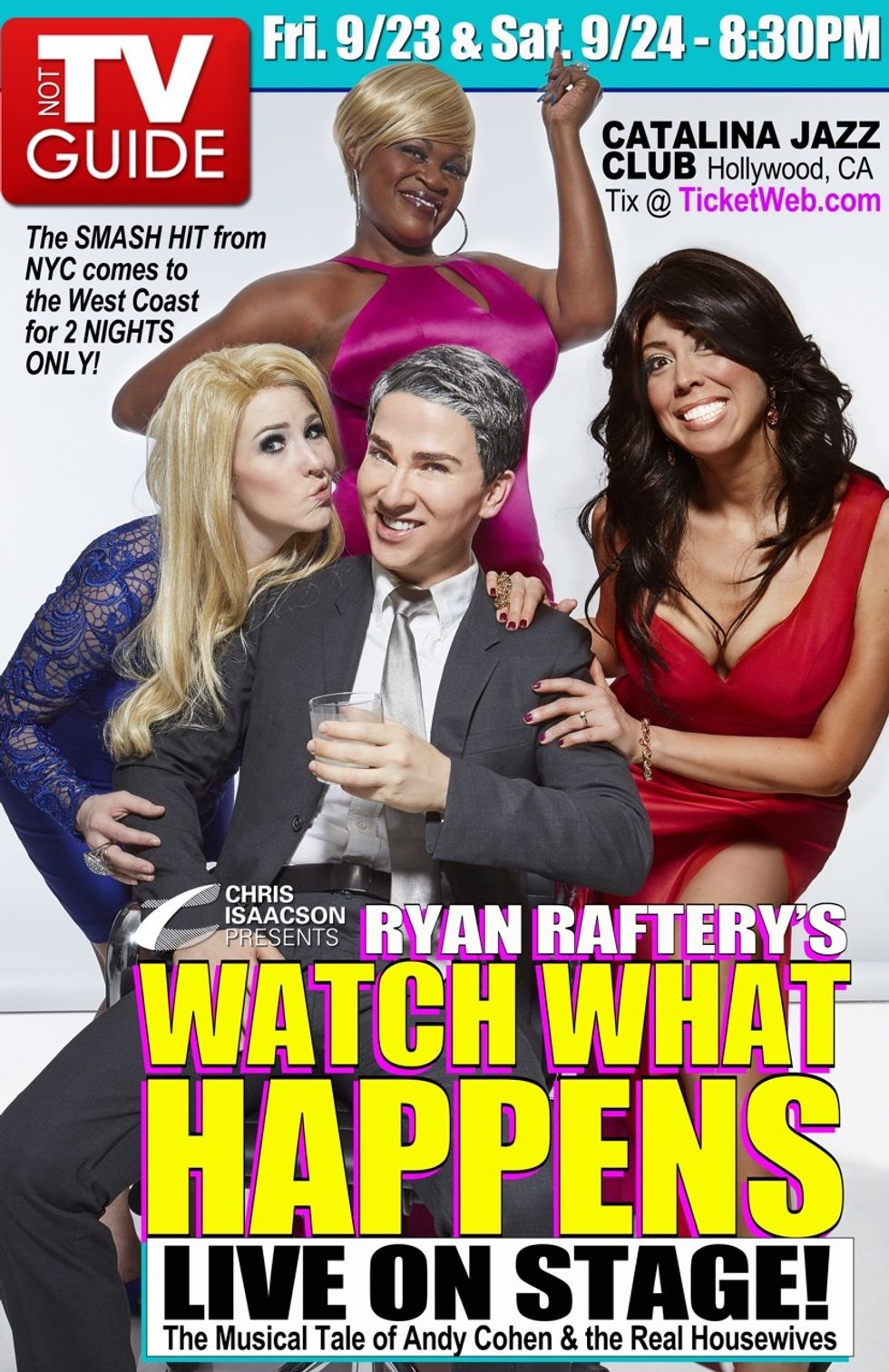 Anna was brilliant in going to the premiere of The Devil Wears Prada, thereby defusing some of the edge about it. Why didn't she do the same with you?
Well, she DID send her daughter to the opening night of my show. Once the fashion world caught wind of the show, there was quite a bit of advance press on it, but I never imagined that someone so close to Anna would come. I have never been more nervous in my entire life. As soon as the press rep from the venue told me she was coming, I considered taking out the dance number where Anna's affair that ended her marriage is dealt with. The idea of twerking in character as Anna Wintour as her daughter sat in the audience and watched her parents' marriage dissolve was terrifying. My director then reminded me that Bee Shaffer (Anna's daughter) was a segment producer for "Late Night with Seth Meyers" and she must have a sense of humor. Turns out, she did. She came backstage and couldn't have been more effusive with her praise. I asked her how she found out about the show and she very quickly said, "My mother sent me." She then Instagrammed a photo of the two of us, me holding the wig in my hands and captioned: "Ryan Raftery--my surrogate mother?" That garnered international press. It was an instant game changer in my career. THAT is the power of Anna Wintour.
Do you approve of Anna's choice in endorsing the Kardashians?
Approve? I don't know about that, but I certainly understand it. Anna herself commented on it a few months after the cover came out. She said that if Vogue only featured tasteful people, they'd be boring and no one would talk about them. That is pretty subtle shade, but I think Anna has a great talent of knowing in which direction the wind is blowing. Whether we like or not, the Kardashians are a huge part of pop culture.
Andy Cohen hasn't seen your show, but he's sent flowers?
He's been a real mensch about the whole thing. We ran into each other backstage at a concert two weeks ago and he said that he was so happy that the show was a hit. He said he wanted to come to the show in September and I asked "Is it too weird?" and he said "It might be a little weird". I told him that the show comes from a place of great admiration and respect...which is true. I hope he comes to see it.
Would he be embarrassed to sit there watching you portray him as sort of devious and full of machinations, and desperate to be loved?
Joe's Pub is not a huge venue. I don't see how he could slip in unrecognized. It might be strange for him to sit in a room and watch his (fictionalized) life play out from the ages of 17-47, but if I were him...I'd wanna see Andy Cohen sing Beyonce's "Formation" with lyrics rewritten to chronicle the genesis of his talk show.
Your show has him romantically obsessed with Anderson Cooper. What's their relationship in real life?
They're very close friends and they have been on a speaking tour together for quite some time. In researching the show, I found an interview he did where someone asked if he and Cooper had ever dated and he said that they went on a blind date 20 years ago, but neither of them were into it. That is what sparked my idea to create a show about him. It was fun to imagine that Anderson wasn't into it...but Andy was.
Who is your next subject going to be?
I will close out my "Titans of Media" trilogy with "Ryan Raftery's Rise and Fall (and Rise) of Martha Stewart". I'll never forget reading about her insider trading conviction. Her lawyer said they'd appeal and Martha said, "No, I want to go to prison now so I can be out in time to plant my garden." I've already started writing it.
And then, will you go back to playing Ryan Raftery?
Never say never, but I'm having too much fun with celebs. Maybe someday someone will write a show about me. Now THAT would be one helluva full-circle moment.