It's an old story: Wide-eyed nine-year old Jewish girl flees Russia to the shores of New York with her parents, who barely make ends meet while she passes her time exploring their Bronx neighborhood, the old Tin Pan Alley, and the piano keys a remnant from years of practice in the old country and exposure to the classics (Chopin but also Pushkin). Soon, the setting becomes a downtown Manhattan nightclub, and she's stringing ragtime ballads, jazz standards, folk renditions, energy and vaudevillian pizzazz across the keys. Sheer talent plus a twist of fate would attract the attention of a snazzy producer and a wealthy band of patrons and ta da: Our heroine enters a world of minor celebrity nearly as surprising and strange as her musical narratives.
"We stopped at this truck stop in Colorado, and I'm in the fucking Subway, and there was a girl there getting a sandwich," Regina Spektor recounts a few weeks ago, using the f-word in the most excited, innocent way possible. "I saw her staring and she saw me and I thought about going up to her, but I thought maybe she was just staring, you know, didn't know who I was. Well. I got on MySpace today and someone wrote 'I love your music and I smiled at you in the Subway.' I mean, wow."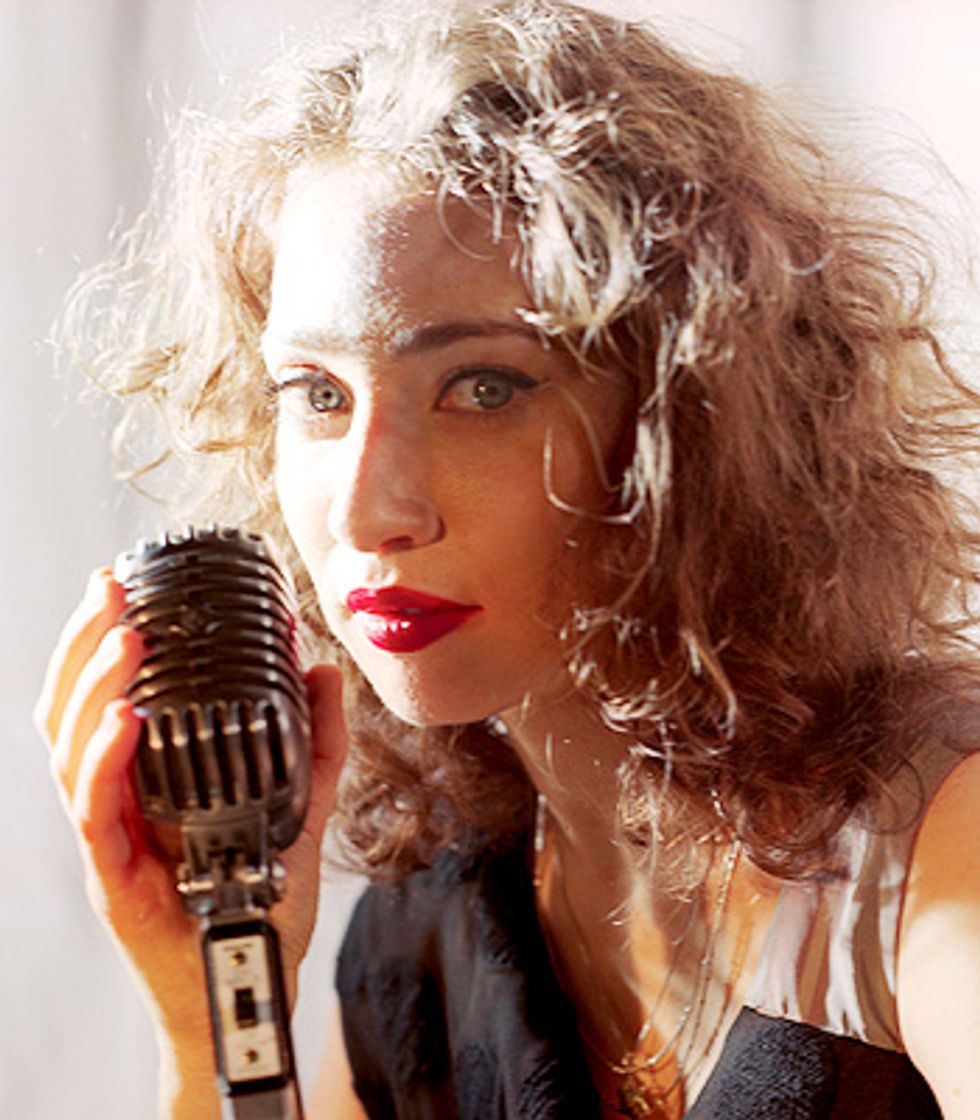 Regina Spektor is running into fans in the strangest places; she's playing sell-out shows in the English countryside; she's getting written about on a hundred message boards and websites; she's on the phone from a hotel room at her latest tour stop, San Francisco. She also has a new album on a major label, Begin to Hope, a follow-up to 2004's Soviet Kitsch. It was a rough version of the latter that first pricked up the ears of the Strokes, who invited her on tour with them, and their producer, who recorded Kitsch. Almost three years later, and 17 years after fleeing Moscow, wow is still very much the theme. When on stage, perched on the edge of her stool, playing with her hands, chatting, the 26-year-old SUNY Purchase graduate still seems amazed, impressed, perplexed by it all, as if she's still learning something big from the crowds fawning over her.
"I can't imagine that kind of devotion, it's really beautiful," she says of the dedication which pushed fans across multiple states to see her play in Colorado in early May. "I played a show in Scotland where kids said they flew from Australia. In Bristol, people had come from Berlin," she says. The curly-haired Russian Jew from the Bronx with real estate on MySpace is trying to figure out where she is, and why people would bother coming that far. "I don't even know how to drive."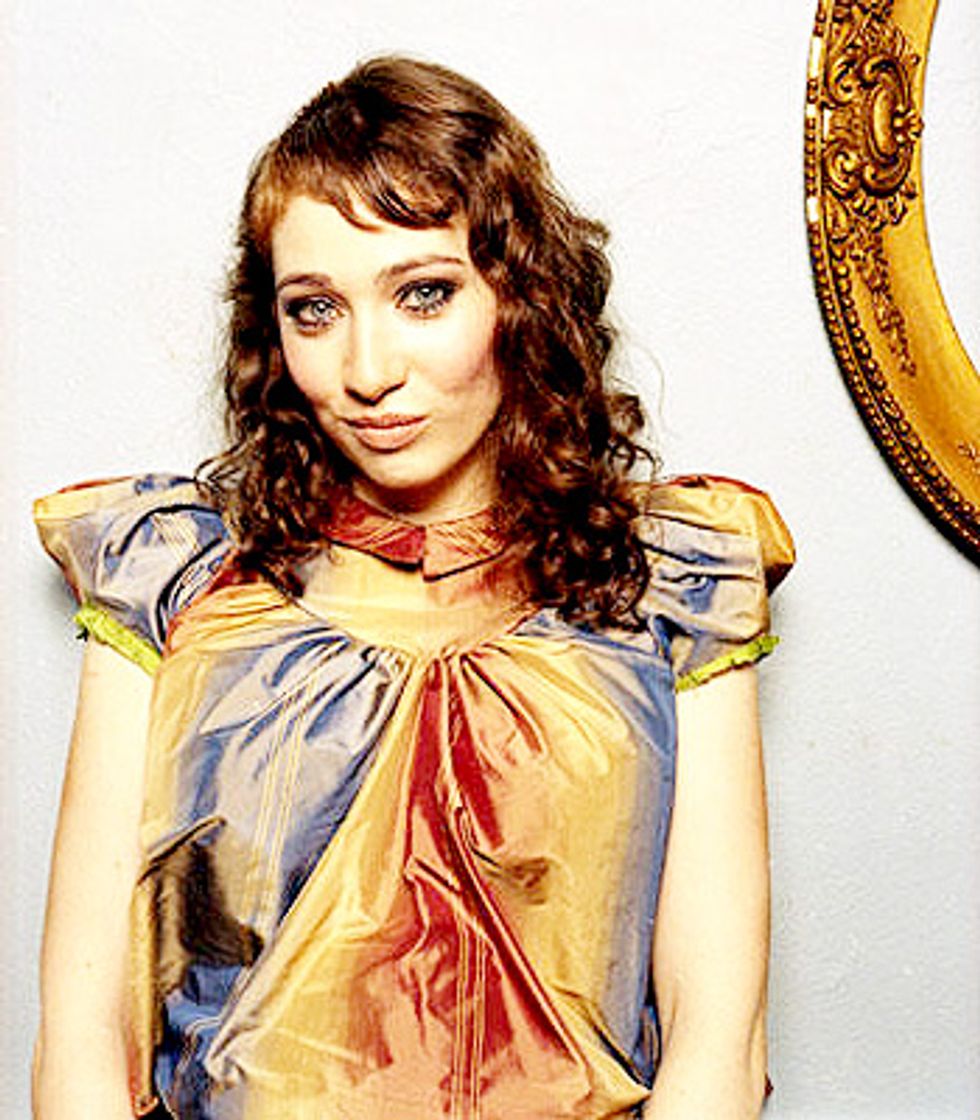 When she gets behind the keyboard however, Spektor could hardly sound more in control. From her measured debut, 11:11 through the more fanciful Songs and through the rich Kitsch, Spektor's fingers have learned to dance in jazz and pop and blues rhythms occasionally parting ways to handle a drumstick on the nearest chair with a precision matched by a voice that soars and halts aspirated, speaks in tongues and Russian and French and New Yawk accents, raps and, when a chair isn't available, carries the percussion too, beatbox style. On "Twenty Years of Snow," a new song that imitates a Polish mazurka, Spektor's plaintive minor chord progressions twinkle rapidly beneath a voice that ranges from fragile to breathy to speak-y before rolling into a rap that beckons a bop interlude before the recapitulation, where she stutters it all to a close. Such idiosyncratic stylings have earned her the fad label "anti-folk," along with comparisons to Tori, Bjork, Norah, Fiona, Ani and Joni. While perhaps flattering, these names don't do much more justice to Spektor's style than, say, likening her to Ronnie Spector. "Associations are associations," she shrugs, "but I definitely feel like my songs are my songs."
Whereas the adventurous vocal experiments of Soviet Kitsch could sometimes border on preciousness, Spektor's verbal tics on Hope grunts, breaths, word-bendings and so on  become neater devices for her four-minute fables. The addition of electric guitar courtesy of The Strokes' Nick Valensi and the machinery of producer David Kahne even uncover a new, upbeat poppiness ("Fidelity," "Better," "Hotel Song"), while making room for even more improvisational tricks (see the Billie Holiday tribute "Lady" and the funky admonition "Edit"). Spektor recalls her reaction to first hearing a finished Hope: "I was like, I love you, record." While she only had two weeks to record Soviet Kitsch, Spektor had a leisurely two months for her latest. "It's the first time in my life where I'm so excited that I want people to hear it, where I'm not giving a record to people with a disclaimer that it's not what I wanted it to be. I made it how I wanted to make it."
When asked about what inspired the record, Spektor characteristically points to nothing smaller than the world. "It's so diverse, it's a dream for anybody documenting anything. It's here! The world, write it down!" Her reluctance to talk shop is less a sign of coyness than honesty. "You know a lot of it is imagination." And this is what most makes the record Spektor's: as usual, each of her songs is a character study in which love is cradled by the tragic knowledge that it can't last. The effects differ, as seen in the heartbroken biblical riff "Samson" and the exhilarating Joni Mitchell-flavored ballad "On the Radio": "This is how it works / you're young until you're not / you love until you don't you hope it don't get hard / but even if it does, you just do it all again." Her large revelations writ small are sung with the same naive wonder and confusion and graciousness she shows before her audiences and which her rapt audiences in turn often show before her.
From a distance, the paradoxical feelings of her song-stories appear as echoes of lost nights, secret loves, and, inevitably, of her own complicated bond with the motherland. Mention returning to Russia, and Spektor sighs. "It's actually really complicated. I haven't figured any of that out. I definitely want to go back but haven't figured out when, or how. It's intense." When her family fled Russia, they were, as Jews, legally considered aliens within their own home. "I definitely love the culture, the people. But it's also very anti-Semitic, lawless, harsh. It's a place where I don't really feel like it's my home at all." Her first lyrics in Russian come in the album's most haunting ballad "Apres Moi," where she quotes the poet Boris Pasternak: "February. To take ink and weep, / To write, sob your heart out, sing."
Spektor acknowledges the influence of another Russian literary genius, the tragic comedian Anton Chekhov but not because of the dramas for which he's famous. "In the plays, he gets too rambly or too philosophical or something, which ends up pushing you out, and reminds you you're a reader or an audience member." It's an impression that hasn't gone lost on her own work. To her, his short stories are more compelling. "They're amazing because they're completely all encompassing. He takes you within them."
Begin to Hope is out on Sire Records on Jun. 13.