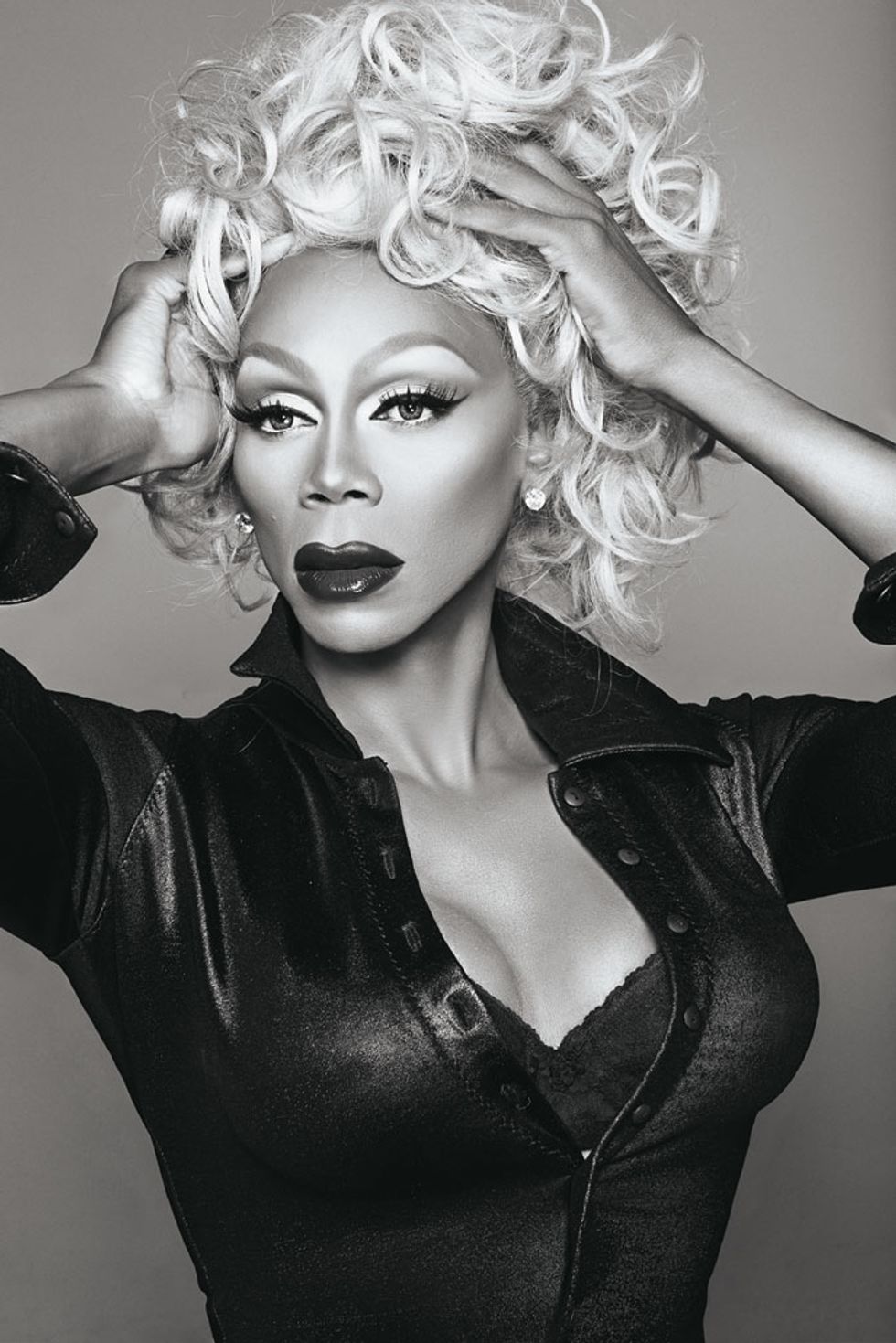 How many people can host a massively popular drag-themed reality show (
RuPaul's Drag Race
) and have a rare heart-to-heart with punk forefather Henry Rollins, wig-free, in lowkey men's clothes (the web series
RuPaul Drives
)? Ever since the pronoun-fluid powerhouse hollered "Sashay, shante!" on the 1992 club hit "Supermodel (You Better Work)," Ru has been a household name, a powerful voice for equality and the embodiment of Meryl Streep realness.

Personal OG:
Judge Judy. I admire people who are straight up, unfiltered and look gorgeous while doing it.
Who are some of the people who have been an inspiration to your career?  
I grew loving David Bowie, Diane Ross, and Cher. I loved them for thair revolutionary spirits and groundbreaking careers. When I got older, I didn't need those types of role models anymore -- I had to become my own role model. The only person I was in competition was with myself.
What was the biggest obstacle you had to overcome in your career?
The biggest obstacle that I've ever overcome in my life was staying interested in what I do. I have to entertainment myself and stay interested because the worst thing that can ever happen to a free thinker is to not be interested on whats going on.

What do you think made you the person you are? Do you think it is something in your DNA?
I think there is a frequency that goes beyond this body. I think that I was given this body and I want to see what I can do with it to the fullest. It's obvious that drag was going to be my ticket. I worked through the prejudices surrounding drag. My ability to adjust to what the situation calls for has been my secret weapon.

Have you ever felt truly hurt or shaken by a criticism of your work? 
I've been doing this for a long time, and I'm used to people not understanding it. I can't take it personal. It is just the work. Have I been hurt? Probably, but I have to forgive, move on and let go.
What do you consider to be the biggest success of your career thus far?
The biggest success in my career so far is staying engaged in my work. I'm a powerful witch, we all are, and depending on how I choose to see a situation that's the experience I will have. It's outrageous what I've been able to do; doing drag in a male-dominant culture and becoming the world's most famous drag queen.

What were you like as a child?
I was always in love with laughter, color, music, movement, shapes and silhouettes. I couldn't understand why all the other kids weren't as excited about it as I was. The first indicator that I knew there was a tribe out there was when I would watch The Carol Burnett Show and I realized that I wasn't stranded on this planet and I had to go find my kind.
What is the best thing a fan has ever given you or done for you?
I have to say, a lot of them have given me the best response I've ever gotten even on the street or subway. Which says, "I see you, I know you and I am going over to your space to let you know how I feel." I think that is just the sweetest thing ever. They don't want anything from me; they're just sending love.
Do you consider yourself to be a control freak?
I am a control freak, but I do give up control, that's how you can successfully collaborate. I  have a vision but I'm also willing to open myself up to different ideas. I've been working with [World of Wonder's] Fenton Bailey and Randy Barbato since we met as kids in the East Village in 1986. It's been a long time. My brain is limited to my experiences and to have people who I came up with and trust say, "Why don't you try this" has been so helpful. It's a practice of letting my ego take a back seat.
BACK TO ORIGINAL GANGSTERS