Calls for representation in entertainment have elevated from murmurs to cries. Now, more than ever, artists of various races, nationalities, gender identities, and sexualities are staking their claim to recognition in predominantly straight, white, cisgender spaces. These trailblazers in music (genderfluid American rapper Mykki Blanco, rapper-cum-actor Awkwafina, and Japanese-American indie-rock singer Mitski, all come to mind, but there are scores more) have given way to up-and-comers who hope their craft will eclipse their skin color or who they love. Two of these budding stars are TIN (aka Brandon Mai), a Brooklyn-based Viet-American neo-R&B musician, and RoxXxan, an out, gay, female MC of British-Jamaican heritage.
Brought together by the Singaporean brand Tiger Beer as winners of its "Uncaged Nights" talent search events, TIN and RoxXxane have collaborated on a new single. The duo debuted the untitled track last week in South Korea's bustling capital Seoul, which was host to the Asian beer brand's first ever "Tiger Roar" concert. Though their styles differ — RoxXxan fuses assertive hip hop beats with brazen, yet grounded lyrics, while TIN brings experimental tunes and bursts of pop energy to R&B — both artists find synergy in their shared values. "The song's about passion, what we want, what our dreams are," RoxXxan says with a fervor-filled voice at a hotel in Seoul's Gangnam District the night before her performance. "We've got a big purpose. We're fighting for our culture and we find common ground in that."
In the first thirty seconds of the collaboration track, with her characteristically gruff pitch, RoxXxan reaffirms her pledge to realizing her calling as an MC. It's a path lined with hurdles for anyone, but especially an openly gay, female artist who works in a male dominated industry. She's not shy about calling out that monotonous uniformity either. "Fighting for change but they keep ignoring," she says in the track. "Because everybody's built the same this industry's boring." Refusing to toe the line has had its consequences. Her reluctance to take the quick and easy route by plugging her verses into songs (as opposed to working on true partnerships) for exposure left her a bit misunderstood, both by her audience and the previous label she was signed with. If standing her ground in that respect wasn't tough enough, she's also elected to be open about her sexuality. "I want to change people's perceptions and ignorance about gay people or minorities in general," she says. "That's why it's really important for me to showcase my true self in front of large audiences."
Perception has also been a recurring focus for TIN, who's 2017 track "RGB" (named for the color space in graphic design that isn't possible to print) address the lack of representation, and at times misrepresentation, of Asian people in media. While the elaborate metaphor of RGB as racial identity comments on social recognition, there's also a struggle on the homefront. "I think it's definitely a bit of a surprise because this [music] was never supposed to be something I would pursue so deeply," he says referring to his family. "It's such a huge hobby in a lot of different Asian cultures, the artistry behind music is rarely encouraged." His tuft of jet black hair shoots out of an oversized hoodie and sways as he brings an imaginary mic up to his mouth. "Just look at karaoke bars!"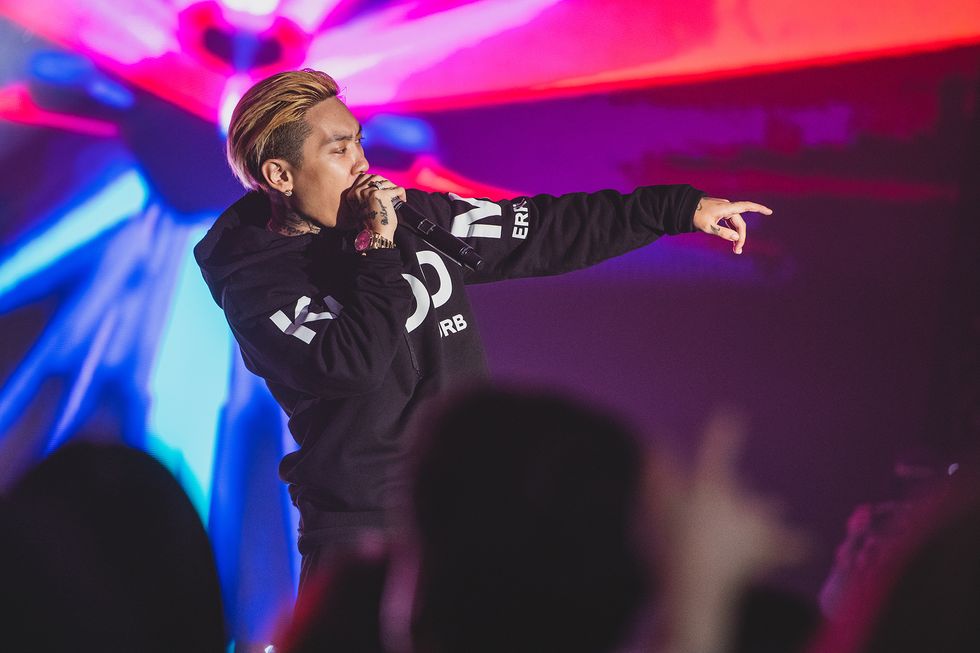 "My mom doesn't really get it," RoxXxan explains. "She tells people that I do poetry, but she does really respect the fact that I'm so passionate about this." As a sneakerhead who's more comfortable in a jeans, workwear-esque separates, and bomber jackets, she's also been met with resistance for her appearance. "My mom still says, 'Are you going to be a girl yet?' or 'Have you bought any dresses?' She'll say it jokingly, but I know on some level she means it." The hesitation is there too with RoxXxan being vocally about her sexuality, "She's said, 'I know you're gay, but why do you need to glamorize it and put it out there?'" RoxXxan continues. "She's scared of the backlash I'll get because she thinks it might break me down."
If their Tiger Roar collaboration — honed over the course of a month through artist's block and a mix of time zones — is any indication, neither RoxXxan or TIN are breaking down anytime soon. Their struggles and perseverance have materialized into a confident track with a growing build that mirrors their ambitions. From topping the seemingly insurmountable music industry to simply creating more visibility for queer and Asian people, it's all in the cards. "Keep it low, and stay in drive," the chorus softly croons. From the looks of it, TIN and RoxXxan have no intention to slow down.
Photos courtesy Tiger Beer

You May Also Like
Fashion
Art direction and styling by Rujana Cantoni / Photography by Lera Polivanova / Makeup by Claudia Malavasi / Hair by Marco Minnuno