Rolly Robínson may be a "Southern girl" at heart, hailing from a small town in Tennessee, but it's his time in NYC that's really shaped him as a makeup artist and influenced his hodgepodge aesthetic. An illustrator since before he could talk, Rolly went to college for graphic design before landing his first gig in fashion as editorial designer at StyleCaster, followed by a job at the niche apothecary MiN, which he maintains while pursuing his passion for cosmetics full tilt, creating beauty-based videos and posting his transformative looks to Instagram. "As an artist, my one sole purpose is to make beautiful things and share them with the world," Rolly says between sips of amaretto. "Whether it makes me famous or no one knows who I am, it doesn't matter. My motivation is my art and sharing something different, that's what I'm here for." It's no wonder then the social media app is his medium of choice to bring his particular brand of conceptual alien beauty, which merges glued-on elements with classic drag techniques and a painterly eye for abstraction, to the masses around the world.
Do you remember the first time you played with makeup?
It all started with this silver eye pencil when I was 16, and it just went from there. And then once I moved to New York, I really went for it and started gluing things to my face. It's all trial and error, not everything works, practice makes perfect. I never in a million years thought that I would develop this kind of talent in this area.
To me, your work looks like this intersection between abstract art and Internet pop culture. How would you describe your aesthetic?
It's kind of a merging of both those worlds. I would describe my aesthetic as intricate, very detailed. Whether it's a simple look or something more complex, I think about it from beginning to end. It's definitely inspired by a lot of abstract art; I draw a lot of inspiration from art more than beauty or fashion. But my main three references are Japanese culture, '70s glamour, and nature -- always nature.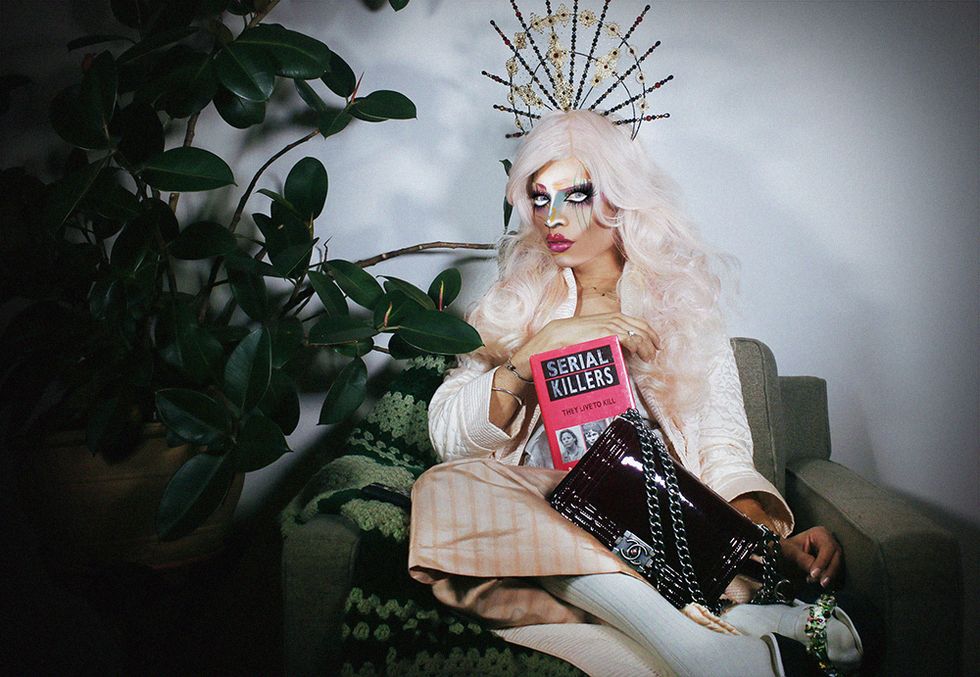 Robe by vintage Christian Dior, skirt by Dries Van Noten, bag by Chanel, sandals custom made by Rolly Robínson and crown by Ann Claire

What's the process like for creating one of your looks?
The process is pretty lengthy. I always start with an outfit, and then I put the face together. I spend hours making these face props with my hot glue gun -- she's the real star. And then come the headpieces. No look is complete without a headpiece. Wigs are fun and I like an element of hair, but it's way more special to really just build, build, build. With these looks, more is more, even if I'm doing something simple. The more details, the more intricacies, the more interesting it is. No material is taboo for me: I will use anything and everything. Each face on a good day will take me four hours, and that's quick. It's not easy by any means. It doesn't matter how beautiful it looks. Rolly is not just a pretty face with lashes and diamonds on it, but an actual artist that's making really cool things.
What do you like or dislike about social media as a means of putting your work out?
What I dislike is that it's a popularity contest. I'm not out for world domination. People will see my work when it's time for them to see my work. One of my favorite things about it is you can stay connected with other people who are doing really cool things. Everyone is so talented! It's exciting to know that in places that are so polar opposite to New York City there are people very similar to me doing the same thing in their own way.
What do you hope your work conveys to the viewer?
To look at the world differently. Life is too short not to enjoy yourself. As long as I'm on this green earth, I'm going to have fun and I'm going to kill it. Everyone should find that creative energy they have, harvest it, and let it out. There are still so many people who feel bound to their surroundings and aren't able to express themselves freely. At the end of the day, your happiness isn't worth sacrificing for other people. I don't see limitation in that way, especially with gender. We're still breaking down a lot of barriers when it comes to gender. Skirts are not just for girls, and construction boots are not just for boys, I like playing with both. It's about me wearing what I want to wear, doing what I want to do, and feeling happy and comfortable in my own skin. It's ok that not everyone's going to get it; it's all about self-satisfaction, self-love, and self-care.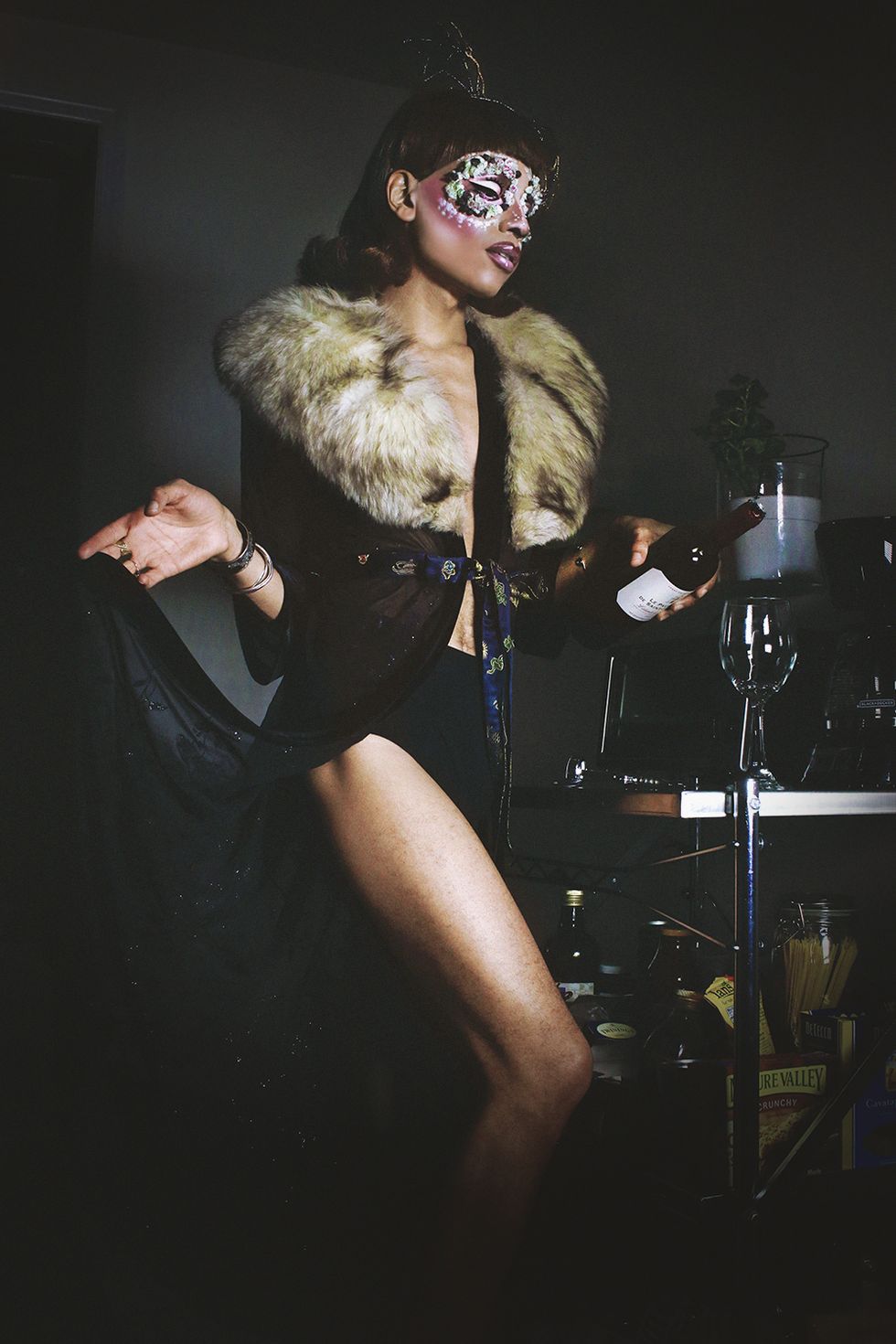 Robe by Valentino, headpiece by Ann Claire

How do you see your work in relationship to drag?
What I do is completely different than drag. Drag is campy; it's about creating caricatures of who you are. For me, all these different characters that I'm dressing up as are different versions of me. It's basically the many faces of Rolly. It's not about getting on stage and lip-syncing to a Lady Gaga song, even though I do that at home. It's not about me throwing on a wig and trying to look like a woman; I'm more of a creature that's not from this place or time. It's not just about putting on a pretty face; it's about going beyond that. It's about irreverence. It's wearable art. Drag is just a different genre. I'm not trying to be a personality.
What do you see as the future of makeup, and how do you see your work playing into that?
Makeup will be forever. But I want people to know that it's nothing more than having a good time. You don't have to be a pro: I'm not expecting anyone to show up with a contoured eyebrow like mine or a lip full of glitter. It's not permanent, and it's not rocket science. Makeup is for playing, and it's for anyone and everyone who wants to play with it.
Splash photo credits: Underwear set by Calvin Klein, teddy coat by Maison Margiela, hat by Ann Claire

Makeup by Rolly Robínson, photos by Johnny Cassanova