This year, Roland Mouret celebrates the 20th anniversary of his namesake fashion label. To mark the milestone, the 57-year-old London-based, French designer — who's distinctive draping has enchanted the likes of Dita Von Teese, Gillian Anderson, and Scarlett Johansson — has released his very first book titled Roland Mouret: Provoke, Attract, Seduce (Rizzoli). Through dialogue with fashion historian and journalist Alexander Fury, Mouret reveals a manifesto that expounds on his design perspective — one that's full of contradictions with sensuality, structure, and old-school glamour vying for equal attention. To illustrate that harmonious discord, and topics ranging from the designer's childhood to the famous women he's dressed, Mouret enlisted longtime friend and collaborator Sophia Neophitou-Apostolou to shoot original images for the tome and transform old ones into dynamic collages.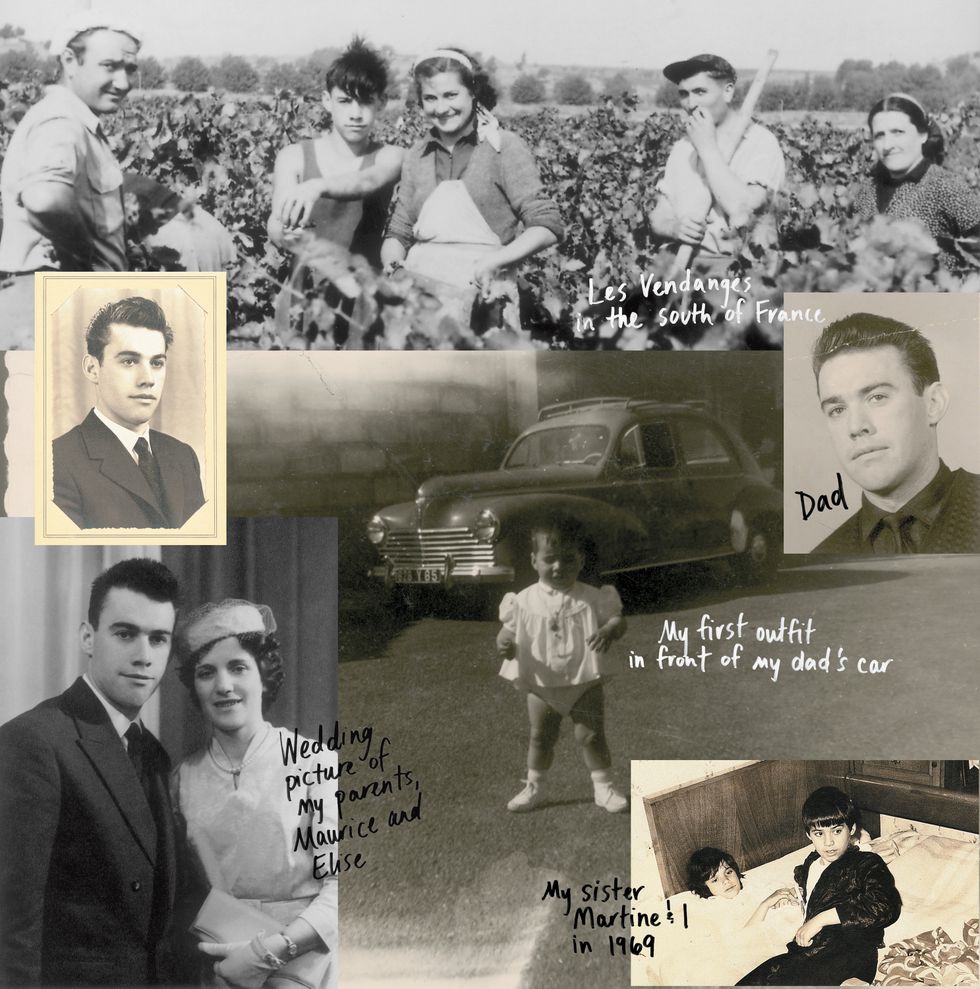 A collage of pictures from Mouret's childhood.
As explained by Fury in the introduction, Mouret's aesthetic was born of his upbringing in the small town of Lourdes — a Catholic pilgrimage site situated at the foothills of Pyrenes just hours away from the Franco-Spanish border. With a butcher for a father and a mother who worked at a local hotel as a housekeeper, Mouret's fascination with anatomy and exposure to working uniforms clashed with the ornate Catholic regalia seen in his hometown.
Upon moving London in the 1990s — after a decade in Paris modeling for Jean Paul Gaultier and Yohji Yamamoto — the influences from his formative years shaped his first demi-couture dresses. In a chapter titled "The Poseur," Mouret compares posing as a model to putting on personas by way of dressing in everyday life. This process of transformation took hold of young Mouret, leading him to delve deeper and deeper into it over the following decades.
Read more from "The Poseur" in an exclusive excerpt from Roland Mouret: Provoke, Attract, Seduce, below.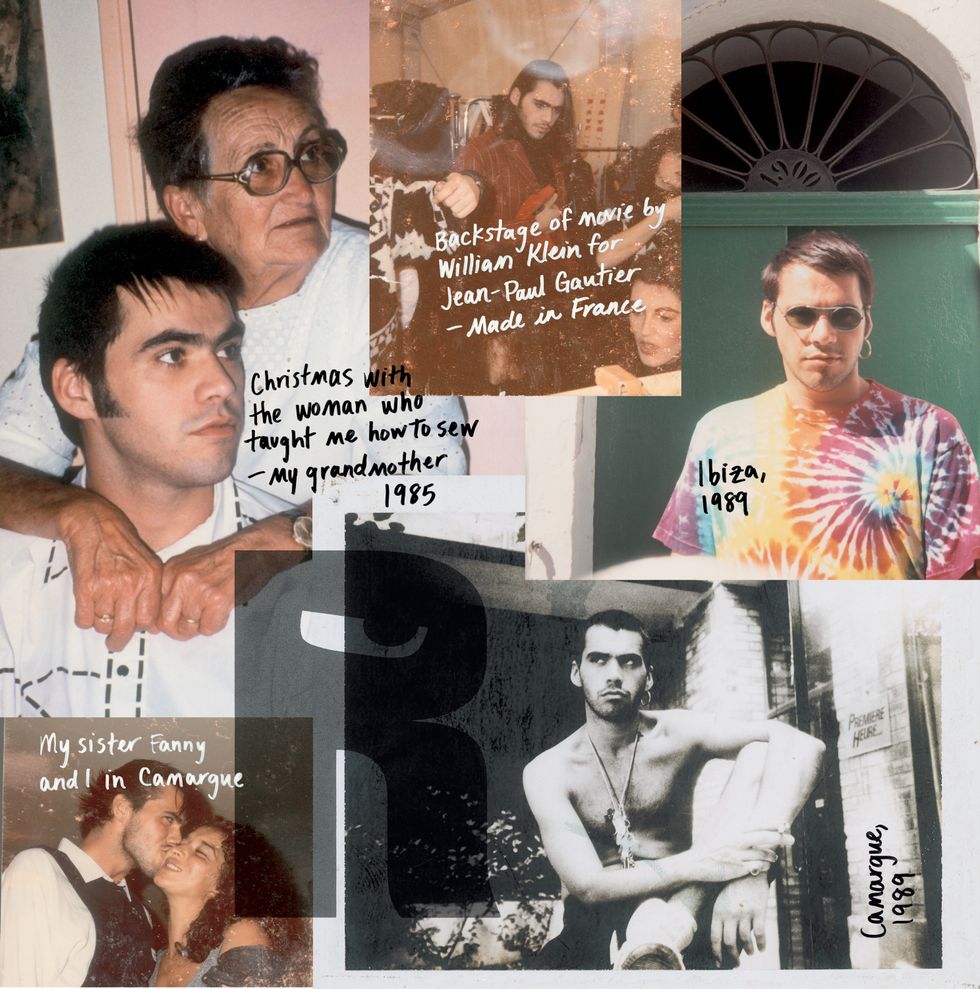 Alexander Fury: You came to Paris when you were nineteen. Clothes were how you transformed yourself — through clothing, through posing, through pretending?
Roland Mouret: I questioned myself, of course. I was still the country boy when I arrived in Paris. I thought, "I have a strong accent. I'm the son of a butcher. I don't know anything about the business I want to be in." The only thing I had was the vision of going somewhere — specifically, into a club. I felt that if I could define that symbolic moment, if I could succeed at that, I could succeed at anything. I knew that I had to position myself to fit into the fashion world. And I knew that everybody was doing the same thing, re-creating themselves. Just like me, they came from somewhere else, where they were not the person they were transforming themselves into. But they were going to play the game.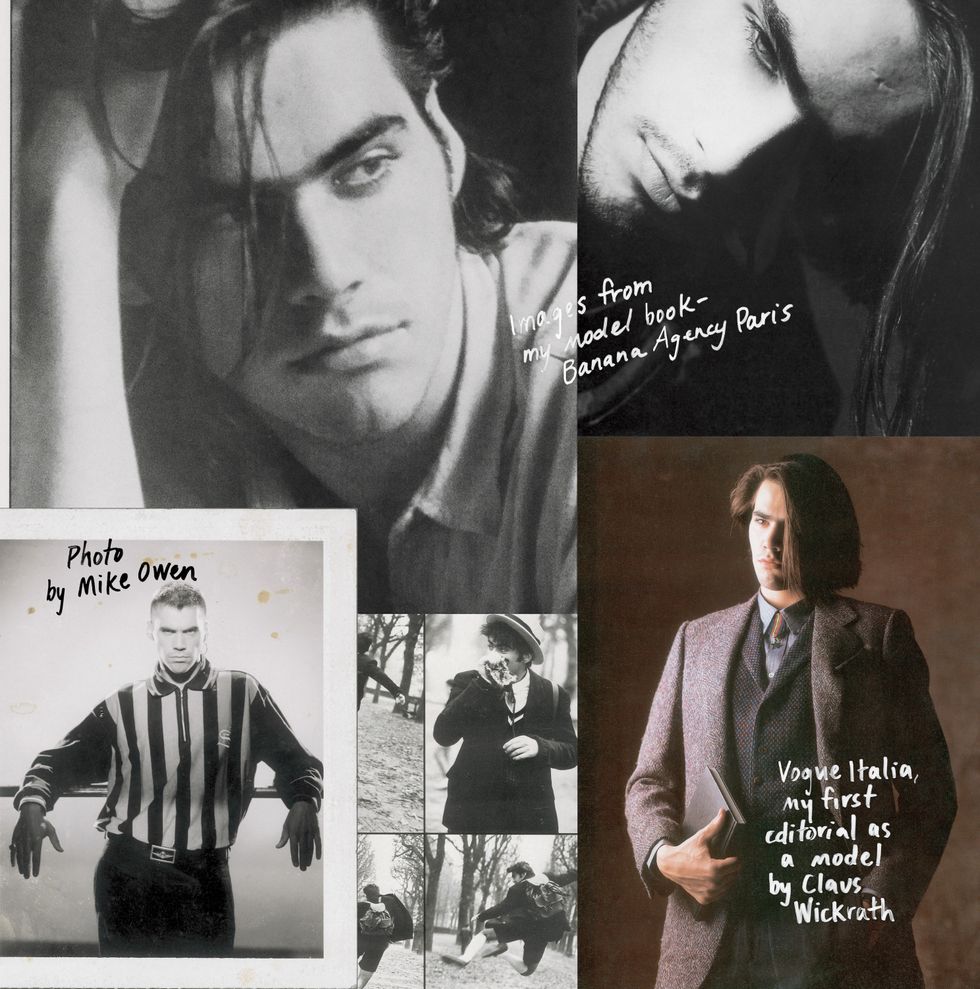 AF: How did that affect you?
RM: You become a magician. You create tricks to entrap people. It was the time of Thierry Mugler and Claude Montana. In England, it was the period when Marc Almond was singing "Bedsitter." This idea that you live in a bedsit, but at night you become a different creature; you become a character. Maybe the first avatars of our time were in the 1980s, when we started to re-create ourselves.
AF: Where you had a daytime persona and a night-time persona.
RM: For ten years I lived at night, at Le Privilège, the private nightclub under Le Palace. The world was defined by the club you went to and the different tribes living in That club. You knew who was on your side, who was against you, who you were sleeping with. It was really a way of learning about society and how it functions. It was a mix of different ages, different social groups. Cool young people, trendy people, really rich ones — they were mostly older — and prostitutes. Everyone was there and you could understand how to maneuver.
The other thing you had to do was go to a flea market and buy a good evening suit from the 1950s and a pair of pointed shoes. And put some grease in your hair. And you were in.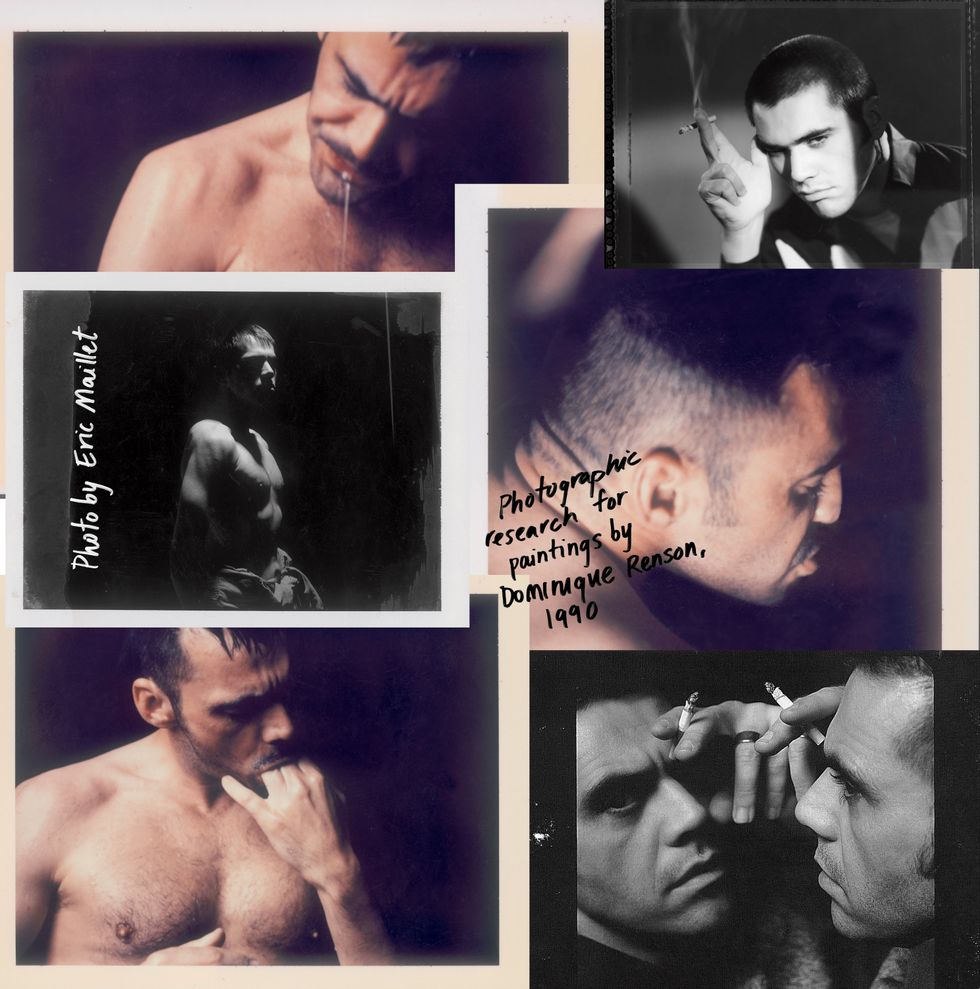 AF: You were also a model?
RM: I was a Yohji Yamamoto boy. I really enjoyed that time. It was my evolution from living in the country to becoming the person I had been dreaming of becoming all my life.
Even if that's not who I am now, at that time I wanted to be that person. And to see how much art and fashion and music were influenced by that idea of transformation was very inspiring. You had Steve Strange, who was completely based on how he posed. Everything was in that vein, of learning to pose.
I use that in my work. In the synergy of a long-term relationship, there will be moments when you have to re-create yourself. You have to become a character that will perhaps only come to life at a certain moment of the night or day, but that character has to exist. In my work, I'm more interested in creating the character for my customer than the outfit. I think there is a complete alchemy that we're not aware of but that we should consider: the alchemy of our bodies.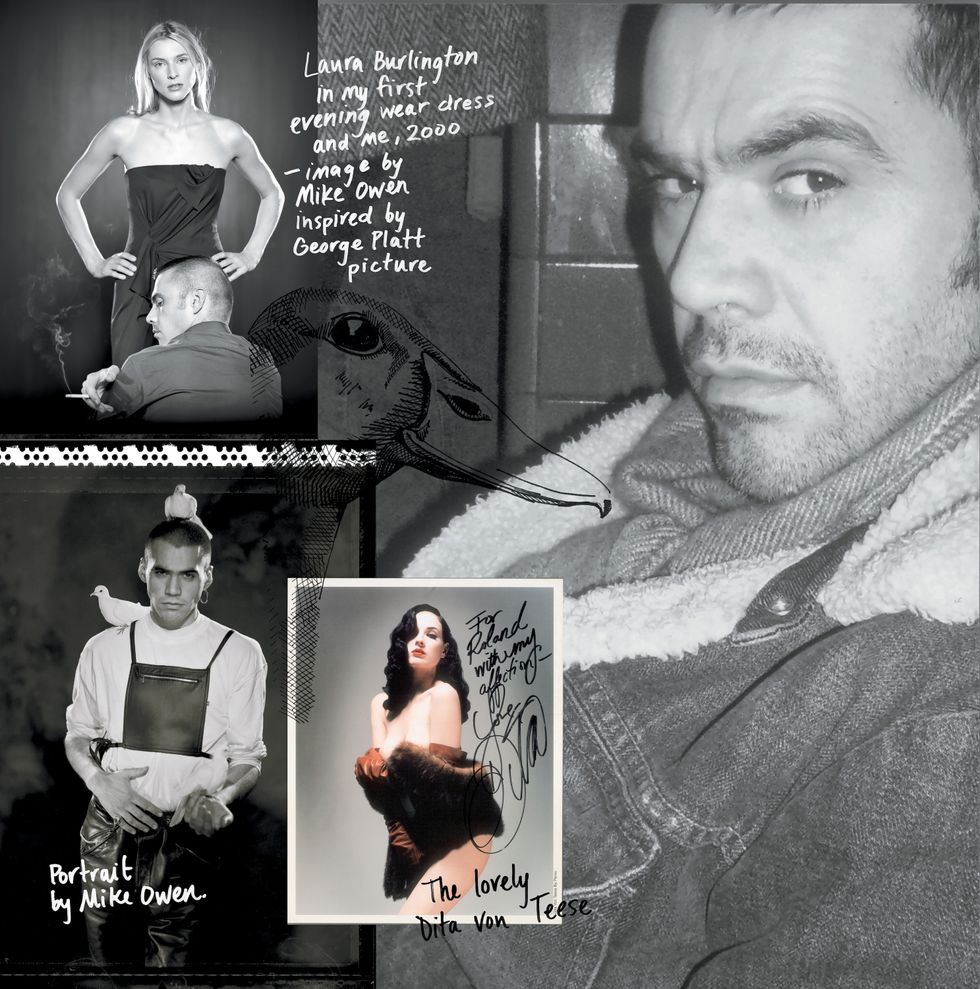 AF: Does that idea all come from the club scene of the 1980s, in Paris?
RM: The clubs were really a learning experience that no school could have given me. I never went to design school to learn how to draft a pattern and cut out a dress; instead, I learned to style myself. Styling your character, creating your character, is more important to me than the fabulousness of an outfit. I think a fabulous outfit worn by a person who has no character is nothing. In styling myself, I started to transform the clothes I was buying. I began to make my own clothes. When you begin to sew together your personality, so to speak, that's a significant moment. You are conscious of the cloth you want to pull around you.
AF: Was it different when you came to London later — in the 1990s?
RM: When I came to London and started to work there, it was the time of Lee McQueen and Hussein Chalayan. But as a French person, it was John Galliano who I really embraced. John's work had the transformative power of the 1980s, specifically of the nightclubs of the time. That was very important. Because I was older then these designers, I was familiar with that power, that fabulousness — the importance of posing.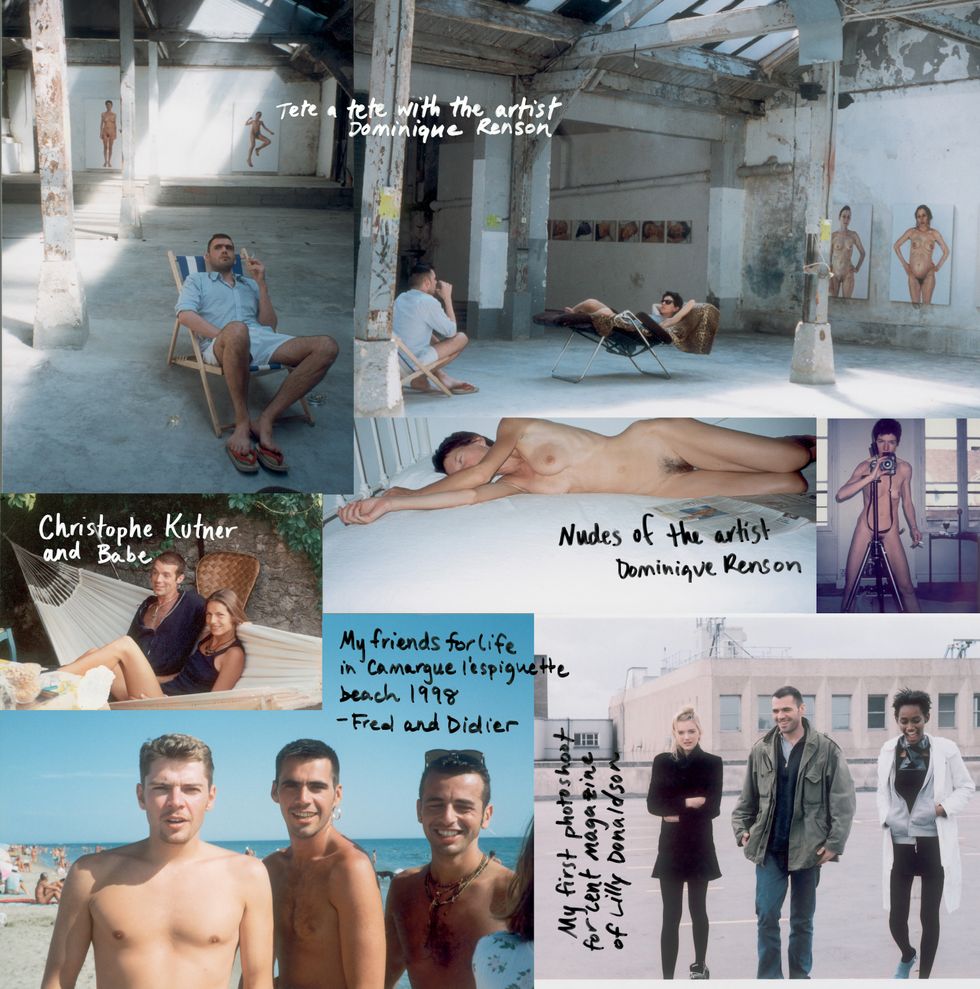 AF: There is also a certain couture attitude to that.
RM: Yes. When I started out, Suzy Menkes called me demi-couture, or half-couture, based on the attitude of couture, which is separate from your real identity. It's not that couture creates a fake person, but rather that it takes what you have inside yourself and pushes it to the limit, to something unexpected. That's a kind of posing, too.One client told me, "My husband travels a lot and every time I go to pick him up at the airport, I change my haircut. I make quite drastic changes, so that he will have to try to find me." She was forcing him to rediscover her. Like Kate Bush's "Babooshka"!
Photos Courtesy of Roland Mouret's Personal Archive / Lead Image: Grace Bol photographed by Alessio Bolzoni in Kefalonia, Greece wearing Roland Mouret.
You May Also Like