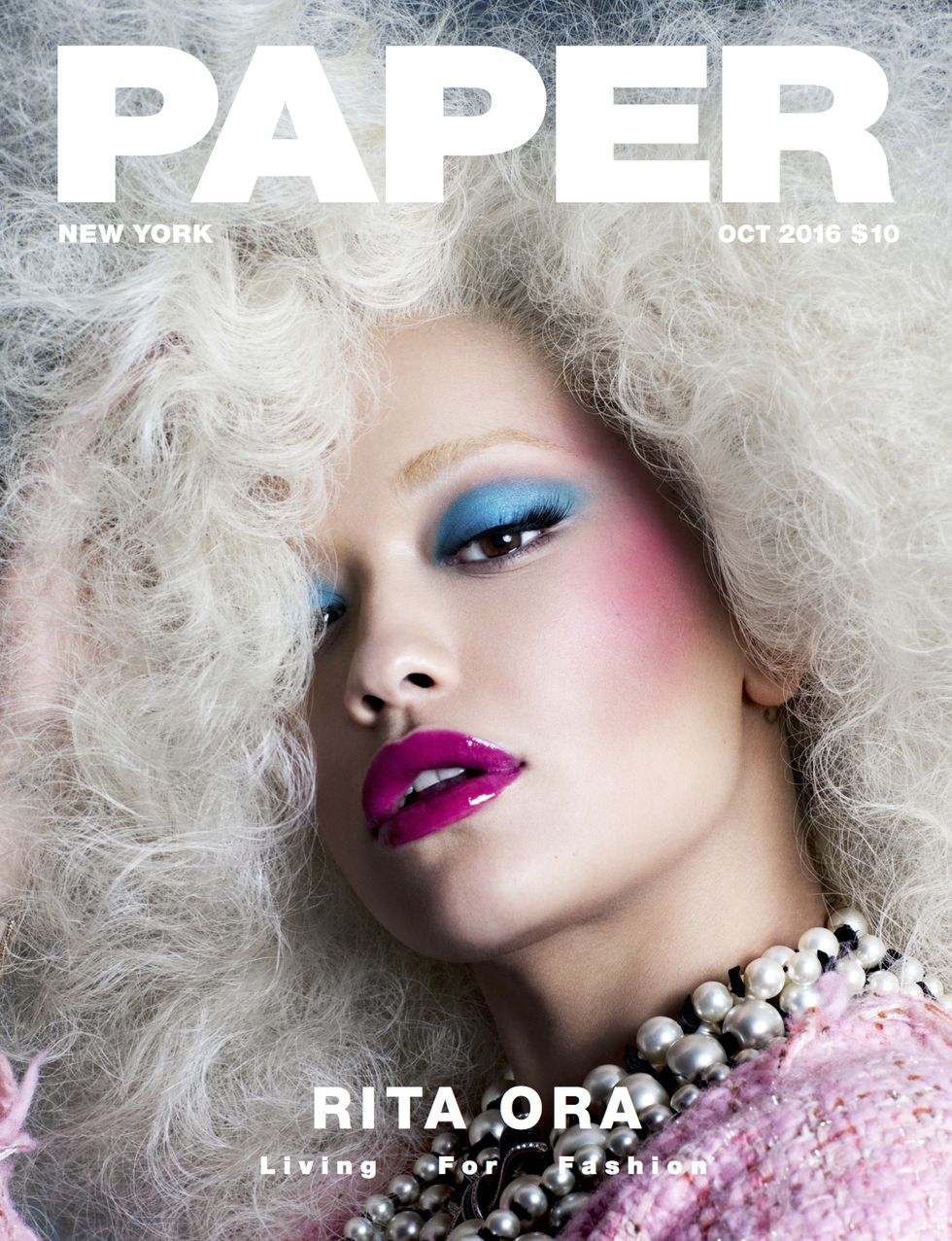 It might come as a surprise, but Rita Ora would love to have beers with you. In fact, a pub full of people drinking pints and watching soccer -- preferably dressed in comfortable sweats and sneakers -- is her idea of one hell of a night. To put things in perspective, the Kosovar Albanian singer known for her great style and performances (most recently for the canonization of Mother Teresa at the Vatican, where she wore Marchesa with a Grace Kelly-inspired veil) moved to London with her family when she was a year old, and grew up hanging out with regulars at her father's pub in West London. "I worked in my dad's pub from the time I was 14, and I'd meet crazy alcoholics and become friends with them," she says. "They'd tell me football stories, and now I know all the football anthems."
It may seem like humble upbringings for the 25-year-old Ora, who is often decked out in designers like Marc Jacobs, J.W. Anderson, Gareth Pugh and her favorite Tom Ford (his was the only show she attended this New York Fashion Week), but it speaks volumes about her success. Her open personality and ready humor are parts of what makes her remain incredibly grounded despite her achievements. It's this warmth and natural charisma that made Ora an immediate choice to host the new, rebooted version of America's Next Top Model. The show, which launches this December on VH1 and also features PAPER's Drew Elliott as a member of the judging panel, takes a whole new spin on the modeling industry, preparing contestants for a career that now involves so much more than posing for photographs. Ora positions herself as the "big sister and mentor" character, aiming to share her own experiences in the fashion and entertainment industry with contestants and focusing on her 3 Bs strategy: Brand, Business and Boss. "I don't think just taking a photo is enough anymore," she says. "We focus on how you're going to create a fan base on social media, how you're going to make people want to imitate you. That for me is the difference between somebody who's just a regular model and somebody who's a superstar.
"I'm lucky to have friends in this industry, and I thought maybe if I call them and we create a credible panel and give a different perspective of America's Next Top Model, I could actually be the host," she explains. "I'm not here to tell them what to do. I'm here to show them that they can do this, too. I'm an example of what you can achieve because it's worked."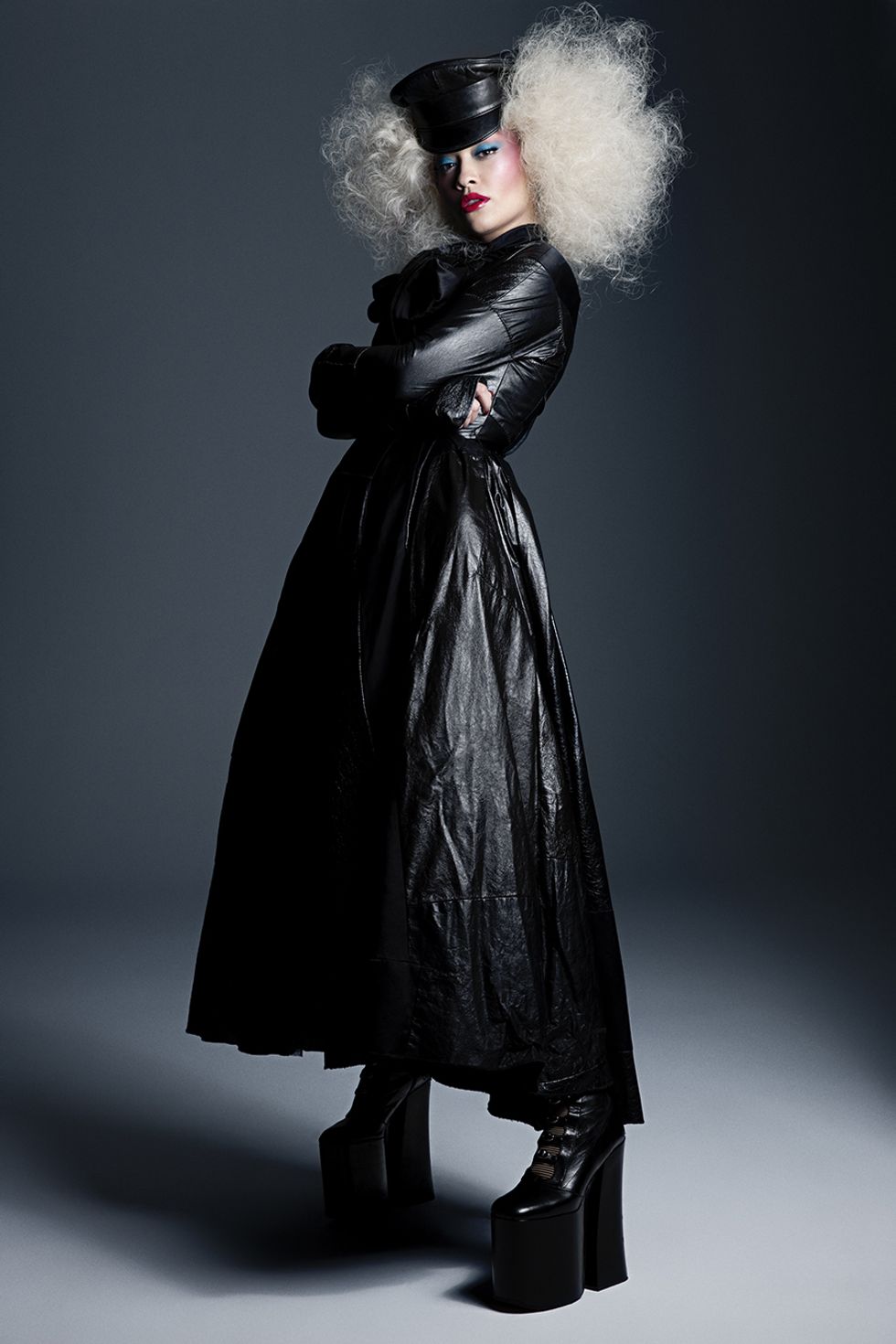 Along with hosting duties, the singer has a jam-packed roster of fashion, film and music projects. She's recently launched the latest iteration of her ongoing design collaboration with Adidas, now in its third year and 15th collection; the newest line, called "Color Paint Pack," is inspired by paint-by-numbers kits and even includes a pair of sneakers that arrive with special markers that allow you to color your own pair. She credits her middle school soccer- playing days for her initial Adidas crush; her first foray into the workforce was a job at a shoe store on London's Portobello Road when she was 16. "Recently I went into the sneaker store that I used to work in, which I hated. It was like hell on earth, though I loved the people I worked with. But I went in and saw my sneaker on the shelf, and it was crazy. It was a real moment of self-achievement for me."

She also recently partnered with the Italian lingerie label Tezenis, designing an eight-piece capsule collection that will launch in November. "There are some soft cup bras in there because I don't like underwire," she says of the line, even offering up a glimpse of her preferred bra style with a swift tug of her T-shirt. She will appear as Christian Grey's sister Mia in the Fifty Shades of Grey sequel, Fifty Shades Darker, the release of which coincides with a new, Fifty Shades-inspired Rimmel collection (of which she is a face). And she will release an album early next year, her first with new label Atlantic Records after a controversial split with Jay Z's Roc Nation. At the time this interview took place, she was jetting back to London to begin recording. "I'm so happy [to go into the studio] because I can take my extensions out, put my cap on and hibernate in a cave and just make great songs with my label, who is awesome and who has my back," she enthuses. And while she's hesitant to spill the details, it's clear that this record will serve as an opportunity for Ora to make her mark on the U.S. music scene. Her first album, Ora, came out in 2012 and debuted at number one when it was released in the United Kingdom but it never officially dropped in the U.S. That said, in the lead-up to the release of her new music, Ora's performance of "What Child Is This" at Mother Teresa's canonization reminded the public that while the musician may be getting attention lately for her fashion projects, she's still got some major vocal chops. "It was such a blur," recalls Ora of the experience." Being Albanian [like Mother Teresa] and having the support from my country was really special. I kept thinking, how did I even get here with a veil on my head?"
See more Rita Ora photos!
Rita wears a top and skirt and carries a bag by Salvatore Ferragamo. She wears shoes by Manolo Blahnik.

That veil -- and the black gown it accompanied -- are a perfect example of what she calls the "Rita twist," or her ability to imbue every outfit she wears with her own personality. Traditional protocol at the Vatican has dictated that women should wear conservative black clothing and a veil when having an audience with the Pope, and Ora's choice to wear a beaded Marchesa gown managed to be both elegant and tasteful while still feeling like a reflection of her own style. She credits her mom, Vera Sahatçiu ("her Instagram is lit, I'm telling you"), for her initial interest in fashion. "It all started with my mom's wardrobe," she laughs. "She's very extravagant, and she thinks she's a star in her own right. She's all about glamour -- she's extremely sleek and stylish. She had these flowing dresses and suit pants with a white, crisp shirt and always wore Chanel No. 5 perfume. When I got older, I started to kind of explore and do research, collecting magazines and making collages of things. But I shared a room with my sister who wasn't really interested in all that stuff, so it was trying to shove everything into one corner." The result is a kind of dual personality that allows for comfort mixed with high fashion. Ora says she usually prefers to wear sweatpants and sneakers, but she's nevertheless become a red carpet favorite over the years, turning up to events in glamorous, slinky gowns and her signature red lipstick. "If I could dress like a dude every day I would," she admits. "But I love beauty." She continues, "I like being beautiful, but I like doing it in my way. I think that's what's important." She says she doesn't believe in trends and prefers to focus on the nuances that make someone special and set them apart from everyone else. "Anyone can wear clothes; it's just about how you wear them and how you inspire people," she says.
But there is one item she says she'll never wear, no matter how well she could probably pull them off: ballet flats. "They're disgraceful," she says. "I just find them so unflattering. It looks like you dipped your foot halfway in goo and then pulled it out. Where's the support? Where's the structure? Where's the sexiness of it? At least a sneaker is sexy." She insists anyone can follow her lead and make a sneaker look good -- all you need is a twist of Rita.
Check out a teaser for the soon-to-be re-launched America's Next Top Model hosted by our cover star, Rita Ora!

Splash photo: Rita wears a coat, necklace and headpiece by Dolce & Gabbana
Hair by Brent Lawler
Makeup by Kathy Jeung
Nails by Maki Sakamoto
Photographer's Assistant: Javier Villegas

You May Also Like
America
Story by Bianca Gracie / Photography by Joshua Kissi / Styling by Alexander-Julian / Hair by Ursula Stephen / Makeup by Mario Dedivanovic