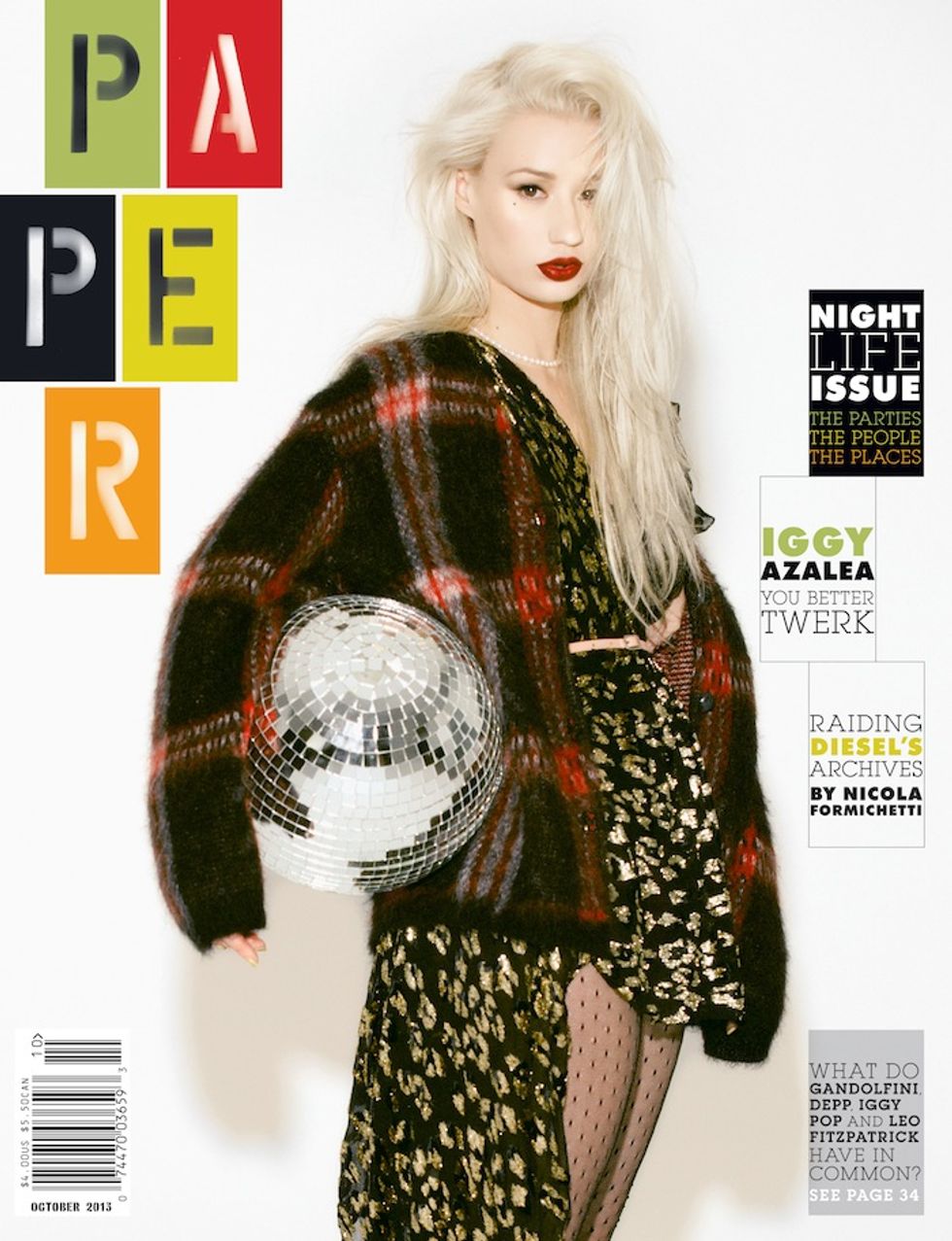 When Iggy Azalea, the 23-year-old ratchet-rapping, twerk-happy hip-hop phenomenon, saunters into the lobby of the Standard Downtown in Los Angeles, she causes more rubbernecking than a fender bender on the 405. It's not necessarily Azalea's newfound fame, her cover-model looks, or her high-profile romance (and breakup) with the brash and buzzy rapper A$AP Rocky that causes chic Angelenos to gawk. Azalea, an Australian native who towers at nearly six feet in heels and looks like she could take down Katniss Everdeen, projects the air of a woman who knows what she wants, and how to get it. We sit down to have dinner at the Standard's restaurant, and the waiter arrives to take our order.
"I'll have the grilled cheese with pesto sauce on the side," Azalea says. Grilled cheese is not on the menu.
"I'll see what I can do," the waiter says with a stammer. "But I don't think we have pesto." Azalea looks at the waiter dead in the eyes.
"You know what?" he says, taking our menus. "I think I can find some pesto sauce."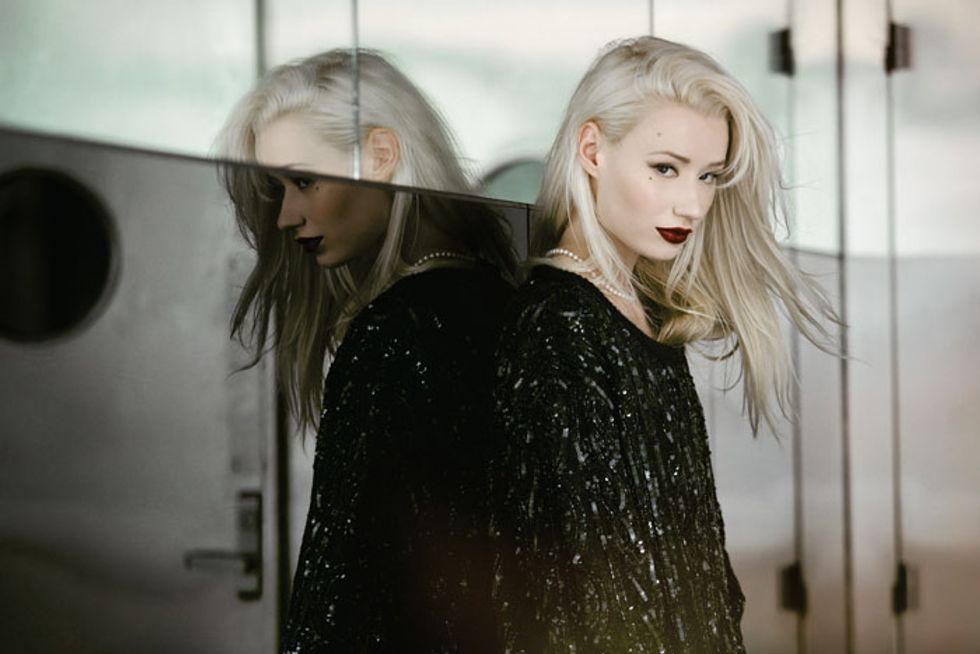 Dress and necklace by Saint Laurent Paris by Hedi Slimane. Lipstick: M.A.C Diva.
If Azalea comes across as demanding, she's earned the right. On the night before our interview in L.A., she was in New York, promoting her upcoming major-label debut LP,
The New Classic
. On the following night, she'll be performing in Honolulu. Two nights after that, she'll be back in New York City at MTV's Video Music Awards, presenting the Best Hip-Hop Video award with Lil' Kim (Azalea lost the Artist to Watch award to Bieber-clone Austin Mahone that night). She's racking up more frequent-flyer miles than George Clooney in
Up in the Air
. If anybody embodies the maxim "write what you know," it's Azalea; her breakthrough single off
The New Classic
is titled "Work."
Azalea stands at the forefront of social-media savvy hip-hop stars. She's massively popular online -- if you add up her followers on Twitter, Vine and Instagram, it's more people than the population of Dallas, Texas. All of this Internet exposure has created a wave of Azalea admirers and imitators, including twerk-obsessed Miley Cyrus. "I've been doing that onstage for two-and-a-half years," Azalea says of Cyrus' recent forays into the ass-grinding dance craze. "She probably fucking watched my videos online and decided to try it."
In fact, it's probably Azalea's twerking that landed her an opening act slot on Beyoncé's 16-date "Mrs. Carter Show" tour of Australia and New Zealand that kicks off this month. Back in June, Azalea headlined NYC's Bowery Ballroom, and wowed Queen B's team, who were in the audience. During Azalea's ass-happy song "Cheeks," she challenged her backup dancers to a twerk-off. Of course, every cellphone camera in the room captured the insanity, and the twerk heard 'round the world went viral. "People just wanna see my butt," Azalea says with a shrug. "We'd been doing that dance-off at the shows, but no one put it online. At the Bowery, they did." 
Azalea's Bowery showcase also featured a cameo from her mentor, hip-hop juggernaut T.I., who popped up onstage to drop a verse on Azalea's hit, "Murda Bizness." Despite leaving T.I.'s imprint label Grand Hustle to go to a major for her debut LP, Azalea says, "T.I.'s family. I'll always be loyal to him."
The upcoming Beyoncé Australasia tour gives Azalea the opportunity to show off her explosive batch of new songs (and probably her butt) on her native continent. She grew up in Mullumbimby, a tiny coastal town with a population of 3,000. When she plays Brisbane with Beyoncé, a two-hour drive from her hometown, her Aussie family will be on hand to watch.
"It'll be weird when my parents are there," she says. "Not because of the dancing or the sexuality, but because they created me. There will be fans screaming for me, but my parents know the real side of me. The side that's not cool."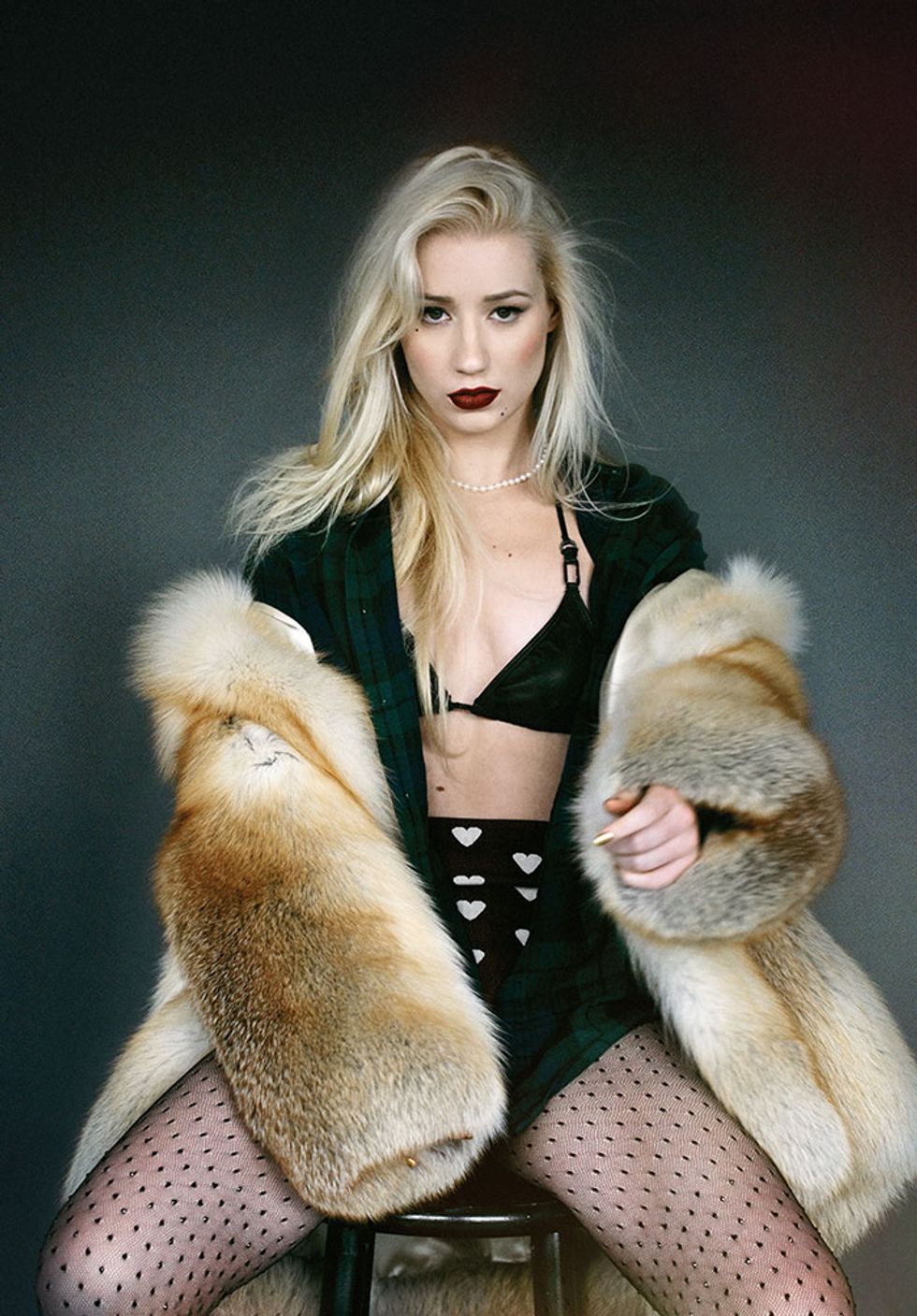 Fur coat by Marc Jacobs, vintage flannel by GAP, bra top by Diesel, hotpants by Burberry Prorsum and tights, and necklace by Saint Laurent Paris by Hedi Slimane.
In the lyrics for her single "Work," Azalea mythologizes her past. "No money, no family/Sixteen in the middle of Miami," she raps in the insanely catchy chorus about her arrival in the States as a teen. Before immigrating, she was born Amethyst Amelia Kelly, and she didn't get her nickname from the decadent Stooges punk rocker -- it came from a four-legged childhood friend.
"When I was a kid, Iggy was my dog," she says. "But he'd always get in fights and come home covered in blood. One time, he got bitten by a snake. I thought for sure he was going to die, but he'd always make it. Iggy was the runt of the litter, but he always survived. I really loved that dog. He was a tough, cool, determined fighter. He had all the characteristics I admire in people. When he got put down, I got a nameplate necklace with his name. People started calling me that, too."
At age 13, Azalea made her first trip to the U.S. with her grandmother. "I loved it here," she remembers. "It was like the movies, but real. I wanted to live in America ever since I visited. I bought a blue wig on the Hollywood Walk of Fame, and I wore it everywhere. I thought people would think it was my real hair. Now that I look back on it, I'm like, that hair does not look real, girl."
Just before turning 16, Azalea saved up enough money cleaning houses (a job her younger sister still has back in Australia), and made the move. She told her parents she was just visiting the States, but bluffed and stayed with an online pen pal and fellow rap fan in Miami. It was a brash and bold move for a teenager to make. "I just knew that this is where hip-hop is from," she says. "And all I wanted to do is become a rapper. I had to be in the States."
After spending some time in Miami, Azalea bounced around from Houston to Atlanta before finally settling in L.A. "When I first moved to L.A., I didn't have many friends, and I couldn't drive," she recalls. "You can ride the Metro to Universal Studios, so I'd go there by myself. I'd take the tour, go on a couple of rides. I wouldn't feel so alone."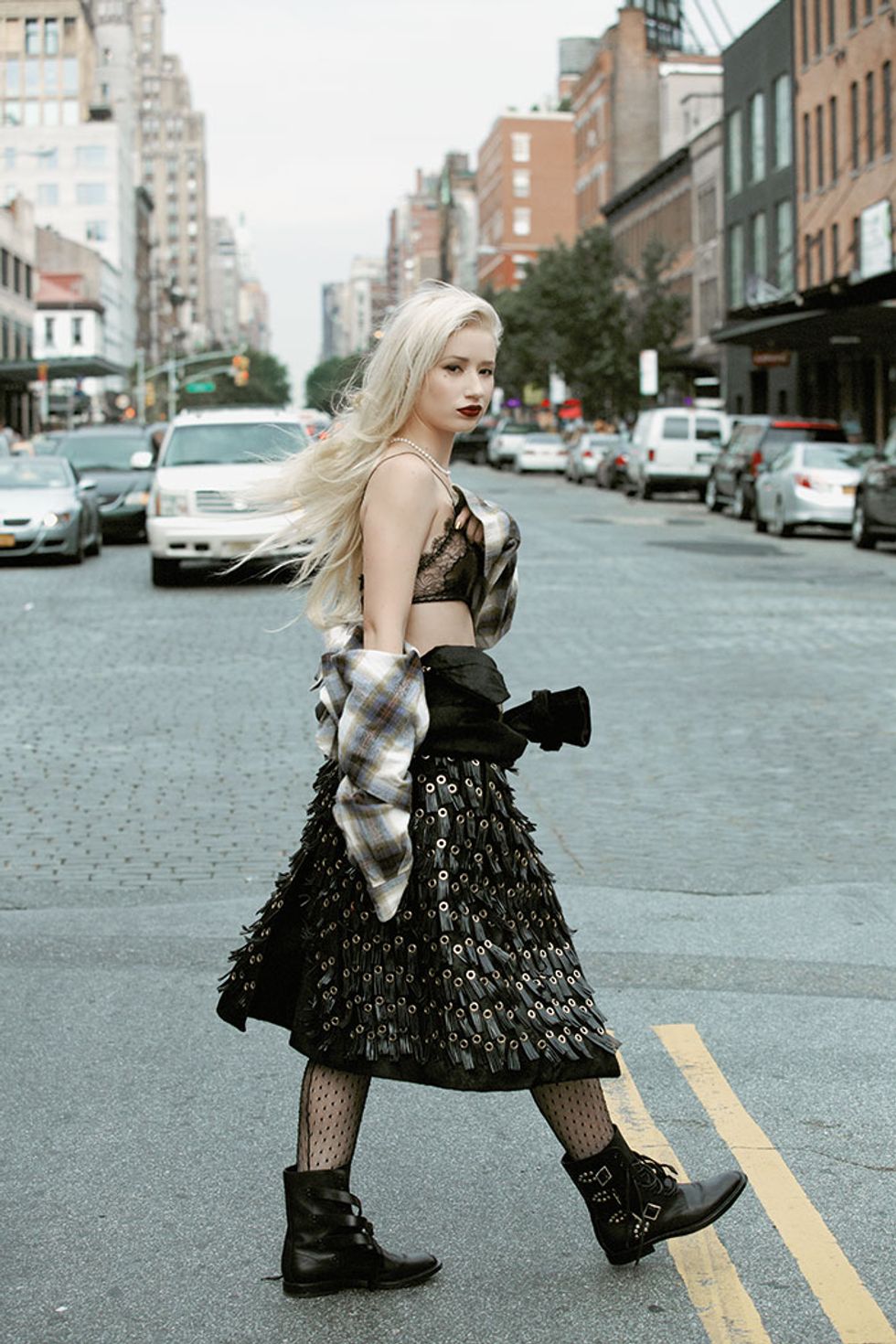 Vintage flannel by GAP, bra top by Louis Vuitton, trench (worn as skirt) by Burberry and tights, necklace and boots by Saint Laurent Paris by Hedi Slimane.
With her songs climbing the charts, now all Azalea wants is to be left alone. "Every restaurant should be only private rooms," she says, taking a sip of her Arnold Palmer, surveying the scene at the Standard. "I went on a date recently, and I tried to get us a private table at [Beverly Hills steakhouse] Mastro's, and they were like, 'You'll have to pay us at least $2,500.' And I was like, 'Nah.' But I felt embarrassed to go on a date, because that's lame."
When talking to Azalea, no topic is off-limits. She doesn't shy away from discussing her private life, but she's guarded about mentioning names. "My date?" she says when pressed for details. "He's a crush I've had since 2010. But he always called me 'sis'! What's up with that? Why don't you think I'm pretty? I always thought he was cute."
Despite being a model repped by Wilhelmina, Azalea insists that men don't show interest in her. "Guys don't approach me," she says. "I have to approach them. It's so annoying. I think I must have a bitchy face, because guys don't want to talk to me. It's true, I have a mean face."
In 2012, Levi Strauss announced that Azalea's "mean face" was the "New Face of Levi's." 
"I was happy to get that job," she says, "but it pisses me off that my iTunes biography says I'm a 'model-turned-rapper.' I was never a model before. Why do people have it in their stupid fucking fantasies that I was a model? I would've loved to have been a supermodel, but I can't fucking fit the sizes. I'm a six, not a zero."
She may not be sample size, but Azalea fit perfectly into a see-through Pucci dress at the VMAs, though she vividly remembers a time when her haute-couture lifestyle was a mere fantasy. "I used to go to high-end stores in L.A. when I was broke," she says, taking a bite of her grilled cheese sandwich. "I'd pretend I was a rich white lady, and I'd try things on, and they'd bring me champagne. Now Pucci has a mannequin made exactly to my size, just for me, so they can make me dresses. It blows my mind that somewhere in Pucci-land, there's a mannequin of me."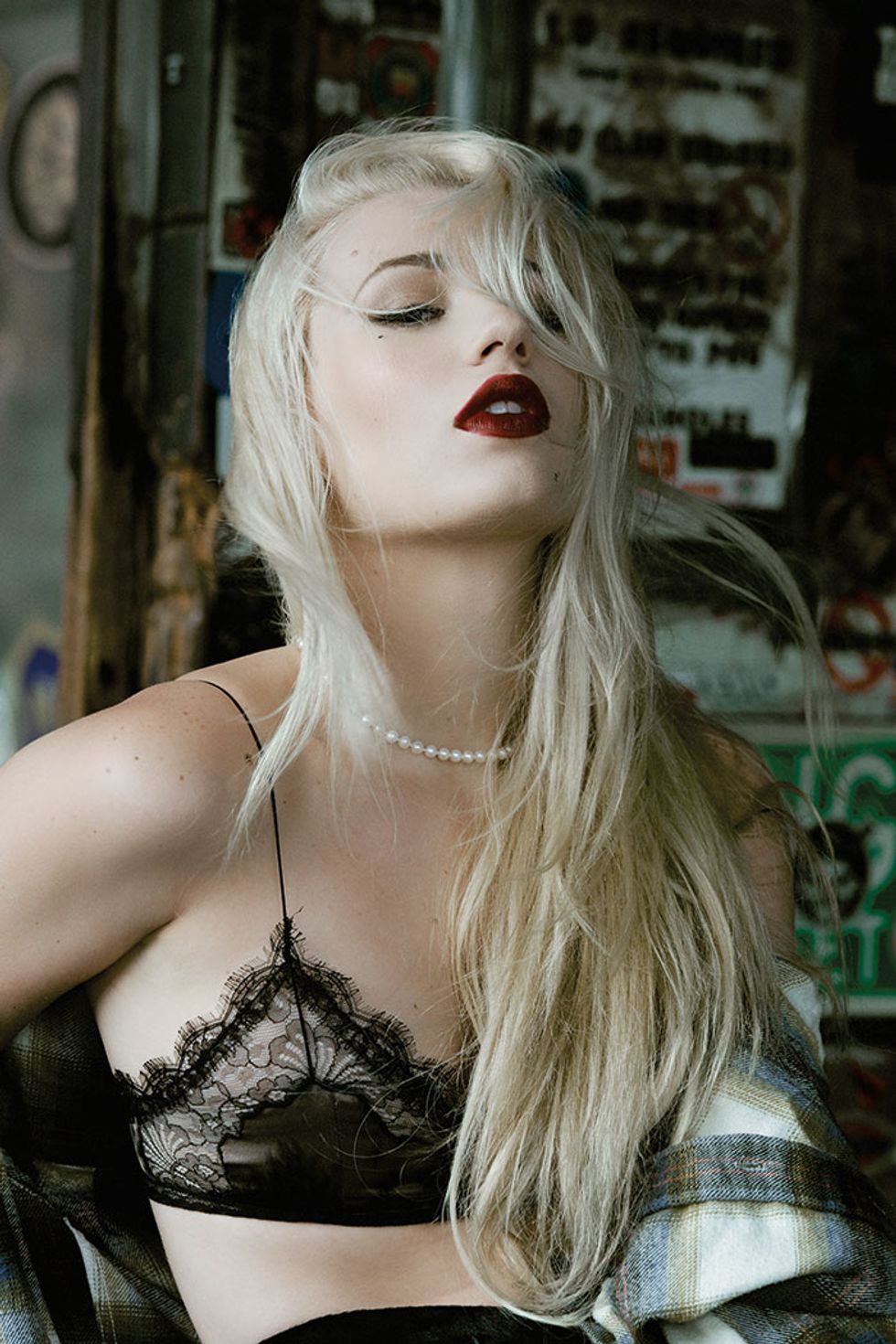 Vintage flannel by GAP, bra top by Louis Vuitton, necklace by Saint Laurent Paris by Hedi Slimane.
Throughout our dinner, Azalea never takes a sip of alcohol. She sticks to her Arnold Palmers, garnished with a sprig of mint. "I don't really drink," she says. "I used to only drink white wine, but I'm on a bit of a red wine kick now."
For a woman whose songs are blasting in clubs around the world, and whose dance moves have inspired the twerk generation to gyrate their asses, Azalea insists she's not in the rap game for the parties."I think I'm on the cover of the wrong issue," she says, referring to the Paper nightlife issue you're reading right now. "I don't go out." The rap star who performs booty-shaking tracks like "Cheeks" and "Bounce" doesn't go out? "Only if you pay me," she says with a laugh. "And where I like to go out depends on who's paying."
So if she doesn't like to go out and she doesn't like to drink, how does the raunchy rapper who said "taste my Skittles" on the NSFW track "Pu$$y" like to get crazy when the sun goes down? "I like to read," she says. "I'm currently reading
The Origins of Political Order
[by Francis Fukuyama]. It starts at the beginning of time and goes up to the French Revolution. It's about how religion turned into politics and politics turned into religion. Actually, it's really informed how I look at the music industry."
Mark Brightman, a jocund Londoner and Azalea's tour manager, has joined us for dinner, and he guffaws at her answer. "You've really picked the wrong girl for your cover story," he says.
Cardigan, dress, tights, belt and necklace by Saint Laurent Paris by Hedi Slimane.
And yet, Azalea's upcoming LP,
The New Classic
, is destined to be a major part of the nightlife soundtrack for the rest of 2013, and beyond. The album marks a major stride forward for Azalea as a songwriter, as evidenced by the lyrics in "Work." It's a song you can easily imagine Azalea performing for years to come. It's the cornerstone of
The New Classic
, and it marks a major evolution in her growth as an artist. The LP's inspirational third single, "Change Your Life," features a verse from T.I., and was brought to life in a cinematic,
Showgirls
-inspired music video.
"Oh, these new songs are about loads of stuff," she says. "If I wrote these songs at the beginning of my career, they'd be about ass cheeks. All the songs. Now only one song's about ass cheeks -- out of sixteen. That's growth right there."
As the waiter comes by to pick up our plates (sans grilled cheese and pesto), I ask Azalea an innocuous question about her tattoos. I was curious which was the most recent. "I'm not that into tattoos anymore," she says. "Getting this one crossed out was the last one I did." She waves the outside of her pinky finger, showing off A$AP with a line inked through it. "We're still friends, but I don't have the need to talk to him anymore," she says.
If Azalea's newfound aversion to getting inked makes her sound like she's going soft, her fearlessness on
The New Classic
will prove you wrong. "Listen, my first song was called 'Pu$$y,'" she says. "Everybody was highly offended from the jump. Now I can do whatever I want because I've already offended everyone. I'm just gonna go for it."
Makeup by Carolina Dali at See Management using Chanel
Hair by Adam Markarian at Bryan Bantry
Stylist's assistant: George Richards
Shot at Milk Studios