"Que lastima!" ("What a shame!")
That's what I whinnied on hearing that Escuelita -- the Latin-flavored LGBT dance club that ran for 19 years at 301 W. 39 Street after an even longer run in another space in that vicinity -- is saying adios. It's one of those places that were so unique and special that they obviously couldn't last forever in the changing landscape of NYC gentrification, but Escuelita kept going for so long that we closed our eyes to its inevitable demise and kept dancing.
Ay, los memories! I spent quite a few New Year's Eves there, loving the old-school drag revue hosted by fabulous Angel Sheridan and starring Lady Catiria, Jessica Foxx, and so many other Escuelita divas. Many of them did not long to blend in with mainstream society, but instead were huge-featured Times Square showgals that were larger than life in their lips, their boobs, and their persona. And they could lipsynch to a T -- with arm gestures galore -- whether it was to an old-style Latin diva or a current pop songstress, as the crowd cheered, drank, and drank some more. While other people went to four-star restaurants and hoity toity house parties for New Year's, I couldn't imagine going anywhere other than Escuelita for the trans fun and fabulousness. The confetti was heartfelt.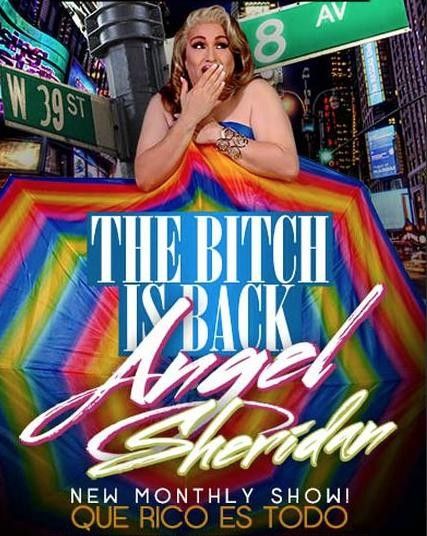 The gogo boys were equally large in their parts, and added spice to the place, which was like a real-life telenovela, full of spirit and passion. The dance floor was particularly lively, without one jot of pretension or exclusivity. I always felt welcome and delighted to dance a cha-cha to Celia Cruz or a salsa to Mariah Carey.
Black and Latin performers through the years included Harmonica Sunbeam, Sahara Davenport, and Laritza Dumont (she competed in their "Esco Idol" contest). Others were clearly just making tips in between turning tricks, but they turned it out onstage nonetheless. At the latest space -- La Nueva Escuelita -- they even tried to get "hip" for a while, with more mainstreamy promoters doing nights there, though I preferred it as an insular world full of its own chic. According to reports, drag personality Linda Simpson did a night there once, but she doesn't remember it, which shows how great the place was. (To paraphrase a familiar saying about the '80s, "If you remember Escuelita, then you weren't there.")
And in 2011, Lady Bunny brought her one-woman show That Ain't No Lady! to the place, and after that, she did Clowns Syndrome, full of Laugh-In jokes, a Shirley Bassey tribute, and sociopolitical commentary. ("I hate it at stores, when they say, 'May I help the next guest?' I'm not your guest! You didn't invite me!") But you were always invited to Escuelita. As everyone sat around the richly atmospheric place enjoying the show, it was amazing to see a New York Times theater critic sitting there—and he liked it!
W
The original space had previously been a language school, which is how they came up with the name Escuelita. As years went on, they had a schooling of another kind when they encountered more and more resistance from the cops and the neighborhood. The owner was quoted to say that his black and Latin patrons obviously scared the white tourists. Poor turistas. They should have just gone inside for the experience of a lifetime.