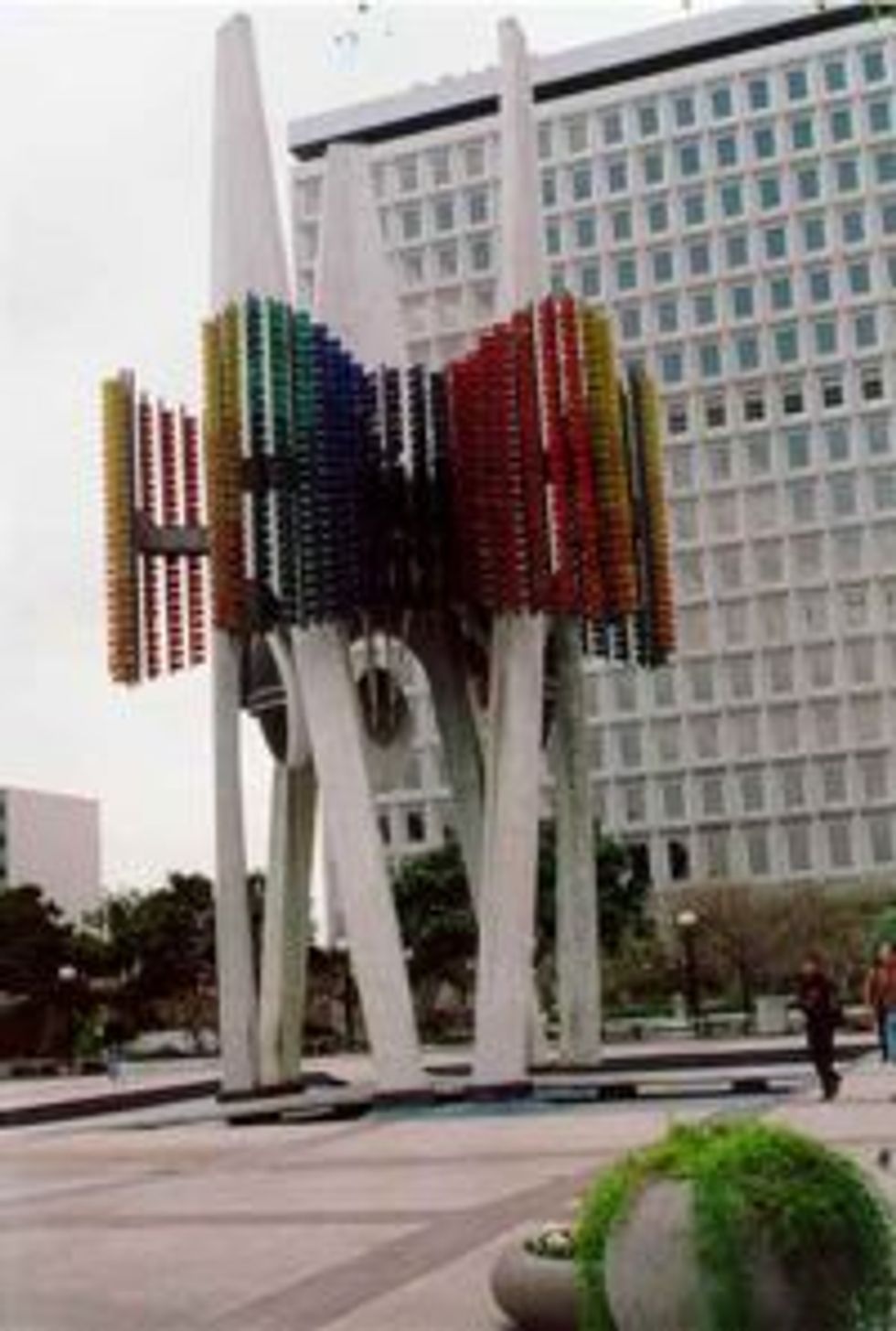 Pittsburgh-born but an L.A. Man since 1952, artist Joseph Young died last week. However, his sculptures and murals, which fill the Los Angeles landscape, live on! One of of my favorites is The Triforium which I make a habit of detouring past whenever I'm in downtown L.A. It is especially dazzling at night!
Renovated in 2006, the sculpture has had its share of controversy. Dedicated in 1975 in a ceremony led by Burl Ives (!!!!) and Eddie Albert (!!!!), the Triforium, according to an article online at www.publicartinla.com, " was honored by being on the cover of the Pacific Bell central telephone directory. This provoked new complaints about the Triforium. This time, however, they came not from politicians, but from the art community. In a letter to the Los Angeles Times, an art consultant claimed that the Triforium was "universally despised by every member of the Los Angeles art community."
Hmmmm...sounds like my kind of art! (Although I haven't "heard" the Triforium yet. Anyone out there have?)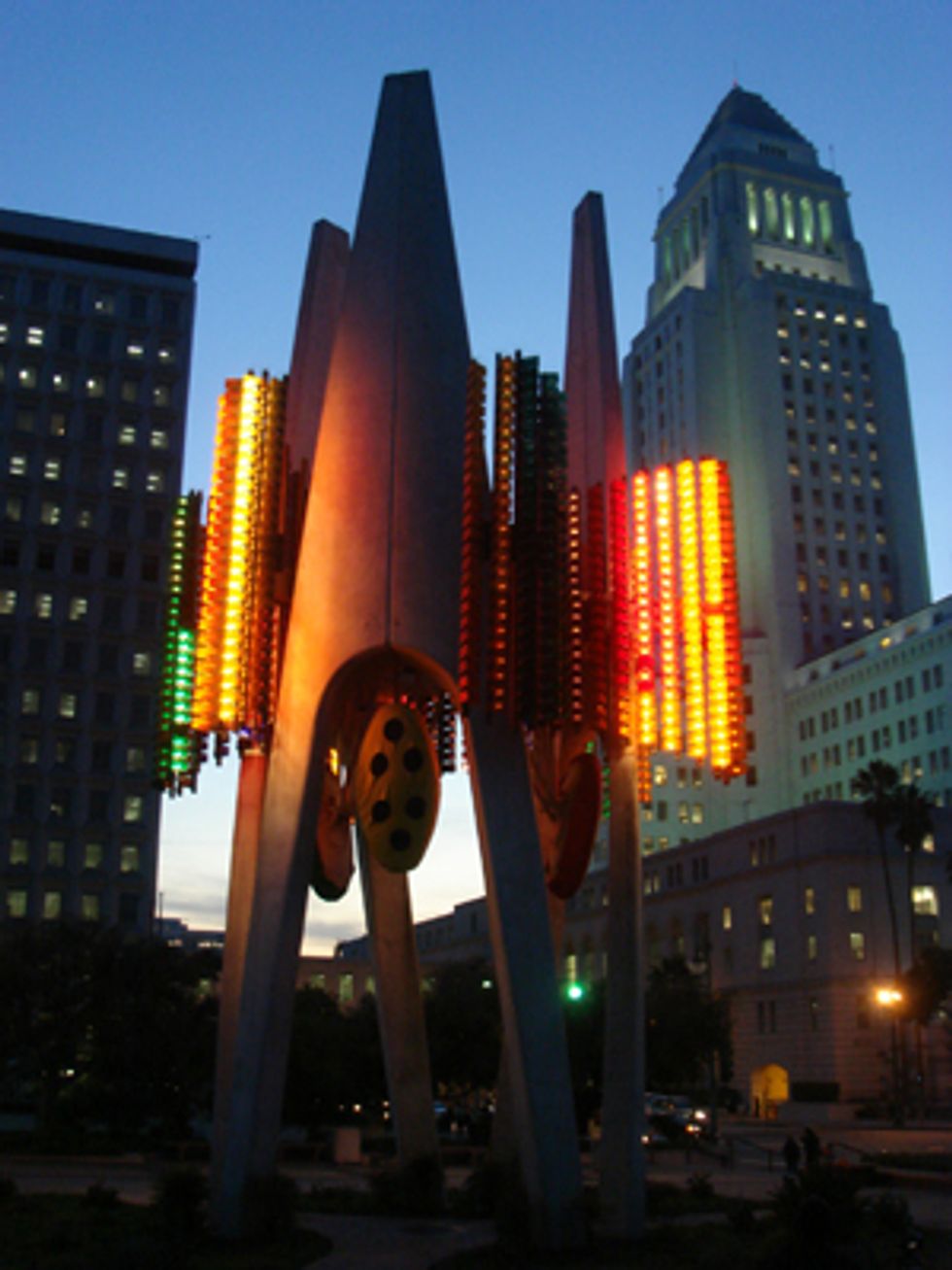 From the L.A. Times (12/14/06):
"Artist Joseph Young said it would outlive its critics, and it has," said downtown-area City Councilwoman Jan Perry before the strains of "Come Fly With Me" drowned her out.
"Love it or hate it, it's part of the unique history of the city," she said. And what a history the Triforium has.
Young's $925,000 sculpture was touted as the sparkling crown jewel of the $30-million Los Angeles Mall subterranean shopping and restaurant plaza. But the six-story structure with its 1,494 hand-blown Italian-glass prisms quickly turned into more of a lightning rod than a towering symbol of culture.
Critics called it "Three Wishbones in Search of a Turkey" and "the Kitsch-22 of Kinetic Sculpture." When its colored lights pulsated to the glass harmonium music generated in a control room in the mall, some dismissed it as "the Psychedelic Nickelodeon."
From the start, the Gerhard Finkenbeiner glass-bell carillon had problems. An electrical snafu delayed the music system's debut at the dedication ceremony Dec. 12, 1975.
Legend has it that complaints from a federal judge in the courthouse across from the Triforium that the noise interfered with his trials prompted city officials to shut down the music.
The primitive computer system that synchronized the pulsating lights to the music had to be reprogrammed. Leaks in a reflection pond beneath the sculpture forced city workers to drain it. Pigeons soon took up lodging among the prisms.
Over the years, various attempts to keep the Triforium in working condition were unsuccessful.
Waving off the skeptics, Young predicted that his artwork would eventually become known as "the Rosetta Stone of art and technology." It was, he bragged, the world's first "poly-phonoptic" tower.
"At times it was very lonely," he recalled four years ago. "When you do something that affects public tastes, you have to be armed to face the extremes of behavior."
We're happy this "extreme" has been recognized as worth preserving! Thank you Mr. Young! Proof again that artists never die as long as their work is left behind (and properly restored!)