The Baddest, Rudest Gal, Robyn Rihanna Fenty, continues to come through with her fashion renaissance, this time acting as a designer for Dior, in their sunglasses department.
Dior/RiRi have announced her new, impossibly chic shade collection--aptly called "Rihanna"--which is inspired by Star Trek: Next Generation's Geordi La Forge (LeVar Burton).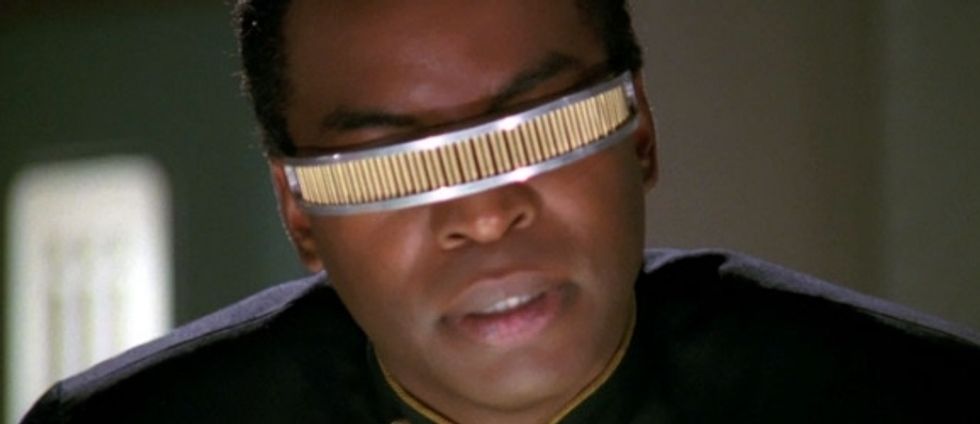 YAS.
It's no surprise to anyone, considering Ri has been previewing the glasses on her Instagram for a little bit...
The pop icon told Women's Wear Daily that she has "always been obsessed with his eyewear, and when I got to Dior and saw all the materials I could play with, it all just came together."
In terms of actually designing the spectacles, Rihanna literally sat down and drew them out herself:
I spent a day at Dior with their eyewear design team. I started by looking through all the archives to see what they've done in the past, then got acquainted with all the new materials. I literally sat there and drew and drew until I was happy with the design, and the team illustrated it for me right then and there. We picked materials and colors that same day, and after that it was a matter of weeks before I saw the first prototype.
Embracing your inner Rihanna In Space will cost you a pretty penny (between $840 and $1,950 (for a 24 karat gold version.)
Who needs to pay rent?!
"Rihanna" collection will be sold at Dior stores in early June; peep through the promo photos below (courtesy of Women's Wear Daily).

You May Also Like