First Kylie Jenner, now Rihanna — Snapchat can't seem to catch a break right now. After the company okayed a domestic violence-glamorizing advertisement featuring Rihanna and ex-boyfriend/abuser Chris Brown, the Bajan singer took Snapchat to task on competing social networking app, Instagram, reportedly losing Snap $576,946,500 in the process.
Related | Rihanna Slams Snapchat for Ad Making Light of Domestic Violence
Yes, you read correctly. That's an over half a billion loss. Its shares went from 17.85 to 17.20, a 3.64 percent decline, with the company's value continuing to decrease today, at one point hitting 16.91. Here's what got them in so much trouble to begin with:
Is it just me, or is this ad that popped up on my Snapchat extremely tone deaf? Like what were they thinking with… https://t.co/6JhVHL5Hcv

— Royce Mann (@Royce Mann) 1520833088.0
Rihanna's response, which saw her quite literally asked followers to delete the app, was nothing short of cutting.
Related | Snapchat Pulls Rihanna Ad That 'Made Light of Domestic Violence'
"Now SNAPCHAT I know you already know you ain't my fav app out there!" She began. "But I'm just trying to figure out what the point was with this mess! I'd love to call it ignorance, but I know you ain't that dumb! You spent money to animate something that would intentionally bring shame to DV [domestic violence] victims and made a joke of it!!! This isn't about my personal feelings, cause I don't have much of them…but all the women, children, and men that have been victims of DV in the past and especially the ones who haven't made it out yet…you let us down! Shame on you. Throw the whole app-oligy [sic] away."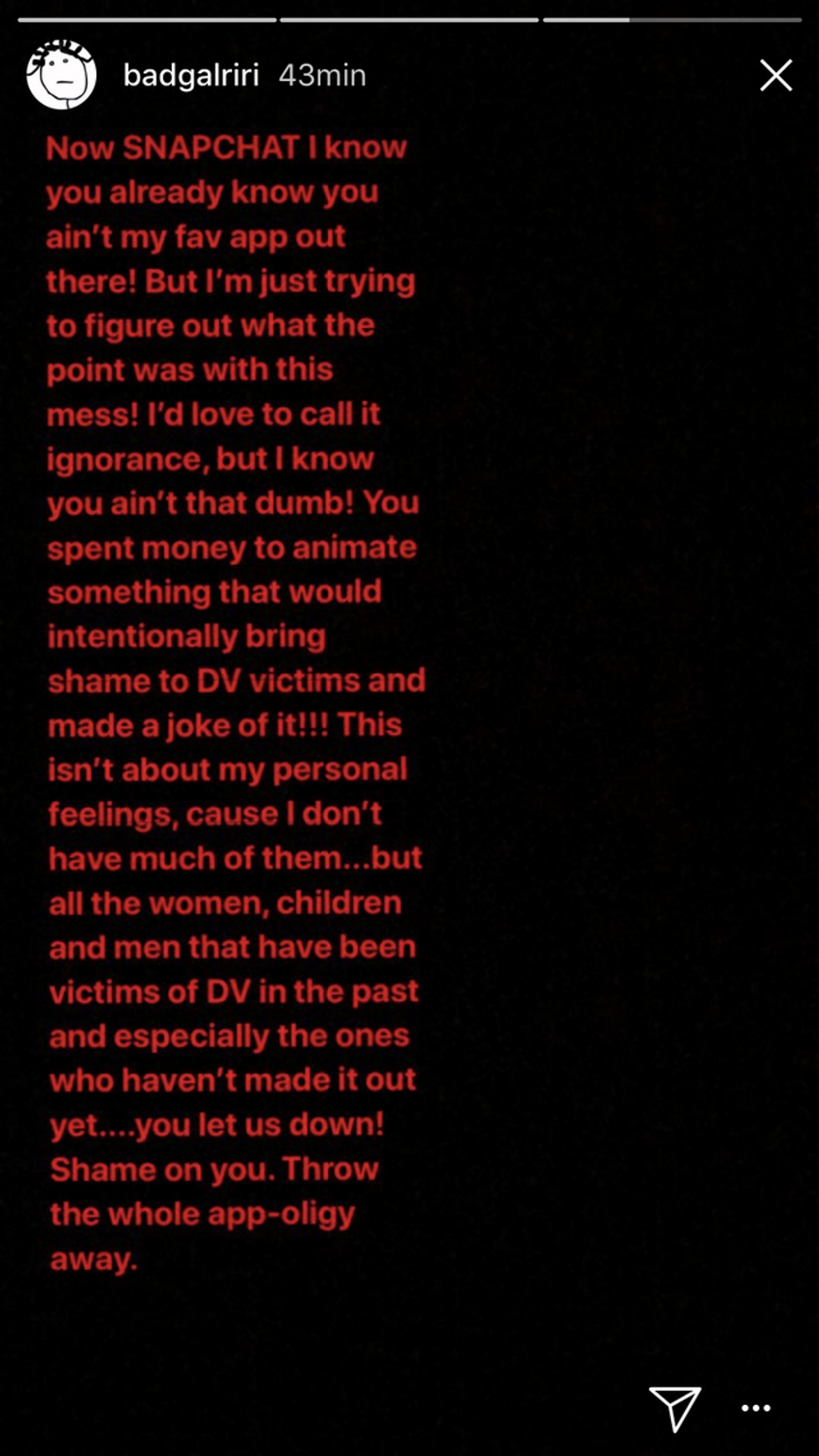 Snapchat issued a second apology after Rihanna's statement. "[The ad] never should have appeared on our service," Snap told Bloomberg. "We are so sorry we made the terrible mistake of allowing it through our review process. We are investigating how that happened so that we can make sure it never happens again."
This is the second massive hit Snapchat has taken from a major celebrity in recent months, the first being when Kylie Jenner disparaged the app's new update.
sooo does anyone else not open Snapchat anymore? Or is it just me... ugh this is so sad.

— Kylie Jenner (@Kylie Jenner) 1519249817.0
As to whether they will bounce back or not, time will tell.
Image via Getty

Sign Up for the Morning PAPER