When it dropped, the video for DJ Khaled's new single "Wild Thoughts" instantly broke the internet. But it wasn't just because the song was good (although it most certainly is) or because of its prominently featured Carlos Santana sample. Nope, the break-the-internet momentum was mostly spearheaded by the track's star vocalist, Rihanna, who used the video as an opportunity to, once again, prove that she was the definitive Style Icon of our generation.
Wearing everything from Balenciaga legging boots to a flowing Alberta Ferreti off-the-shoulder dress, Rihanna was a style force to be reckoned with. But one item was harder to place: a pair of thigh-high gladiator sandals featuring lucite straps and an assortment of jewels running up the leg. As of today, we know that the shoes are part of the singer's final collaboration with Manolo Blahnik, and it's safe to say that they are a must-have.
I mean, just look how graceful she looks dipping low while wearing them.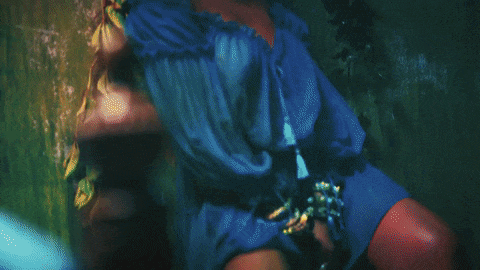 The collection features four different styles, and each one is heavy on the lucite. Each style also has a fun name: the thigh-high gladiators from the music video are "Poison Ivy"; a block-heeled mule is called "Spice"; a stiletto mule goes by "Bajan Princess"; and a pair of strapped sandals have been coined "Purple Chalice."
Ranging in price from $1265 (for the "Spice" mule) to $2325 (for the "Poison Ivy" gladiator sandals), the collection is slated to go on sale in stores and online on July 6th. So don't worry, you still have a few weeks to start saving up.
Take a look at all four styles and decide which ones you need to add to your collection.
Splash photo via Manolo Blahnik

Sign Up For The Morning PAPER