Producer and songwriter Ricky Reed knows exactly what to do with an opportunity like studio time with Christina Aguilera: sit her down, open up a bottle of red wine, and talk about their feelings.
These "wine-addled, late night chats" are the origin story of Reed's collaboration with the veteran pop queen, and the closing track on Aguilera's eight studio album Liberation: "Unless It's With You." The lyrics were pieced together from fragments of their intimate conversations — which took place a few months before Reed's wedding and during Aguilera's long-standing engagement to her partner Matthew Rutler — about marriage, love, heartbreak, independence, and the fears and ecstasies of commitment.
Related | Christina Aguilera Is Back With a New Transformation
The result of these evenings? A gospel-influenced, "full-on Aretha-level" power ballad that showcases Aguilera's virtuosic, herculean vocals in their full immensity, as they curl around and sail through her musings, which begin with ambivalence and confusion, and end in the most stunningly gentle, but decisive proposal: "I don't wanna get married/ Unless it's with you." The track, on which the pure force of Aguilera's vocals shreds any hint of cliché, is sure to beat out Bruno Mars' "Marry You" and Christina Perri's "A Thousand Years" as a wedding first-dance favorite for years to come.
Reed calls the epic love song, which he co-wrote and produced, "his favorite song he's ever worked on," citing its honesty and authenticity.
This is no small statement coming from the production giant. Best known for redefining pop radio with tracks like Jason Derulo's "Wiggle" and "Talk Dirty" feat. 2 Chainz, Fifth Harmony's "BO$$," Pitbull's "Fireball," and Meghan Trainor's "No," the studio chameleon has penned and produced hits for a vast range of artists — from pop princesses like Kesha, Halsey, Icona Pop and Jessie J; to electronic enigmas like Phantogram and Galantis; alt-leaning pop-rockers like 5 Seconds of Summer, Fitz and the Tantrums, and Twenty One Pilots; hip-hop upstarts like DRAM and Kevin Abstract; and R&B powerhouses like Leon Bridges and Lizzo.
Related | Halsey Is Coming Through Loud and Queer
PAPER sat down with Reed to chat about how he approaches a voice like Christina's, the pressure to deliver his signature funky sound and his hopes for "Unless It's With You."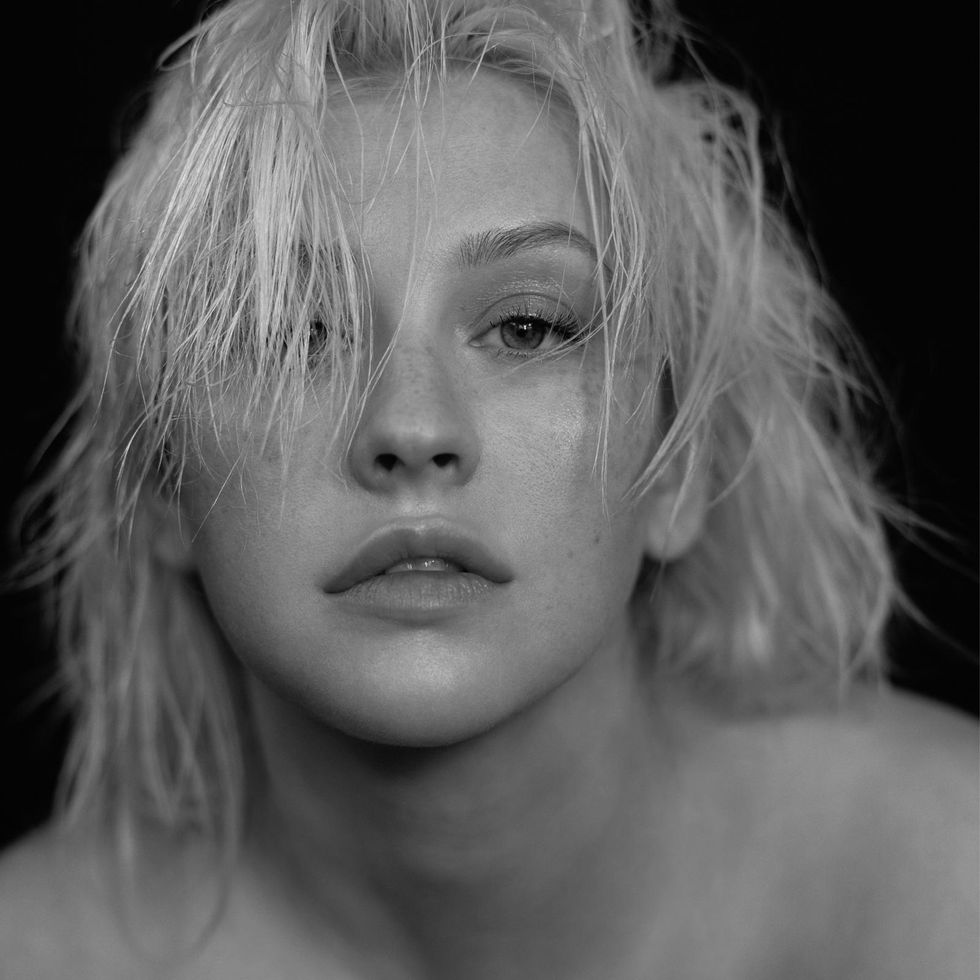 Christina Aguilera's "Liberation" artwork
So tell us a little bit about what we can expect from "Unless It's With You."
We wrote a handful of songs a couple of years back, Christina and I. Mostly with some of my favorite collaborators, Teddy Geiger and LunchMoney Lewis. And you know, we were making a lot of diverse songs that play with different genres, seeing what felt really good with her voice, what kind of songs felt honest and important. You know, as we were going through it, I got to thinking, the way most people do, "Christina, no one can sing like you!" People really love to hear her sing and open up, and like you know, sang sing.
Which is rare, today.
Exactly. So you know, I was engaged to be married. My wedding was a few months out at that point. I was, slash am, still wildly in love with, at that point, my fiancé, now wife. And, Christina and I were just talking a lot about marriage and what keeps a marriage going, versus what doesn't. Just having these conversations; sort of wine-addled, late-night chats. Christina, myself, sometimes Teddy, sometimes Lunch.
She is just such a fascinating person with such an interesting worldview and perspective. She's had such an interesting life, we could just listen to her talk and talk and talk. And she would tell us stories, and start to unveil as we became closer friends, like her thoughts about love and marriage, as we were getting all into it. And I would literally just sit and, low-key with a notepad and just write down my favorite things that she was saying as we spoke, you know, kind of candidly. And then just arranged them in some order that made sense to Christina as I was saying them back to her. She would go over to the booth — and that's how we wrote the verses to that song.
It's mostly words that she was just speaking out loud to us about being afraid of taking that step, but how she would take that step if it was the right person, and the sort of chorus concept I had developed with another group of songwriters, a few months before that and I brought it in and was like, "I think this totally works with what we've been talking about." With marriage, let's bring it home.
And the result was a full-on Aretha-level ballad. You know she gave a performance that was just jaw-dropping to see in person. And it, I've been saying to people for years, it's literally my favorite song that I've ever been a part of writing.
Damn! That's huge coming from a writer like you.
Yeah, I mean I'm not exaggerating, it's literally... the top two that I've been waiting for are that and the DeJ Loaf & Leon Bridge song ("Liberated") that came out last week. My favorite songs that I've ever been a part of are coming out back to back coincidentally. Having been written, you know, like two years ago.
What is your approach to an instrument like Christina's voice when you're producing?

You know, it starts with getting the song right. Because any great singer sounds 200 percent better when they're singing about something they care about. When the melody is challenging, or has twists and turns, you know, you get the song right for starters, it's going to inspire the singer to step their game up. Which, I didn't think Christina was capable of raising the roof any higher than she already has, on you know, albums and albums and albums. But she manages to push her own limits on a song like "Unless It's With You." Frankly, I can try to lean in and coach or whatever, but she's one of the greatest living singers, she's a diva.
"Frankly, I can try to lean in and coach or whatever, but she's one of the greatest living singers."
Right, she's a pro. She knows what to do.
Yeah, exactly. So for me it's like, let's get the tune right, let's get her comfortable. And then let her do Christina. And the result is crazy. I also think of it that that kind of vocal, in today's styles, you know, what you're speaking about stylistically, that kind of vocal sounds so, so fresh and so new and so against the grain right now.
Definitely, vocals-first, story-first song is fresh today in the music landscape. Would you say the song started with the lyrics and with the story before the sound?
Yeah, it started with the story, it started with raw piano chords. You know, we wrote it… it was written in a room of people drinking wine with yellow legal pads, and bad keyboard sounds. It was written in the true sense of writing a song. I didn't bring in a track or a beat. It was really us just sitting down and talking about all of our experiences with love. Just writing a song, the old fashioned way.
Yeah, how did you get involved with this song? Did Christina reach out to you knowing you were the right producer?
It spans back pretty far actually, I think she liked the beat from "Talk Dirty," the Jason Derulo song, and my producing career was getting started and she just wanted to meet. It was as simple as that.
That's interesting, because you are associated with this signature sound, brass horns and big funky basslines. Is there a pressure to deliver that sound on every new track? How do you reckon with the precedent you've set?
Yeah, I mean, the most poignant and most recurrent question that we a have to face on a day-to-day basis, I say we meaning my team, as we're looking at projects. You know, it's like there always is a pressure to do the kind of thing that whoever is bringing you in to collaborate, like how they found you like, "Oh, I love that one song, can you come do that for me"? And it's like, "No! I did that for them. Cause that's what they needed. You don't need to do what they did." And frankly my attention span is too short to do anything twice.
So I did come in and try to give some like bigger, bombastic, beat-based tracks. They were good. They were nothing to shake a stick at. But what I really wanted was to make a song like "Unless It's With You." And nobody says, "hey guy who did "Talk Dirty To Me" and Twenty One Pilots, can you come in and give us a jazz standard power ballad." No one asked me for that, but that was low-key what I wanted to do because I am just so in love with her as a voice and I'm just really grateful that the song made the album and that people felt it.
"I hope people will hear the song that we wrote with someone they love [...] I hope that people hear it, and they sing it to someone they love."
So you had this vision in your head the whole time?
Yeah, exactly.
What is it like working with Christina as this legacy artist, at this point in her career, after a long hiatus, when she is transforming not just her sound but her whole brand? Is there a lot of pressure there?
Right, I mean, if you as a writer and producer, and I've learned this the hard way, if you try to shoulder all that pressure by, almost taking on too much, at least in my case, you'll never make any music that's worth listening to.
I've put myself in places with artists before where I was like you know, "Let me see the art, what's the look, what should the first video be" and getting into that territory. And you know, the one with the most pressure, will be the artists that sells, and the one who really succeeds, especially with reinventing themselves, as the artist that'll really sink their teeth in.
For me, I've kind of learned along the way, start small. Hang out. Drink wine, drink coffee, and just write the tune that the artist needs to write that day. And let it start there, and make honest art, honest music. If you start there, you can make real stuff. If you start getting caught up in what's the vision, what's the sound, oh we can't use this snare drum because you said you wanted it to be more electronic, or we can't use this vocal reverb because you wanted it to be more folk. You know what I'm saying? Like you can get caught up before you actually make something that means anything. So, I'd rather just try to zoom in when I'm in the room with an artist, especially someone like her.
How does it feel different to be working with a legacy artist compared to a super-rising artist like Lizzo or Sofi Tukker, who's almost a blank canvas compared to Christina?
The big secret, is to have the same approach with all of them. Like, big and small. And the approach is, what is this person thinking about, feeling today. So, it's the same approach with all artists, and that approach is treating the individual like an individual, don't treat Christina Aguilera, like a fucking brand or don't treat her like an empire or a merchandise company, treat her like a woman, a mother, a friend, a singer, an artist. Like a human. Start there, and that's also a prerequisite. If someone comes into the room and they're not trying to let themselves be vulnerable in that way, then I can't do my job.
So vulnerability, and willingness to experiment and take risks is crucial for the artists you work with.
Yeah, definitely, just being open, just being honest.
You work have such a wide range of genres — you were in the studio with a punk band this morning, we're here talking about the most mainstream pop there is, Phantogram, Leon Bridges. Do you even see the genres that you're jumping between or it's just all music to you?
To me, the whole thing about being a producer and a songwriter is, I like people and meeting people and making new friends, and hearing about people's experiences and whatnot, and what genres these people fall into, musically, I don't know, to me it just comes second. A lot of times I won't be like even, only a so-so a fan of someone's music, but I'll meet someone and be like, "You're rad. Let's hang out more, and then we'll make music in the process." But, to me it's like, if you asked somebody, "Man you have so many friends, all your friends are so interesting and such different characters, do you ever think that you would maybe just have one kind of friend?" To me it's just like, people and I will also say I do have a short attention span, so on the musical side I do like to bounce around a little bit. To keep it interesting.
So it's all about the people.

All about the people.
What are your hopes for this collaboration with Christina? What do you want people to take from it?
I haven't heard the rest of the album, but when someone that talented works that hard for that long, it's gonna be, it's gotta be amazing, I can't wait to hear it. And for my song, I hope people will hear the song that we wrote with someone they love. That's kind of comes first, second and third to me. It's a song that, for me, I was singing to my wife. Christina was singing to her man. I hope that people hear it, and they sing it to someone they love.