Supermarket Safari
Beaded curtains may remind you of your weird stoner uncle's bachelor pad, but on Friday morning it became a high fashion entrance for Irish designer Richard Malone's spring 2019 show. As models pushed their way through beading that formed the picturesque image of a sunset in one door and a flamingo on another, they stepped onto a set that can only be described as the dream supermarket of your grandmother — by way of safari catalogue. Who knew a giraffe skin wheeled shopping tote, a 2012-era "wonderful wildlife" wall calendar, and stacks of shopping baskets could make geriatric so glam?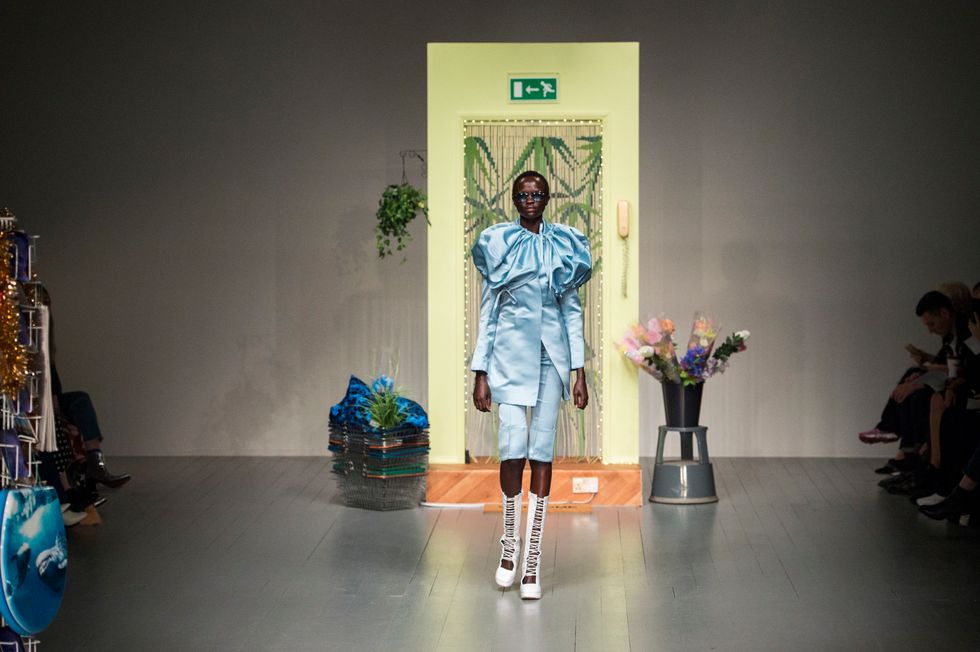 Tassels, Pleats and Satin
A season after showcasing knit dresses, checks, and stripes in shades of red, blue, and green, the garments he dreamt up for this collection were satin-soaked fantasy of hues and textures. Sapphire blues and banana yellows mixed with shamrock greens and shocking bursts of fuchsia, while surrealist painted prints soared across the runway alongside a healthy dose of tassels and pleating.
ShamWow! 
Among the many inspirations for this season's collection, microfiber cleaning cloths "bulk bought on Amazon" were one the most eyebrow-raising — but there was no Shamwow in sight. Instead, the cloths regularly used to clean up unimaginable spills were part of the Malone's ongoing push to bring sustainability to the runway. For Spring 2018, that meant bringing a mountain of reusable, eco-friendly nylon called Econyl to the catwalk and collaborating with ethical heavyweights Freitag for a line of bags made from recycled truck tarpaulin.
Ms. Mariah
The entire show was set to the sounds of Mariah Carey's 1995 Daydream single "Fantasy," accompanying the designer's tasseled, satin-soaked collection and starting LFW on a sweet, sweet high.
Sign Up For The Morning PAPER