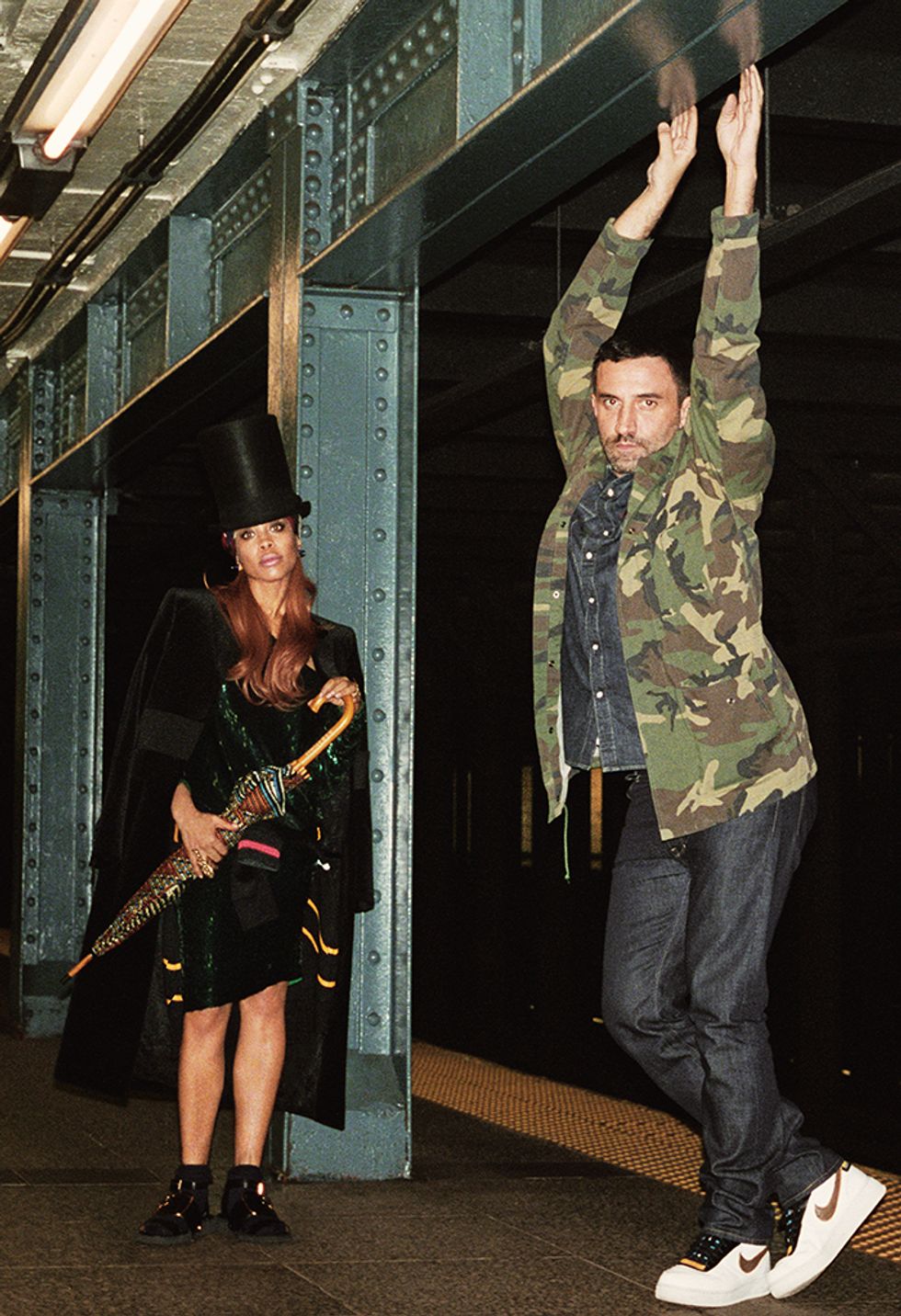 When you are the driving force behind one of the most powerful brands in fashion; when that brand gets name-checked in verses by Kanye, 2 Chainz and Pusha T, and your designs amass Tumblr reblogs in the thousands; when you get asked to design Kim Kardashian's wedding dress... in short, when you're Riccardo Tisci, do you ever sleep? For our cover story, we wanted a glimpse into the Givenchy creative director's teeming inner world, so we turned to a close mutual friend: nightlife powerhouse Ladyfag. Here, she shows us what it's like trying to keep up with this tireless bon vivant -- a man who parties as hard as he works and presides over a global #family (to quote countless Tisci Instagrams) of celebrities, collaborators and kin.

"You'll sleep when you're dead!" This is what Riccardo Tisci playfully bellows at me every time I say I'm too tired to go to a party. In my defense, this is when we vacation together, and our vacations tend to look more like "club-cations" since we rarely return home before the sun rises.
Upfront disclosure: Riccardo, or Ricky, as he's known to his friends, is like a brother to me. We met years ago at a party in New York, which is fitting, considering our shared appreciation for that indescribable, transcendent energy that happens in a really good nightclub.
So while it's apropos that Riccardo is gracing the cover of this year's Nightlife issue of PAPER, if you're under the assumption that he sleeps all day, you've not only assumed wrong -- you've just made a bigger mistake: assuming anything about Riccardo Tisci.
To really understand Riccardo -- not the designer, but the man, if those two can even be separated -- is to understand that while the world is busy buzzing about Kim Kardashian or Rihanna being in his front row, the best seat in the house is always reserved for the single most important woman to him: his mother. Like every good Italian Catholic boy, he talks to his mother almost every day. I once watched him get a call in the middle of some celebrity crammed backstage hoopla and hang up a few minutes later.
"Sorry," he said, sweetly laughing under his breath. "My mother was telling me about this new pasta she had for dinner."
Riccardo lost his father when he was very young, and was left the lone male in a house full of eight sisters and a single mother who always kept her head high as she struggled to put food on the table. By the age of 12 he was already hard at work, and at 17, when he found his mother crying over financial woes, he fatefully decided to leave his family and go to London, determined to make something of himself. He won a scholarship to study at the legendary Central Saint Martins, and his graduating show in 1999 was the beginning of the buzz that has grown by deafening decibels since.
At the age of 29 he was tapped to be the creative director of Givenchy, and he almost declined. But when his mother confessed that she was going to have to sell his childhood home, Riccardo decided then and there to sign on the dotted line. It turned out to be an equally good decision for both houses involved -- simultaneously revitalizing a storied but dated label into one of the world's most esteemed fashion houses (which catapulted Riccardo into international fame) and allowing him to buy his mother a literal house.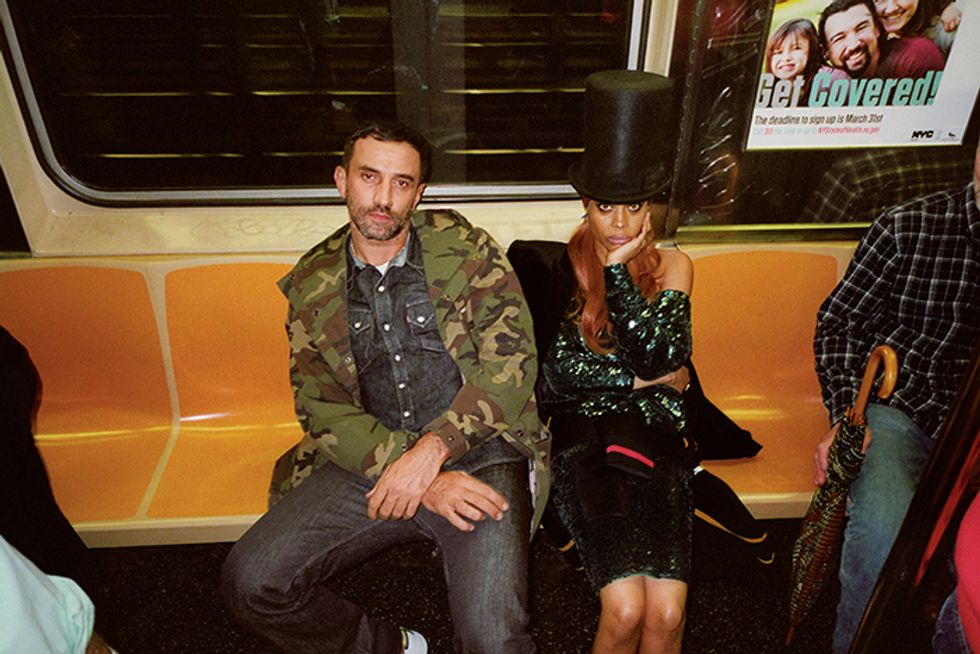 There are many eyes on Riccardo Tisci, who oversees Givenchy's accessories, men's and women's ready-to-wear lines and haute couture. It's a demanding life that doesn't afford much time to waste on sleep, and lucky for him (but unlucky for the people trying to keep up), he rarely sleeps more than four or five hours a day.
When you've reached the peak of the proverbial fashion mountain, there is constant pressure to stay on top and, every season, produce a wearable Mona Lisa. But if he's under pressure, it doesn't show in the boldness that embodies his work. Most designers make clothing; Riccardo crafts ideologies, breaking down barriers of race (his shows are walking Benetton ads) and gender (he famously cast his closest friend Lea T, who is trans, and started a chain reaction). There are no rules in his world. Try and tell a Leo like Riccardo, who believes in astrology, that he can't do something, and you're guaranteed he'll do it.
He rejects the singular notions of high-end fashion and street culture fashion, instead feeding you the far more evolved ambiguity of both intertwined. Like an unofficial ambassador between the two worlds, he has as much cred on the "street" as he does on Rue Saint-Honoré. Who else could turn a black T-shirt emblazoned with a Rottweiler -- part of his Fall 2011 menswear collection -- into a coveted symbol of prestige?
One does not wear Givenchy solely for the genius cut of its clothes, but for the indirect alignment to the lifestyle -- as though cool itself were possibly contagious. It's no small feat that Riccardo is respected along with some of the most powerful male figures in the game. But it's the profusion of strong, devoted female collaborators who need no last names -- Erykah, Beyoncé, Madonna, Carine, Marina, Kim, Mariacarla, Naomi; his "angels," as he sometimes calls them -- that makes Riccardo seem like a dashing protagonist stolen right from one of his friend Pedro Almodóvar's films.
Riccardo, at the heart of it all, is like a patriarch. While he's known for discovering new talents and nurturing them to be future stars, mainly you'll keep seeing the same faces in his camp. The intense loyalty he unwittingly commands is not simply a result of the loyalty he gives; it also comes from the unspoken knowledge that we pity the fool who dares cross this lion with his cubs.
It's safe to say that the single most important concept to Riccardo is family. His Instagram is chock-full of hashtags like #family, #gang and #love -- to translate, the importance of having a group of people who are your tribe. He once told me that it's a dream of his to have a gigantic house where all his friends could live together. In a sense, he has accomplished just that.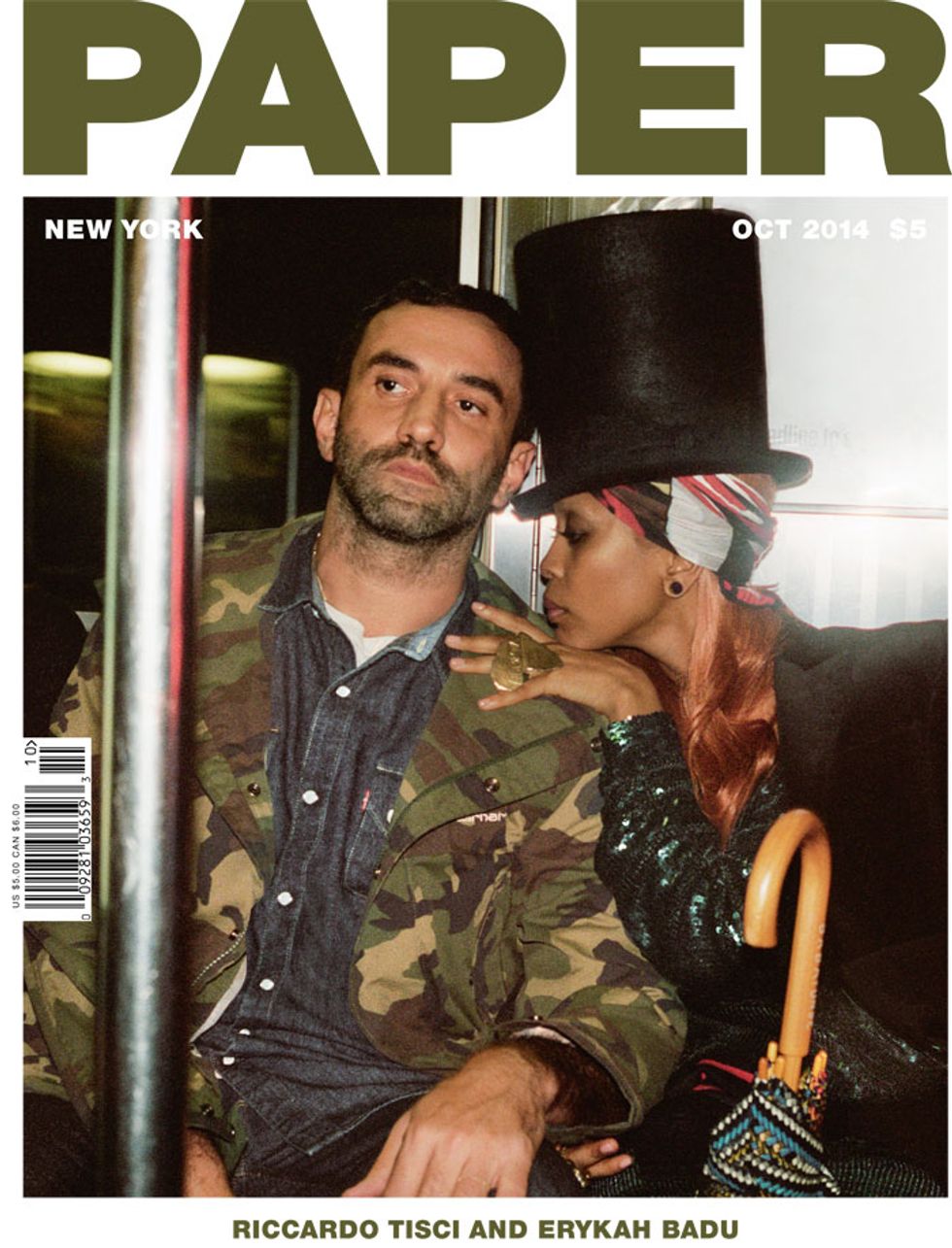 The last few years have been filled with accolades and mounting awards, but this August Riccardo reached a different type of milestone: he turned 40. A time for reflection and, in #verytisci style, a time to bring his family together for a massive celebration. The party of the summer took place in Ibiza, the small Spanish island where nightclubs are practically national treasures. We were invited to "Studio 74" (a play on the year he was born) and asked to adhere to a dress code of "Black Subversive Glamour." For once, the man who loves sharing his life on Instagram asked us all to keep it to a minimum.
The Neverland-style gates of a private horse farm opened to a dreamlike Spanish villa bathed in the glow of hundreds of candles and festooned with white roses. While the press outside was busy obsessing over the star-studded festivities, inside the party felt very much like a family affair.
The strangest thing about being friends with Riccardo is that sometimes you forget he's "Riccardo Tisci." Sure, "family" happens to include Kanye West, who serenaded him with a surprise performance at the party. But there was no VIP section and no pretense. Just 300 friends from all walks of life, sharing their love for this man. As 40 white balloons were released into the night sky, I watched his whole family surround its matriarch, who was beaming at the life her son had made for himself.
The birthday merriment continued till morning, and then all day, and then the next nightfall Riccardo melted into the sofa, where we replayed our favorite moments of the party and helped him open gifts. One card had "Carpe Diem" stamped on it, and he asked me its meaning. I explained that it's a famous Latin call to "seize the day" -- we don't know what the future holds, so use every moment to pluck all you can from life. He jumped up from the sofa: "Then let's go to a party tonight... You'll sleep when you're dead!"
Carpe diem indeed, Riccardo; may you one day get a good night's sleep. But I don't see that happening anytime soon.
MORE FROM OUR OCTOBER ISSUE:
A Q&A with Erykah Badu
Riccardo Tisci on Erykah Badu



Hair by Peter Butler at abtp.com / Makeup by Chiho Omae using MAC Cosmetics for Frank Reps / Manicure by Eri Handa at Melbourne Artists Management


Photographer Assistant: Nick Krasznai / Digital Tech: Erik Swain

Interns: Haley Sherif, Aaron Ealy and Stanton Jacinto

Location: Go Studios

Fashion By Riccardo Tisci