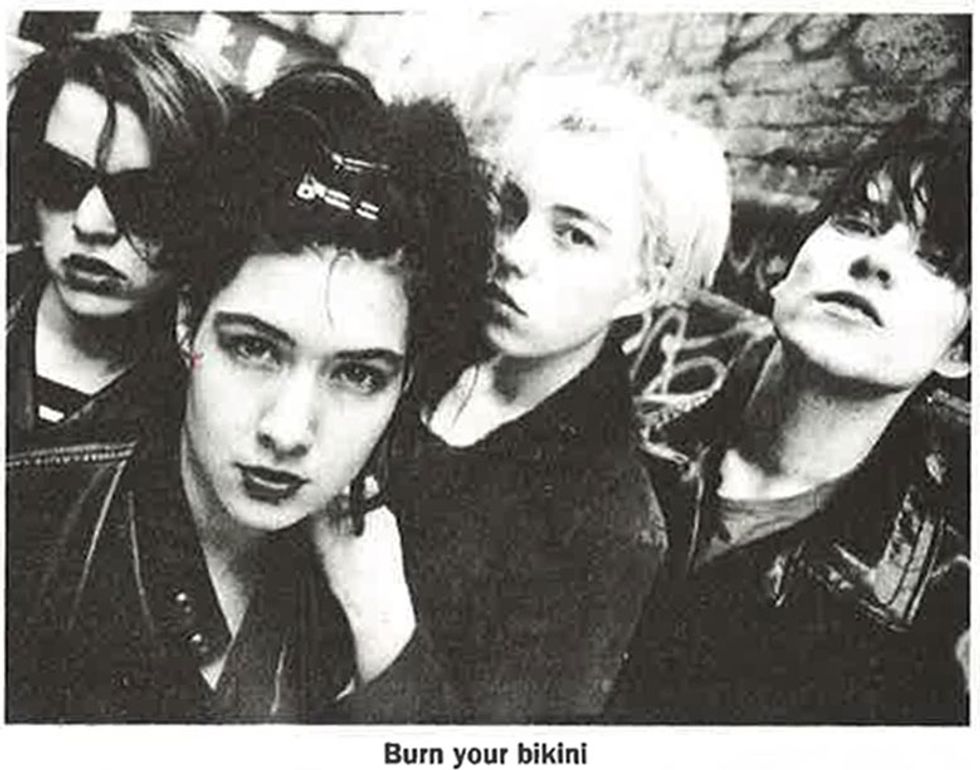 Bikini Kill in the April 1992 issue of Paper
In their seven years of existence, Riot Grrrl pioneers Bikini Kill inspired a generation of women to proudly declare themselves 
feminist
 and to then go about dismantling the patriarchy in the most DIY-fashion possible, all while making jam after eternal punk jam.  For their troubles, they often faced hostile audiences (bassist Kathi Wilcox recalls a show where someone threw a chain at her head), and a hostile press (at one point they went into a full media blackout and refused to give any mainstream outlet an interview), as well as no shortage of inner-band strife. (Wilcox says that, at the time, communication skills were not the group's specialty.) 
Like any good legend, Bikini Kill has appropriately humble roots. The group, (which included Wilcox, drummer Tobi Vail, guitarist Billy Karren and iconic front person Kathleen Hanna) recorded their first demo, the recently reissued (in expanded and remastered form) Revolution Girl Style Now!, in one day shortly after forming. They had a played a show at the Olympia, Washington venue ABC House the day before recording and left their equipment there.
"We had been playing together for less than six months and had only played a handful of shows, most of them as a three piece -- Kathleen, Kathi and me. The recording took place right after Billy joined and was still learning the songs. The demo was recorded by Pat Maley, a guy we kind of knew who had a DIY studio called 
Yo Yo
 in the basement of an anarchist house," says Vail. "I think we needed to record in order to have a tape to send out so that we could book a tour, so we were kind of rushing things a little. I don't think any of us were satisfied with the recording, but, Kathleen sounds amazing on the tape so it kind of worked."
Though Wilcox had originally hoped to release the tape, which indeed is fierce and forceful if no one's idea of professional, through Dischord Records, their friend Ian MacKaye told them that his label was strictly for Washington, D.C. bands. After self-releasing 
Revolution,
they eventually went
with local label Kill Rock Stars, whose owner, Slim Moon, Wilcox would often call frantically on tour to ask for more tapes so they could eat. (To handle the reissues, the band members along with Toby's sister Maggie, a former Kill Rock Stars manager, started Bikini Kill Records.) 
Revolution was released as a cassette in 1991. Their full-length debut,  Pussy Whipped was released in 1993. Shortly after the release of 1996's Reject All American, Bikini Kill were done, but riot grrrl was just getting started. The band's unapologetic, brash influence isn't just seen in young groups like Pussy Riot and White Lung and Hanna's 
dancier
 projects like Le Tigre and the Julie Ruin (for which Wilcox plays bass), but to Wilcox's delight, in mainstream performers like Miley Cyrus and Beyoncé unapologetically declaring themselves feminists. 
"Punk bands are a small part of the world; women are 50% of the population," she says. "I'm "flattered that those bands 
are
 influenced by us, but even more excited by pop stars, or people in the classical world being inspired by us."
Below, we have additional thoughts from Vail about Bikini Kill's early days and ongoing legacy.
What did you think the first time you went back and listened to Revolution Girl Style Now!? Two decades later, how does it sound to you?
The first thing I noticed is how great Kathleen sounds on the recording. I think it's definitely her best performance of the early songs. Unfortunately, the recording isn't super great, and the sound is a little weird. We decided we wanted to remix it to try and get the most out of the original reels. Instead of us going back into the studio we picked someone we all trusted -- Guy Picciotto -- he did a really great job, and it was a total honor to get to work with him on this.
The other thing I remembered is that Revolution Girl Style Now! was the only recording available for the first two years of our band. We have no idea how many tapes were sold, we didn't keep track, but this is the only recording people knew by us until our first record came. By that time we had already toured the US a few times, moved to D.C., played Hawaii, toured around both coasts extensively and been written about in the mainstream media (Spin, The New York Times, Newsweek, LA Weekly, Melody Maker, etc. etc. ) It's kind of crazy that all that happened on the basis of our live show, a few fanzines and this self-released demo tape. It was all word-of-mouth and DIY -- no label, no publicist, no booking agent. So in that context it makes sense to do a reissue, it's a big part of our history.
When did you get a sense that there was something bigger at work than a local scene with you and your friends? What was the first inkling you had that the ideas your band embodied were starting to spread nationwide?
We went on our first US tour with Nation of Ulysses a few months after we recorded (June 1991) and self-released the tape. It started in the Bay Area and that was great -- we connected with some girls there who had fanzines like Janelle Hessig's Tales of Blarg and met Tribe 8 and Blatz and a bunch of queer-feminist punks who were doing similar stuff. The rest of the "tour" was pretty bleak, as were the next few tours we did with Nation of Ulysses. It was great to play with them every night but not very many people came to our shows. Kathleen, Billy and I stayed in DC for the summer while Kathi went to Europe. In DC, we started a fanzine called riot girl with our friends in Bratmobile, who were also there for the summer. At the end of the summer, we all met up in Olympia for IPU, the International Pop Underground festival organized by K Records. We managed to convince the organizers to have a night of music by women-only and that was called "Girl Night." Heavens To Betsy played their first show that night. Riot Grrrl was starting in Olympia when we were in D.C., and I think at that point it seemed like we could take it further than just our immediate scene through touring and trading tapes and fanzines through the mail. Ultimately we wanted girls to participate in the making of culture as a way to change society -- that is what Revolution Girl Style Now! stood for at the time.
On that note, when did you notice that a younger generation was discovering your band and the ideals you were fighting for? How did it feel to know that, in a way, Bikini Kill lived on?
Well, I live in Olympia, which is to say that I'm still very much involved in DIY-punk-independent-underground music or whatever you wanna call it. I ran the mail-order department at Kill Rock Stars for almost 20 years and have been doing mail-order for Bikini Kill Records for the past few years -- so it doesn't come as a surprise to me at all. There were feminists involved in punk pre-Bikini Kill and that continues today, so it makes sense that people are still interested in the ideas and music. We are definitely a part of a continuum of "punk rock feminisms" in that sense.
At the same time, reunions of bands from the alternative rock hey-day have been big business for the past decade or so. Has Coachella or anyone ever tried to get Bikini Kill to play a show? Do you have any interest in a band reunion, or is that not your style?
It's not possible at this time, and I personally can't see it happening, but you never know. Basically, we were ready when the group ended and we are all happily involved in other musical projects. It seems like it would be difficult to recreate that moment and I'm not sure we'd even want to try -- for many reasons -- one of them being that it was really intense and stressful being in Bikini Kill. It was kind of a relief when it was over, and I think we did everything we set out to do by the end of the group -- it was really hard -- rewarding but exhausting. I'm glad to see bands like Priests, Downtown Boys, Vexx, G.L.O.S.S., Perfect Pussy etc. doing similar stuff right now but it's not the same -- which is very cool.
What prompted you and your sister to start your own label to reissue Bikini Kill's catalog? And what has the remastering and repackaging process been like?
Bikini Kill Records is owned by the four of us -- Kathleen, Kathi, Billy and me. Maggie is the manager of the label and I do mail-order. Kill Rock Stars was very good to us and that situation worked for a long time, but things changed at the label and we didn't have a reason to stay after Maggie and I were no longer working there. When we got our tapes back from Kill Rock Stars, Kathi, Kathleen and I met up for the first time since the band broke up and decided to start our own label. From my perspective, I couldn't think of anyone who we could trust that would do a better job than we could do ourselves. As soon as Maggie agreed to manage the label for an equal share of the profit we knew we were solid. I wish there were more women-owned feminist labels, and I wish that independent labels were better at paying bands and doing business ethically.  We need to make sustainability a punk value. Most bands that are active don't have time to start their own label, so we are in a good position to do that now that we are broken up.
You May Also Like