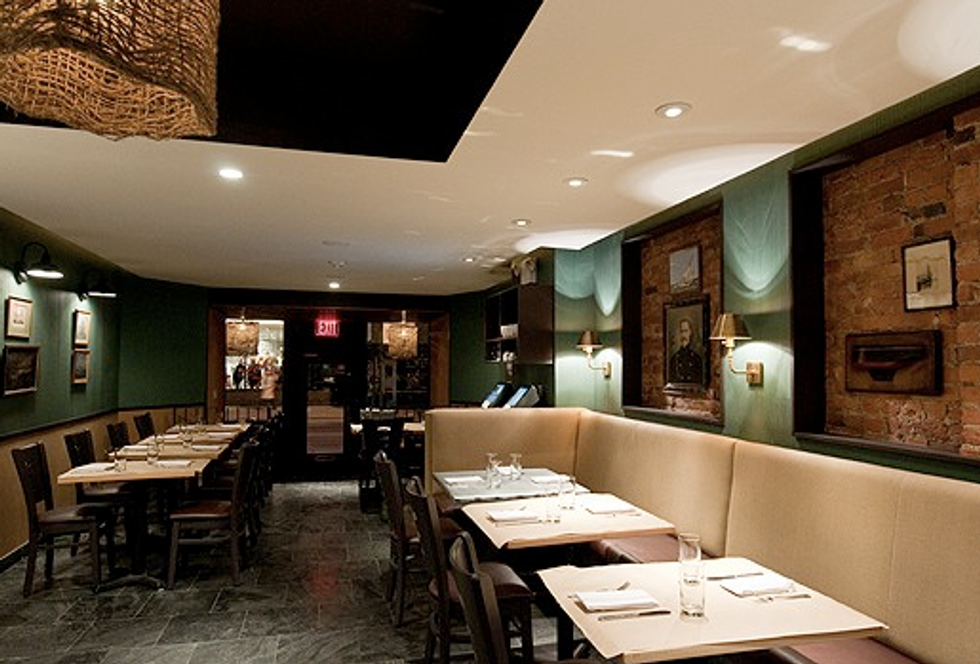 The urban fish shack has been one of NYC's more enduring trends ever since the debut of
Pearl Oyster Bar
in 1997. Dozens have bobbed up in its wake, including two newcomers in the West Village.
Choptank
(pictured above), in the former Bar Q space, has been cozily retooled by
Bobby Werhane
(
dell'Anima
,
L'Artusi
), featuring a white marble bar stretching through two rooms paneled in comfy hunter green. The menu evokes Maryland, Werhane's home state, with Old Bay favorites sprinkled throughout, including a raw bar showcasing a daily selection of four to six oyster varieties complete with a friendly neighborhood shucker. ("Here's an extra one for you to try," he cheerily offered as I slurped down a nicely briny half dozen). Jonah crab claws ($12 per half dozen) with an Old Bay vinegar tasted equally fresh, but good sourcing only goes so far, even with
Matthew Schaefer
, who did time at
Le Bernardin
and
Mermaid Inn
, in the kitchen. A sparse menu description neglected to mention that the rock shrimp in the taco appetizer ($6) was deep-fried, so my heart sank when it arrived, as I was craving a healthier nosh. More disappointment flooded over me when I bit into the over-breaded rounds to find they were indeed rock -- as in hard -- yet raw inside. I had higher hopes for the Jonah crab cake ($24) only to receive a burned, dried-out disc. An iceberg lettuce wedge and Saltines on the side left me cold. The terrific chocolate custard ($5) with hazelnut overtones, however, might sway me to return.
Heeding the same siren call, a Mermaid has recently surfaced on MacDougal Street. This oyster bar is a close clone of its cousins, the popular Mermaid Inns of the East Village and Upper West Side, with an expanded list of oysters -- 16 from the East and West Coasts. User-friendly menu descriptions --"chewy," "sweet," "briny," "crisp"-- help diners suss out the differences. Though the
Mermaid Oyster Bar
's white brick interior, with its tasteful beach photos and nickel-coated chairs, comes off as chilly as the shore in the off-season, the careful kitchen is what makes this formula really work, from a simply grilled tuna steak ($18) to the perfect mayo-to-meat ratio in the lobster sandwich ($26). A slurp-worthy tomato, shrimp and crab fra diavolo sauce tops a toothsome plate of spaghetti ($19) and here, the soft Jonah crab cakes ($21) smack of the sweet lump meat. As at the other Mermaid locations, parting gifts are free -- an espresso cup full of chocolate pudding and a plastic fortune telling fish. My prediction? I'll be back at Mermaid sooner.
Choptank 308 Bleecker St., (212) 675-2009, choptanknyc.com
Mermaid Oyster Bar 79 MacDougal St., (212) 260-0100, themermaidnyc.com

Photo from Hauteliving.com