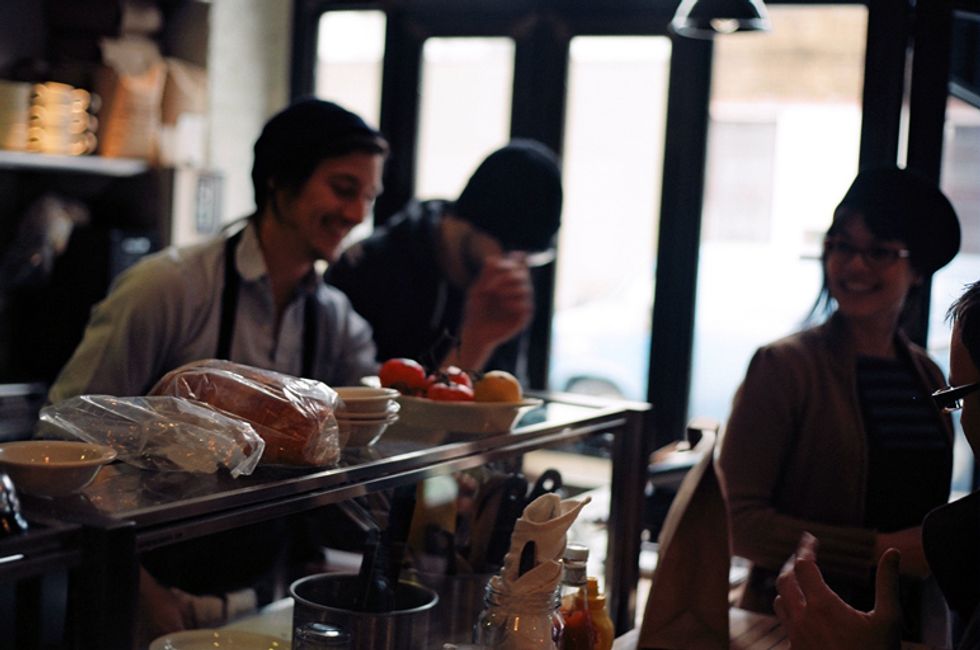 Noah Bernamoff
may be a law school drop-out but he's a genius when it comes to smoked meat. In late January he opened a Montreal-style Jewish delicatessen in Boerum Hill, provoking the sort of frenzy you'd expect at a rock show (Bernamoff, 27, in fact, used to play bass with a Montreal band,
The Lovely Feathers
). He modeled his deli on the famous Schwartz's in Montreal and the only question is why someone didn't think of it sooner. Hand sliced, peppery meat (which tastes like pastrami) is piled generously on rye bread, selling for $8. Sides of frites ($5) are fried to a golden-brown crisp, but better yet, get the caloric Canadian staple, poutine, which is fries bathed in gravy and cheese curds ($8). You won't want dinner. As yet, you can't even come here for dinner, but someday soon Mile End will be open till 10 p.m. For now, if you plan on stopping by, check their
Twitter page
in case they've already run out of meat. In its first weeks, they'd sell out as early as 2 p.m. Now it seems to be lasting until 4 or 5 p.m. In the morning things are a little calmer, when they serve fresh bagels flown in from Montreal, layered with salmon, tomato, red onion and capers ($8). All the meat, fish and vegetables are pickled, cured and smoked in-house, and the friendly staff keeps things moving along as best they can. Seating is at the counter and communal picnic tables. If you can stand the insanity of the place, it's insanely good.
Mile End
97A Hoyt St., Brooklyn
(718) 852-7510
Photo from nytimes.com