Alexia Niedzielski and Elizabeth von Guttman really know how to launch a magazine. The duo has worked together for 10 years on publications such as Above, Industrie, Ever Manifesto and their current bi-annual magazine System. While these publications have each had their own unique voice and feel, they all manage the rare feat of being both ultra-fashionable and ultra-smart. In a fashion world obsessed with the superficial and the retro, these two editors are deep and forward-thinking. With System, they collaborate on stories with some of the most bold-faced (and hard-to-get) names in the business (like Alessandro Michele, Demna Gvasalia and Juergen Teller) and offer in-depth articles that, in their words, explore "the dialogues at the heart of the global fashion industry." Reading their magazine, you'll feel like there will always be a place for super luxurious, super smart print publications. More members of the industry could stand to learn a thing or two from these dynamic women.
Mickey Boardman
How did you guys meet?
Alexia Niedzielski

It's honestly kind of blurry. We had tons of friends in common, and we kept on bumping into each other. And then, one day about ten years ago, we were like, "Who are you? We go to the same places. We know the same friends. We should be friends." And that's
how it started.
Mickey Boardman

What were you both doing at that time?

Alexia Niedzielski

I had just stopped working for my friend's company, Corto Moltedo. I launched his handbag company in Paris, and then I was
about to start a magazine.
Elizabeth von Guttman
Back then, I was working at an agency in New York called Platinum Rye Entertainment that handles product placement and celebrity endorsements, and they sent me to London to open the London office, and Alexia was living there, I think.
Alexia Niedzielski

Yeah, I was living in London, and then I told her I'm going to start this magazine, you should come and do it with me. We just started talking like that, very unofficially.

Mickey Boardman

What was the magazine?
Elizabeth von Guttman

We re-launched Above magazine. It was a fashion magazine, and this publisher bought it and wanted to turn it into a magazine that deals with the environment and sustainability.This was 2008 when the world was crumbling down, and we thought, "You know what? I wouldn't mind doing something in that field because it has a little more meaning." We were a little bit disillusioned about everything at that time, and it was an interesting subject to talk about.

Alexia Niedzielski

I was good friends with Charlotte Casiraghi at the time and she also wanted to do publishing, so I brought her on board, and we created this really beautiful first issue, and then we decided that we didn't really want to work with this publisher. So we did only one issue, but we really enjoyed working together -- Charlotte, Elizabeth and I -- so we decided to continue, and we went on to create Ever Manifesto. It was really a call to action to brands for them to create and act more responsibly. For the first issue, with the help of Vogue Italia's Franca Sozzani, we selected designers like Marco de Vincenzo who, at the time, were completely unknown students, and we had them create an outfit using all materials that were locally sourced, and we did a beautiful little project around it that was all sponsored by Loro Piana. That was our first manifesto. We really enjoyed doing it, so we continued. We wanted to do something around bamboo, so we did the bamboo manifesto with Gucci, which was also a super-nice initiative. We took the [artists] Doug and Mike Starn to Venice, and they created this beautiful bird's nest during the Biennale. It was so successful that the Peggy Guggenheim Foundation next door asked for a bridge of the nests to go from their museum to the installation. At the same time, we created another manifesto that was a free publication we distributed in all the schools, kind of guerilla style. It was all about the pros and cons of bamboo. We also had a contest in Paris, inviting all the students to create a bamboo bag using only the principles of sustainability.

Elizabeth von Guttman

We did this with Burak Cakmak, who's now the new dean at Parsons in New York.
Alexia Niedzielski

He was the adviser on sustainability issues. And then, one day we got an email from H&M that they had seen the project we had done. It was very much in tune with their philosophy and what they were trying to do with the Conscious Collection, so we went on and designed a collection for them, and Elizabeth and I were in the campaign. And we did another manifesto for them -- Ever Conscious -- which was a collection of the people that we had met along the years doing Manifesto. We wanted to use H&M's platform to promote them to show that no matter what you do, there's always a way to be more responsible. So if you were an architect, a fashion designer or a philanthropist, you can always decide to be more conscious about what you do and how you produce. It was remarkable to work with H&M because they are so huge, and although people criticize these giants, they are the ones who can make a big difference. They are the number one buyer of organic cotton in the world, for instance. These companies have the power to change, and it was great to see that they actually cared. A lot. This was our last manifesto.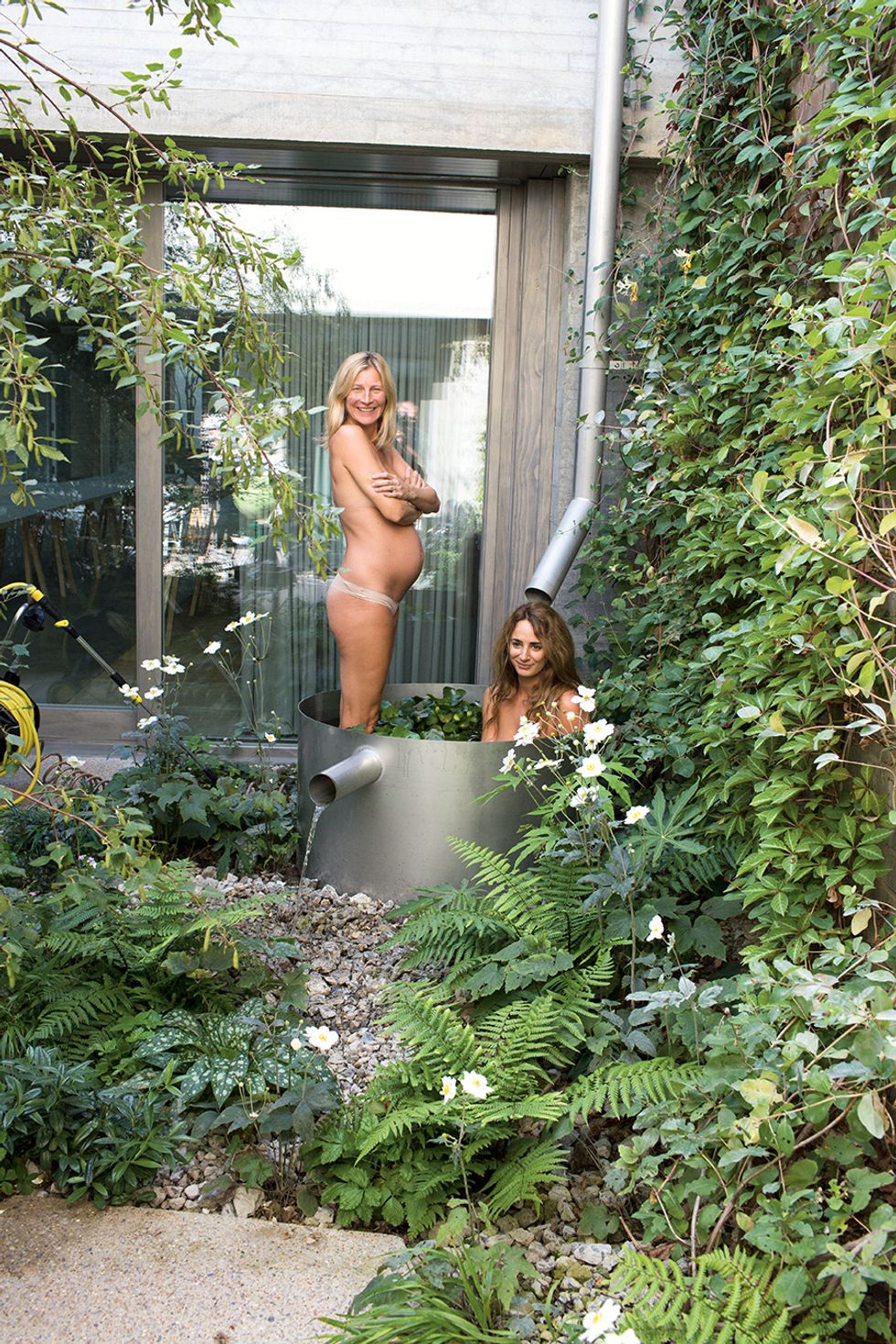 Mickey Boardman

You're very high fashion, but you talk about these things that a lot of high-fashion people don't talk about or don't listen to. How did you find that Ever Manifesto was received in the fashion world? And do you care?

Elizabeth von Guttman

It was very well received, and that was a great compliment. But then again, people receive it well and they talk about it for that moment in time, but then they don't really incorporate it into their everyday production, which was a bit disappointing for us. We've had a little pause on Ever Manifesto because we were a little frustrated.

Alexia Niedzielski

It's difficult because the end goal, I feel, in the textile industry is to sell. And you know, thinking sustainably is kind of an oxymoron with fashion, which is always creating more and more and more -- new,new, new. Looking for something that hasn't been done constantly. And so it is two kind of opposite ideas. We are very interested in technology, and I feel that if fashion could be a little more forward-thinking and incorporate more technology, then it would actually create possibilities that are super, super exciting. In New York there's a company that is cloning parts of calfskin leather, for instance. There's so much great technology out there that you can use to create textiles that are way better than what already exists. I think it's about seducing the industry into these new ideas.

Elizabeth von Guttman

And then it has to be cost-effective, because obviously a lot of these new ideas come at a cost. They have to wait until those technologies become more affordable for the mass market.

Alexia Niedzielski

I think it's definitely difficult to work in high fashion and talk about these issues -- I don't think people really bother that much.

Mickey Boardman

So do you consider yourselves fashion people?

Alexia Niedzielski

I guess we are a part of fashion. It's an incredibly interesting medium, and that's why we started System -- because I think [fashion] has a wide reach and they have big budgets. I think it is always interesting to use fashion to spread ideas. But I think we're more than fashion. We have a full life.

Mickey Boardman

In a way, you're media moguls.

Alexia Niedzielski

I think we think of ourselves as entrepreneurs. We always like to start things. I also think we're good at bringing troops together, so I think that's how we define ourselves.

Mickey Boardman

So why did you start System?

Elizabeth von Guttman

We are all so inundated by bite-size content or Instagram feeds that sometimes we crave in-depth reads and the ability to really get into the subject and have some context to what we see around us. [With System] we focus on long interviews with coverage of issues and people who are usually very difficult to access. We focus on quality as opposed to quantity. Time is such a luxury these days, and it's a real asset to be doing a bi-annual publication. We just launched in China, which is really exciting, and finally our website will be live in a few weeks!

Mickey Boardman

It's such a time of change in fashion. Do you think this is an exciting or an unsettling thing?

Elizabeth von Guttman

As soon as it changes, people start to panic or say the system is broken. I think it's an evolution. I think that times change and the system does need to change. People will make mistakes along the way, but I think it creates a lot of opportunities for people to treat fashion in a different manner with retail, production, publishing. For people who are more independent like us, it creates more opportunity. If you belong to bigger corporations, it is more difficult to change. So for independent people, I think it is an exciting time.

Mickey Boardman

What do you think that the biggest changes have been from when you started Above to, for example, now?

Elizabeth von Guttman

We created Industrie right after Above and at the same time as Ever Manifesto, which was around the time of the documentary The September Issue, when the fashion industry became much more public and people became more interested in it. That's also when bloggers came onto the scene. That was the first big change we saw -- when the fashion industry became entertainment.

Mickey Boardman

In that sense, some editors have become stars.

Alexia Niedzielski

Some of the editors have incredible style. There are some great, interesting characters out there, but I think now it's gotten to be a bit too much.

Elizabeth von Guttman

These people just parade up and down the street without any kind of meaning, and photographers make them think they're celebrities. But I do think there are some great people with great style, and it's better to identify with people like that than a model who has been dressed up by someone in a magazine, and who has no real personal style. Personal style is something to admire and to cherish.

Mickey Boardman

And what do you think of the future of fashion weeks? Sometimes people ask if there's even a reason to do shows now.

Alexia Niedzielski

There's a reason for a show. It gives the designer a way to tell their story much better than if you just look at pictures online. But I think with virtual reality, you could get to something that is equally exciting. I do think that, now, the purpose of the shows is different. It used to be for buyers and the press to understand the trends for the next season -- now it's more for social media, and visibility for everyone. So I think the purpose of the shows has changed, but I don't think they will die.

Elizabeth von Guttman

I think there should be less shows -- I think more brands shouldn't do shows, and I think fashion shows should be done by designers and people with creativity. I think contemporary brands should probably avoid doing shows -- there's too many shows to see, and, people, after a while, get frustrated.

Mickey Boardman

You're both from Paris. You're international, but you live in London. Why London?

Elizabeth von Guttman

London was the New York of Europe. You were in Europe, but then you had an amazing transit of people coming and going all the time, and it was extremely exciting. Now with Brexit, to be honest, I don't really know what's going to happen. I think there's going to be a lot of changes in 2017. I'm not sure we're going to be staying here; to be quite honest, we might come to you.

Mickey Boardman

So what's coming up in future issues of System?

Elizabeth von Guttman

The following issue of System will be focusing a lot on the US.

Mickey Boardman

I love it.

Elizabeth von Guttman

I think it's time to focus on the US, in many ways. Whatever happens in November, we'll see.

Mickey Boardman

Exactly.

Elizabeth von Guttman

But the US is still a very inspiring country and market for us, and I think we want to explore a little bit more.

Mickey Boardman

Well, we would love to be explored!