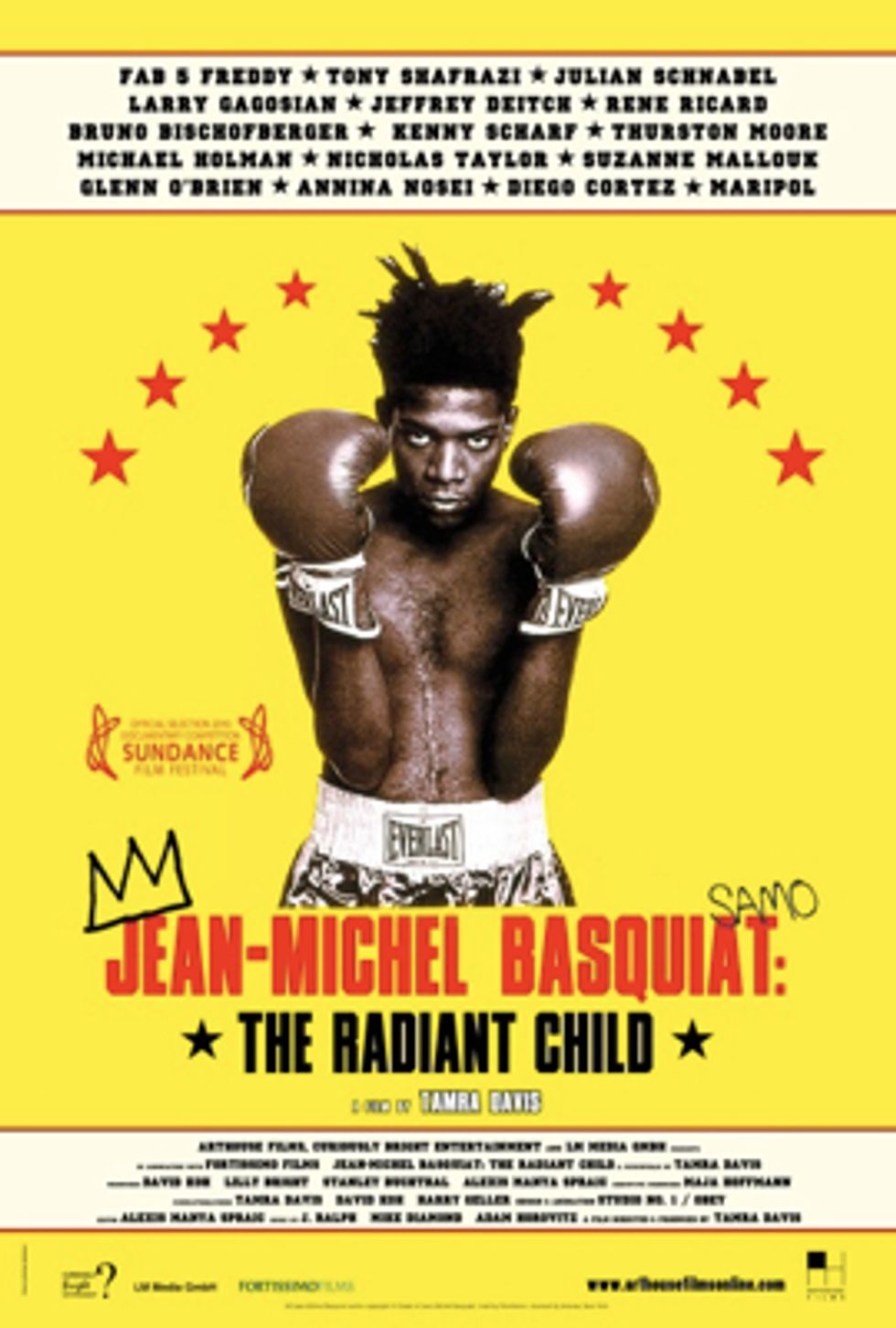 Jean-Michel Basquiat
's meteoric rise to artistic fame has become the stuff of legend. How he went from living on the streets of Manhattan going from girlfriend-to-girlfriend, writing cryptic sayings on the walls and signing them "Samo," being discovered by the downtown hipster cognoscenti, achieving fame and fortune in his lifetime and dying from an overdose of heroin all within a span of ten years makes quite a story. The son of a Puerto Rican mother and a Haitian father, he is regarded as the first painter of African descent to become an international art star whose paintings have sold for upwards to $15 million at auction. Not one to cozy up to the press and living in the days before the media saturation of the Internet, there is little documentation of this rarefied sensibility. Which is all the more reason to be thankful to
Tamra Davis
for unearthing an old video interview she did with Basquiat and turning it into
Jean-Michel Basquiat: The Radiant Child
, a documentary that recently screened at the
Museum of Modern Art
. 
Davis has called her work  a "love letter to Jean-Michel"  in which she gets a chance to contribute to his legacy not only with the interview conducted with convivial informality, but also by getting many of the friends, lovers, supporters and spiritual kin who nurtured his raw talent to tell us why they loved him. Fortunately for Basquiat, he stepped into downtown New York in the '80s, a period of creative ferment that is only just beginning to get its critical due. With the worlds of art, music, film, fashion and performance in hyper cross pollination, Basquiat captured the zeitgeist perfectly with his work that referenced all of that and more. At first anonymous, he stepped forward to claim the crown of Samo in a world primed to welcome him.
At the panel discussion, Davis,
Fab 5 Freddy Brathwaite
,
Kenny Scharf
and
Jeffrey Deitch
weighed in on Basquiat's rise and fall, his heroin addiction and subsequent OD. Much was made of his death coming a year after the death of his friend and collaborator
Andy Warhol
, which marked a turning point in Basquiat's career. With Warhol's career being at a low point in the early '80s, a show they did together was trashed by the critics and sent him into a tailspin that was exacerbated by his addiction. Though people look for answers when a brilliant career is cut short -- Kurt Cobain and Dash Snow come readily to mind -- one can't ever really know. Brathwaite claimed with some authority that Basquiat's death was unintentional, which having known Basquiat and many of his friends is a belief I support.
So as you perhaps can tell, I really loved the movie. It took me back in time to those days when Manhattan below 14th Street served as a playground, creative mecca and petrie dish for experimentation. As the story of the '80s continues to be told, the accolades will continue, both for Basquiat and for Davis's love letter to her fallen hero.