Splash photo: Bill Cunningham wearing 3D glasses, photographed by Kim Hastreiter.

New York is reeling from the enormous loss of Bill Cunningham this past week. I knew Bill for four decades. And I loved this man. He got me my first job as a style editor in the '70s when I still thought I wanted to be an artist. He changed my life and I do what I do because of him. I am eternally grateful to him because I have found the happiness and satisfaction in my life's work that I know he also found in his. The only wonderful thing about Bill's passing is that he died with his boots on after an amazing 87 year run filled with joy, creativity, inspiration, and unimaginable productivity, doing what he adored exactly the way he wanted to do it. How can anyone ask for better than that out of this life?
The last time I saw Bill was about three weeks ago, in the same place I always saw him this time of year: The Union Square farmers' market. It was 9 a.m. and his smile was as bright as the sunshine, as he greeted me with a hug. I wasn't surprised to see him; we'd run into each other every Saturday morning here for years once springtime arrived. On this beautiful day he raved to me about the glorious weather, and oh, those peonies!!!!! They seemed to excite him that day as much as a couture show did during fashion week. I asked how he was feeling and said he was okay except for his foot, which he was having a bit of trouble with. He was in rare form, with that impish smile on his face and big camera bag across his shoulder, deftly scanning the crowd as we chatted, hopping away every so often to snap a special moment, a friend, or a look that caught his eye and summed up spring or summer to him. Bill adored shooting at the farmers' market not because of the food, but because of the people carrying it. Not just any people, but New Yorkers, who are definitely a special, naturally stylish breed. It might have been a huge straw hat on an elderly woman buying berries, or a tiny chic woman carrying bunches of peonies, or someone in all-white shopping for white eggplants with their giant white dog. Or me in my annual gardening mode, schlepping carts of hibiscus and tomatoes, flats of snap dragons, and pots of zucchini, arugula, and pepper plants.
Last year, I introduced him to some of the great farmers there and he loved that. Bill was not an expert in markets or great food (he admittedly wasn't even a fan of eating, claiming he ate only to survive), so he'd never really known or cared about the individual farm stands. When I explained to him that there were some rock star stands he perked up. I told him Morning Berry Farm was like the Marc Jacobs of the market. He was totally impressed and followed me to look at this small stand where all the star chefs and those in the know lined up each week to buy their teeny organic potatoes, ramps, divine baby arugula and strawberries, and their signature potato chips. From that day on, Bill told me he brought the "kids" at his office Morning Berry potato chips to munch on, and I always seemed to find him hanging out near their truck, snapping away.
Bill Cunningham and I first met after I graduated from art school and moved to New York City to conquer the art world and get into a great gallery. It was 1977, and I was living in a shitty fifth floor walkup on Prince Street, trying to figure out my life scheme. As I wasn't wealthy, I began selling clothes at a funky but fancy clothing store uptown on Madison Avenue called Betsey Bunky Nini to pay my rent. A wonderfully eccentric socialite named Barbara Washburn and her partner, the designer Betsey Johnson, owned the shop. The clientele was classic rich hippie and the clothes were amazing. This was my introduction to fashion.
Living in my dump in Soho and trekking to the Upper East Side every day was an adventure for a downtown girl like me. I took the train to the 60th Street stop dressed in insane looks. In those days I was hooked on Fiorucci, glitter, Day-Glo and animal print looks (which I only wore to work if I had been up all night came directly from Studio 54), and the newer, more crazy punk clothes from the UK dream team of Vivienne Westwood and Malcolm McLaren. And every day as I rounded the corner of 60th street and Madison Avenue, this gleeful photographer named Bill Cunningham who had a weekly street style column in the New York Times would chase me to get a picture. Uptown in those days was sequestered from freaks and mostly consisted of socialites and ladies who lunched wearing little Chanel suits and perfect coifs. So when I came up out of the subway looking like a lunatic, wearing a huge coat made of a Hudson blanket and bright red stiletto ankle boots, or a leopard-print full skirt with a black motorcycle fringed jacket and knee high bondage spike-heeled boots, people were not having it. Bill would go nuts and run after me, joyfully snapping pictures and calling me "child" and "maaahvelous". One Sunday, I was cruising the huge fabulous downtown flea market that used to exist on Canal Street and who should pop up but Bill! Turns out that he wasn't just an uptown fixture, snapping ladies on Madison Avenue, but also on weekends he headed downtown to photograph the "kids," on the streets, in the flea markets, in the parks. At that moment we really became friends. I'd see him weekdays on Madison Avenue--and weekends on Canal Street, where I'd introduce him to some of my freakier looking artist friends, and he loved it.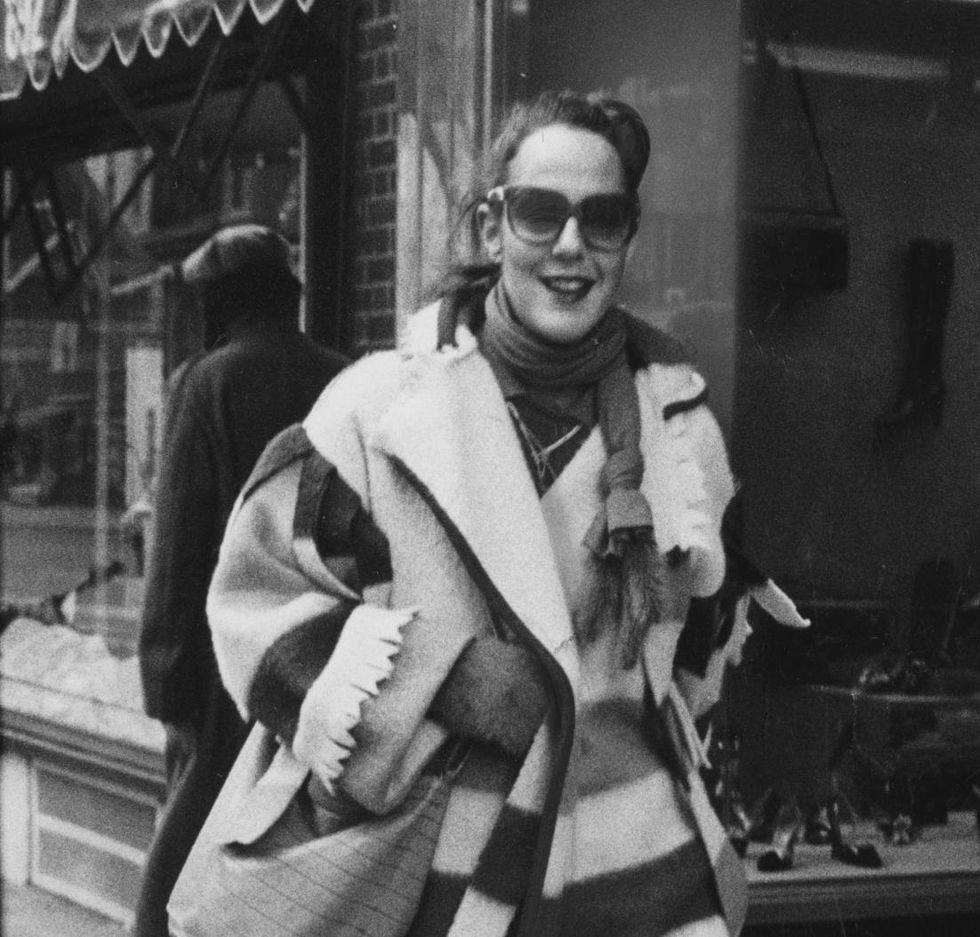 Kim Hastreiter, photographed by Bill Cunningham for the New York Times circa 1977
One day Bill changed the direction of my life when he convinced me and an art school friend of mine named Branka (who also worked at BBN with me uptown), to take a job at the hippest local downtown weekly, called the Soho Weekly News, as Style Editors. He exclaimed, "You'd be perfect for this job. You know about fashion but you are artists and downtowners. This is exactly what they need." We were excited at the idea of leaving our shop girl jobs but soon found out that the Soho News executives actually wanted Bill to take this job not us! But in typical Bill style, he deflected this offer away from himself and convinced the owners of the newspaper to hire us instead of him. And this is how it all began.
The longer I knew Bill, the more I saw this theme reoccur. He never wanted to commit to a full time job, explaining that if he took one, he would be "owned, and would lose his freedom and his work would suffer". The New York Times tried to hire him for decades and he refused, explaining that the real luxury in life was freedom. He believed that selling yourself for money was something that would ultimately compromise your art and your work. Bill didn't care about money. And he never wanted attention or recognition. He just wanted to keep doing his work. He was obsessed. He lived like a monk in a tiny studio above Carnegie Hall. I actually was invited there one day and was stunned when I entered this roughly 250 square foot room filled with file cabinets. There was a yoga-mat-sized mattress resting on top of the cabinets for him to sleep on, and down the hall was a bathroom shared with the rest of the cast of characters who worked and slept in the other studios there.
Although Bill continued to refuse to go on the payroll of the Times, he found a home there producing his beloved weekly columns, with little or no interference from anyone. He was his own boss, chose his own photos, wrote his own captions and did his own layouts. Even many years later, after getting hit by a truck on the bike he rode everywhere, when the powers that be convinced him to officially become a Times employee so he'd have health insurance, he was thankfully left alone to do as he wished. The benevolent Sulzberger family, who it seemed truly loved him, understood Bill was a great gift to the Times and stepped up and took wonderful and tender care of him as a family member until the end of his life. It's rare and beautiful to see such a big company act like a mom and pop company.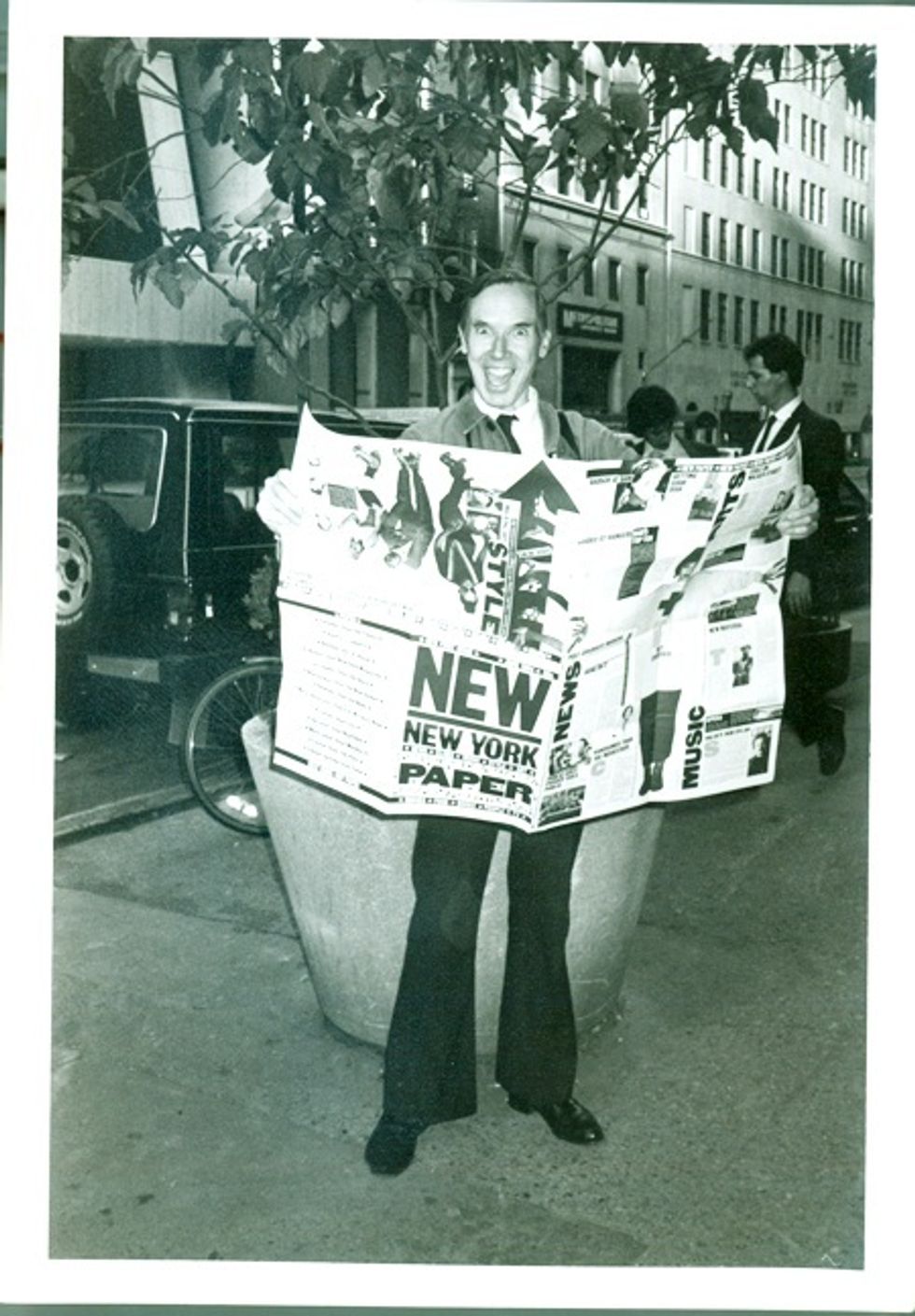 Cunningham, with the first issue of PAPER.
Perhaps the Sulzbergers will appreciate this story. When David and I decided to start PAPER in 1984, we partnered with two talented art directors who worked designing fashion magazines at the Times. Because we had no cash for an office or anything else, the four of us surreptitiously moved PAPER into their Times office every month for a long weekend to produce each issue (in those days, a black and white fold-out poster). We would tell advertisers, writers and photographers to drop off their 250-dollar PAPER ads at the New York Times fashion office, where we would be sneaking around, cutting and pasting layouts by hand in the middle of the night. No computers in those days, kids. I learned how to typeset type and then erase it all from the New York Times system in the wee hours of the night! Our secret "PAPER" office was on the same floor as the NYT cafeteria, where David used to sit for hours eating cheap food and copyediting the stories for the issue. In those days, the cafeteria fed not only the Times workers, but also policemen and freelancers, as well as a few homeless. Bill Cunningham ate all his meals in the Times cafeteria in those days, so we would see him often. David would talk politics with Bill in that cafeteria, and they developed their own unique rapport based on this. When we told him what we were secretly doing there (creating a new magazine!) he LOVED IT. And he encouraged us until the day he died.
Our secret was safe with Bill. Every time he saw us at the Times he winked and smiled and told us that PAPER was "maahvelous" in that Boston accent of his.
Once we parted with our two art director partners and moved PAPER to my home, we continued with lots of free help from our friends working at art departments at other big publishers, like Condé Nast and Hearst and Women's Wear Daily. Bill loved that we remained independent, guerilla publishers, and whenever we saw him he'd preach to us about how important it was to never sell out to "the man." He used to beg me never to print on glossy paper or get a fancy office, because, he said, then we would have to sell out our integrity in order to pay for it. He always told me to never be a slave to money, to keep our voices true. He told us to print on newsprint if we had to, to keep costs down so we didn't have to lose our greatest asset: Our freedom of expression.
And Bill lived by his own word. He was truly an original, fierce artist and a seminal independent. He lived free, until he died free. I can't imagine anyone these days in media working as he did, so purely just for his art. In this age of branded content and sponsored posts and increasingly blurry lines between editorial ideas and the money that pays for the production of them, one wonders if someone like Bill Cunningham could ever exist again. But hey, wouldn't it be nice if someone proved me wrong?
Photos courtesy Kim Hastreiter, Instagram screenshot, and PAPER.

You May Also Like