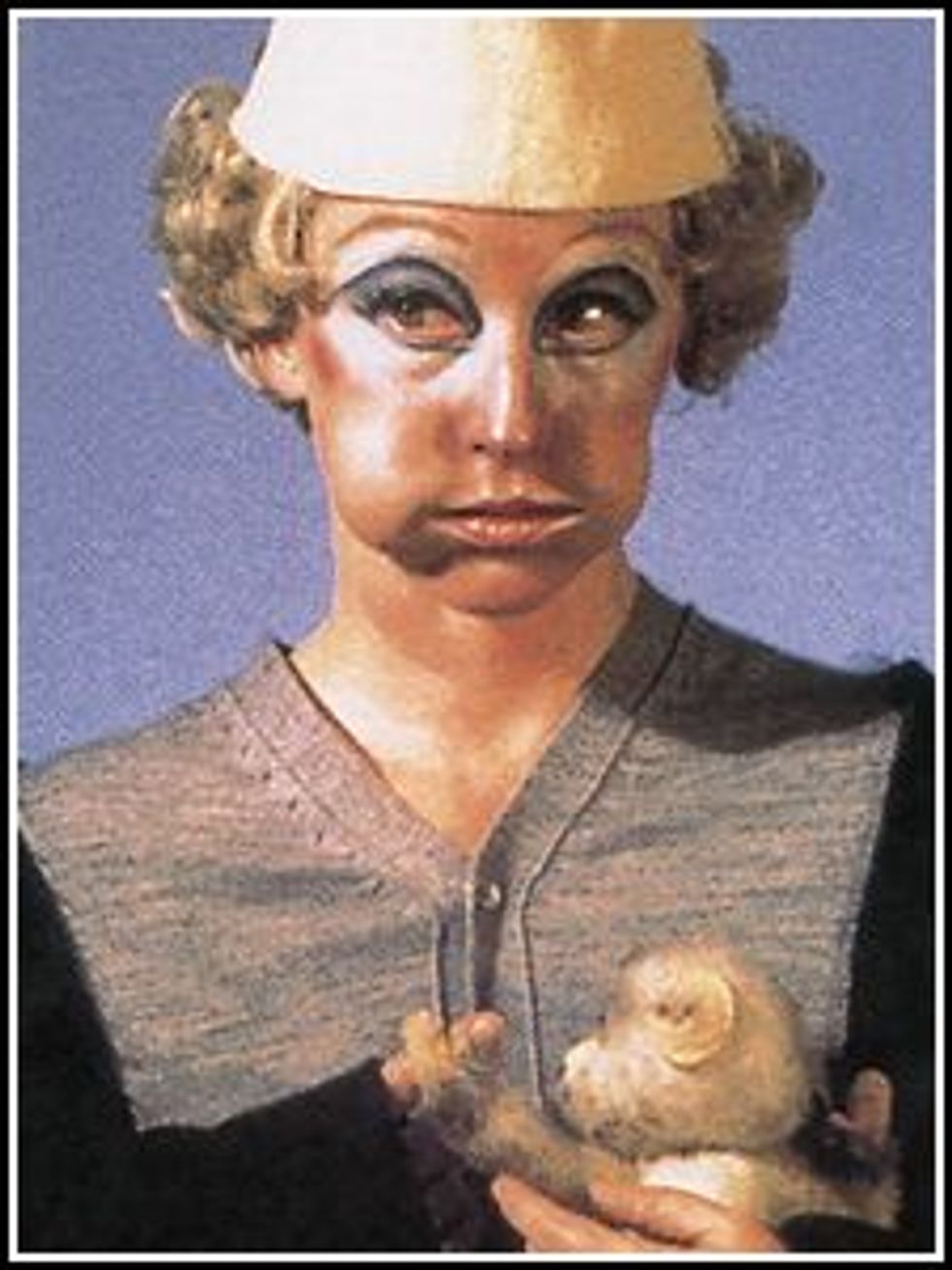 Kim Hastreiter: I hear that Rei Kawakubo is one of your favorite designers.
John Waters: She certainly is. She's beyond a designer. As the old cliche goes, I think she's the best artist in SoHo! The first thing I ever bought there [the comme des Garcons store on Wooster Street] was a set of four handkerchiefs that I still treasure. One of them came with a big hole in the middle. When you blow your nose, it goes right through. They look like cleaning rags. They're beautiful, though. They're my favorite possession from comme des Garcons. I always wear her clothes. My cleaning lady, who takes care of my clothes, is infuriated by comme des Garcons! She says, "You paid money for this? These are homeless, bag lady's clothes!"
KH: How would you describe what she does?
JW: They used to call it "seconds," now they call it "fashion." It used to be that you paid less for clothes that had mistakes in them, now you pay three times as much. I feel privileged to buy them. The only thing that I wished she would do is ties. I really am a tie hag. She should really fuck up some ties, like putting coffee stains on them. [Laughs.]
KH: Does her work ever shock you?
JW: Yes! That's why I love it. I respect her clothes, but they do shock me.
KH: You modeled in her show a few years ago.
JW: It was a laugh. It was great. I was honored. I was in the dressing room with all these 20-year-old, 80-pound models, but they all looked great. I should have been on the cover of Spy magazine with the outfit I was wearing. I wish I had the shirt. It had a shirttail that went all the way down to your knees when you wore it out. Before I went down the runway, she looked at me and tugged at everything to make everything askew. So I walked out in front of the international fashion press feeling exactly like Don Knotts meets Mahogany. Later we had a great party. I remember driving through Paris in a limo with four insanely drunk comme des Garcons models howling at the moon. It's one of my favorite memories.
KH: What was it like dealing with her personally? Do you think she has a sense of humor?
JW: I am scared of her because I respect her so much. She never smiles. She always looks like she's sitting in a cell thinking about hemlines for two years like a catholic saint who gave up everything to think about how to deconstruct clothes. You don't see her sense of humor when you meet her she always wears leather and black and seems to be surrounded by bald-headed women. I think, of course, she has a great sense of humor. No one could design clothes that witty who didn't. I think you can be very serious about your work and have a sense of humor, too. I am very serious about my work and I try to make good trash.
KH: comme des Garcons clothing has a little cameo in your new movie, Pecker.
JW: Yes, they were very cooperative. In the movie, Pecker's mom has a thrift shop where she helps the homeless with fashion. And then when the New Yorkers come dressed in comme des Garcons, they basically have on the same outfit. [Laughs.] Maybe she's just a fashion martyr. I remember the first time I read about her in Newsweek, which called her work "clothes for a suicidal millionaire," which I think is really hilarious. Her shop [in SoHo] looks kind of like the morgue when you go in there, and sometimes there's just a few pieces lying out. I also love the prices. It can't be $1,000. It has to be $1,015. I guess that's how they translate the money from Japan. I am fascinated by her. I wish someone would write a book about it. I would love to read about her life, because I know very little about her and she rarely gives interviews. I want to see her house. Anyway, I'm a fan.