Amsterdam's sprawling De Wallen area –- better known to tourists as the city's infamous Red Light District -- is, contrary to popular belief, anything but seedy. Even as the neighborhood acts as a hub for the city's legal prostitution industry, De Wallen has lately also been serving as a creative haven for professionals, businesses and visionary projects alike -- one of the most prominent of which is Amsterdam's Red Light Radio station.
Housed in a former brothel, the established station has occupied the space for the past six years and has remained one of Europe's most captivating and fiercely independent media ventures since its inception. Collaborating with some of music's brightest and best rising talent, RLR's founders, Hugo van Heijningen and Orpheu de Jong, have brought everyone from Avalon Emerson to Roy Davis Jr to Hieroglyphic Being through their refurbished doors to spin a set. PAPER spoke to van Heijningen about the station's growth, livestreaming a tattoo session and, of course, the boobs in their official logo.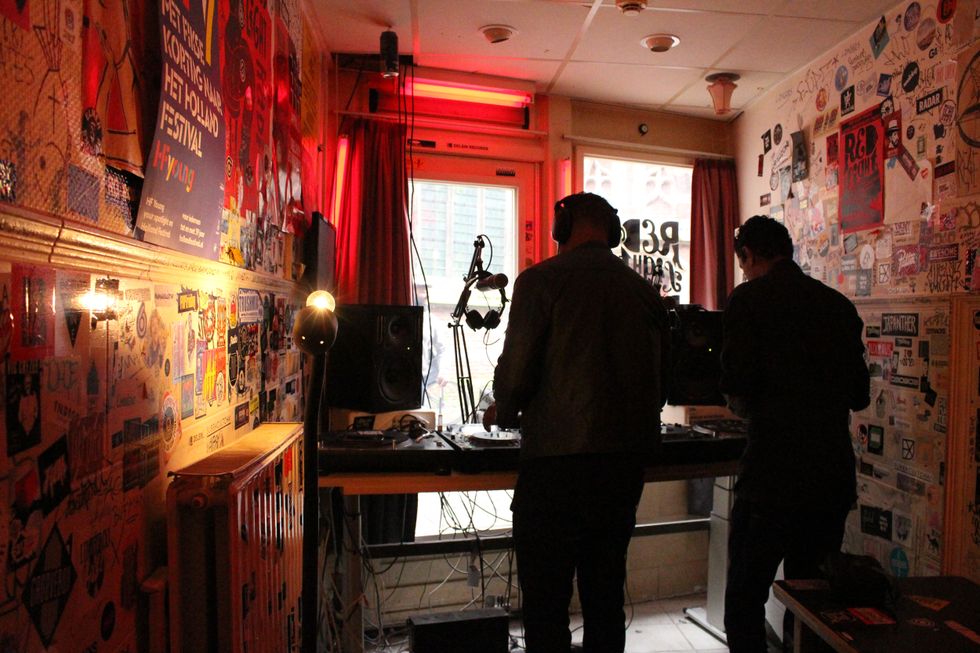 photo by Olivia Williams
First off, how did you and Orpheu come up with the idea to put the station together?
We've been down here [for over 6 years] now, but we've always been working in music -- DJing and playing in bands. We thought it would be cool to create a platform to share music -- crazy music -- with not just our friends, but whoever else wanted to [listen]. We've...built-up quite a connection, but in the early days, there [had been] other people doing this [online radio] for a long time already. Like in Amsterdam, [there was] Studio 80, that my partner had a show on. But we saw that everything was changing around the Red Light District -- with the prostitution windows [which sex workers can rent out to entice potential customers from] and [then brothel owners] being bought out to get things moving, to bring in new businesses and people to the area.
But was your original idea to always have it here?
Yeah, my idea was that I wanted it to be a radio station, but it also had to be in this neighborhood -- behind a window. It took almost a year to get a space and when we did, we [could only have] it for three months. But then those three turned into four and now we're still here six years later! Now we actually rent this whole building and the building out the back, [which houses] a lot of creatives and musical people.
Yeah I actually noticed you guys have [prominent techno label/festival] Dekmantel and Red Light Records outside?
Yeah, that's right. Dekmantel had to move out, as they got too big...but yes, it's great – we have a label out in the back and [record store] Vintage Voudou, so a nice range [of businesses], but we have close common connections.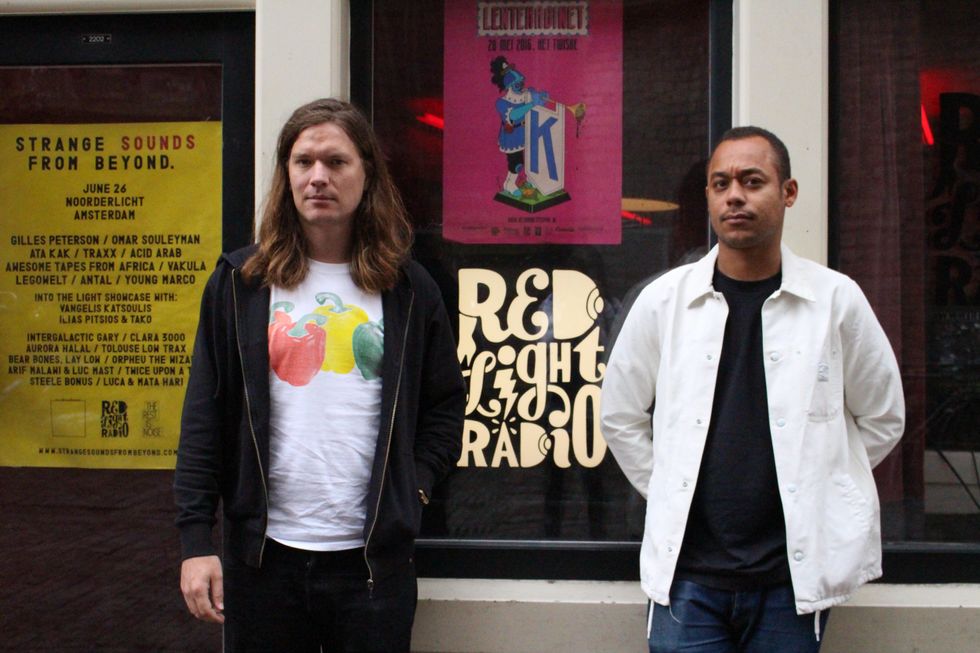 photo by Olivia Williams
The space itself is pretty intimate. Has that influenced the way you operate?
Yes, I think so. When we first started we wanted a window that was facing the street and didn't expect to get this whole building. We were new and didn't really know how much space we'd need to run the station -- but this was the perfect spot. We've kept the studio small, so we can't have too many people inside. But it sounds good and we want guests and visitors to be comfortable. It's a great spot and I think we can stay here much longer.
Yeah, it's cool how a passersby can peer in and wonder "What is going on?" Now that you guys have gotten bigger, though, how do you approach your scheduling now and fitting in guests alongside your many residents?
We have a lot of residents, but we always have open slots available in the schedule for special guests and people to come and play. Amsterdam now has a lot of artists traveling through the city on their tour schedules -- just like London. In the beginning we mostly had to reach out to people we wanted to feature, but it's great that people now come straight to us. We'll have label managers or artists directly contacting us about passing through. After all these years, we can have some of the best guys around doing radio shows and visiting [the local area], it all became a lot easier for sure!
I also heard you had a tattoo day recently, what was that all about?
Yes! The tattoo day! We wanted to do something cool with our friends at [tattoo parlor] Papanatos and get some of our residents DJs tattooed – we thought, "Let's make a radio show out of it!" We had this webcam around so people could see what they had done and most of the time the tattoos were music-inspired. We had some Sonic Youth ones and then played Sonic Youth on the radio -- we also got some ZZ Top tattoos, as we play them a lot!
Have you done any of these collaborative days with anyone else locally? Was there a recent one that has stood out for you?
We collaborate a lot. We've done events with different initiatives, museums, things like that -- music is needed on so many occasions.
We just did a really cool online radio festival from our studio and in the Muziekgebouw, this beautiful, tall building just over by the water. We broadcasted with a number of stations around the world, starting in Melbourne and over to Japan -- every hour was like a different station representing their sounds and Red Light Radio was in the middle. We then had this party at Muziekgebouw where we got to play live and DJ, which was our most recent.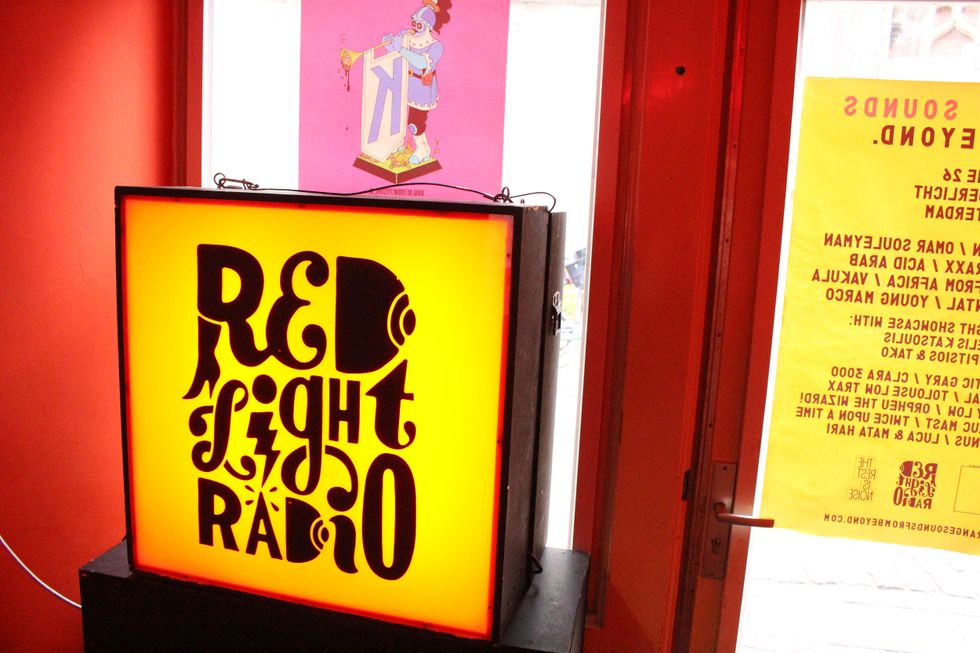 photo by Olivia Williams
You also have a very interesting logo. What was the inspiration?
Our logo was made by Parra who is an Amsterdam artist! The design was important for people to know that was us. We wanted the light in the window to be the center. I'm really happy with the logo and all the little details that link us to the studio and area.
By little details, you mean the boob and the boot?
Haha, not just that, but yes!
How has the station evolved since the beginning?
Well now we have a much bigger program. At first, we were broadcasting for just a few hours a day, but now it's from morning until late at night. Besides that we now travel a lot -- China, Russia and we're also going to Morocco at the end of the summer. Online radio all over the world has grown with stations everywhere; it's not unusual now for people who are interested in underground music to tune into one of these, ourselves included. We've, of course, gained more followers and as I said, the artists joining us have also grown along with the collaborations.
Who has been your favorite guest you've invited in recently?
I can't pick!
Too many to mention?
Yes! Even our residents and the local guys we invite in, they surprise me -- which is great. Then there are also the big guys -- big DJs that we're lucky enough to invite in and be guests for the hour. But they're coming to Amsterdam to big venues. Even like tomorrow, we have an event with [afro-house legend] Ata Kak at Rush Hour [Records] which makes it all feel really, really special.

You May Also Like
America
Story by Bianca Gracie / Photography by Joshua Kissi / Styling by Alexander-Julian / Hair by Ursula Stephen / Makeup by Mario Dedivanovic