Backstage at the 9:30 Club in Washington, D.C., beer cans are strewn everywhere as the Sounds get ready for their show. Drummer Fredrik Nilsson bangs out machine-gun rhythms on a table while guitarist Felix Rodriguez and keyboardist Jesper Anderberg jam to death metal. Sounds songstress and emerging icon Maja Ivarsson high-steps in place, drops down and does pushups, then leaps into the air, letting out a punkish "Hooh-hah!" "We're letting loose, going crazy and we'll keep doing it onstage," says bassist Johan Bengtsson between swigs of beer. It's like the coolest kids from some perverse punk-rock high school have gotten together for an orgy of beer-drinking and torturing guitars. The scene is almost like a caricature of how a rock band is supposed to behave -- but only almost. In reality, the Sounds, who are from Sweden, manage to walk the fine line of authentic uber-rockness without ever crossing into something ridiculous. Still, though, they pose. They grandstand. They look so cool it hurts. They're the band you always wanted to be in.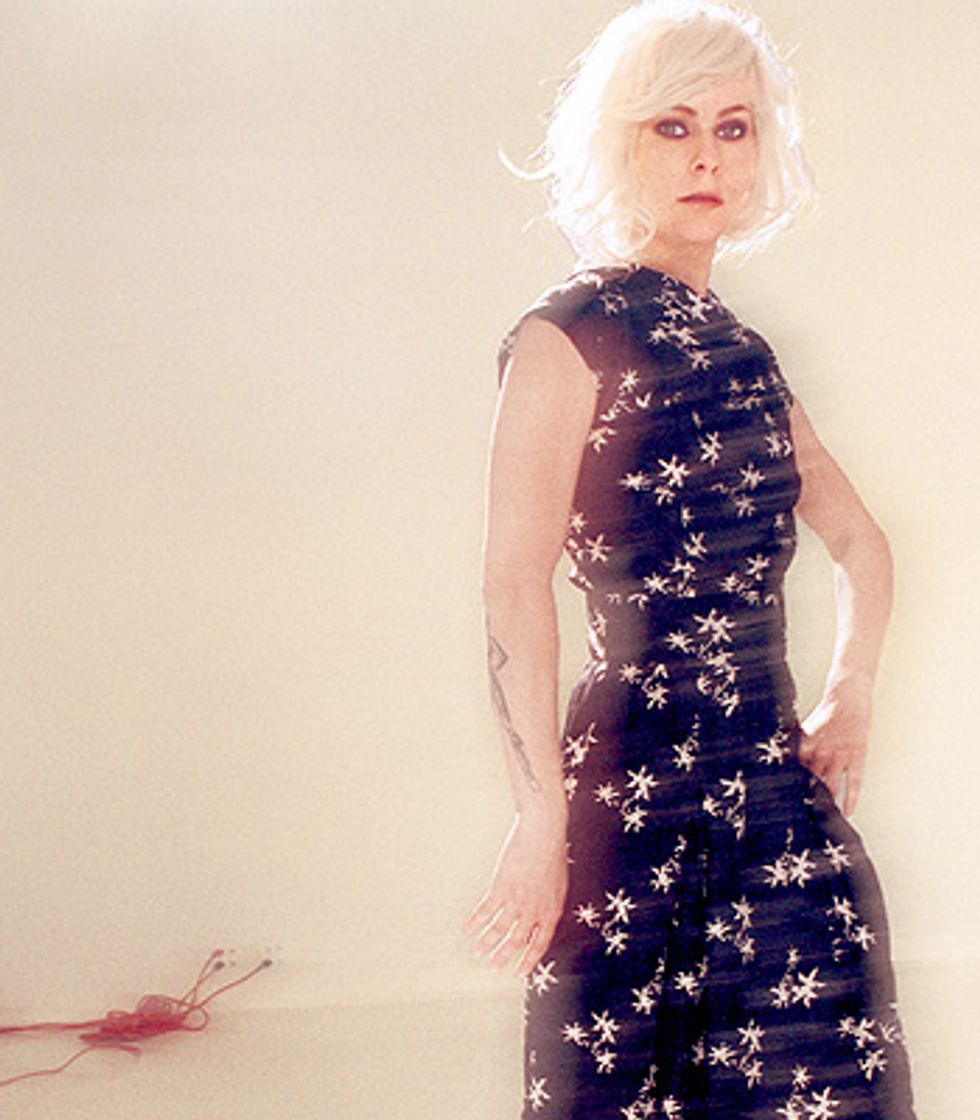 It would be missing the point to look for something revolutionary in the Sounds' aural or visual aesthetic. Rather, what the band achieves is a distillation -- a perfect refinement of rock 'n' roll's sweet spot. Nothing illustrates this better than their live show. The band isn't aloof. They get to know their audience, and they want their audience to move. "We belong in a club," says an amped-up Felix after an April show at Irving Plaza. "Some bands can stand there and play to an audience who also just stands there and thinks they are cool. We need the audience to dance." The Sounds get what they want. At that sold-out show, over a thousand jaded New Yorkers stood up and danced for the entire set. (For those who've never attended a rock gig in New York City, suffice it to say that there's usually more activity in a morgue.)
This idea of "belonging in a club" lands the Sounds squarely in the middle of a larger trend within what one might call the hipster-rock genre. Bands like the Killers, the Yeah Yeah Yeahs, Franz Ferdinand, Bloc Party, the Arctic Monkeys and We Are Scientists are the new nightclub favorites, their songs filled with angular guitars and danceable beats. The music, looks and attitudes of these MySpace favorites appeal to an audience that notably includes hip Lower East Siders and the Silver Lake elite, and hipster-rock bands have become the soundtrack idols at parties around New York or wherever name-brand DJs spin. The Sounds' songs get the cool kids up and dancing -- whether that's at the band's shows, or at parties like MisShapes or Stolen Transmission in New York, Revolver in Miami, or any evening thrown by Steve Aoki or the Cobra Snake in Los Angeles.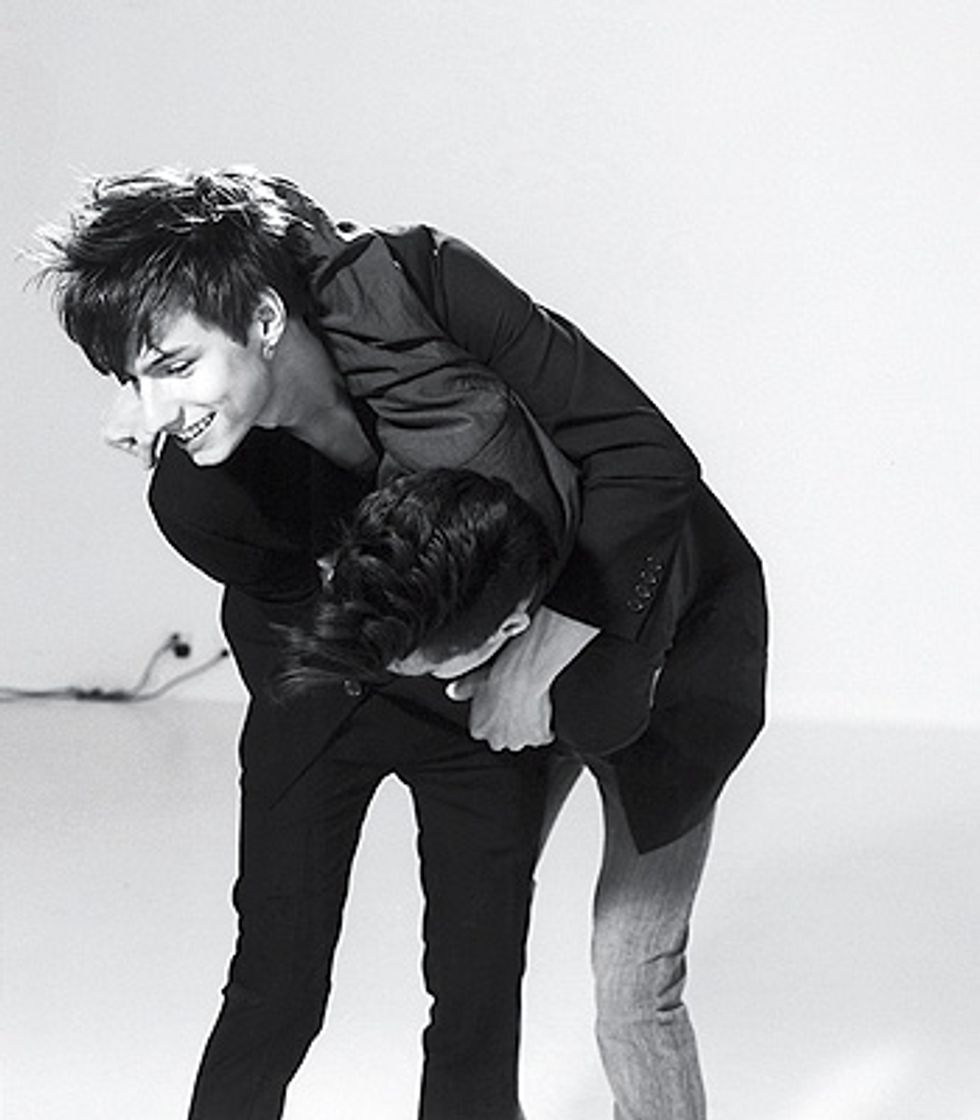 The band's nightlife orientation even influenced the album art for Dying to Say This to You. The Sounds recruited the MisShapes' Leigh Lezark and New York It Girl Alexis Page to pose for the album's cover. The girls are depicted whispering provocatively to each other. Maja, who came to New York just to shoot the two girls, explains, "It's a play on the album's title, but we wanted to create a little bit of fun ambiguity at the same time."
The band's visual aesthetic is as much a distillation as their aural one. Skinny-legged jeans, tank tops with low necklines, Vans skate sneakers -- the band encapsulates the Swedish rocker look that is having such tremendous sway among hip fashion types at the moment, especially the ones who frequent the clubs that are mainstays of hipster-rock. Acne Jeans are pretty much de rigueur among this crowd, and they probably first came to the States on the legs of the Sounds. Highly influential New York boutiques like Opening Ceremony are beginning to stock many of the Swedish labels that make up the Sounds' wardrobe.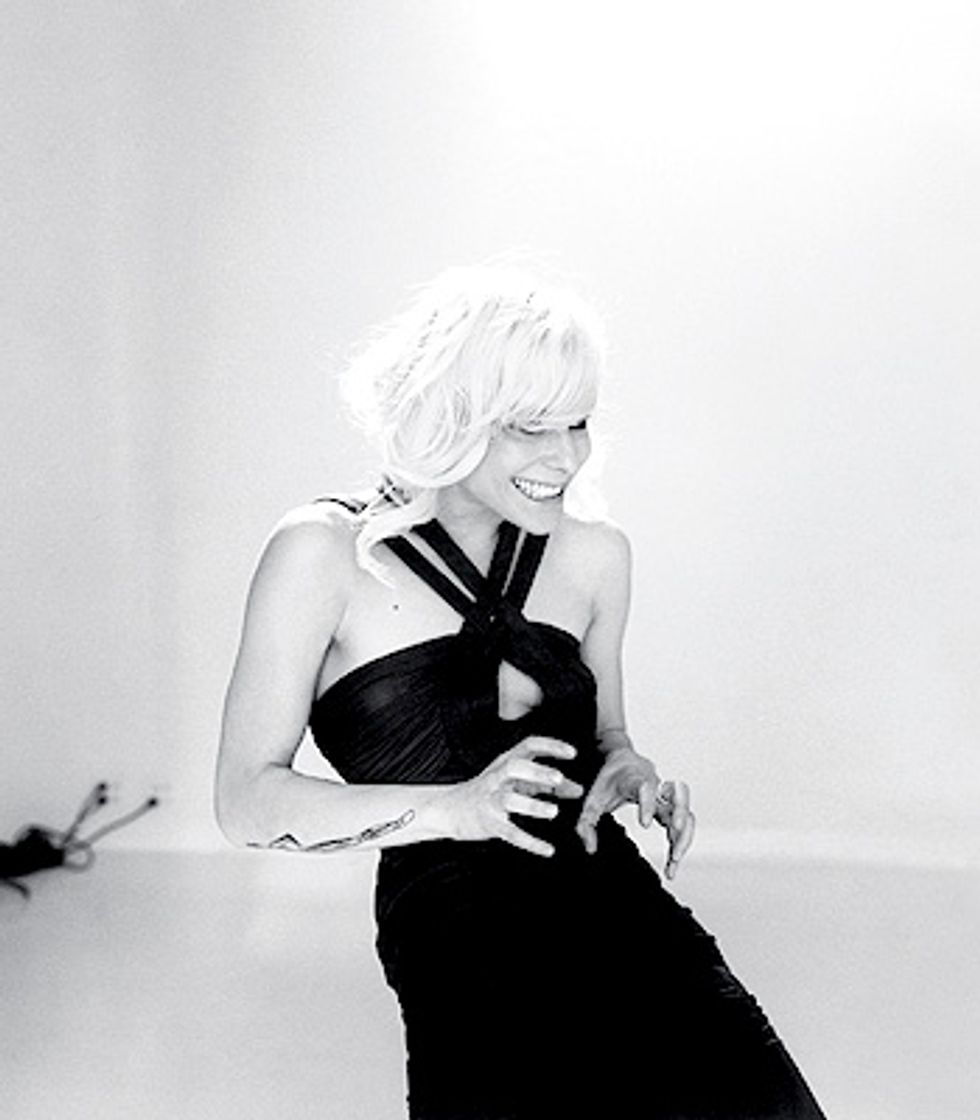 The Sounds are known for being all about the attack. When their first album, Living in America, came out in the U.S. in 2003, nearly every music magazine used that phrase to describe them -- and with good reason. They play their instruments hard; they sweat; they own the stage; and they look good doing it. In the U.S. this garnered them a modest but loyal-to-the-death fan base. During 2004 they supported the Strokes on a slew of dates, headlined some of their own, and became the surprise breakout stars of the 2004 Vans Warped Tour. Meanwhile, back in Sweden, they'd already become A-list rock stars. They won Swedish Grammies, went platinum, were all over Nordic MTV and even became fodder for Swedish celebrity tabloids.
Now, with the release of their sophomore album, Dying to Say This to You (New Line/Scratchie), the Sounds are trying to claim their place in the American scene. To do so, they're pulling out all the stops: Jeff Saltzman, who also produced the Killers' debut, produced the record, and the Sounds kicked off their current tour (supported by Morningwood and Action Action) with a blowout at South by Southwest hosted by the Cobra Snake with DJs Steve Aoki and Tommy Sunshine -- hipster lodestones. Later this summer, after whipping through dates at a series of Scandinavian festivals, they'll play 22 shows on the Vans Warped Tour. Despite the so far white-hot success of the release, the Sounds, like many similar bands, are dogged by the perception of a few critics that their sound is too borrowed (the comparison most often made is to Blondie). But Maja is nonplussed. "I don't think we need to do something brand-new, and being compared to Blondie is more of a compliment to me anyway! At the same time, I don't think there is anyone else quite like us."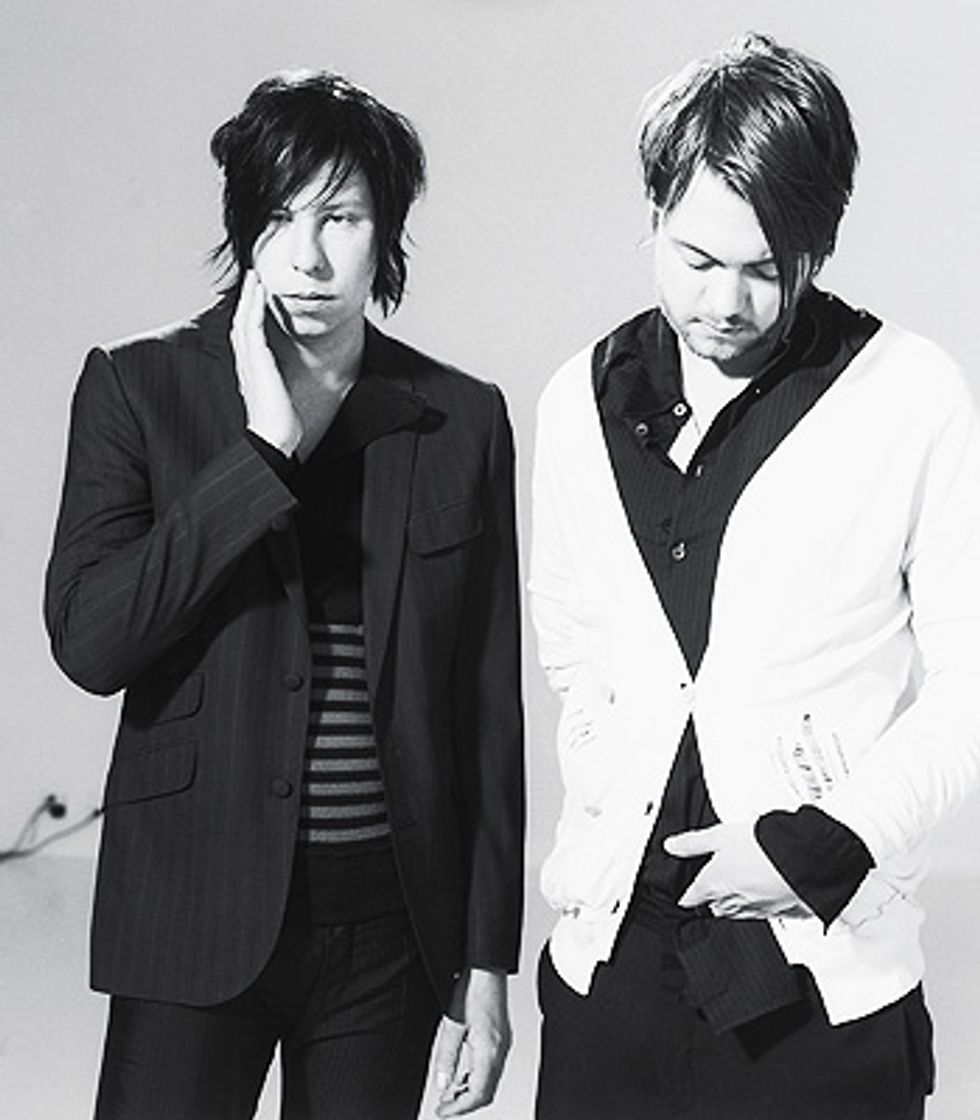 Maja is at the core of the band's attack. She's tough but pretty. She's sexy without coming off as girly. She's been name-checked on the covers of both Playboy and Penthouse. (Sorry -- she didn't pose nude.) She wears short dresses and heels, but her look isn't really feminine. The 26-year-old's stage antics accentuate this -- pointing skyward, jumping off the drum set, kneeling in front of her guitarist. "I can't hold back. Onstage my body just takes over," she says. At least once per show she hawks a loogie into the audience with the acumen of a tobacco-chewing dockworker. And at most shows, with complete and utter disregard for her own bodily safety, she flings herself into the crowd without warning, surfing to the middle of the room and back. "Holy shit, I had no idea Maja was so hardcore," wrote one fan on the band's discussion board after a show. "That's fucking awesome."
Maja's not alone in heronstage charisma. His body tensed and convulsing with each chord, Felix maintains the air of a loaded gun. Jesper, the band's heartthrob, goes nuts with his Jerry Lee Lewis-style piano playing. The two of them usually team up to end each show with an electric drum solo that leaves the girls in the audience goo-goo-eyed and breathless. The Sounds all grew up together in Helsingborg, a small town in the Skne region of Sweden, just across a narrow strip of the Baltic Sea from Hamlet's famed Danish castle. The Skne dialect of Swedish lends itself to laughably exaggerated vowels, yielding a sound that forms an integral part of the region's sense of humor -- much in the way a Jersey or Long Island accent can be humorous to New Yorkers. For Jesper and Felix, almost everything is a joke; even the simplest turn of phrase, punctuated by an elongated diphthong, becomes hilarious. The Sounds boys are constantly in motion, drumming against anything and everything, running through huge repertoires of endearingly goofy faces and eye-rolls, and singing improvised songs that they all somehow know the words to.
Maja is subtler. She possesses a refined manner, blending distinct elegance with a no-nonsense punk ethic. In a completely unassuming way, she knows she's a star. The Tivoli is the band's hometown rock club (and the first club they played after their new record was released in March of 2006). The venue is the band's second home, and it's there that their personalities shine. As always, they are completely approachable, but simultaneously untouchable.
That sense of cool suffuses Dying to Say This to You, which, like the band's debut, is an album of danceable hits. In what will be the second single off the new album, "Queen of Apology," Maja sings: "Quick fix and heartbeats gets me/ So easily/ Now you got me on my knees/ This will be the death of me/ Tick tock time goes by/ Hits me so suddenly/ How you knock me off my feet/ I'm the queen of apologies." The words don't really mean anything, but they feel like something, and Maja's voice lends them urgency. They evoke a sharp need to rebel.
"We aren't shallow," Maja says. "We have our own political leanings and all that. But that's not what we want the Sounds to be about. [Fans] can listen to the Sounds and our songs fit what they are feeling, whatever that is. Look at the video for 'Song with a Mission.' I think that shows where we lean anyway." That video was filmed on location in Cuba and features protesters with huge white Sounds banners marching through the streets. "Song with a Mission" is an anthem for something, but for what, exactly, is unclear. Just like the video, which doesn't identify any particular political cause, the song doesn't spell out its message. The Sounds give a nod to serious themes, but by keeping things intentionally vague they emphasize what's really important here: having fun, dancing and making a crowd go wild. The Sounds are the prototypical hipster-rock band.
Styling by Jacob Brown * Photographer's assistants: Joan Hernandez, Khorshid Rahmanijad * Hair by Sarah Potempa/The Wall Group * Makeup by Meredith Baraf * Market Editor: Quinn Asteak * Special thanks to Allison Lehrer. * Hair styling products by Garnier Fructis * Makeup by Makeup Forever * Hair coloring by Feria by L'Oreal Paris * Fragrance: Calvin Klein Eternity Summer.