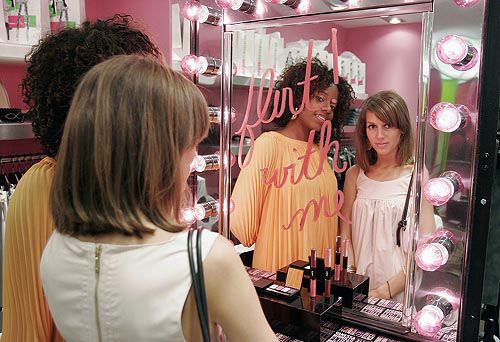 The revolution will be accessorized! Or so exclaims the posters all over the city promoting the Fashionista Diaries, the hit SOAPnet show that follows six eager assistants around New York as they try and make a name for themselves in the publishing and fashion/beauty PR industries. JanJay Sherman and Tina Patient are the two loveable assistants working with FLIRT! Cosmetics. PAPERMAG sat down with the diverse pair and talked boys, Fashion Week and Nicole from Queens.
JANJAY SHERMAN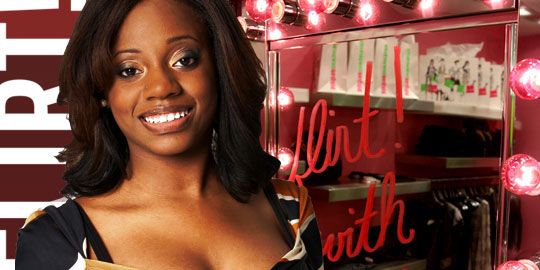 Blaire Huntley: What's changed since you've started the show?
JanJay Sherman: Oh my gosh, there's so much that's changed. Ever since I started the show, I definitely feel like professionally I've grown. I've learned a lot about this industry that I did not know. Initially I wanted to do fashion PR, but the transition from fashion to beauty has been an awesome influence and I've found that I have strengths that I didn't even know that I had. I also feel like I've made amazing friends along the way. I feel like everyone -- you know, even though we have our differences and we're all so different personality-wise -- we're all rooting for each other. I get recognized all the time, which is definitely odd for me. People are like, "Oh my god! JanJay!" and I'm looking at them like, "Me?" So, I mean, it's changed in a lot of aspects, but it's been all positive changes.

BH: That's great! Okay, so now I want a little dirt. You guys are always talking about boys on the show. And I know you had a little blast from the past, JanJay, when that guy came around in a recent episode! Without ruining the next few shows, are you guys seeing anyone now?
JS: I feel like my love life is constantly nonexistent. I mean, I've had the hardest time finding someone or just dating in general. I feel like it's really really difficult for me. I'm like is it me? Is it the people that I approach? I just don't understand. The guy that was on the show, you know, the good friend of mine from long ago, we do end up going on a date so you'll have to stay tuned to see that. But it's really hard to date for me. I don't know why. I really want a boyfriend and in New York you always see people hugging and kissing all the time, holding hands and I'm like, "when's that going to be me?" So me and Tina, we are definitely open to love, but it's just been difficult for us. But we're not gonna give up.
BH: And you're probably more focused on your career right now…
JS: Yes, definitely!
BH: So, it's Fashion Week just ended here in New York. Did you guys see any great shows?
JS: We worked on the Charlotte Ronson show. Her show was amazing; the collection was really really good. Nothing went too wrong, it was kind of chaotic in the back of course, with trying to get the models into hair and makeup, making sure they had their nails and their toes done, so I mean, it was hectic, but we got it done. The after-party was a lot of fun. Samantha Ronson deejayed and we danced all night. It was a lot of fun.
BH: So what about Nicole from Queens? Do you think she'll ever try her hand in PR again? Do you guys still talk to her?
JS: Nicole and I still email every once in a while just to check in and see how each other are doing. I don't think PR was for her. She really had a desire to do design, so I think she's going to pursue that. I also think she mentioned that she wanted to go back and get her PhD. So I think she's going to continue and further her education and give the design thing a shot. I support her and it's just unfortunate that she didn't fit the mold at Seventh House.
BH: Do you picture yourself in New York indefinitely?
JS: Oh yes. All my friends and family are always like, "are you ever going to come back to Missouri?" And I'm like, "No. Not gonna happen." It's a whole 'nother world. Different cultures. New York's like a melting pot. I just love everything about it. Like, back home, at 11 o'clock there are no cars on the street, everyone's in the house with the doors locked. In New York, it's two o'clock in the morning and people are still walking around, it's just crazy. I love it. And on the subways are so funny, just to watch. You have the homeless person, businessman, the design student -- I love it, I love every aspect of New York. I'm definitely here to stay.
BH: On the show right now, you guys are fighting for the coveted permanent position at FLIRT!. Are you still going to invite Tina to church now? Or are you guys in full battle mode? Cat fights?
JS: Well Tina and I definitely both want the job here at FLIRT!, and we have to find that balance to where we're not at each other's throat, but we also want to proving ourselves and showing Kathleen [FLIRT!'s VP of Global Communications] our skills and our qualities. It's been difficult, but Tina and I, even off-camera, are genuinely good friends. I definitely feel like we're going to continue to be friends and support each other. Hopefully she feels the same way about me! We both want the job though!
TINA PATIENT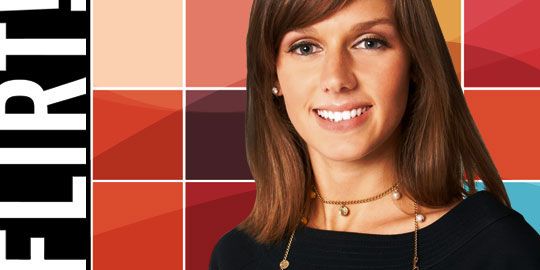 BH: What's changed since you've started the show?
Tina Patient: The biggest change that I've seen so far has to be when people recognize me. I mean, you go from you know, there aren't crowds of people aren't screaming my name, but like, sitting at the bus stop waiting for the bus at night people lean over, a couple girls have leaned . You know what I mean? Like, people touching you at moments you really wish they wouldn't, like when you're disheveled on the way home from work sweating from the subway.
BH: Are you seeing anyone?
TP: No, I'm not dating anyone right now. Actually, I do go on a date on the show, which you'll have to tune in to see. But I don't know I'm completely single and I've sort of taken this new idea that love comes when you're not looking for it.
BH: Cool, understandable. Does that mean you're not into Andrew like Bridget?
TP: Um no, he's really not my type. If you've seen my ex-boyfriend you'd know. He's not my type at all. I need to date an older man.
BH: What were your favorite Fashion Week shows?
TP: To be quite honest, I worked with The Daily, and were so busy here working I wasn't able to attend any of the shows aside from the shows we worked on. With the collections, I just love everything. We work with beauty now, so for me, I'm focused more right now on the hair and makeup. I would love to go to a show and not have to work it -- that would be amazing.
BH: So what about Nicole from Queens? Do you think she'll ever try her hand in PR again? Do you still talk to her?
TP: I was ill the last meeting that we all sort of found out that she was leaving when she resigned. So, didn't get a chance to get to know her, which is sad in a way because I would really love to be there for her. I don't speak with her currently, I haven't heard from her.
BH: Do you picture yourself in New York indefinitely?
TP: To be quite honest, I have no idea of what's to come. I would love a job with FLIRT!. It would be an amazing opportunity. I think I've earned it. But if it doesn't happen, I just hope that something comes out of it. Being filmed and documented is like sending our resumes out over the airwaves, so if FLIRT! doesn't happen. I'll probably stay in New York for the time being, I've always wanted to live by the beach, so L.A. could definitely be on the horizon.
BH: On the show right now, you guys are fighting for the coveted permanent position at FLIRT!. Are you guys in full battle mode? Cat fights?
TP: The thing about JanJay and I is that we're not drama-oriented people. We both want the same things for each other. I want JanJay to succeed and she feels the same way about me. Or I hope so. I was just saying to JanJay the other day, if you get the job and I don't, congratulations, I am so happy for you and obviously you are the fit for FLIRT!. JanJay and I will continue to be friends. We work together so well. A dream come true would be for us to work together in the future.
The Fashionista Diaries Airs on Wednesdays on 9 p.m. on SOAPnet.