Teresa Giudice and Melissa Gorga, sisters-in-law, and stars of Bravo's wildly popular Real Housewives of New Jersey franchise, have sat atop glossy, marble thrones of telenovela-level theatrics inside and outside the show. Their yo-yo timeline of warring with each other over years-long familial tensions began when Melissa married Teresa's younger brother, Joe, in 2004, and captivated viewers everywhere with its raw, "Should we even be watching this?" quality. Their drama was real -- palpable sibling turmoil that made for next-level reality television.
But in recent years, unfortunate circumstances have brought the two back together. Teresa and her husband (also named Joe) both were convicted of tax fraud in 2014, with Teresa serving 11 months in state prison (released in December 2015) and Joe currently serving a 41 month sentence. Now raising their four daughters alone, Teresa has reunited with her brother and Melissa, bringing their families back together (seven children between the two couples) and putting their feud to bed -- for now.
Despite their differences, one thing the sisters can agree on is their mutual love of fashion -- flashy, bold, and downright iconic. For our Living For Fashion issue, we caught up with the stars to talk the evolution of their very different but equally glittery styles, '80s New York, and of course, keeping things Jersey chic.
What role did fashion play for you when you were younger?
TERESA: I've always loved fashion. I was always the type in high school trying new things and combos -- weird hats and accessories. My whole outfit would sometimes revolve around that hat or belt. I ALMOST won Best Dressed for high school superlatives, but got beat out by this other girl in my class [laughs]. But I always had a passion for it. I ended up going to school for fashion merchandising and management, at Berkeley College. After that, I was an associate buyer at Macy's for a while.
MELISSA: I was always very trendy. I loved following what was in at the moment. If the Champion sweatshirt was big, then I was very into the Champion sweatshirt, and I wouldn't buy it unless it had the C on it -- it was very important to me. I'll never forget this one time, my mother bought it for me, and the C wasn't noticeable – and I made her remove it from where it was originally, and sew it right in the front before I went to school. That was dedication. In a lot of ways, it's like that now. Today it's Prada, back then, it was Champion [laughs]. Cuffing jeans --all of that. I wasn't very fashion forward, but I was very trendy.
TERESA: My friends and I used to go into the city to dance at Limelight. They used to pick you out of the line based on how you looked, what you were wearing. So my girlfriends and I -- it'd be like a challenge. Wearing the coolest thing to make us stand out. I kind of approached every day dressing like that.

Any looks pre-fame that you regret (or don't regret)?
MELISSA: I loved being a tomboy when I was younger. I used to do the overalls, Sperrys, all that. But some of my hairstyles, I could have done without. I had bangs -- very high bangs that I hairsprayed with Aqua Net. It was very stiff, and it had to curl up and over, or I wouldn't leave the house. I look at pictures now, and I'm like, "Why didn't anyone chain me to the bed?" Like, "You're not allowed out like that!"
TERESA: I've had some bad hairdos! Like the one on those "Free Tre" shirts they made.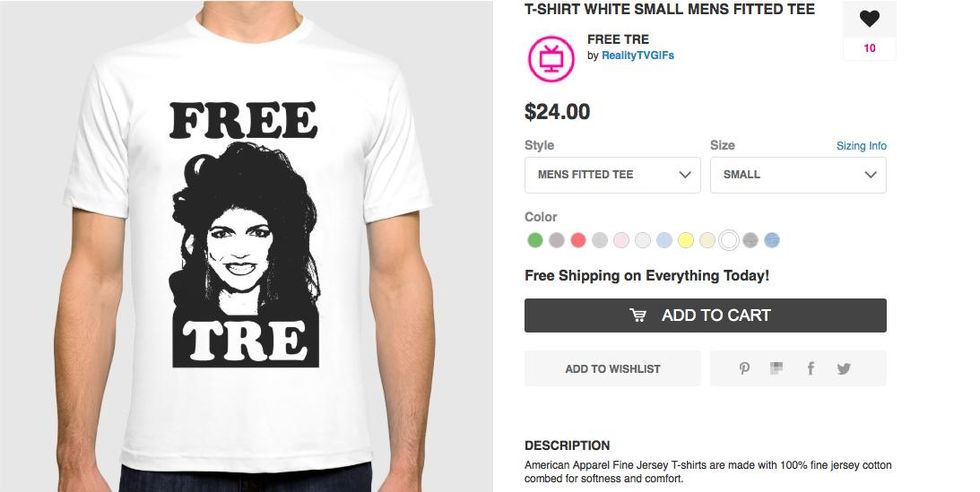 via T. Kyle MacMahon, of Reality TV GIFS
But I still wear some furs that I've had for a while -- a pink fur. I also have this raincoat from the '90s from French Connection. A black raincoat-- the lining has ripped a bunch and I've had it fixed, but I still love it and wear it. It's sentimental, and I love the way it feels on me. But in terms of timeless, I will never get tired of leopard. I have leopard everything -- bra, jacket, shoes, rugs, gloves. It's always good. I guess it's the Jersey in me.
What's the most comfortable style for you?
MELISSA: Well there's comfort, and then there's what you feel good in –- like, I'm definitely a sweatpants, flip-flops kind of girl. I could be in that everyday, at home. But you know, like for when I'm out -- I love wearing high-waist, tight-fitting pants or jeans and a cute blazer. Simple.
Who are your personal style or fashion inspirations?
TERESA: I've always loved Cher -- always so fashion forward, even now. She always comes to my mind immediately. Today, I love Rachel Zoe, Rachel Roy, Blake Lively, Mark Bower's clothes. I love Elizabeth and James.
MELISSA: Charlize Theron always gets it right -- like, she never puts on anything that's not amazing. I also love Jennifer Lopez on the red carpet -- she doesn't put on anything that I wouldn't wear. Just a lot of swag.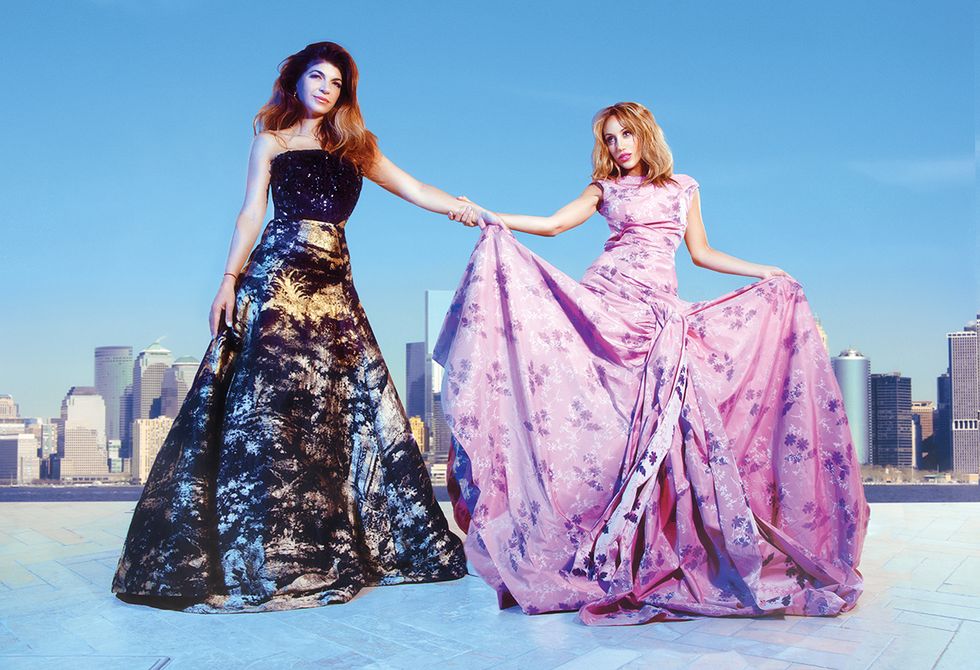 Teresa and Melissa wear dresses by Oscar de la Renta
How has being in the public eye affected your style?
TERESA: As I've gotten a little older, I've taken more of a classic style, more timeless -- less color. More black. When you wear a lot of color, you can only wear it once! Everyone will remember that. But with black, you can do anything.
MELISSA: Once you're on TV, you start critiquing your own style -- on episodes or on red carpets. But just in life, I'm a firm believer in moms being able to dress classy and sexy -- you don't need to put the mom jeans on right away. But it's all helped me with my boutique [Envy by Melissa Gorga]. It's amazing to be inspired, and see these looks in showrooms, and pull them and put them all together at my store. To see people shopping in my store -- looking happy and smiling while they try on the clothes -- that's the best feeling for me.
Splash photo: Melissa wears a top, pants and shoes by Escada, a belt by Rochas and bracelet and rings by Saint Laurent. Teresa wears a top and skirt by Jeremy Scott, shoes by Lanvin and a ring by Oscar de la Renta
Set designer: Jennifer Tran
Makeup: Christopher Ardoff at Art Department
Hair: Juan Carlos Maciques at Opus Beauty
Manicure: Rica Romain at LMC Worldwide using Nails Inc
Location: The Marmara Park Avenue Hotel
Turn into The Real Housewives of New Jersey finale airing this Sunday on Bravo at 8pm!
You May Also Like