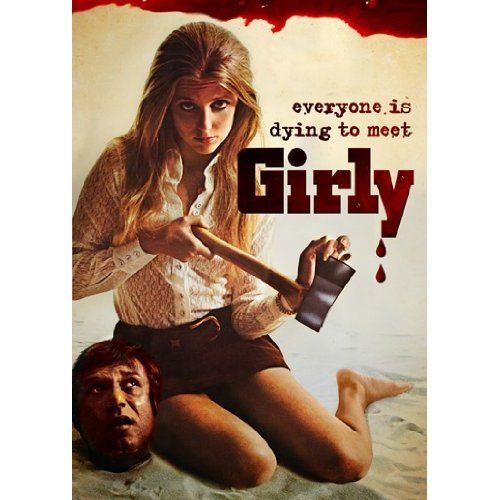 Now out on DVD is the very rare
Girly
(
Scorpion Releasing
), a ghoulish 1969 black comedy originally called
Mumsy Nanny Sonny And Girly
about a deranged family -- Mom (
Ursula Howells
), Nanny (
Pat Heywood
) Sonny (
Howard Trevor
) and Girly (
Vanessa Howard
) --  living in a remote, fabulous estate. Brother Sonny and sister Girly (two adult children who dress in kiddie school uniforms) delight in kidnapping new "friends", bringing them back home, and playing games with them until they tire of them. And if you break the rules, Sonny will dispatch you with a bow and arrow and Girly will get you with her ax. Sonny even shoots home movies of the kills and the family gathers to gleefully watch them at night. Their new captured "friend"
(Michael Bryant
) decides to play everyone against each other to save his skin. Directed by
Freddie Francis
, the great cinematographer, who directed some sweet horror movies in the 1960s like
The Psychopath
,
The Deadly Bees
,
The Skull
and
Tales That Witness Madness
and this weird wonder. The DVD print looks great and there's a nice interview with the author, 
Brian Comport
, and an audio interview with the late director.