In just a few years, Lizzo has put her foot all the way into the rap game. With her 2013 debut Lizzobangers, the Houston-raised, Minneapolis-based musician introduced her unique, blended strain of lyrical smackdowns (the breathless "Batches & Cookies") and singsong ballads ("Go") that blended Missy Elliott's eccentric sense of artistry with a contemporary spin.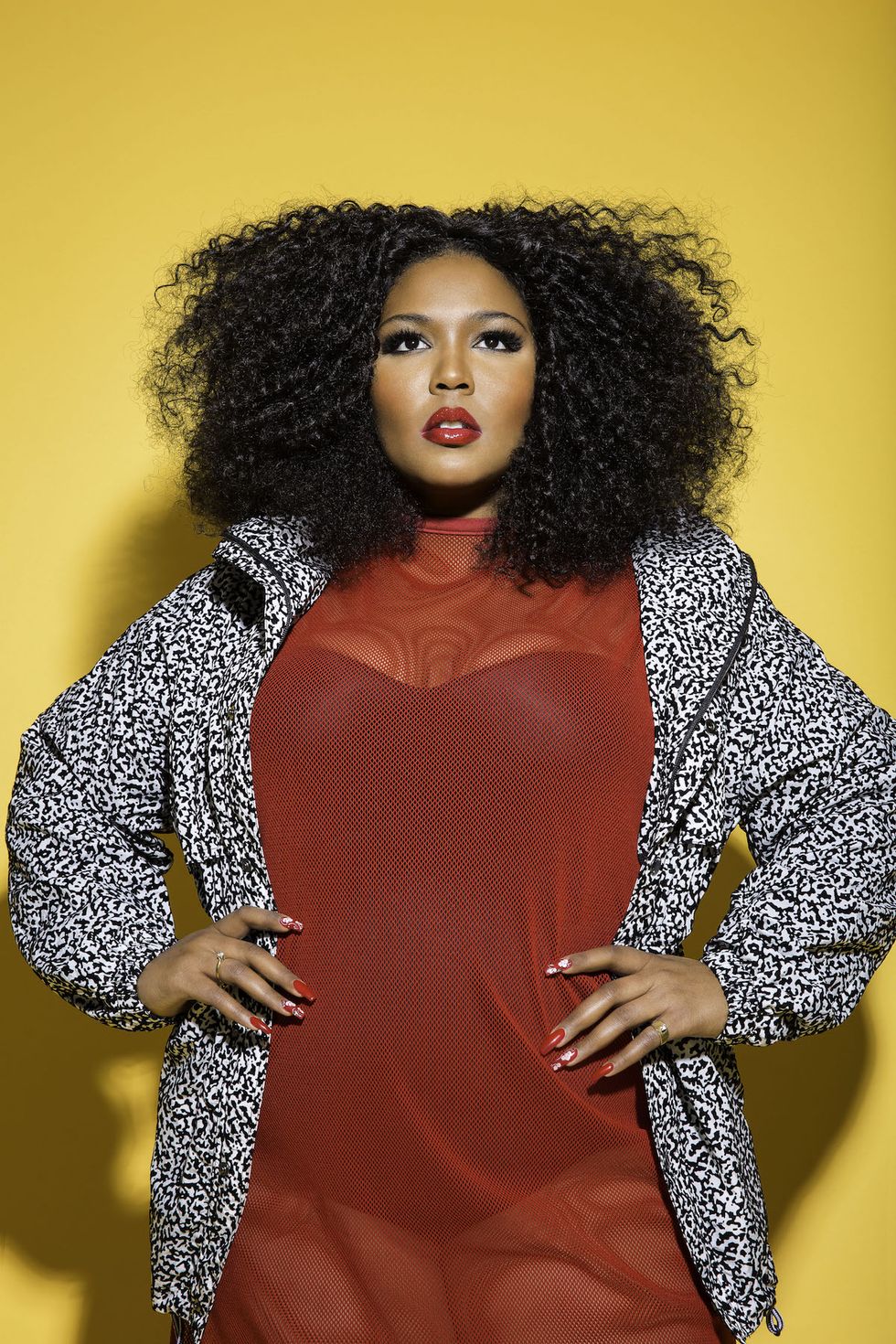 Jabari Jacobs
It was in her follow-up, last year's Big Grrrl Small World, that she truly discovered her voice—and realized her true potential. Album linchpin "My Skin" set a new path for the 28-year-old, whose message of self-love and body positivity became the driving force of her career and led to a sudden heel-turn in her notably aggressive sound. By then, she'd already become a cult figure in alt-rap: Sleater-Kinney selected her to open on their reunion tour, and she scored a coveted feature on Prince & 3rdeyegirl's "Boy Trouble" off their 2014 release Plectrumelectrum.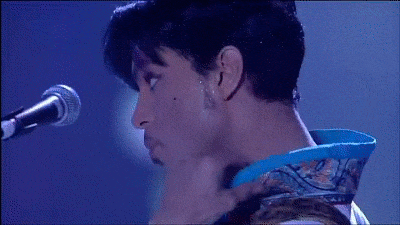 Today, Lizzo has an even bigger platform, and is just on the precipice of tapping into the mainstream. In March, she signed with Atlantic Records to release her third album, and introduced a brighter, peppier sound with feel-good single "Good as Hell," included on the Barbershop 3 soundtrack. Shortly after Prince's shocking, sudden passing, Lizzo took a break from recording her third project to discuss the Purple One's impact on her music, how her recordings are catching up to her live performances, and why she won't lose sight of her mission as her presence continues to grow.
What did Prince's music mean to you growing up?
I remember watching a lot of Prince music videos and Purple Rain through my mom. There were weird moments where she would have to cover my face and I just remember the feeling of how free he was to put himself out there and do the things he did. I think when I got older, it just turned into, for me, a bar for artistry. He was on a whole other level that nobody could ever touch. I don't know, it means a lot. It means everything.
Everyone seems to have a Prince story. What was it like collaborating with him for "Boy Trouble"?
First of all, Prince is famous for giving stellar advice. He kind of let us do what we wanted. When we worked on "Boy Trouble" with him, he said, "Treat it as if it's your song, do whatever you want to do with it." Listening back to "Boy Trouble," nothing was changed. He left everything. Even when I was screaming at the end of my verse, he left everything in there. The fact that he trusted us to treat his music like it's our own, we were like, "OK, we'll try!" [Laughs] It was just a huge confidence booster. I was at a point in my career where I was still doing things on a very small, local level. Getting that confidence boost, getting that right of passage from him, meant so much for my career. I knew I could take it there because of that.
Now, you're at a different level and playing in the bigger leagues. What made you want to sign with Atlantic?
What honestly made me want to do it was, I'm not doing this shit for any type of fame or recognition. The only thing I ever cared about was taking care of my family. But something changed when I wrote "My Skin" where I wanted to reach a certain demographic of people. I wanted to reach a lot of people with a positive message, and signing with someone like Atlantic, I got to meet everybody and feel the connection there. I felt safe with them. I decided to sign with them because a label like Atlantic will help get that message out. This shit is bigger than just what I'm trying to do to get by on a nine to five. Especially after yesterday [when Prince died], I've just been completely committed to creating positive music and spreading positivity as far as I can with it.
"My Body" is a pivotal and powerful record for you, tackling the idea of self-love and image. When you look at the music industry, it's one that's so obsessed with the perfect image. How do you address that?
The message that I'm sending is that you are perfect, and I am perfect, and everybody's perfect. We do things to ourselves sometimes to cover up that perfection, but it's there. It's in our skin, it's in our joy. People really need to hear that because the women that they are showing, Victoria's Secret models, with the perfect body, perfect girl, that's fine. They are perfect. They look beautiful. But that's not the only kind of perfect person there is. So I'm just putting myself out there so other people can see that it's possible to do the same.
What's been some of the feedback that was particularly affecting to you, someone who really took this message to heart?
That's what started me wanting to do this. I was just angrily rapping about black rights on my first record [Lizzobangers] and feeling trapped, and then I started performing at shows and people started to see someone doing it. So I just started to cater my message to what people are seeing on stage. My live music directly reflects my music that I create now. At first, it was kind of a disconnection. I was happy and very body-positive but my music, was just what was going on in my head, conversations with people...Now, if you go to a show and then you listen to the album, it's going to be the same experience. People definitely, after live shows, inspired me to keep pushing the message that comes out in my live shows. The more that we go forward, the more women and young girls and boys come and say the show is amazing. There was a summer when I would pull people on stage and I pulled this one boy on stage, it was always random, and I was like, can you dance? And he danced so beautifully and afterwards he was shaking and crying, like, "You don't even know what I've been going through. I was expelled from school. I recently came out as a homosexual, and I've been getting teased and bullied. It's been really hard, and all I want to do is dance. I want to be a dancer so bad." The response that we're getting is just fulfilling, to do what we do. It's a very mutual love right now. And the hate, we kind of just ignore. [Laughs]
This positive message isn't really something that musicians really communicate. Another that comes to mind is Janelle Monae, she's very much about that mentality. Why do you think there aren't many artists who make that their mission?
I don't know. I think that everybody is into the mood right now. The mood is really popular in music, the vibe, and I think a lot of people are creating vibey, moody music. I think their music is dope. I think there's just a balance to things, where you can go and listen to a song that's a little more morose in color and you can listen to it while smoking. I make music that people play while getting ready and feeling good about yourself.
Your first two albums had a heavier feel to them, and then there's "Good as Hell" that just came out, and it could easily be on a barbecue playlist. Is that the direction you're heading in from here on out?
I do what I feel. Anywhere I make my album, it's a different vibe. Lizzobangers was done in an attic in Minneapolis, I did Big Grrrl Small World in a cabin in the middle of the woods in Wisconsin, and I'm making this record in Echo Park in L.A. It feels like "Good as Hell." A lot of my gospel roots from Detroit are coming out. I worked with Ricky Reed and other songwriters and producers out here. It's been really exciting. I've never really done anything like this before and the sound has evolved. And I'm trying to be happy. I want to be happy. I want other people to be happy. I'm not trying to put myself in a funk. Because that's so easy to do nowadays.
How's the next record coming along?
I've been doing some weird stuff. I've been doing the traditional sessions with producers, the very typical session in a studio, but then I'll have a gospel day where I invite gospel singers who will just make stuff up. Then I'll have my party day where I'll get my girls and we get a producer and we go to the desert and get drunk and make music. The process has been all over the place. I'm trying to create really constantly conversational music. The music that comes out of my mouth naturally in the day to day, I want to stay true to that because it's what I've always done. I'm trying to create authentic environments to surround myself with, trying to curate my experience.
Having a major behind you, you'll have more visibility. How do you make sure that you don't lose touch with the message you're trying to impart to your listeners?
I have really good people around me. People who remind me to step it up or tone it down. I think that's really important to have that strong foundation within my friends and family. Not to mention the people who I work with on the business side. I think that they remind me of why I do this and why I need to do this—so I don't forget.