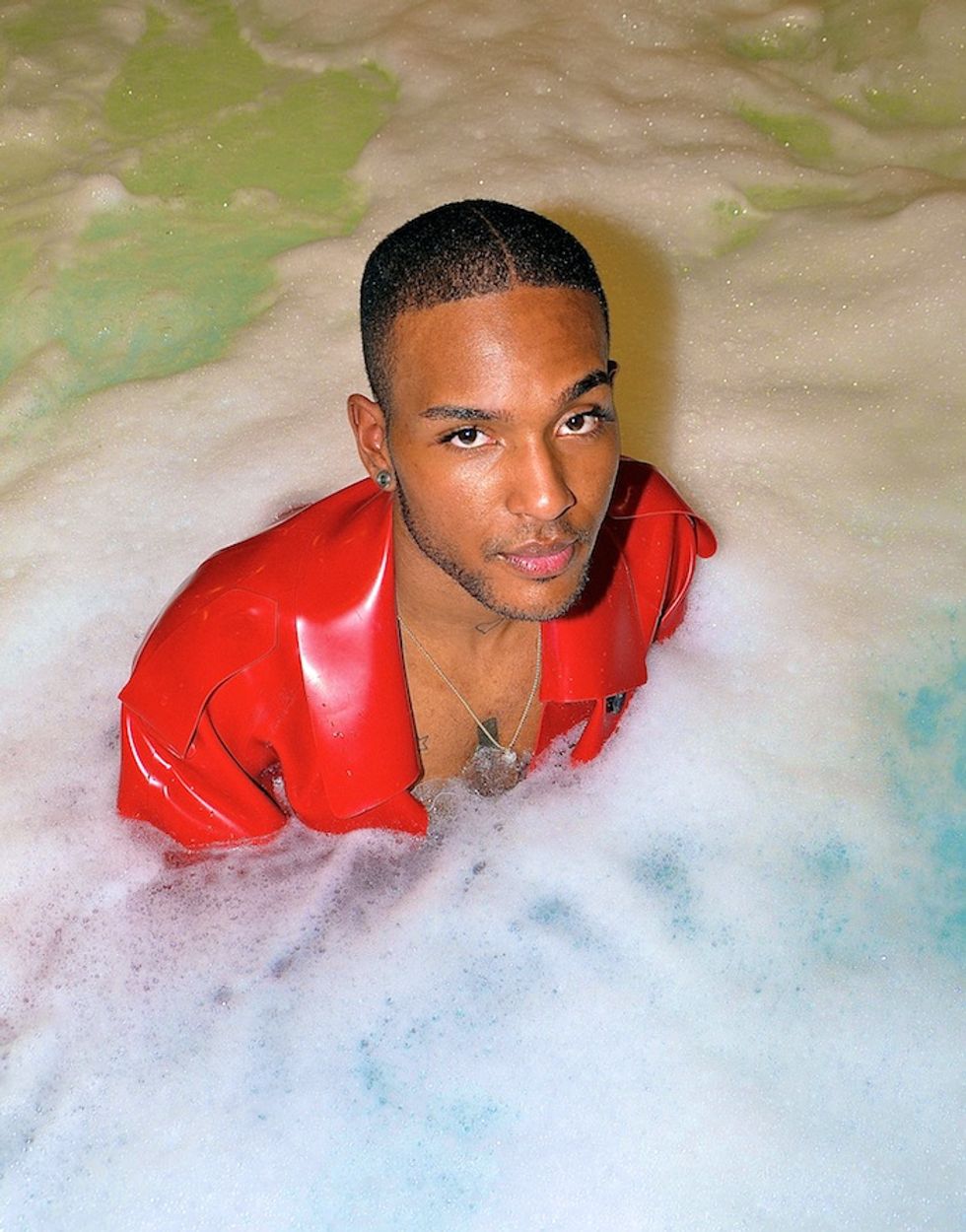 "Around the 5th grade, I had a choice" recalls the feline, Brooklyn-based rapper Jay Boogie. "This is the moment where I take this, flip it and dip it and make everyone aware before they're able to label me, or I'm going to be forever scorned." Boogie is alluding to his decision to take ownership of his unique sexuality, flamboyance, femininity and generally larger-than-life persona at a young age. This was not a "coming out" so much as a crucial moment of self-awareness, acceptance and realization that his fluid sexuality didn't have to be viewed as a problem in need of fixing. Now, fresh off the release of his first full-length album,
Allure
(Doom Dab), Boogie is faced once more with the challenge of deflecting unwanted categorization by not simply his peers, but a stubbornly myopic music industry content to keep the young artist in a convenient little box labeled "queer rap."
During our conversation in the back of a Lower East Side post-production studio, it becomes clear that Boogie, who was born Joel (Joey) Rayos ("It means lightning in Spanish"), is less concerned with standing out from the very in-vogue NYC LGBT rap scene than living up to the expectations of his own imaginary and highly exclusive club. "Jay Boogie is just a melting pot of a few of the 'Boogies' that I look up to," he says. "You've got Liberace with his legendary boogie-woogie craze and then you have L Boogie -- that's Lauryn Hill. I just want to be inducted into the Boogie family." It's not completely off-base to look at Jay Boogie as some sort of love child of these two genre-blurring, singular entertainers. Boogie echoes Liberace's gentle but commanding showmanship and winking vaudevillian cheekiness while sharing Lauryn Hill's radical spirit and her unique ability to both rap and sing.
Boogie was born in East New York, Brooklyn where, he says, "all the beasts and black sheeps from the east reside." Boogie might be pulling punches slightly when he refers to East New York as a "heteronormative" community and though the rapper is quick to acknowledge that things were difficult for most young men from his neighborhood and even the most basic hoodlums were trying to find themselves, it's fair to imagine that he had an especially rough go. "Even before I was able to determine it in my head, people were telling me I was gay," he remembers. "People did it for me. It was almost my duty to explore it to see what they were talking about."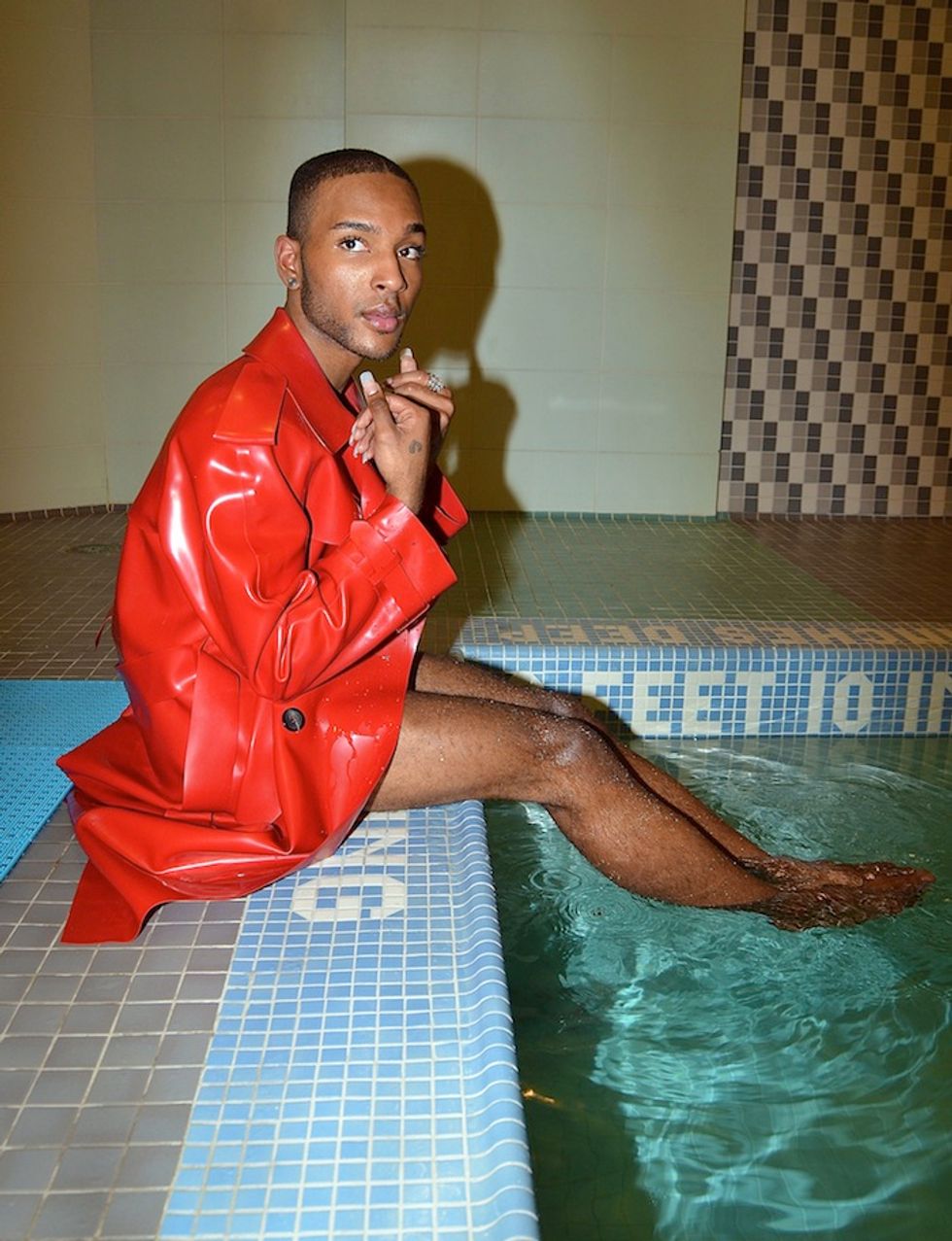 Boogie went on to spend the particularly formative years between 4th and 9th grades with family in the Dominican Republic, where at fourteen years old he had what he called a "sexual escapade" with an older male cousin. While his cousin and others hid their sexuality or denied moments of exploration, Boogie was quickly becoming comfortable in his own skin. "I would hang with boys in the DR. They would climb trees for mangos and I would wait for them at the bottom," Boogie explains. "They would call me
pájaro
, which means bird in Spanish. That's fine. I never took it as an insult." Boogie eventually returned to Brooklyn for his sophomore year of high school. Things were rougher than ever. "I was legendary for my use of pepper spray," he recalls with a laugh. At sixteen years old, his brother "officially outed" him to their incredulous mother. "Like a lot of people, she didn't get it. What people call gay to me, is not so much about sexual orientation -- it's a lifestyle, a social construct, and how I express myself. I love who loves me. I'm
me-sexual
."
You can track the full arch of Boogie's complex relationship with his mother on his 2014 debut EP,
Pretty Spitta.
It begins with a hilarious exchange in an old school
DoggyStyle-like skit
, which sees a young Jay Boogie defiantly fawning over Barbies much to the outrage of his conservative Dominican mother and comes to a glorious resolution in the hauntingly trippy, glitch-gospel anthem, "Ave Maria." It wasn't until pre-production for
Allure
that Boogie began receiving messages from people (mostly young gay Latinos) who had attached themselves to certain lyrics from the EP, using the lyrics as spiritual armor and emotional self defense. "I realized I was speaking for so many more [people] than I ever bargained for," Boogie says.
Allure
, which was made in collaboration with producer Flex Lang (aka Sam Rosenberg), has dispensed entirely with the skits, instead focusing on ten complex, bass-heavy, "banjee cunt" tracks that signify a shift in Jay Boogie's perspective, one that's turned decidedly outward in contrast to
Pretty Spitta
's Freudian introspection. There are several times when the album trades concise and clever lyrical acrobatics (of which there are plenty) for onomatopoeia, old school Scat and alliterative beat box attacks. For instance, the album's opener, "Body," (whose video we're excited to be premiering below), begins with a series of "purrs," an extension of producer/emcee
Kevin JZ's legendary Ballroom call to arms
, or what Boogie describes as the "ignition for all the sex sirens to wake up and start performing." The Ballroom references aren't incidental: back in 2009 he walked in the "BQ Vogue Femme" and "Fem Queen Face" categories at Ballroom competitions though he says he's more of a "spectator" these days.
Official video for "Body"

With "Body," Boogie is not simply asking his audience to appreciate his corporal self, but also a growing "body" of creative content that he is proud to stand behind. With this single, the artist is essentially welcoming you to his oeuvre. "Witch Samurai,"
Allure
's soon to be second single, is built on a foggy, cinematic audioscape that Boogie slices through with a merciless verbal katana. "Guac" is Boogie's token ode to making coin and it's backed by his strong desire to share the success with his East New York homies. "Cuerpo," the album's penultimate club track, is more than just the Spanish bookend to
Allure
's impressive opener, it's also a ruthless tease for what Boogie's future Reggaeton album might sound like and a prime example of his impressive versatility.
That versatility extends beyond his music. Boogie plays a leading role in an increasingly prominent subset of New York's young creative scene, a subset that meets at the intersection of Brooklyn and downtown Manhattan's fashion, music, nightlife and LGBT communities. It's a cultural swirl that includes folks like Hood By Air's Shayne Oliver, designer Luar Zepol (a longtime friend and frequent collaborator of Boogie's), rapper/nightlife maven Contessa Stuto ("she's my gay mother, my Courtney Love"), stylist and party promoter Oscar "1992" Sanchez, Chromat designer Becca McCharen and musicians like Cakes Da Killa, Tigga Calore, Le1f, Mykki Blanco, Princess Nokia and Zebra Katz. Cross-pollination and collaboration is rampant, from the custom architectural Chromat and Luar Zepol-designed pieces Boogie wears in his "Body" video to appearances in friends' music videos like Contessa Stuto's "
Reign In Ratchet
."  
You'll be able to see this community -- and a taste of their creative collaboration -- in action tonight when Boogie and his crew take over
Wallplay Gallery
(118 Orchard St.) on the LES for an intimate "unplugged" performance and multimedia event titled
Behind the Body
. Designers like Torr Love, Mario Horne, and Lauren Gesswein will be exhibiting pieces alongside select outfits worn in the "Body" music video, which will screen. "It's going to be a situation," say Boogie of the evening, as his talons scratch gently under his black do-rag. "I hope that those who don't know me so well, or have questions, will just come up and ask me. Just ask me. I'm open. I'm right here."
Jay wears a coat by Tableaux Vivant
You May Also Like