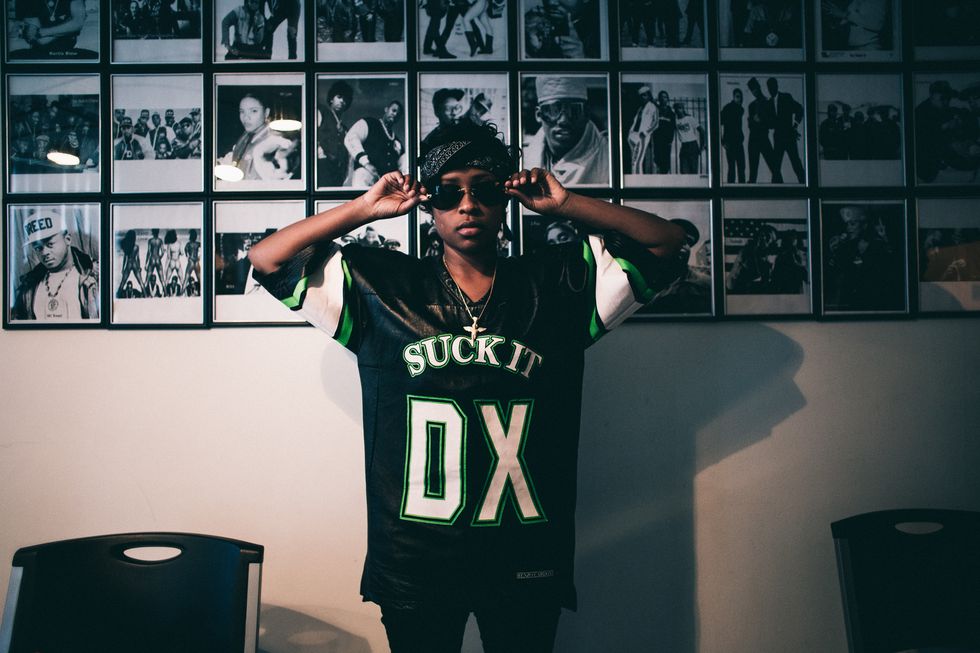 In an otherwise "meh" year for music, there was at least one bright spot in 2014: the emergence of 23-year-old Detroit-based rapper, Dej Loaf. The artist, whose moniker comes from both her birth name (that'd be Deja Trimble) and her preference for wearing loafers, caught the eyes and the ears of everyone from E-40 to Drake with her kiss-off anthem "Try Me." On the heels of the single's success and a well-received mixtape,
Sell Sole
, Loaf is
gearing up for her debut album
and an upcoming appearance at Bonnaroo this summer. In the midst of her rise, we caught up with the artist to talk about everything from why she prefers cozy fashion to how she thinks catty female rappers are their own worst enemies.
It seems like you've come out of nowhere to have one of the most buzzed-about songs of 2014. What is your music background?
I started writing and doing music when I was a kid. Well, actually just writing because I kept [my music] to myself so much. It was an outlet. I grew up on the east side of Detroit with a single mom and two brothers. I was always the kid that stayed in the house and wrote in my diary. But I never took my music seriously until I realized that I was actually good, which was after high school when I stopped being shy. I started recording more but it was a slow process. I'd record in bogus studios and things like that. Once I got my first mixtape out, I started meeting different people and here we are today.
Your song, "Try Me," became a phenomenon partly because of the social media buzz it received from various artists.  Which artist were you most excited about showing support for it?
E-40. He was one of the first people to reach out because the song had taken off in the Bay Area for whatever reason. Well, I know why. Someone made a post on Instagram saying "this is my song" and they had a nice following in Oakland, California so the kids were commenting on his stuff like "who's this, who's this?" Everybody started following from that point on. The Bay area made that their anthem before anyone else, even before Detroit did. Being from the Bay Area, E-40 caught on and he's one of the legends in my eyes. My dad used to listen to him so I was just like "wow." And then it was Drake. That was big, definitely. He was quoting the lyrics. 
Do you have any dream collaborations?
I definitely want to work with legends. I have something in mind for Missy Elliott, Charlie Wilson and DMX. People you haven't seen in a while and who I grew up listening to. 
As a female hip-hop artist, do you think there's a greater tendency for the media and the music industry to try to pit two female artists against one another, as if they both couldn't be successful?
I think it's female artists that have the mentality that there can only be one [star]. And that's what holds a lot of them back from being great because they're like, "I'm the best." They lose sight of what they were really in it for. I just want to make great music. Like if you rock with me, we can rock, if you don't, then you go your way and I go my way. But it's hard, the whole beef thing and females' catty attitudes. We only have Nicki Minaj and maybe Iggy. You don't have many [female hip-hop stars] at all. And I think that's the reason, because everybody wants to be on top, like how the guys do it. But there is room for all of us. That's how I'm approaching it until problems are presented to me and I feel like acting on them. I'll just do Dej. I won't feed into it. I got love for everyone. I want to work with Nicki Minaj, I would work with Iggy, I already said Missy Elliott. I'd love to work with Lil Kim. I already worked with Remy Ma. I thought she was like that up until I met her. Remy Ma is like one of my favorite rappers -- female rappers anyway.
You thought Remy Ma was like what?
I thought she had the attitude and when I met her, yeah she had that attitude, but she welcomed me with open arms like, "Yeah, you are dope, I love what you're doing. Keep holding it down." She saluted me. She came up at my show. I had the wrong impression.