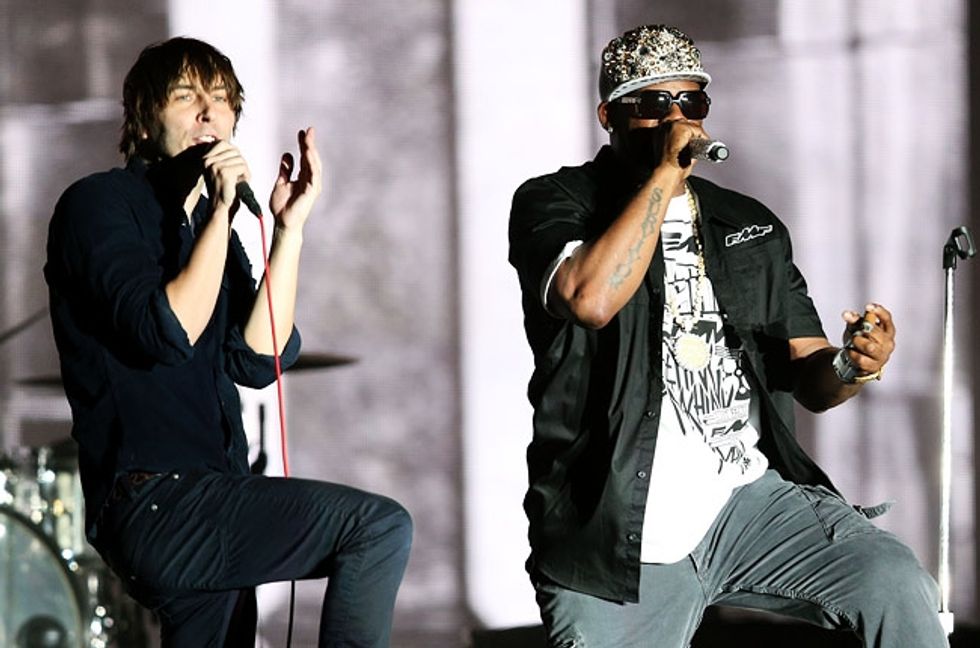 Back in April, I went to Coachella and made the decision to stick out the entirety of Phoenix's Saturday night headlining set, a move that ultimately cost me the chance to party with CW actors at Neon Carnival when my only mode of transportation was severely delayed and my friends and I had to huddle in the Indio dust for two hours waiting for it. But you know what? It was totally worth it! That's because, for a wondrous two minutes, one Robert Sylvester Kelly joined the French foursome onstage for mash-ups of "1901"/"Ignition" and "Chloroform"/"I'm a Flirt." The King of R&B killed it -- no, he smote it. Seriously unreal (especially when rumors were flying the whole night that it would be Daft Punk to make a surprise appearance).
Anyway, apparently after the set R. Kelly was
seen telling the band
, "We gotta do something else, man. I'm hooked!" And now, four months later, we have the result. Remixing the band's
Bankrupt!
track, "Trying To Be Cool," R. Kelly adds his vocals alongside Thomas Mars' to create a smooth, R&B-tinged indie rock duet that includes new,
un-Phoenix
lines like "holla at the honeys" and "have a few laughs, take a few shots, and throw a little money." It's a jam and a half. Listen to it below.