There's a fine line between the best in people, and the worst. It's a space that Mike White (who wrote Nacho Libre and School of Rock) fills quietly in his first outing as writing-directing auteur in Iceland AirwavesYear of the Dog, in limited release.
Molly Shannon stars as Peggy, a South Californian anywoman. She's left 40 behind, but looks to the past and future with an upholstered smile as she totes a box of donuts to the office cafeteria, eager for approval. Peggy is without a husband or child or a meaningful career to speak of; her womanhood is utterly invalidated. What she does have is a loyal, blindly-loving dog named Pencil.
When Pencil dies, the loss lays bare the loneliness of Peggy's life. A potential love interest in Newt (the pasty yet delicious Peter Sarsgaard) leads Peggy to animal rights, and veganism which quickly become the foci of her life. But while Peggy's activist efforts intensify at a breakneck speed, they offer her no satisfaction. She becomes a zealot, and loses the kindness and generosity that had merited empathy. "I think that there are points where Peggy doesn't really want to feel how annihilated she is, so she kind of avoids that through just her obsession, and doing whatever she can do to not feel," said Shannon recently at Paramount Studios, near Times Square.
Peggy is surrounded by characters with their own crutches, society-endorsed yet no less all-consuming. Her germophobic brother and sister-in-law (Tom McCarthy, and an expertly abrasive Laura Dern) fear the air their children breathe; best friend (Regina King) believes marrying her boyfriend will cure him of his philandering. By controlling the minutiae of their lives, they fill their hours: they rein in their own desires. We all do it, but it's easier to dismiss some than others. Says Shannon, "it's a film about people having empathy for obsession."
When Peggy is finally and inevitably rejected by Newt, she sinks into an almost irrecoverable sadness, saying, "All my life, people have disappointed me." It is not dogs that Peggy seeks, but reciprocation and satisfaction.
Shannon, best known for slapstick, is a surprising choice for the role. As she acknowledges, "Because I'm a comedian, people are like 'more, louder, bigger!' What I like more is this school. I find it easier to watch, and less invasive." Shannon's irrepressibly electric face renders the severity and the darkness of the film all the more urgent. Her lack of vanity lets her be dowdy and cruel as she ruins the lives of her neighbors, and allows for vulnerability without sentimentality.
Mike White is in the business of subverting expectations. Having cast Jennifer Aniston in the equally troubling and effective The Good Girl, post-Friends but before she was sanctified as a woman scorned, White doubles the stakes of the on-screen conflict. White describes his affinity for "characters who flirt with the audience's sympathies and the pull the rug out a little."
White likens his film to Errol Morris' Gates of Heaven, another movie about the trauma of pet death. "It's a very static, very still movie, with a lot of portraiture: it's his version of on interview," he explains. Indeed, Year of the Dog is strongest when focused on the stillness and quietness of the characters, a quality that derails during the chaos of the film's latter half. In perhaps the most gripping scene of the film, Shannon goes on a date with her neighbor Al (John C. Reilly). The scene is a series of awkwardly posed grotesque portraits, like the washed out caricatures on the wall of an Italian restaurant.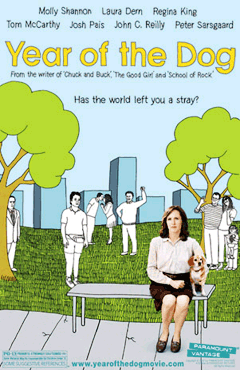 Ultimately, Year of the Dog opens itself to interpretation. Will Peggy satisfy her loneliness? Could she, even in the best of worlds? "I wanted the film to be an experience where the audience would be watching the movie and there was enough of a pace, but you could have your own associative time to incorporate your own stories into it," says White. And despite the film's penchant for neurotic caricature, its true empathy lies in its willingness to subvert character, and to leave Peggy and her clan essentially unknowable.
PHOTOS BY SUZANNE TENNER