The walls and racks inside Grisel Lopez's studio are overwhelmed with fetishwear and gear: Whips, floggers, masks, harnesses. It's where they design; where they handcraft one-of-a-kind pieces in leather, vinyl, and fur. But it's also home: A sectioned-off room inside a live-work space in Brooklyn that Lopez shares with about eight other artists and makers.
Born in Puerto Rico, Lopez left the island four years ago with the groundwork for Possessed, their original fetishwear line, already laid — but they saw the high demand, intense competition, and bigger opportunities of New York as a potential developmental jolt.
It worked. Today, their client list sparkles with top-notch names: Kali Uchis, Lil' Kim, Susanne Bartsch, Nelly Furtado, and even Lady Gaga.
The latter connection was made through a friend; a stylist for Gaga. Casually, they summarize: The stylist needed help with the Super Bowl look, "So it was brought up to my studio and we worked together on the Super Bowl outfit for the last performance." No big deal.
Rather than emphasize the feat in reaching that enviable height, Lopez focuses on the work itself.
Riveting the leather was painstaking, and the turnaround was same-night tight.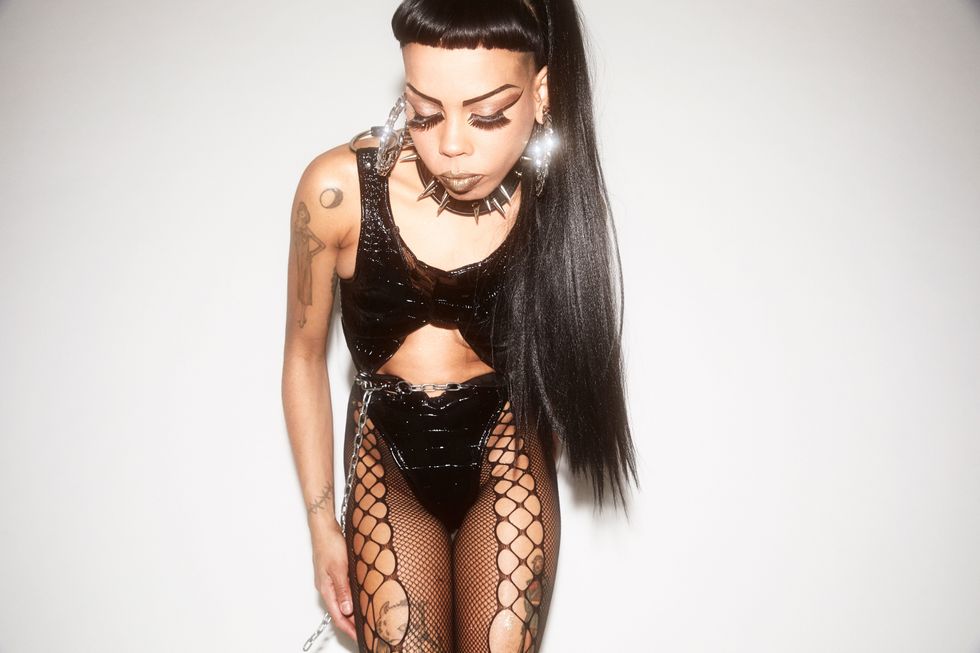 Networking, of course, is the general way of explaining how Lopez got to here, where Possessed items are for sale at Worship and other stores, and they're altering Nelly Furtado's dresses to the perfect heel-length, and a signature Kali Uchis color from one of their past projects made its way into the singer's current tour — and where Lopez has now enlisted a trusted assistant, Gryphyn, to mitigate the increased workload.

But finding yourself (or getting closer to it, at least) as an artist and a designer can be a far more powerful boost. For Lopez, a couple of months spent as a dom was life-altering.
"I learned a lot from dominatrixes," Lopez says. "And they just started commissioning me to make harnesses or lingerie, like Oh, I have special clients, my sugar daddy... And from there, it's just been like that; then I was in the club."
Fetishwear is a sensory experience, from the cold of metal hardware, the stick of vinyl after hours of wear, to the restraint of a harness like a stinging embrace. Lopez understands firsthand the physical reactions their designs carry; their pieces "satisfy a pleasure."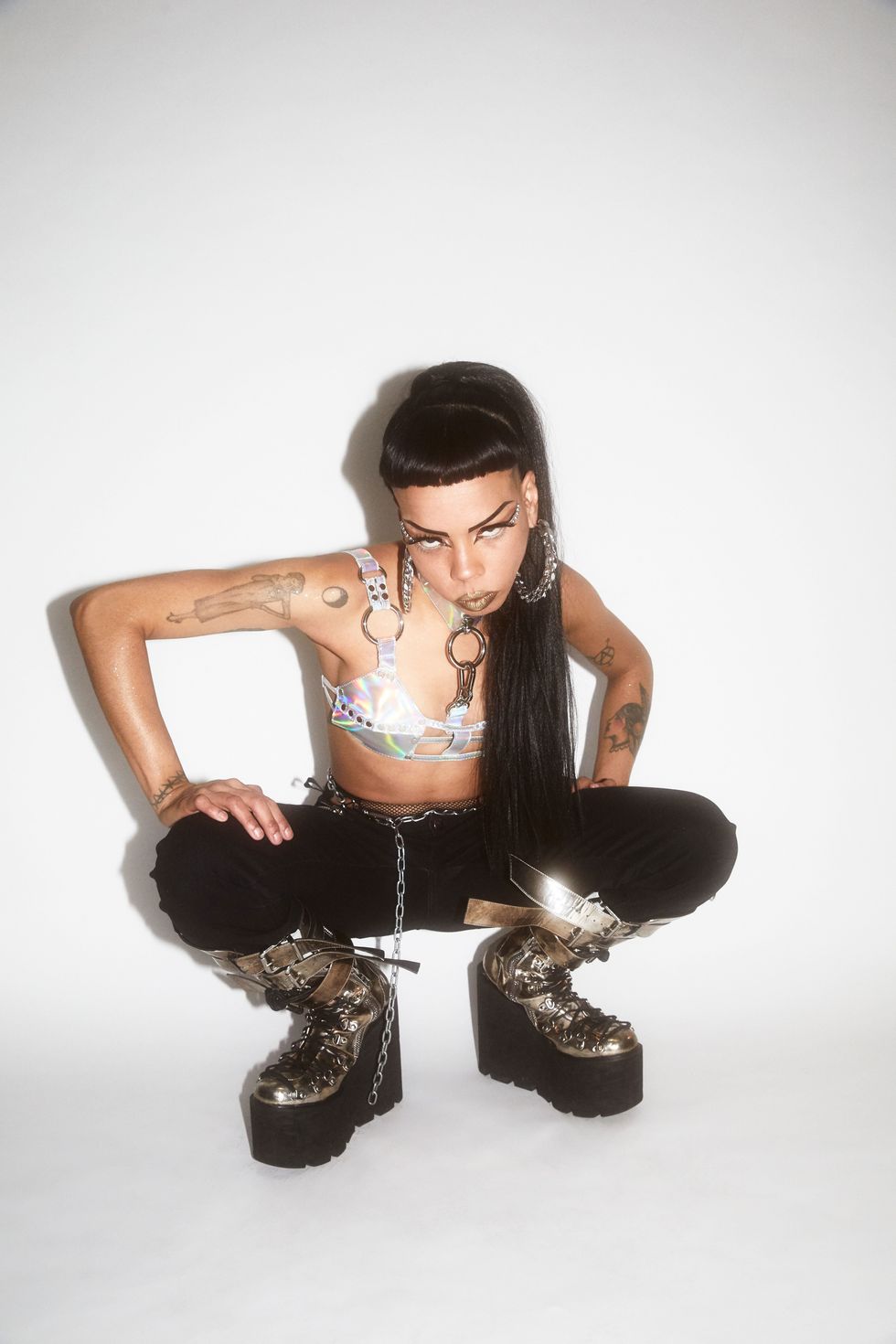 Primarily, though, Lopez wants the wearer to feel comfortable. (After all, isn't that the best-case scenario for finding pleasure?) Custom pieces are eyeballed for measurements — from a photo alone, Lopez says, they can calculate sizing. The vast majority of the pieces are unisex, and much of the Possessed following are gender noncomforming folk, like Lopez.
"[Possessed] has helped many of my friends tuck, it has helped many of my girlfriends feel powerful," they say. "It has catered to a lot of people, so I respect the duality, and I feel really comfortable having the same sort of representation, as a self. I'm definitely more of a duality person, and it gives me more peace to design."
Lopez injects plenty of inventiveness into their work, too — it's fashion, it's striking queer styling, it's a palpable sexual badassery in every look.
"I didn't move to New York to hide," Lopez reminds. "I've always wanted to give the best, because I feel like expectations are high no matter where I might be. In Puerto Rico I always felt like expectations were high... [but] the more that you're experienced or in it, creating it and defending yourself in it, you grow."

While they've been sewing for 20 years, it wasn't until Lopez encountered a four-story sex shop in Orlando that their interest in the fetish community was piqued. For three of the eight years spent there, Lopez owned a vintage store there, where they organized fashion shows and also fielded customer alterations, further beefing up their skill set.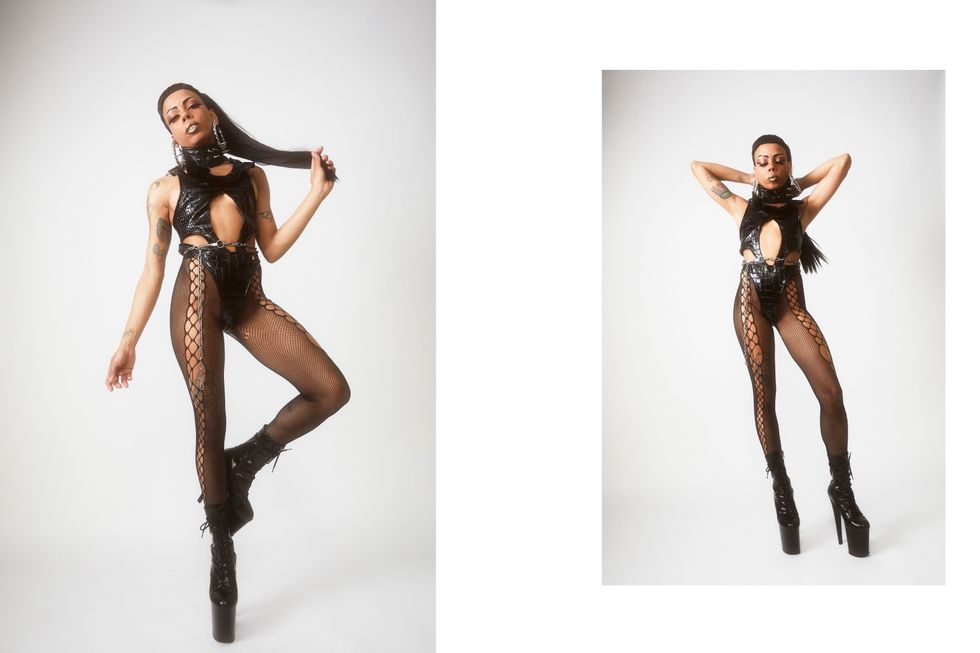 Lopez felt ready for New York then — but not before an extended visit to Puerto Rico.

"I feel like every time I come back home I have to get my senses and cleanse," Lopez says. "There's no place like home, really."
Visits are sporadic lately; once or twice a year, at best, because of the workload and their hyper-focus. But Lopez always has Puerto Rico in mind.
"I put my heart in my designs and I think about the island every day while I'm sewing and trying to be creative," they said. "I'm always on the island; I don't think I'm in any other place.
Their Rescue Team look, which appeared in an autumn issue of Teen Eye as part of an anti-Trump editorial, was created during Hurricane María and its immediate aftermath, as Lopez coped with their fears and worries for her family and friends in Puerto Rico. The fire-and-camouflage combo looks weatherproof; it's meant to honor those who braved intense weather conditions to rescue people in need.
Lopez says they felt the tingles of achievement only a year ago, when Possessed looks first started landing print editorials internationally. It's been a quick climb since — they've gotten deep into hosting and styling for parties, like Holy Mountain (a place for incidental networking, too), and they're perpetually taking custom orders.
"My studio is open 24/7," they note. "I work overnight."