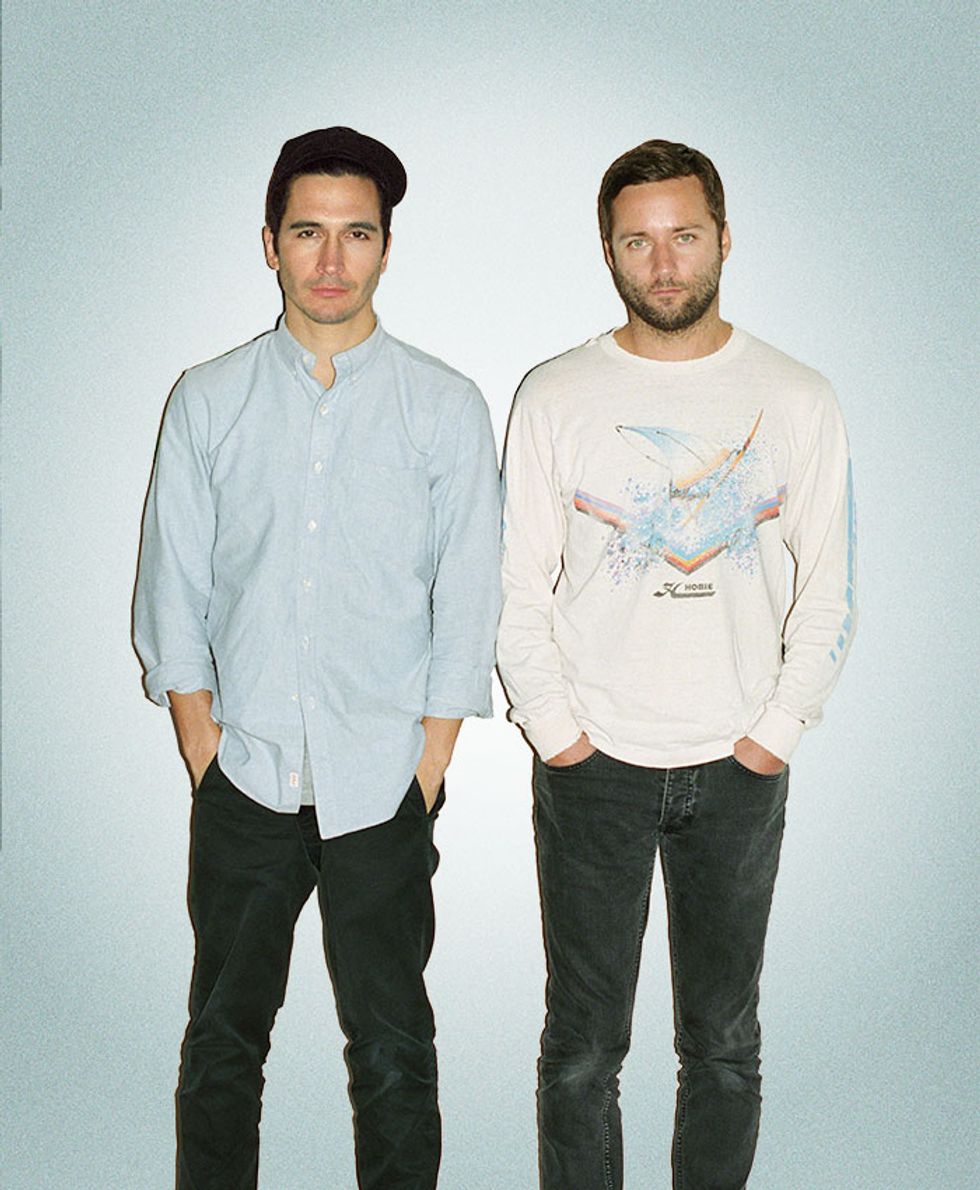 Even before they bagged their BFA diplomas from Parsons, Jack McCollough and Lazaro Hernandez were fashion superstars. Their entire graduation collection was ordered by Barneys, and from the time of their first runway show they were one of the hottest fashion labels in New York City. Thirteen years and many CFDA awards later, their eye for pattern, texture and cut is keener -- and more popular -- than ever.  They've signed their first perfume deal, with L'Oreal, and brought on a new CEO who's ready to make the brand "a global luxury player." We're talking a new Givenchy or Balenciaga. The boys were relaxed and nostalgic as we discussed their school days, their 15 years as a couple and their hopes for the brand. They're not only two of the most talented designers in the Naked City; they're a couple of real charmers, too.

Mickey Boardman:
Do you remember the first time you met? Should we put you in a soundproof booth and have each of you tell that story and see if they're the same?

Jack McCollough
:
I don't know if it would line up. [laughs]
Lazaro Hernandez:
It was right before school started, at that club Life.
Mickey:
I used to host a Thursday night party at Life.
Lazaro
:
That's where we met! Maybe you were there.
Mickey:
Maybe I made it happen.
Jack:
It was a Tuesday night that we were there.
Lazaro
:
We were there randomly. He was there with some friends. I had just moved to New York, and it was before school started in September. We were hanging out with some friends and we went into this back room.

Mickey:
There's the headline: PROENZA SCHOULER MEET IN THE BACK ROOM.
Lazaro
:
I was just smoking a joint. And he asked, "Oh... could I have some weed?"  You know, we were kids.
Jack:
We both had just transferred to Parsons, him from Miami, me from San Francisco. And that was kind of the end of it. We didn't really speak again after that. Then, come sophomore year, we got put in the same section so we had every single class together.
Lazaro:
But I had a boyfriend and he had a boyfriend too at the time.
Jack:
We were just good friends.
Lazaro:
Yeah, we started just chilling together. I had no friends here. He had no friends here.
Jack:
I had friends here.
Lazaro:
And then sophomore year we started working on projects together. That's really how we became friends and started working together.
Jack:
Designing fashions.
Lazaro:
Really butch things like that.
Jack:
It feels like ages ago. It feels like a dream.

Lazaro:
Do you know what we found recently in the basement of our office? All our Parsons projects in a box.
Mickey:
You could have a show at a museum. You could! Please save it.

Jack:
The drawings were good. They were!
Lazaro:
It was weird to go back and see that stuff. It was super amateurish.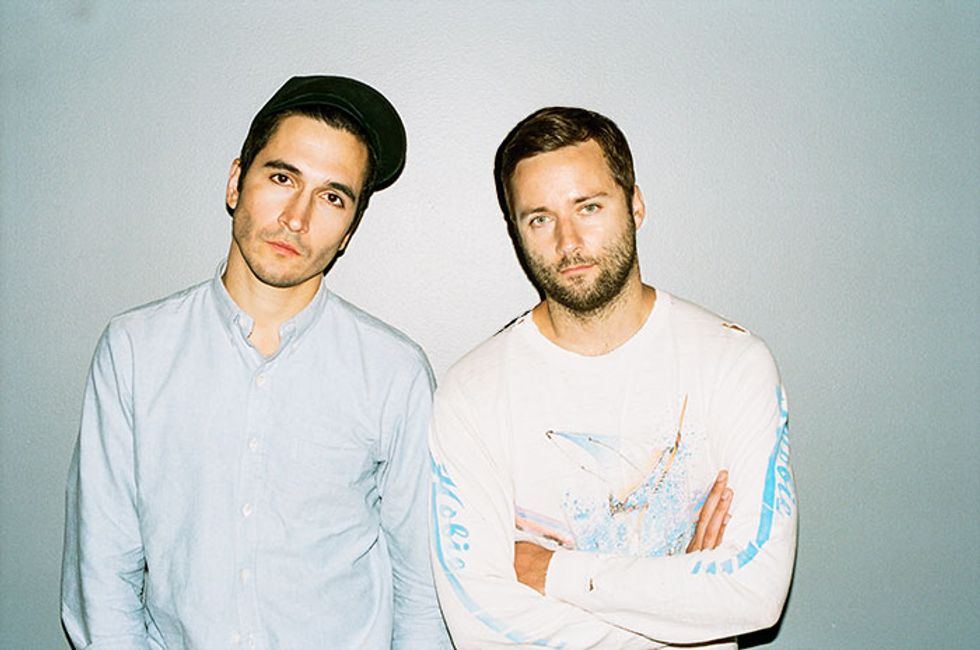 Jack:
Some of them were incredible to go back to and others were completely cringe-able.
Mickey:
What did the other students think when you started working together? Were they like, "Oh no, the gorgeous evil ones are united against us?"
Lazaro:
[laughs] We were never really aware or cared about what the other students thought about us.
Mickey
:
So when you worked together at school, did you ever fight?
Jack:
Well, we still work together. [laughs]
Lazaro:
Do we ever fight? Is that the question? 
Mickey:
Well the first question should be, When did you become boyfriends?

Lazaro:
Junior year we started dating.
Mickey:
How did that happen? You were drawing flat sketches together, you both leaned in for the eraser and your eyes met and...

Jack:
You make it sound so extra gay!

Mickey:
I'm sorry. So you were Greco-Roman wrestling?

Jack:
It was fun. We were just really into each other and this new thing.

Mickey:

Your senior year, you ended up meeting Julie Gilhart from Barneys and they bought the whole collection.

Jack:
I can still remember what she was wearing: a Tom Ford for Gucci leather trench coat and the buckle was a snake head.

Lazaro:
Was she wearing a head scarf?

Jack:
Yes.

Lazaro:
She looked amazing. Then we got an email at our aol email. Proenzaschouler@aol.com was our first email that we ever had and we all shared it.

Jack:
That was the first email I ever had. A group email address. I didn't even have an email before that. Now we're aging ourselves.

Lazaro:
We got an email to come show the other Barneys girls the collection.

Jack:
We brought our skinniest friend we knew, 'cause they wanted a model for the presentation. We were so intimidated and nervous. It was really intense, wasn't it?
Lazaro:
Yeah, yeah.

Jack:
So stressful.
Mickey:
Funny, because I never think of you two as being nervous or intimidated.
Jack:
These people were like stars to us.
Lazaro:
They were the real deal. And we never really had any plans. Zero plans. We had met [Allure creative director] Paul Cavaco once at [gay sing-along piano bar] Marie's Crisis, and so we were like, "Maybe we should call that guy in fashion we see at Marie's Crisis. Maybe he could help us out."  We had no idea who Paul was.
Mickey:
What did Paul sing? That's what I want to know.
Lazaro:
Paul would just stand there with a cocktail and not talk to anyone.
Jack:
So much of starting your own thing is chance, and luck...
Mickey:
And talent. And show tunes. So how does the design process work for you guys?
Lazaro:
It's still just the two of us. The shows are just the two of us. That's it. We draw every single look. It's kind of the way we did it at school. It's that same process. We follow through from the beginning to the very end. We fit everything ourselves.
Jack:
We never really worked for anyone else, so we use the system we used at Parsons as our point of reference.
Lazaro:
And I guess that worked! And we work all the fucking time. I don't understand how we would do the transcontinental thing of working for another house. I just don't know time-wise how we would do it. Something would have to go. We would have to sacrifice something.
Jack:
Also, not a lot of people have proven they can do two fashion labels simultaneously. I don't think anyone except for Marc [Jacobs] has done two things successfully.
Lazaro:
And that definitely took a toll on Marc. It's fucking hard. It's borderline back-breaking. Whenever we've been asked to do it, we were like, What's the point? We enjoy our lives and we have each other.
Mickey:
It seems to me that there's a feeling of luxury that is a little less snobbish nowadays. What do you think of that? Do you feel like luxury has changed?
Lazaro:
Fashion has changed: it's really democratic now. Fashion has become another facet of popular culture, like music or movies or art. If you ask kids, "What do you want to be when you grow up?" they say a designer. I think more people are interested in fashion as a thing, and by definition you have to become a little more inclusive. Now it's global.
Jack:
And I think a lot more designers are more open to growing a business, whereas before it was purely an artistic endeavor.
Lazaro:
So while we still want that integrity and purity, we're not against the commercial reality. The more we sell, the more creative we can be, the more fun we can have. We understand that to be creative, we also need to sell. So for us it's a great thing. The more we sell, the more we can play.
Mickey:
I think one of the sweetest Proenza moments was when you won the CFDA award and Lazaro said, "Our dreams have come true and I get to share it with the person I love," or something to that effect. I got a little teary. It warmed my cold fashion heart.
Lazaro:
A lot of people were surprised by that. They said, "You guys are together?"
Jack:
I still get that to this day. [laughs] "You and Lazaro are together?" We've been together for 15 years!
Mickey
:
So there's only one question left: Which one is the man and which one's the woman?
Jack
:
So who's the top and who's the bottom? Let's just cut to the chase. [laughs]
Mickey:
Or maybe we should leave that one a mystery!
You May Also Like